Midnight snacks are something special yes, they can often feel a little like a guilty pleasure.
But when it comes to a quick burst of energy that you need for those late nights, there's nothing that comes close to preparing a good midnight snack.
However, if you don't know what you want to have, it can often feel like you are scrambling around the kitchen trying fruitlessly to find something edible to make.
And, quite often, many of us end up making a mess whilst doing it!
Fortunately, there is an easy midnight snack to make in those situations where you need a rush of sugar for whatever late activity has you up.
The humble mug cake!
These popular little sweet treat mug brownies have become very popular in the last few years, and have been made into a massive variety of flavors for people to enjoy.
They are perfect for every situation, especially those where you are craving chocolate!
The only trouble with them is deciding on what particular mug recipes you want to make.
Well, in this piece we are going to show you how to make a brownie-style version of this recipe for yourself, as well as show you some of the benefits of choosing them as your midnight snack of choice!
What Is A Mug Cake?
In case a few of the people reading this far into this recipe guide haven't heard what a mug cake is, allow us to quickly explain them to you.
Although to be fair, there isn't that much explaining to do, because they are exactly what they say on the tin.
They are small mug recipes that are made by heating their mixture in a tea or coffee mug vessel, usually in a microwave, as mugs cannot stand oven temperatures.
Because they usually have a pretty simple set of ingredients, it is often very easy for people to add their extras, creating their special varieties.
Some people like to add chocolate chips, and some people like adding nuts, or, in our case, the ingredients for making brownies.
Considering that brownie and mug cakes share a lot in texture and flavor, this probably isn't too surprising!
Why Are They So Popular?
Okay, so now we know what one of these delicious handheld desserts is. But how exactly did they become so popular, and so quickly?
Finding tutorials and recipes online is incredibly easy, and can feel like you're swimming through an ocean of them. Heck, we're making one right now!
So what is it about them that has made them so popular?
Well, generally speaking, the fact that you only need to use one vessel to cook them with means that there isn't nearly as much mess making this as there are other cakes.
It's a little detail, but making a cake at 2 in the morning can otherwise feel messy and a chore to make!
Also, the fact that one of them can be eaten by just one or two people means that there's less cake going to waste.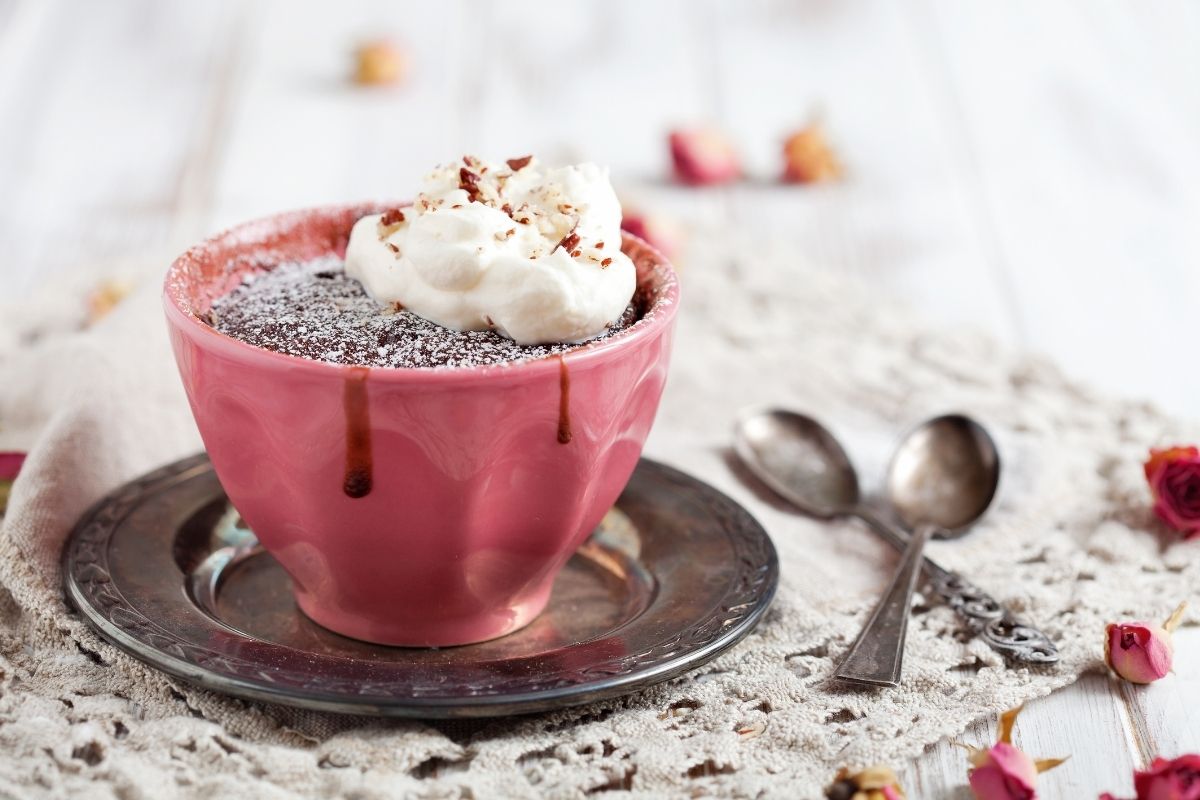 Not only that, but the cooking time for this brownie in a mug is just so much quicker to make than a cake in the oven.
Most take less than 5 minutes to make, compared to the 30 or 35 minutes they often need to rise properly. Just one of the many benefits of using a microwave!
Plus, as we have already mentioned, they have a lot of versatility.
With such as a simple recipe, not only are they easy to make, but they are also incredibly easy to add and take flavors and additives to,
Brownie in a mug cake is a very popular option, but there are also Oreos, M&Ms, and chocolate chips. There are even caramel mug cakes!
Plus, whilst we do not know the exact origins of this quick treat, the fact that the first recipes and tutorials went online in 2008 and 2009, in the early days of YouTube, gave them a great platform to be seen from.
Ingredients For Making A Brownie Mug Recipe
So, we've gone on about this dessert and its popularity. It's time to start making one!
The original details of this recipe come to us from Kirbie Cravings, who has a blog full of fun recipes that you should check out.
These are the ingredients you are going to need for your brownie mug cake:
2 ½ tablespoons of Dutch-process cocoa powder (or baking cocoa)
2 tablespoons of granulate sugar
1 ½ tablespoon of all-purpose flour
1 ½ tablespoon of dark chocolate (chopped)
2 tablespoons of oil (can be canola, olive, or vegetable oil)
2 tablespoons of water
Brownie Mug Recipe
There are only a few steps to this brownie mug recipe for brownie in a mug, making this brownie recipe simple for everyone to follow.
First, make sure that you have a microwave-safe mug that can contain at least 8 ounces.
Start adding the Dutch cocoa powder, the all-purpose flour, and granulated sugar all into your mug.
Start whisking them together, and breaking up any clumps of cocoa powder or flour in the mug.
Now you can add in the oil and the water. Which them in to make the after that is forming nice and smooth.
Throw in the rest of your chopped dark chocolate or semi-sweet chocolate chips onto the batter.
Once that is done, place the microwave-safe mug in your microwave, and let it cook.
In a 1000-watt microwave, your easy mug brownie recipe takes 40 seconds to fully cook, so you may need to adjust it for lower-watt microwaves.
Once it is done, let it cool for a few minutes. The best mug cake will be just a little moist, and still warm when you start eating your mug brownie in a mug.
A tough brownie means that it has been kept in the microwave for too long.
It should be a nice, warm brownie in a mug when you stab your spoon or fork inside.
Closing Thoughts
And that's it! Enjoy your freshly made brownie mug cake!