You've got to admit – homemade brownies are about the most decadent, indulgent treat out there.
What's more, with the best homemade brownie mix recipe at hand, you can prep the mix any time you like, and bake some up whenever you feel the urge.
And that's where articles like this come in!
So, I thought I'd begin by describing what's in a basic homemade brownie mix before I go into how you can tweak it to make alternative versions, including my Best Homemade Brownie Mix (so much better than a box brownie mix!).
Here goes! (Feel free to scroll ahead if you prefer.)
Basic Homemade Brownie Mix
Just to clarify things a little, a homemade brownie mix is a mixture of the dry ingredients like cocoa powder and such before you add wet ingredients like melted butter before baking.
The good news is that you can make a basic brownie mix with just 5 readily available ingredients. Here's what you're going to need for the mix:
1 cup all-purpose flour
1 cup cocoa powder
2 cups sugar
1½ teaspoons baking powder
And a pinch of salt
The cocoa powder is essential for that chocolate flavor, and you won't be able to pull of this brownie recipe without it.
These ingredients are only for the brownie mix itself however, and you're going to need some additional ingredients when you're ready to actually bake…
When your ready to use your basic brownie mix for a delicious homemade brownie or two, here's what else you'll need:
4 eggs at room temperature
1 cup of melted butter
Although that's all you really need to make up some gorgeous homemade brownies, at this stage I would really recommend adding some milk chocolate chips if you can.
Ways To Tweak Your Homemade Brownie Mix
Please don't be afraid to change things up a little with your homemade brownie mix…
You can make it more indulgent by using dark chocolate chips, or make it a little sweeter by using white chocolate chips.
Or you can give it more crunch by adding nuts. Macadamia nuts go really well, whereas almond nuts really transform the overall flavor.
Or to really change things up you could add some dried fruit like cranberries or even some instant espresso powder!
If you don't happen to have any melted butter you can use, you can use vegetable oil instead.
Best Homemade Brownie Mix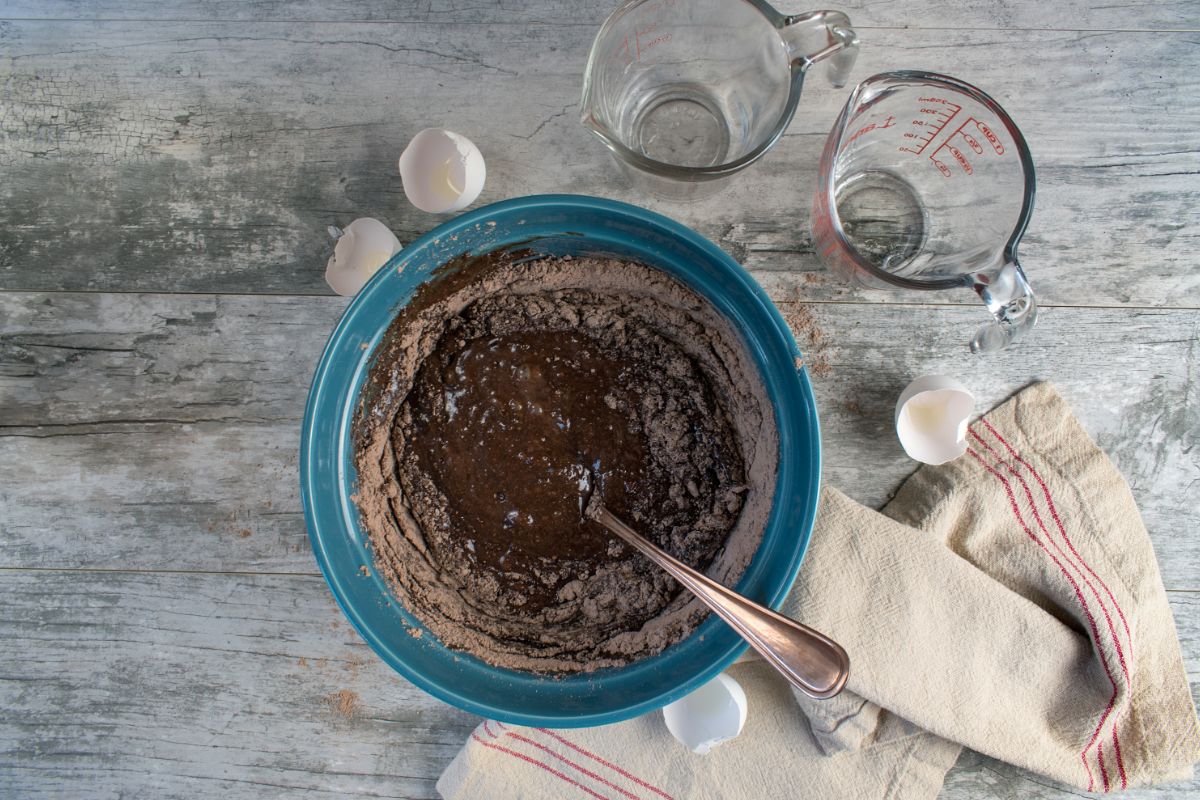 Now, this is the ultimate homemade brownie recipe! What makes this brownie mix the best is the use of milk chocolate chips.
It creates a contrast of textures in the brownies that really enhances how it tastes when you sink your teeth into them.
Then there's the use of vanilla extract when you're ready to bake. You may only need a little, but it makes a huge difference.
It creates those mouth watering fudgy brownies with that you crave as it you can smell it baking.
But, if you're going to add vanilla extract when you bake, then your homemade brownie mix is going to need unsweetened cocoa powder rather than the regular stuff which could make your homemade brownies too sweet.
So, here's what you need for the best homemade brownie mix:
1 cup all-purpose flour
1 cup unsweetened cocoa powder
2 cups powdered sugar
1½ teaspoons baking powder
And a pinch of salt
(We recommend using dutch process cocoa powder like Hershey's because it has been processed to neutralize its acidity, so it won't react with the baking powder until you're ready to use it.)
And when you're ready to bake, you will also need the wet ingredients to make the brownie batter. These are as follows:
4 eggs at room temperature
1 cup of chocolate chips
1 cup of melted butter (you can use unsalted butter if you prefer)
1 teaspoon vanilla extract
I recommend that you add chocolate chips to the brownie batter at the stage just before baking, rather than in the brownie mix itself. That way your brownie mix will last longer.
How To Make The Best Homemade Brownie Mix
Making the brownie mix is easy, all you have to do is whisk together the flour, the cocoa powder, the sugar, and the salt into a bowl.
It literally only takes just a few minutes. When you are satisfied that the ingredients are thoroughly mixed, transfer to an airtight container until you are ready to use it.
This brownie mix will last for up to 6 months, provided that you store it an a good, air-tight container.
Best Homemade Brownie Recipe
To convert your homemade brownie mix into a fully fledged brownie recipe, here's what you need to do:
Preheat the oven and turn it up high, 350 degrees Fahrenheit is best
Add 3¾ cups of the brownie mix to a large bowl (it needs to be a large bowl for 1 batch)
Mix in the melted butter, chocolate chips, vanilla extract, and eggs, and mix well
Transfer the mixture to a prepared pan (ideally 9 by 13 inches, lined with parchment paper, or sprayed with cooking spray) and place in the oven for 28 to 30 minutes, or until the center of the mix has set.
Then you're all done and you get to enjoy the best brownie recipe!
Wrap Up
So, there we have it. Now, you not only know how to make up a basic brownie mix recipe, but you also know how to make the one of the best, just by adding a few simple ingredients.
And you've learned how to make your own brownie mix that you can tweak and adapt to your personal taste. They can be so much more interesting than a box mix.
And if you don't have all the wet ingredients, like melted butter, we've explained how you can just use vegetable oil instead.
I hope you enjoy this delicious recipe as much as I do. Sometimes a chocolate craving simply demands a decadent chocolate fix, and this really hits the spot.