Have you got a nice chocolate pie or cupcakes that you want to make that desert just a bit nicer?
Well, whipped cream frosting could be the easiest frosting you need to impress dinner guests and have them asking you how you make the best whipped cream frosting.
Knowing that making desserts can be a stressful task that can result in mistakes and unsatisfying results, we have provided easy-to-follow instructions to save you time while producing a tasty frosting that will leave your guests with a smile.
What Sort Of Frosting Should I Use?
There are a few variations of whipped cream frosting, including cream cheese or gelatin powder that acts as a stabilizer, so the frosting holds its shape and does not melt if left out for a while.
There are also different ways to mix your frosting, whether by hand, a stand mixer, or even a jar if you're looking for easier ways to prepare it.
Most whipped cream frosting has a milk-fat content of around 30-35%, and the recipe we have provided has similar contents to any store-bought whipping cream but tastes better, richer, and fresher.
Ingredients For Whipped Cream Frosting
To make this frosting, you'll need the following ingredients:
2-3 cups of white vegetable shortening
1-3 cups of softened butter
1 pound of sifted powdered sugar
1-4 cups of heavy or whipping cream
1 teaspoon of vanilla extract. You can also use peppermint extract and even lemon extract if you want to add more flavor.
Instructions To Make Whipped Cream Frosting
Step 1
Gather your ingredients, making sure to separate the cups so you know how much of each you're adding, and it helps to get everything in order.
This would be a good time to prepare your equipment such as a mixing bowl, hand mixer with whisk attachments or wire whisk, and a piping bag if necessary.
Step 2
In a large bowl, add the sliced or shortened butter, making sure the pieces aren't bigger than 1/4 inch pieces. Beat this together with the vegetable shortener, which you can do by using a hand creamer or beater.
Step 3
In the same bowl, carefully add the powdered sugar and combine until it's completely into the mixture. This is an important step as this will help the structure of your frosting, so it stays in place longer.
Step 4
Now you can carefully add the cream and clear vanilla into the mix. Next, you want to beat everything on high for about 5 minutes until it looks even and thick.
You can use a hand mixer on medium speed, and if you're pushed for time you can get to the cake part of this combination.
If you find the mixture to be a little lacking, you could add more powdered sugar, which you want to get right as this is where the stiff peaks form.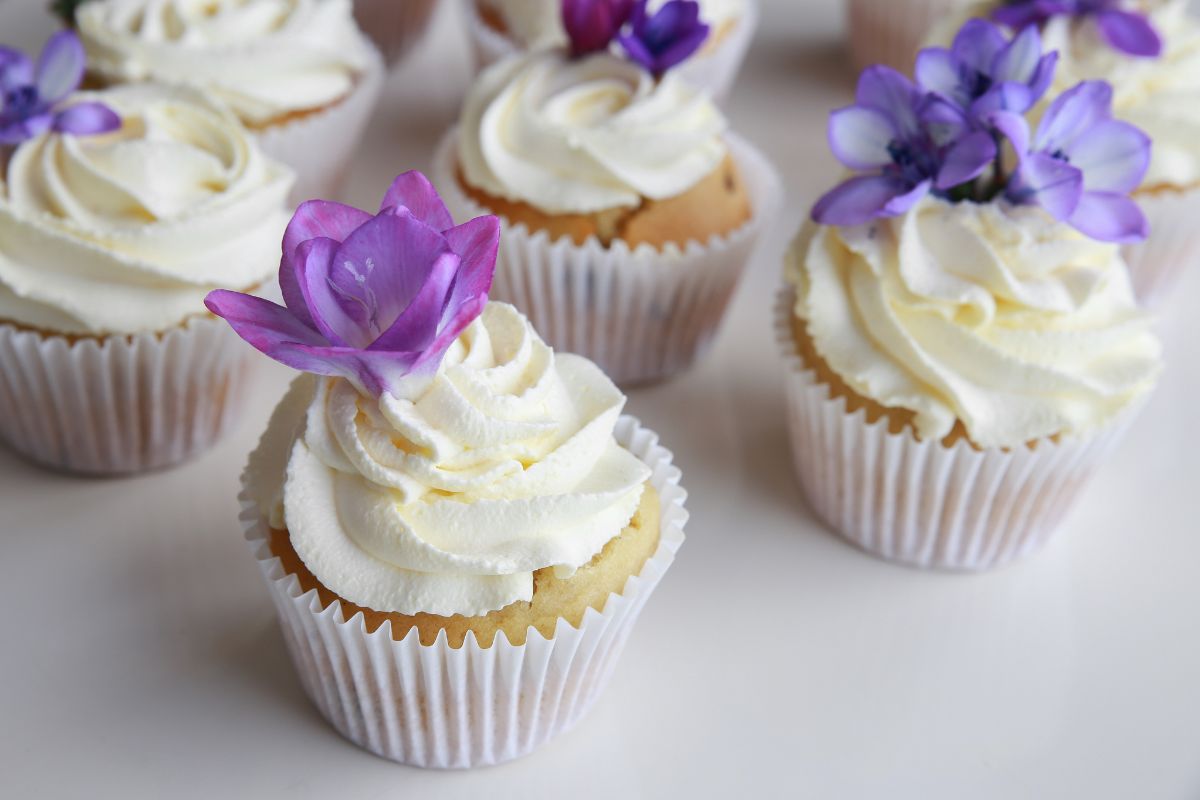 Step 5
You can now add this frosting to any pie or cupcake recipe you have prepared.
If you want the frosting to last longer, you can use gelatin powder instead of the vegetable shortener and cream cheese instead of heavy whipping cream if you are looking for that extra flavor.
Some Tips To Make The Recipe Even Nicer
So you've got the recipe, and you're ready to start decorating those cakes, but if you want them to really stand out, you can follow some of these handy tips.
Who knows, you might find a new method that you prefer.
Avoid Melted Frosting
Are you tired of making cupcakes, then only to find out later the frosting has sunk or lost its stable form, messing up all the hard work you put into them?
Well, the best tip here is to ensure that the frosting is of the right consistency and a good test of this is to place the frosted cakes into the fridge.
This way you can check to see if you have a stabilized whipped cream frosting recipe and can be done for any layer cakes you might have planned.
Make Sure The Frosting Is Applied Evenly
A simple fix is to use a piping bag, where you can easily put the frosting inside. You can squeeze the bag to apply it evenly and even decorate the cake a little if the fancy takes you.
If a piping bag isn't your style, you can use a spatula to layer the cake and distribute it where you think it is necessary. 
Use Temperature To Make Your Recipe Easier
In general, if you put your whipped cream frosting in before you use it on your cakes, it makes it easier and gives the frosting that airy and light texture.
This keeps it from collapsing too quickly if you plan on leaving them out for a while, and it is usually recommended you consume it in about 2 days.
If you're using cream cheese, you want to ensure that it's a full-fat cream cheese brick used at room temperature and isn't overly warm. 
Using this advice, you can leave any unused frosting for up to 8 hours before it needs to be refrigerated again, so you can prepare these ahead of time if you want to.
This will ensure that your cakes stay just as stable and tasty as if you served them straight from making the frosting.
Final Thoughts
Now you can turn your attention to decorating cakes and settling on a dessert cuisine that makes cupcakes much tastier and slowly becomes one of your favorite desserts.
Another great thing about this is the fact that most of these desserts can be left out at room temperature and can hold their shape better than regular whipped cream you might find at a store and once your perfect your frosting recipe, there will be no turning back, so you can get on with the things that matter.