Is a good funnel cake your favorite part of the county fair? Don't you want to enjoy the crispy deliciousness of a funnel cake all year round? If your answer is yes to either of these questions, you're going to want to carry on reading.
Contents  show 
This article has gathered together our favorite funnel cake recipes, meaning that you can cook up these delicious sweet treats anytime in the comfort of your own home!
These tasty cakes will have you feeling like a kid again, or make you think that you're at a carnival in your own living room. Simple to make, and a joy to eat, you can not go wrong with a funnel cake. All you need is a deep fryer, or deep-sided skillet or pan!
Keep on reading to find out more about these delicious recipes. There's bound to be a flavor, topping, or style for everyone in the family.
1. The Classic Funnel Cake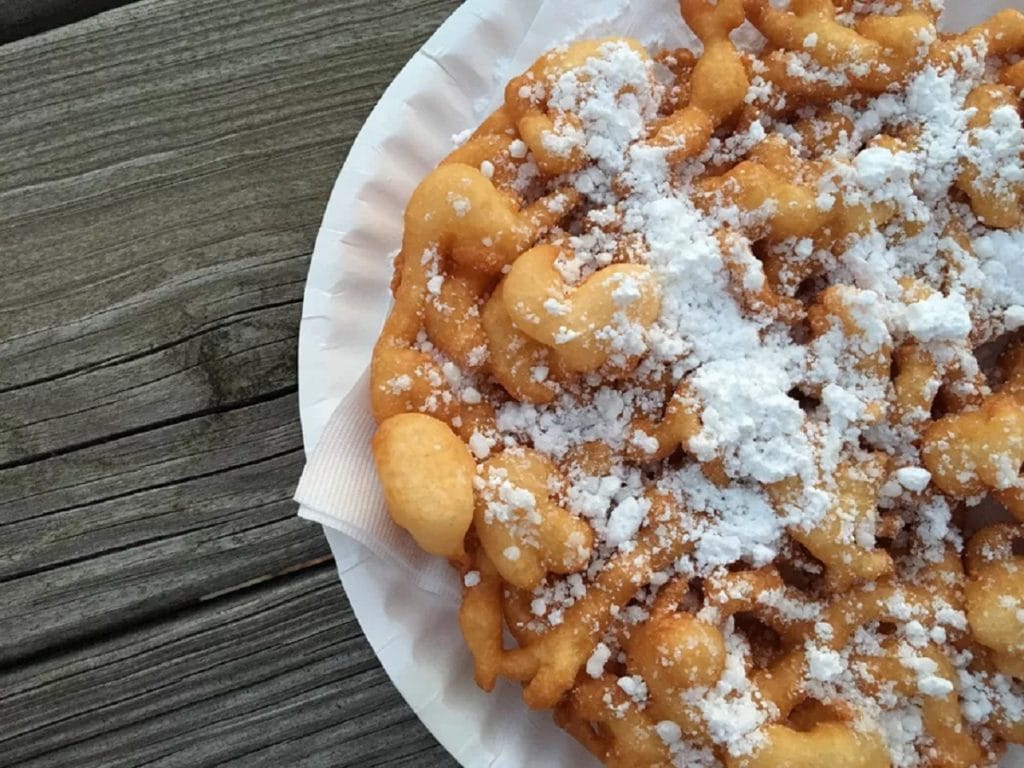 The first recipe on our list is a prime example of how less is more. The classic funnel cake is simple, but effective. Plus, you can put whatever toppings you like on top when you're done!
Ingredients
Oil
2 cups of flour
1 teaspoon of baking soda
¼ teaspoon of caster sugar
1 teaspoon of salt
1 cup of milk (full fat might work better!)
2 medium eggs
2 tablespoons of melted butter
1 teaspoon of vanilla extract
Any topping you like! Fresh fruit, chocolate syrup, cream – you name it!
Method
Take your fryer or skillet and pour in enough oil for the cakes to fry in. Put the temperature up to 365 degrees Fahrenheit.
While the oil is heating, sift the flour, baking soda, sugar, and salt, and mix them all together.
Take a separate bowl and mix together your eggs, milk, butter, and vanilla extract, and add about a quarter of a cup of water.
Once the mixtures are both well mixed, add the milky egg mixture to the flour and sugar mixture. Mix these thoroughly for a few minutes, or until you have got rid of any lumps in the mixture.
Next is the fun part! Pick up your funnel and cover the bottom opening of it with your fingers. Fill up the funnel with your cake mixture, and hold it over the oil. Make sure it's not touching the oil, though!
When you're ready, remove your finger from the opening and let the batter pour out! Move the funnel in continuous circles that range in size, to get that classic funnel cake shape.
When the batter has become a golden brown color, turn the cake over to fry the other side.
Once both sides are golden, remove the cake and place it on a plate that is lined with paper towel, to absorb the excess oil.
It's ready to serve! Try to serve it as soon as you can after frying, to make sure that your funnel cake is as light and crispy as possible.
Add your chosen toppings and dig in!
2. Root Beer Funnel Cake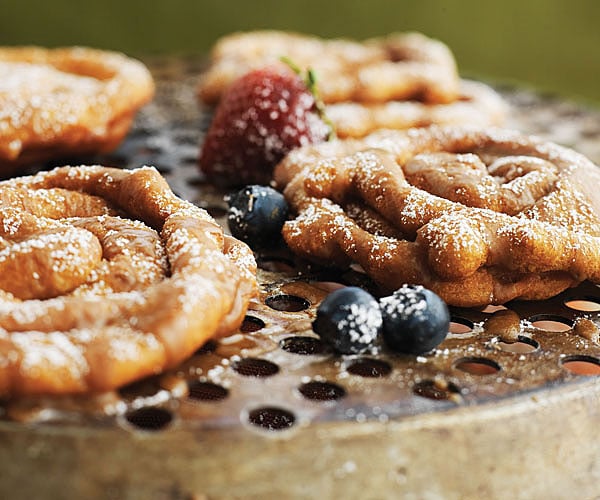 This recipe combines a classic all-American beverage with the classic party cake, so really brings out the flavor of a carnival! Try it out if you're ready for an overload of yumminess.
Ingredients
Vegetable oil
1 ½ cups of flour
¼ of a tablespoon of salt
¾ of a tablespoon of baking powder
½ a teaspoon of cream of tartar
2 tablespoons of granulated sugar
1 large egg (or 2 small eggs)
1 cup of root beer
½ cup of confectioner's sugar
¼ teaspoon of root beer extract
1 tablespoon of milk
Fresh berries to add on top!
Method
Grab your deep skillet and pour in your vegetable oil. It should be about an inch deep. Heat the oil and skillet to 375 degrees Fahrenheit.
While your oil is heating up, sift together your flour, salt, baking powder, tartar cream, and sugar. Mix these ingredients together.
In a separate bowl, whisk together the egg and root beer.
Add the root beer mix into the flour mixture and whisk it all together until it forms a smooth and lump-free batter.
Once your oil has reached the desired temperature, prepare your funnel. You do this by holding your finger at the bottom opening of the funnel and filling it with your batter.
When you're ready, hold the funnel above the oil and release your finger. Move your hand in circular motions to create the shape and size you want.
Just as with the first recipe, turn the cake over once it has turned golden brown.
Fry on the other side until the whole cake is golden and crispy.
Repeat this process to make as many funnel cakes as you like.
While they're still hot, glaze the funnel cakes. Mix together the confectioner's sugar, root beer extract, and milk, and you've got your glaze! Pour the glaze mixture over your funnel cakes, then add some fresh berries or fruit, if you fancy it!
3. Rosemary Vegan Funnel Cake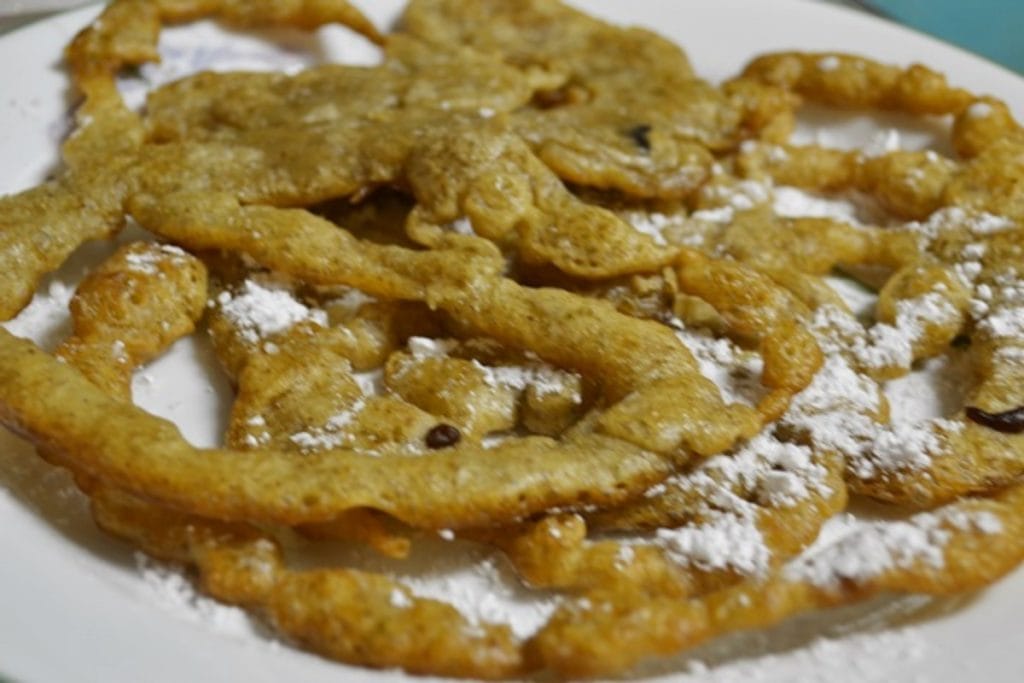 If you're looking for a way to mix up these classic cakes, take a look at this recipe. Not only does it make the funnel cakes suitable for vegans, but it also makes them savory! The recipe is still as quick and simple as the usual one, though, so it's a win-win for savory fans.
Ingredients
1 ¼ cups of flour
3 tablespoons of brown sugar
¼ teaspoon of salt
1 teaspoon of baking soda
1 ¼ cups of dairy-free milk (almond milk works really well!)
1 flax egg, which consists of 1 tablespoon of flax seed powder and 3 tablespoons of water
1 teaspoon of vanilla extract
A few small sprigs of rosemary – you can add more to suit your taste
¼ teaspoon of cinnamon powder
Oil for frying
Confectioner's sugar
Method
Mix together all of the listed ingredients – aside from the frying oil and confectioner's sugar – and continue doing so until a smooth mixture has formed.
Fill your skillet with the frying oil to a depth of an inch, and heat it to 365 degrees Fahrenheit.
Pour a very small amount of the batter into the oil to test it. It should sink to the bottom of the skillet and then rise to the surface. If it doesn't do this, mix in a bit more flour to the mix.
Take up your funnel and cover the opening with your fingers, before filling the funnel with your cake mix.
As with the previous recipes, place the funnel over the oil and release the batter, moving your hand in circular motions.
Fry the cake until it is golden brown on both sides.
Place the cake on a plate covered with paper towels, and sprinkle with confectioner's sugar to serve. Bon appetit!
4. S'mores Funnel Cake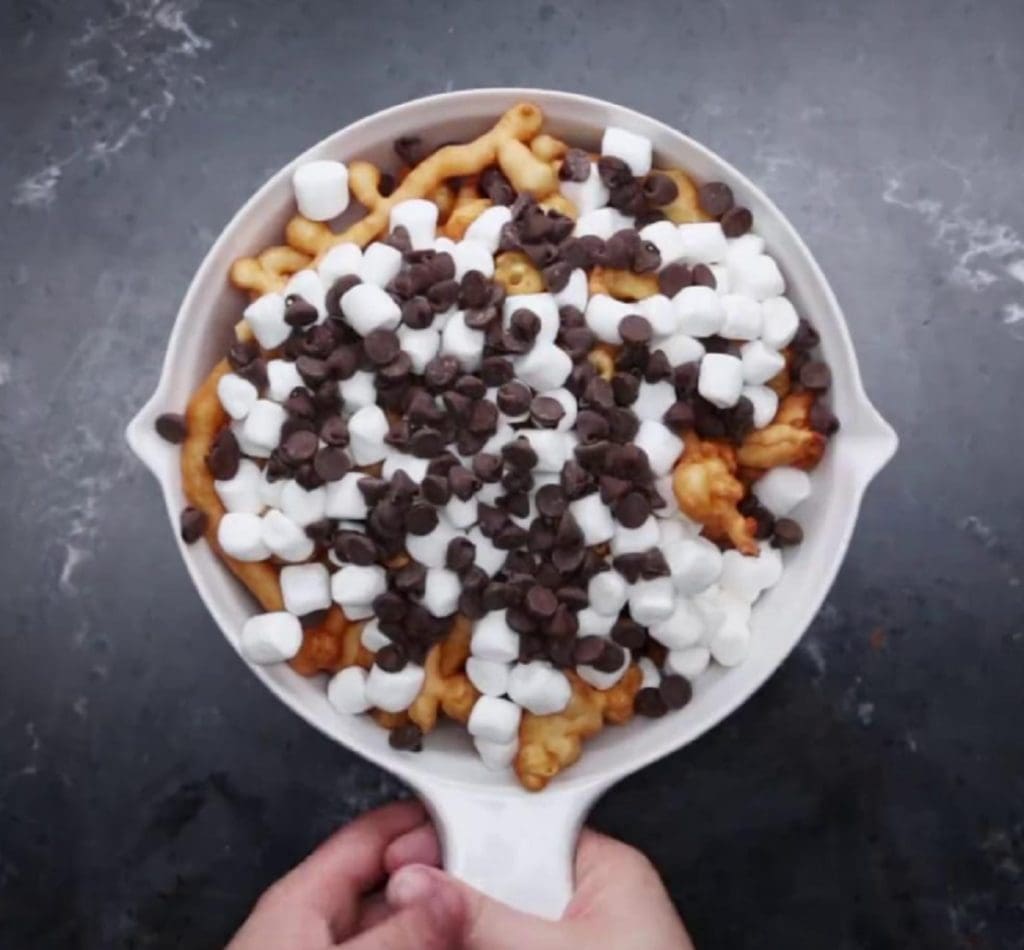 This deliciously sweet dessert will have you feeling like you're on a camping trip! It's full of the same chocolatey goodness of a s'more, and even has the graham cracker crunch we all love. It's not one to miss.
Ingredients
See recipe No.1's list
Chocolate sauce
Marshmallows
Graham crackers, crushed
Your favorite chocolate bar, broken into pieces
Method
Follow the steps from recipe No.1
While they're still hot, crumble your graham cracker pieces onto the funnel cakes.
Add as many marshmallows, as much chocolate, and as much chocolate as you like. The more, the merrier – right? Tuck in!
5. Birthday Cake Funnel Cake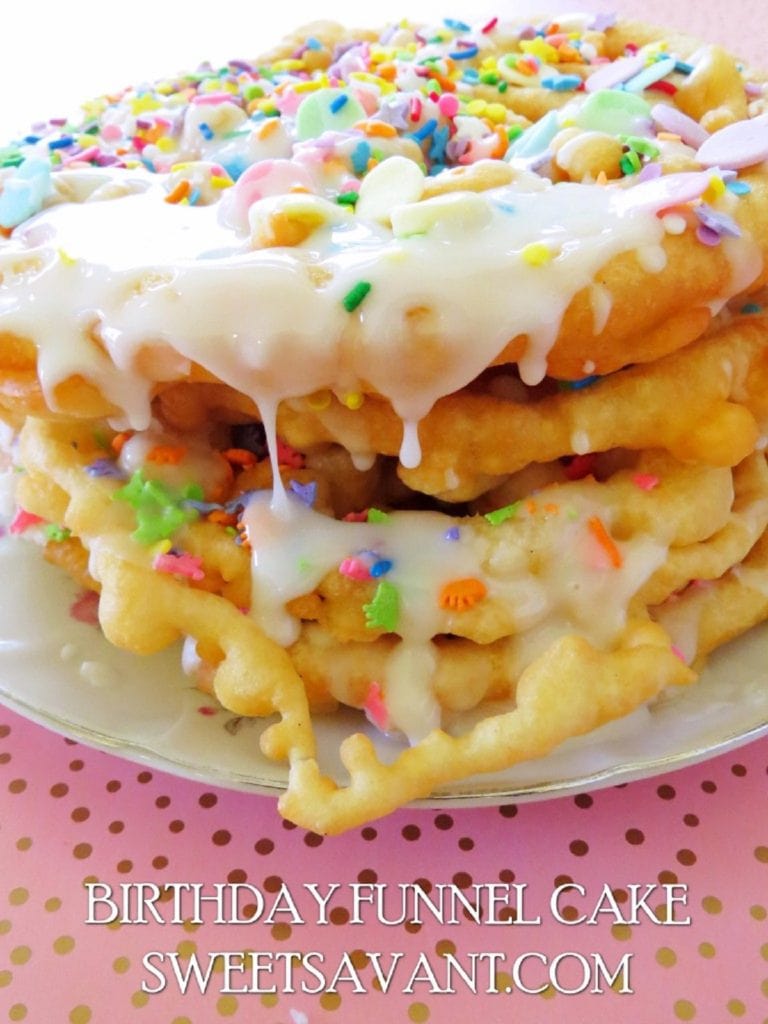 Have you or your friend got a birthday coming up but don't want to bake a traditional cake? Try these special occasion funnel cakes if you want to mix things up.
Ingredients
Same as recipe No.1
Sprinkles
2 cups of powdered sugar
1 teaspoon of vanilla extract
3 tablespoons of heavy cream
Method
Follow all instructions of recipe No.1
While your funnel cakes are frying, add your powdered sugar, vanilla extract and cream together and stir. Mix these ingredients until they make a smooth mixture that you can pour. This is your birthday funnel cake icing!
Pour the icing over your funnel cake while it's fresh.
Sprinkle with heaps of sprinkles to get the authentic birthday cake look! Time to celebrate.
6. Carnival Caramel Apple Funnel Cake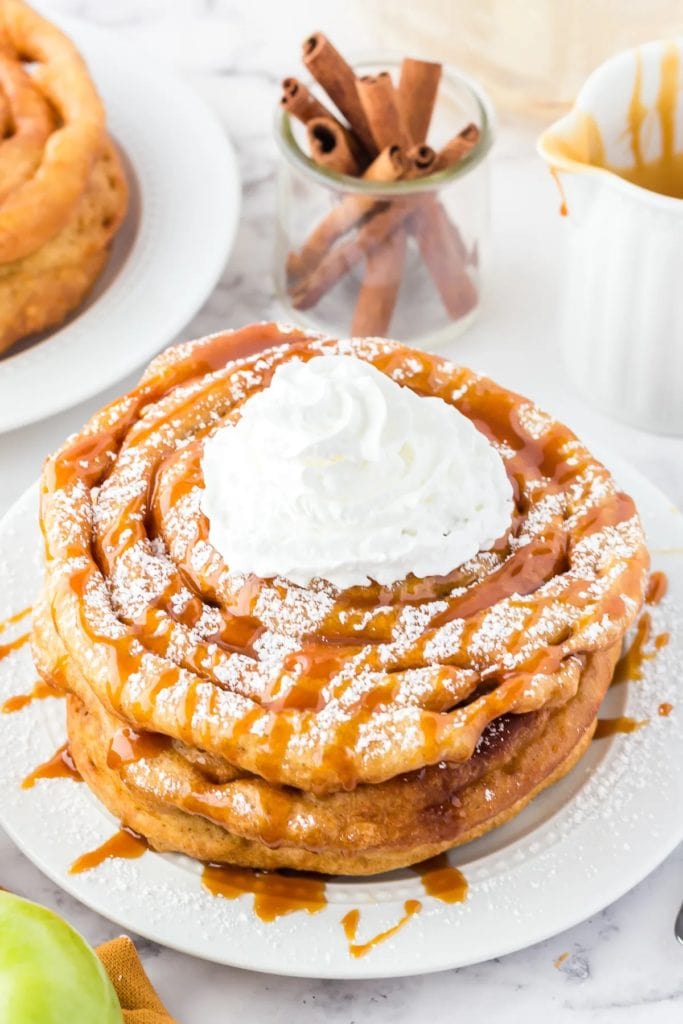 If you are a fall fanatic and are fancying the flavors of that season, this funnel cake recipe combines two of fall's best flavors in one dish. This is the ultimate funnel cake for feeling like you're at the fair.
Ingredients
Same as recipe No.1
Granny Smith apples, chopped
½ teaspoon of ground cinnamon
⅝ of a cup of white sugar
Heavy whipping cream
½ teaspoon of ground nutmeg
Water
Butter
Vanilla ice cream
Method
Follow recipe No.1's instructions
Make the caramel sauce by adding some water and your sugar to a saucepan. Whisk consistently while heating the mixture until all the sugar has dissolved.
Turn up the heat and let the mixture cook until it has turned into a dark amber color, and shake the pan every now and then while you do it.
Take the pan off the heat and add in your heavy cream. Stir the cream in until it has mixed with the other ingredients to make a smooth sauce. Return the pan to the heat and stir if there are any stubborn lumps.
In a separate pan, melt your butter and add in your apples, cinnamon and nutmeg. Sauté these ingredients until the apples are softer.
Scoop the apple mixture into your food processor and whizz it up until it crumbles.
You now have all the things you need to serve up! Take your funnel cake and sprinkle your crumbley apple topping over it, drizzle over some of your delicious caramel sauce, and finish off by adding a scoop of vanilla ice cream. I bet your mouth is watering just from reading this!
7. Red Velvet Funnel Cake
Red velvet cakes are always a crowd pleaser; they look and taste divine! The same is true of these red velvet funnel cakes, which involve a dash of red food coloring and a cheeky splash of egg nog.
Ingredients
Same as recipe No.1's ingredients, but substitute the milk for eggnog, if you'd like a festive touch!
Red food coloring
Squirty cream
Method
Follow instructions 1 to 4 for recipe No.1.
Once you have completed step 4, add in your food coloring. You can add as much or as little as you like, it just depends on the color you're going for.
Follow recipe No.1's instructions from step 5 onwards
When you're funnel cake is ready, decorate it with lashings of squirty cream! The contrast between the red and white will make you feel super festive – especially if you've added in eggnog!
Are You Ready To Try Out A Recipe?
As I'm sure you can tell, there are unlimited types of funnel cake that are just waiting for you to make them! Whether you're a chocoholic or a savory savant, you can alter the ingredients and toppings of a funnel cake to suit your preferences.
Transform your kitchen with the tastes and smells of the carnival, and I'm sure you won't be able to resist making these funnel cakes a regular occurrence!