Brown sugar sponge cakes are a classic dessert. They are known to be moist and delicious. This brown sugar sponge cake recipe is simple and easy to follow. 
Brown sugar sponge cakes have been around since the 19th century. The original version was made with eggs, butter, flour, baking powder and milk.
In recent years, they have become popular because of their rich taste and low-calorie count. 
These cakes are a great choice for breakfast or afternoon tea.
They are also perfect for special occasions such as birthdays, anniversaries, weddings and other celebrations. 
So if you want to make your own brown sugar sponge cake, then you have come to the right place.
Check out our simple recipe, and you will have everything you need to get started. 
What Is Brown Sugar Sponge Cake?
A brown sugar sponge cake is a kind of pound cake that uses brown sugar instead of white.
It has a very soft texture , and it does not require leavening agents such as yeast or baking soda.
You can use a variety of different sugars to make this recipe, but we recommend using light brown sugar.
The difference between brown sugar and dark brown sugar is subtle. Dark brown sugar contains more molasses than light brown sugar.
While light brown sugar tends to be sweeter than dark brown sugar.
We prefer light brown sugar over dark brown sugar, as it tastes better when used in cakes and desserts.
If you do not have light brown sugar on hand, you can substitute it for dark brown sugar. Just keep in mind that the final product may not turn out as well.
While it is possible to eat this cake plain, it can taste even better with the addition of broiled pecan frosting.
This frosting is extremely easy to make and can be used to decorate the finished pound cake.
We would also recommend garnishing the cake with some chopped pecans, as this will add some needed texture.
Now that you understand what brown sugar sponge cake is, let's take a look at how you can make it from scratch.
Brown Sugar Sponge Cake Recipe
Ingredients
Large eggs (x3)
Milk (3 tablespoons)
Vanilla extract (1 1/2 teaspoons)
Cake flour (1 1/4 cups)
Baking powder (1 teaspoon)
Salt (1/4 teaspoon)
Light brown sugar (3/4 cup – firmly packed)
Room temperature butter (3/4 cup)
Method
1. Preheat the oven to 350 degrees F (180 degrees C) and place an oven rack in the center of the oven.
2. Grease the inside of a cake pan using butter or cooking oil. Line the bottom of the pan with parchment paper and set it aside.
3. In a bowl, combine the eggs, milk and vanilla extract.
4. In an electric mixer, use the paddle attachment to combine salt, flour, baking powder and light brown sugar.
This should take 30 seconds on low speed.
5. Cut the butter into small cubes and add them to the dry ingredients. You will also need to add half of the egg mixture.
6. Mix on low speed until the dry ingredients are moist.
Increase to medium speed and beat the ingredients for one minute to achieve maximum volume.
7. Scrape down the sides of the bowl and add the rest of the egg mixture. Beat the ingredients to strengthen the cake's structure.
8. Pour mixture evenly into the prepared pan and smooth off the top with a spatula.
Bake in the oven for 50 – 60 minutes or until the cake turns golden brown.
9. To see if the cake is done, insert a toothpick into the center of the cake and see if it comes out clean.
10. For the best results, rotate the cake about halfway through baking.
If the cake is browning too much on one side, cover the pan with lightly buttered foil.
11. Remove the cake from the oven and place it on a wire cooling rack. While it rests you can start making the broiled pecan frosting.
Broiled Pecan Frosting Recipe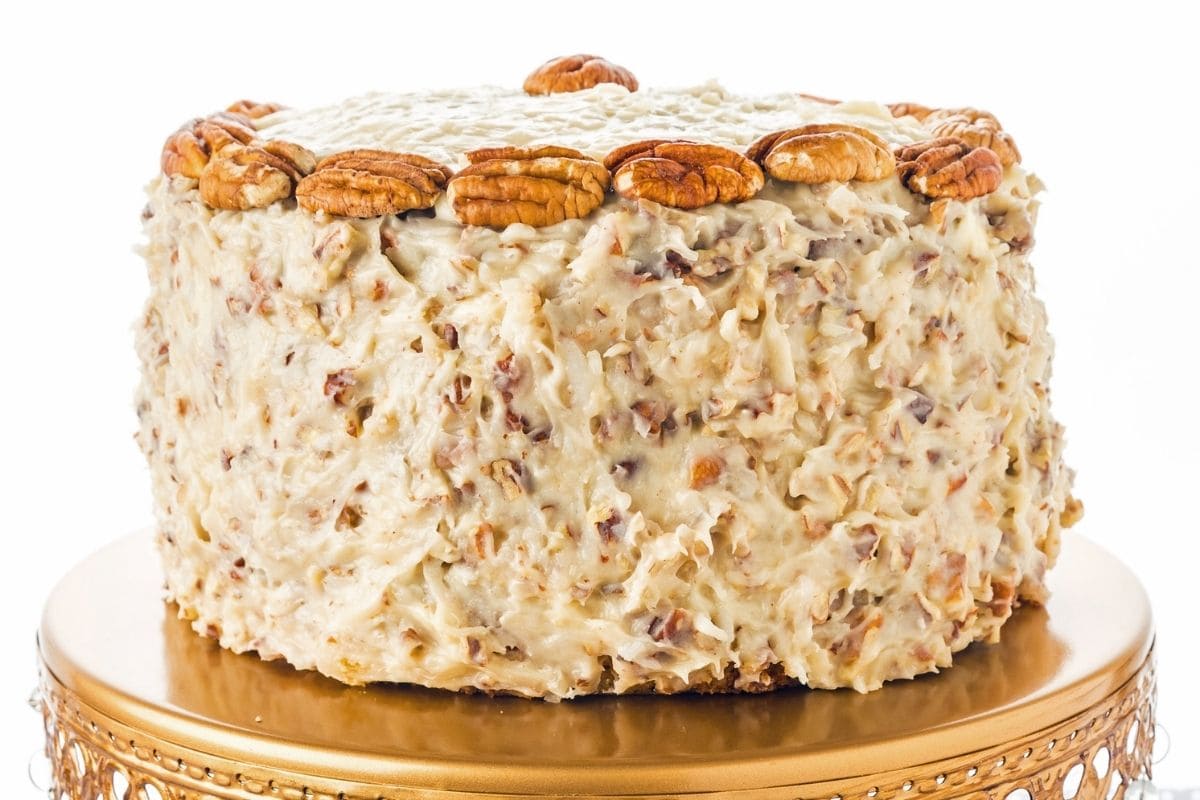 Ingredients
Unsalted melted butter (3 tablespoons)
Light brown sugar (1/3 cup – firmly packed)
Vanilla extract (1/2 teaspoon)
Light cream (2 tablespoons)
Toasted and chopped pecans (2/3 cup)
Method
1. In a bowl, stir the melted butter gently with the cream, sugar and vanilla extract until combined.
2. Stir in the chopped pecans and spread the frosting over the warm cake as it cools.
3. Place the cake 6-inches (15 cm) under the oven's broiler until the frosting is brown and bubbly.
You will need to watch the cake carefully, as the frosting could burn if left unsupervised.
4. When the cake is ready, place it on a wire cooling rack and let it cool completely before removing it from the pan.
Note: The brown sugar sponge cake can be covered and stored at room temperature for several days.
However, it can last for up to a week when refrigerated and a few months when stored in the freezer.
How To Serve
This cake is best served cool, as this makes it easier to remove from the pan. However, you can serve the cake hot if needed.
This can be done by cutting the cake into smaller pieces and putting them in individual bowls.
You can then heat up the slices in the microwave so that everyone gets their favorite piece.
You can also cover the cake with whipped cream and a sprinkle of granulated white sugar. This is a nice way to serve the cake for breakfast or afternoon tea.
Of course, it is also possible to serve the cake with other adornments. Whether that be chocolate syrup, poached pears or ginger marmalade.
Final Thoughts
And that is how you make brown sugar sponge cake. We hope you enjoy making this cake as much as we enjoyed eating it!
If you have any questions about this recipe, please feel free to ask us in the comments section below.
We look forward to hearing from you and seeing your finished brown sugar bakes.