Introduction
Cookies are always a fan favorite dessert, there's so many different varieties of cookies that will cater to most people's tastes. But today we're going to be focusing on small bath sugar cookies.
Freshly baked sugar cookies bring so much joy to the kitchen, but the only problem with making a batch of sugar cookies, is that you've often got leftover cookies.
Whilst it's not the biggest issue, you can always store sugar cookies in an airtight container and eat them at a later date. It can be too much of a temptation for some people.
Well this is where the small batch sugar cookies recipe comes in. These is an easy sugar cookie recipe that makes soft and chewy cookies and it won't leave you with tons of cookies leftover.
What You'll Need
These are your typical cookie ingredients, you'll most likely have them sitting in your pantry, this recipe will make 6 sugar cookies.
Butter
For the butter, it's usually best to use unsalted butter, but salted butter can be used. This adds the amazing buttery taste we love about sugar cookies.
It's best to use softened butter too as you'll want creamed butter that is mixed with the sugar to create air pockets, these are what make the cookies light and airy.
You can use melted butter, it can change your cookie's structure and texture and often result in them having a chewy texture, which can still be achieved with softened butter.
Just make sure that you don't use cold butter, as it won't mix properly. You'll want to use 6 tablespoons of unsalted butter.
Sugar
You'll want to use granulated sugar in this recipe, 6 tablespoons of granulated sugar will add the perfect amount of sweetness that is much desired in sugar cookies.
Flour
1 cup of all purpose flour is used in this sugar cookie recipe.
Egg
All you'll need is one egg and its egg yolk to structure the sugar cookies.
Vanilla Extract and Salt
This is mainly for flavor, you can typically use any extract, like almond extract or coconut, but vanilla extract is the most popular for a sugar cookie recipe. You'll want 1 1/2 tsp of the extract and 1/4 tsp of salt.
Baking Powder
This helps the sugar cookies lift a little bit, use 1 1/8 of baking powder, baking soda can be used but just be warned that baking soda is much stronger than baking powder, so you'll need to adjust the recipe accordingly.
Step By Step Instructions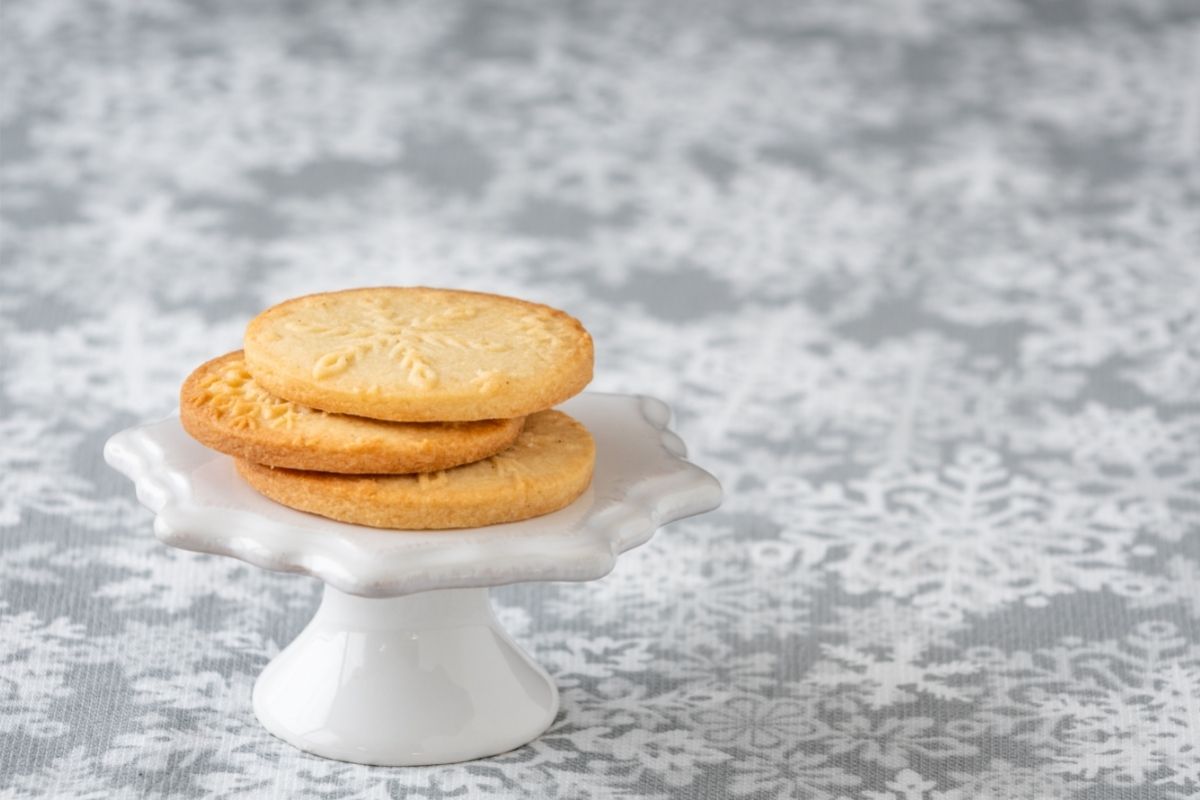 Now that you've got the ingredients, it's time to make the actual sugar cookies!
Grab a medium sized bowl and mix together the flour, baking powder (or baking soda) and salt. Once mixed leave the bowl to one side and move onto the next step.
In a different medium sized bowl, mix together the butter and granulated sugar, do this with an electric mixer for 2 minutes. Then beat in the egg and the vanilla extract (or almond extract).
Make sure that the mixer is on a low speed, slowly add in the ingredients from the medium bowl you set aside earlier and mix until they are combined. Next, cover the sugar cookie dough and leave it to chill in the refrigerator for 45 minutes.
Once the dough has been chilled and you're ready. Heat the oven to 350 degrees and grab a quarter cup of the sugar cookie dough and roll it into a small ball and place it on a baking sheet, parchment paper or a silicone baking mat if you have one.
Flatten the dough ball slightly with your fingers and place it on the prepared baking sheet or parchment paper. Repeat this step with the remaining dough balls and ensure the cookies are 2 inches apart.
Bake cookies for 8-10 minutes until they're lightly browned, then let the cookies cool on the baking sheet for 2 minutes and then transfer them to a cookie rack to cool completely.
Vanilla Buttercream Icing
Sugar cookies aren't complete without their delicious icing. Because this is a small batch sugar cookies recipe, you won't need much of the vanilla butter cream ingredients either.
Ingredients
1 1/4 cups of powdered sugar
2- 3 tablespoons of milk, if you want the frosting to be thinner, feel free to add more milk.
You can use most types of butter, but softened butter and salted butter is usually better, use 1 1/2 tablespoons for this.
1 tsp of vanilla extract, or almond extract, whatever you prefer.
3-4 drops of food coloring, but this is optional.
Steps To Make The Buttercream
To frost cookies, whisk together the powdered sugar, butter, milk and vanilla until the consistency is smooth. You can always whisk in additional milk if it's necessary, in small amounts until you reach the desired consistency, or you can whisk in additional powdered sugar if it becomes too thin. It's at the stage that you can add 4-5 drops of food coloring if you want your frosting colored.
Once the sugar cookies have completely cooled, use a knife to spread the frosting on to the sugar cookies.
Storing And Freezing
To store sugar cookies, place them in an airtight container. The sugar cookies can be stored at room temperature for up to 5 days and frozen for up to 2 months!
Final Thoughts
This small batch recipe is excellent if you're not wanting a huge amount of leftover cookies.
This classic sugar cookie recipe provides chewy and soft goodness and will become a huge fan favorite with your family and friends.
The cookie dough is so light, airy and buttery that you'll wish you made more.
It's so easy and fast to make that it can be easily done with your family as fun baking day.
You can substitute a lot of the flavorings in this small batch sugar cookies recipe, so it can be catered to a variety of different tastes.