No family Christmas is complete without some delicious homemade sugar cookies.  The best thing about these sweet treats is that they are super easy to make. 
However, the holiday period can be highly stressful and busy leaving you wondering when you will have time to bake delicious treats. 
Therefore, you might be wondering whether you can make the dough or the cookies in advance. 
In this article, we will look at whether you can make sugar cookies ahead of time, and how to store cookies for longer. 
How Early Can You Make Sugar Cookie Dough?
As a general rule, the way in which you are going to store your cookie dough dictates how early you can make the sugar cookie dough and its rough shelf life. 
If you store sugar cookie dough in the fridge, it will last for around five days.  Remember to wrap it and place it in an appropriate container. 
If you are freezing cookie dough, it will last for up to three months.  When you freeze sugar cookie dough, make sure you place it in a freezer safe bag. 
You can also place the bagged cookie dough in a freezable container to help prevent freezer burn.  
Both of these methods allow you to store your cookie dough for an extended period of time before your holiday baking commences.  
Can You Make Sugar Cookies Ahead Of Time?
Making and storing your cookie dough ahead of time is one thing, but can you also bake sugar cookies and increase their shelf life?  The answer is yes. 
In fact, it is actually recommended that you bake your cookies a couple of days in advance to give them time to set and harden properly. 
This helps them to hold their shape when you decorate them later on.   It also means you should learn about storing sugar cookies.
It is possible to push this deadline a little bit further as long as you make sure you are storing them properly. 
You can place them into an airtight container and keep them at room temperature for up to one week. 
If you want to protect them even more, you can individually wrap the cookies before placing them into the container so that they don't go soft.  
If you want to store the cookies in the refrigerator, keep them in a container and they will last for up to two weeks.
If you have multiple layers of cookies, place a sheet of parchment paper between them to keep them fresher. 
You can also freeze baked cookies to make them last even longer before you decorate them. 
In order to make sure that they are properly protected, you should wrap them individually and place them into an airtight container before freezing them.  
When you want to decorate your cookies, simply take them out of the refrigerator and come up to room temperature. 
If they are frozen, simply let them defrost at room temperature or pop them in the oven to make them crispy. 
They will taste just like they were freshly baked.  Remember that they will only last up to three months in the freezer.
How To Keep Sugar Cookies Fresh For A Week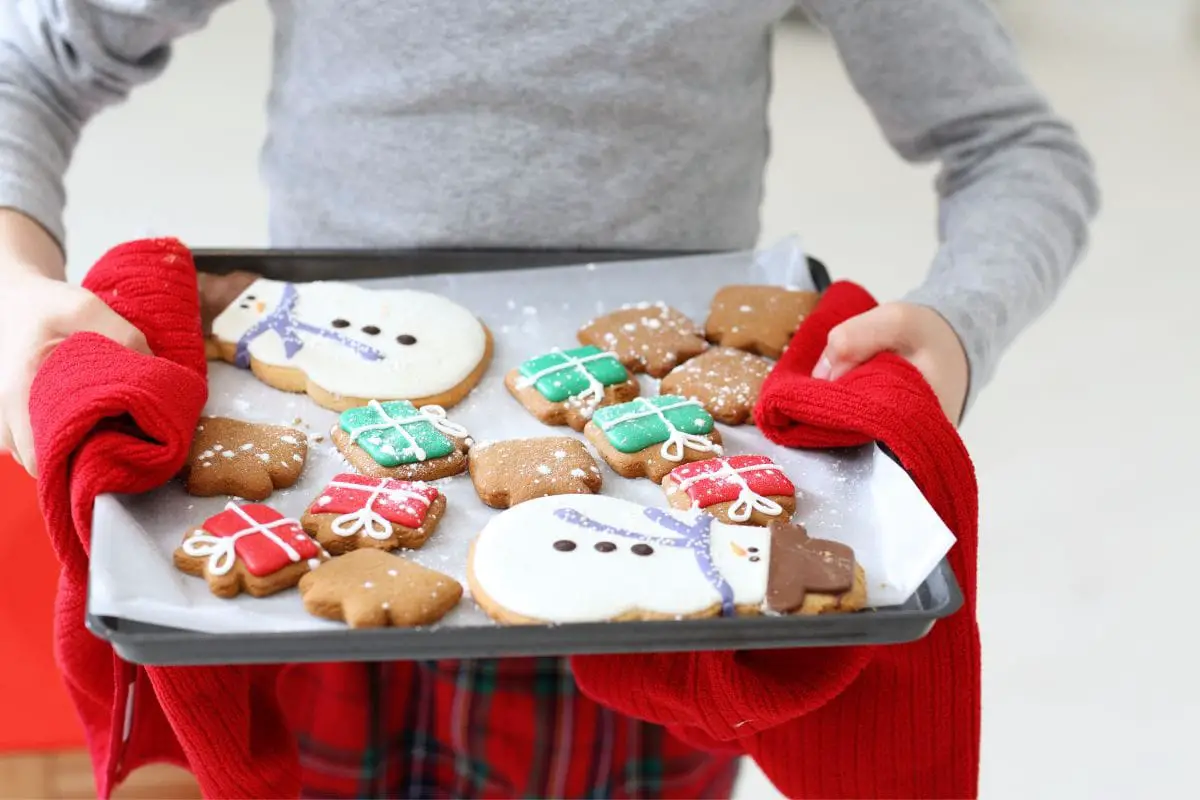 If you need to keep your sugar cookies fresh for a week without freezing them, there are a few tips and tricks to help you do that. 
If you wrap the sugar cookies individually before placing them into their container. Wrapping them individually helps to prevent them from sticking to each other. 
Make sure that you allow the cookies to cool for a few hours. The cooled cookies can then be wrapped.
If you want to store sugar cookies at room temperature you should avoid placing them into a cookie jar that is opened frequently as this can make the cookies soft which isn't what you want.  
It is important to note that these storage instructions apply to cookies that have not yet been iced. 
If your cookies have already been iced and you want them to last for a week, it is important to keep them away from direct sunlight and heat as this will affect the appearance of the icing. 
An airtight container will help to keep iced cookies fresh, but you should also make sure that you consume the delicious cookies in three to five days ideally.  
How To Keep Sugar Cookie Dough Fresh For Longer
If you are storing your cookie dough in the refrigerator or the freezer the most important thing to do to make it last longer is to protect it from the cold air.  Exposure to the air will cause the dough to dry out. 
This will make it difficult to cut to shape even with cookie cutters and they may not hold their desired shapes.  
Storing your cookie dough in something that is airtight is a good start, but you should also wrap the cookie dough in plastic wrap to help ensure that the cold air cannot get to it and cause it to dry out.  
If you are storing the cookie dough in the freezer, it is best to flatten it out into a disk shape rather than a log as this will allow it to defrost quicker when you need it and can help with the baking process. 
You can help the disk freeze flat by placing it on a cookie sheet or baking sheet. Again, make sure that the dough is wrapped tightly and protected from the air. 
When you are ready to defrost your cookie dough you can do so on a lightly floured surface to avoid sticking.
How Long Do Iced Sugar Cookies Last?
If you decorate cookies with stunning sugar art and need them to last, you are in luck.  Decorated cookies are perfectly fine to be stored in the refrigerator for up to a week. 
Again, protection from the air is incredibly important to prevent the icing from drying out and going bad.
You should also protect the frosted sugar cookies from direct sunlight to keep the sugar art looking its best.  
Can You Leave Sugar Cookies Out Overnight?
Yes, you can leave sugar cookies out overnight.  In fact, this is recommended to help them dry properly and achieve the famous crisp texture that they are known for. 
Allowing the cookies to properly dry also helps prevent icing from running which can be a particular issue with royal icing.
It also helps to avoid soft cookies. placing them on parchment paper can help prevent them from sticking.
Final Thoughts
With these tips, you can easily fill your home with vanilla extract and floured surfaces during the holiday period with much less stress. 
Being able to prepare sugar cookie dough in advance using your favorite sugar cookie recipe can really help the baking process as long as it is stored properly.  Happy baking.