Coconut tends to be one of those flavors that you either love or hate – but this one is for all you coconut lovers out there.
Toasted coconut is perfect in so many different types of cakes and desserts, and if you're anything like me you may even just munch on some toasted coconut as a yummy snack.
Toasting many different foods has been known to improve their flavor.
Much like we all enjoy a great honey-roasted peanut (yum!) toasting coconut really adds depth to the flavor and really brings that nutty flavor that you may not notice as much with fresh coconut flakes.
Not only will a toasted coconut add flavor to your favorite dessert but it will also significantly improve its texture, so what's not to love?
Now you may be thinking 'I can buy toasted coconut from the store, why would I spend time making it myself?'
Well, to improve shelf-life those coconut flakes are packed full of preservatives that aren't great for you and may affect the taste.
Plus nothing quite tastes as nice pre-made as it does when you cook it fresh yourself!
Also, it really doesn't take that long to do and it's so simple to make.
Just a small sprinkle of these toasted coconut flakes will elevate your cookies, cakes, loaves of bread, cheesecakes, and many more tasty desserts.
I really do love coconut so without further ado, let's start learning about toasting coconut.
How Do You Make Toasted Coconut Flakes
There are a few different ways you can toast coconut so we'll go through each method separately throughout this article.
The three different methods of toasting coconuts are:
Stove Top Method
Oven Method
Microwave Method
There's no right or wrong answer to which method you find the most effective, but personally, I think that the Stove Top is my favorite method.
This is because you have the most control over how it cooks and it creates the most even toasting.
But all three options will still make the perfect nutty treat.
Sweetening Unsweetened Coconut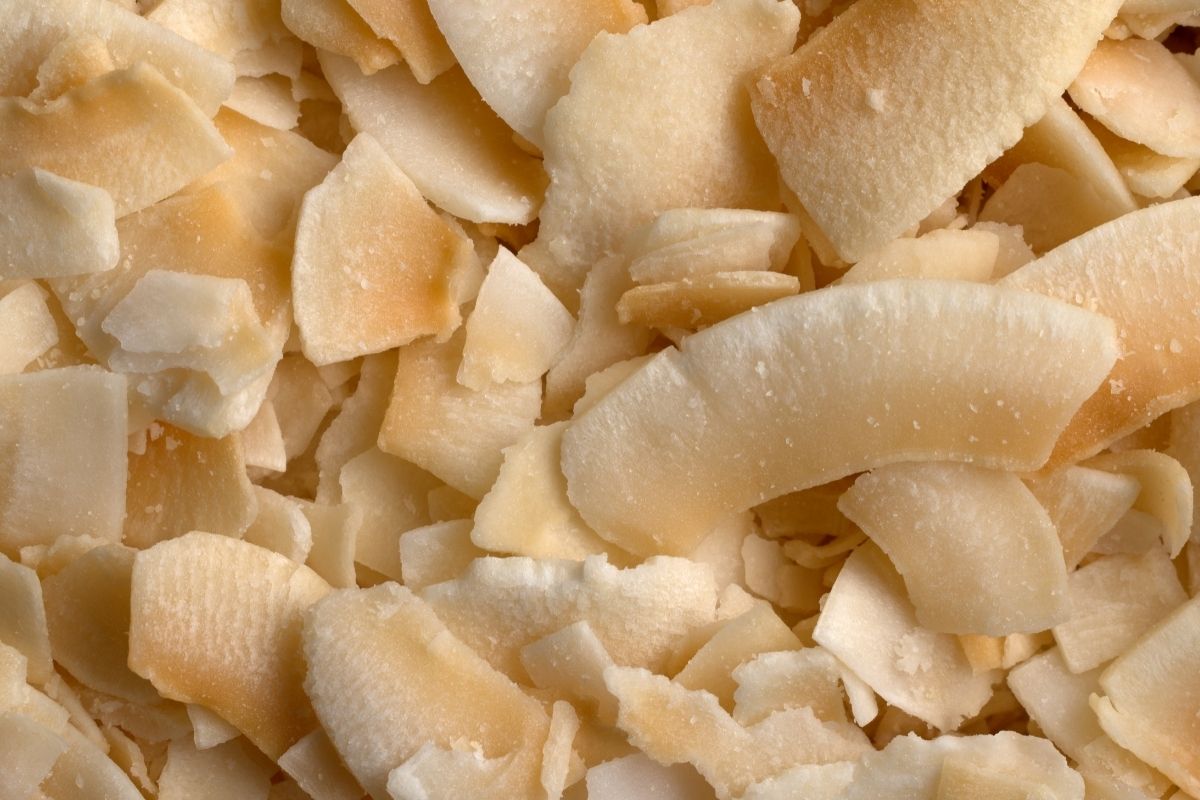 If you are working with unsweetened coconut then I would advise sweetening it after toasting or it's likely you'll end up with burnt coconut.
This is super easy to do though, just place a pound of toasted coconut (shredded or in flakes) into a sealable bag with 2 tablespoons of powdered sugar.
Then vigorously shake the bag for a minute or two. And then voila – you're all done.
How To Make Toasted Coconut
Ingredients
Toast Coconut In The Microwave
This is by far your quickest option so if you are pressed for time this is the perfect option.
Find a microwave-safe plate and spread around 1/2 a cup of shredded coconut over its surface.
Microwave for 30 seconds and then pull it out to stir. Repeat this action as many times as is necessary.
Once the coconut flakes are looking your desired level of toasted (the flakes should be lightly browned now) pull them out and enjoy.
Toast Coconut In The Oven
This option will give you a better golden brown color than the microwave method, it takes a little while longer but will still only take a maximum of 10 minutes.
Preheat the oven to 325 degrees Fahrenheit.
Spread your coconut flakes out across a baking sheet. Make sure you have a thin even layer of flakes otherwise they may burn.
Place in the oven. Keep an eye on them as they won't take long at all to toast. Usually, they'll need 5-10 minutes depending on how toasted you want your coconut flakes.
Throughout this time, stir occasionally to ensure that the golden-brown color is even for all of the shredded coconut.
Remember that if you are toasting sweetened coconut flakes they will take less time to cook due to the sugar content.
Toast Coconut On A Stove Top
This is my favorite method to toast coconut. It will ensure that your coconut will toast evenly and it best brings out that nutty flavor.
Get a large skillet and place it on the stove and then add an even layer of your coconut flakes.
On medium-low heat, toast the coconut, stirring frequently to ensure that it doesn't burn.
Sweetened coconut will brown much faster than unsweetened coconut.
Frequently Asked Questions
Is Toasted Coconut Healthy?
Yes! This is because they are just a dried, baked, flake of fruit.
Coconut is very nutritional filled with fats and fibers while being quite low in natural sugars.
Can I Toast Fresh Coconut?
Yep! Just preheat your oven to 325 degrees Fahrenheit and line a baking sheet with parchment paper.
Evenly spread out the fresh coconut and bake until golden brown.
Can You Toast Colored Coconut?
If you want to dye your toasted coconut with food coloring, you'll need to toast the coconut first and then dye it once it has cooled.
Is Toasted Coconut A Golden Brown Color?
Yes! Once toasted coconut turns golden brown and really brings out the nutty flavor.
Toast coconut to a dark brown color if you want to further deepen that delicious nutty flavor.
Final Thoughts
So now you know how super easy it is to toast coconut flakes. You'll want to make them all the time.
Trust me, something that delicious can be really addictive. What's great is that it's also super easy to store toasted coconut.
Just wait for your flakes to cool completely and then once they have, pop your flakes in an airtight container and you're good to go.
Toasted coconut flakes are a staple for any baking recipe and are likely to improve the taste of many baked goods and cakes.
So whatever recipes you've got lined up try adding some shredded toasted coconut flakes (that you've made yourself from scratch) for a delicious nutty taste and some added texture!