You can't beat a good old cherry dump cake – they're so easy to make, and you can make them with so many different fillings. All you'll really need is some fruit of your choice, some cake mix, and a hot oven.
A few minutes of work, and an hour or so of waiting – and your delicious cherry dump cake is ready, and you can start the dump cake store of your dreams.
If you're looking for some fantastic cherry dump cake recipes, then good news – here's 15 of the best cherry dump cake recipes!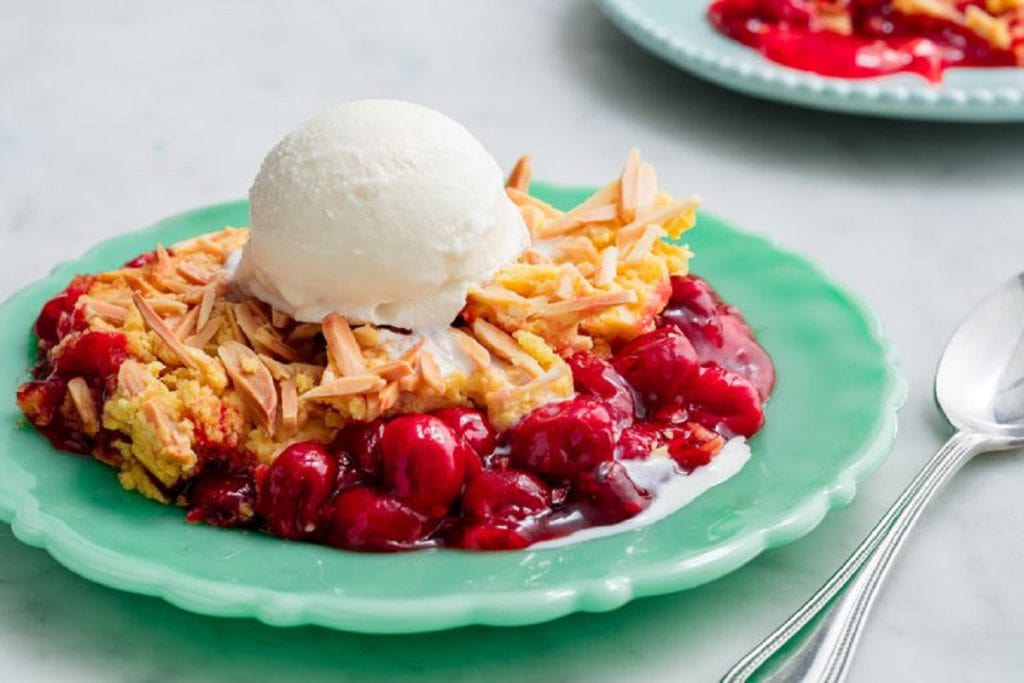 So easy to make, this is the archetypal cherry dump cake. A few cans of cherry pie filling, some yellow dry cake mix, and a cup of slivered almonds – how delicious, and how simple!
Simply put the cherry pie filling in a lightly greased cake pan, then cover with the cake mix. Sprinkle in some almonds, then place some slices of butter over the top, adding a richness and a delicious golden brown glaze when fully baked. These will bake in about 45 to 55 minutes, giving you plenty of time to get hungry!
Serve warm with cream or a scoop of ice cream.
For a fantastic tasting cherry dump cake recipe with a cool twist, try this recipe! You'll love the extra citrus tartness that comes with the added crushed pineapple – it's a great addition to an already delicious cake recipe! As the recipe states, make sure to use real butter – it'll give you the best chance of getting that rich tasting golden brown glaze you're looking for.
You'll be able to get this one ready for the oven in around 10 minutes – so make sure to preheat, or you'll be standing around while this delicious cake could be baking!
Completely stuffed with delicious fruit – berries, strawberries and pineapple, this recipe will ensure that you're also completely stuffed – with this delicious cake! It's so simple to make, too, as you're using premade pie fillings and canned pineapple. And for a delicious change to many dump cakes – banana bread!
This makes for a great change, and a fantastic taste. Not to forget the absolutely great idea of putting vanilla ice cream on top of a serving. After all, originality is nice, but there's a reason why some great ideas stand the test of time!
We're in some seriously decadent territory here – deep in the Black Forest. This Black Forest dump cake uses brownie mix, giving the cake a delicious chocolate flavor. Of course, you can't give something the name "Black Forest" without it having cherries, and this cake is of course filled with them – 2 cans of cherry pie filling going into making this delicious dump cake.
You'll have this one made from scratch in just under an hour – with only 10 minutes of preparation time! This recipe makes 16 servings – but exactly how much you consider a serving of this decadent treat is up to you!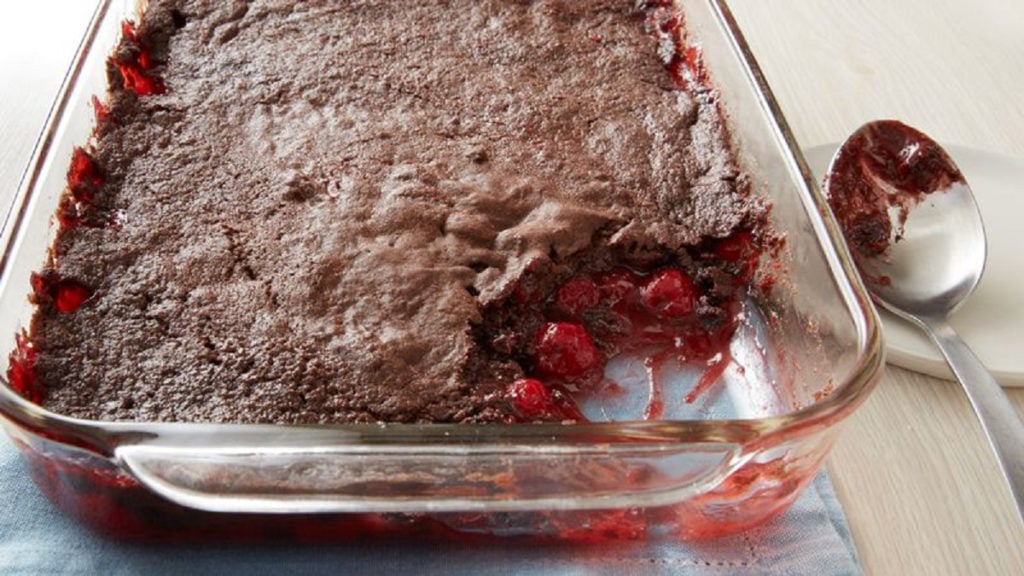 For a very simple and absolutely delicious cake that you can make with ease, why not try this chocolate cherry dump cake? Full of the beautiful cherries you'd expect, of course, and with the delicious taste of chocolate cake mix too.
As the recipe states, serve this with a few scoops of vanilla ice cream – you'll be in chocolate and cherry heaven! You don't have to put a lot of work in too – you'll be using store bought ingredients for a quick and easy job that's totally delicious.
Oh, this is such a delicious recipe! Using a brownie mix, it's so each to make. As the recipe states, if your brownie mix doesn't include chocolate chips, then feel free to throw in some – and frankly, why not throw in some even if it does have some?
After all, there's no need for half measures when it comes to chocolate. 2 cans of cherry pie filling will give you all the delicious fruit flavor that you need from this recipe – serve it hot and plop some ice cream on the top to melt!
While the title might call this an upside down cake, it definitely shares enough in common with a cherry dump cake to make it to this list. Although it might state that the maraschino cherries are optional – are you really going to forego them!
Of course not – who would miss a chance to eat some delicious cherries? You'll absolutely love this recipe, and you'll see that kiwi fruit and cherries make such a great combination of flavors!
Bake cherry dump cake for 35 minutes in a prepared baking dish.
Apples and cherries are a classic combination of flavors that just plain make sense together. They complement each other so well, both bringing their own richness and tartness, while of course being deliciously sweet too!
Like some of the best recipes, this one is simple. You'll need cherry pie filling, and apple pie filling – you can get both of these canned! Some yellow cake mix, butter and pecans – and, of course, a nice hot oven to bake them in!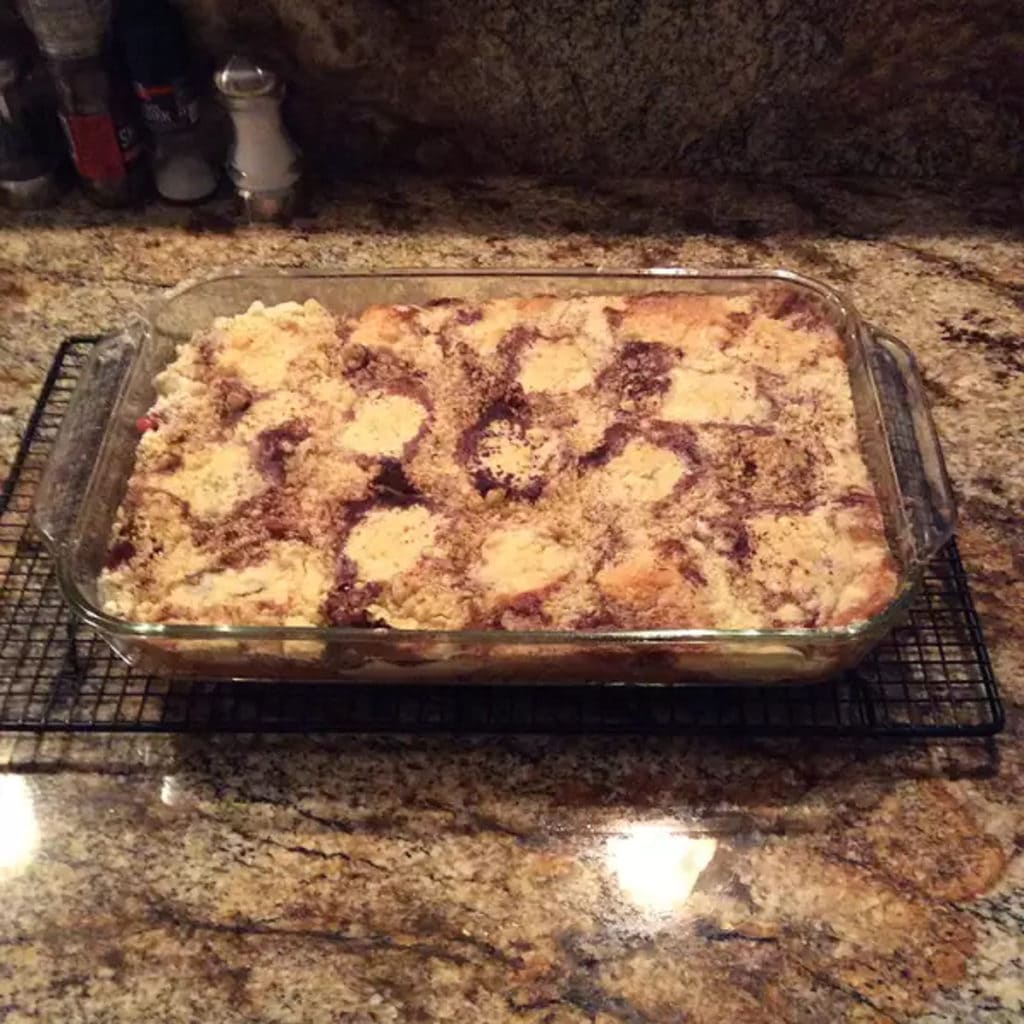 If you love cream cheese, then you'll absolutely love this dump cake recipe – as it's got so much delicious cream cheese in it! Taking just an hour and 20 minutes to bake from scratch – and that's including preparation time – means that this recipe is something you can easily whip up in an afternoon – and you'll be very glad you did!
There are hints of vanilla and cinnamon too, and a rich sweetness helped along by a few tablespoons of brown sugar. And, of course, the rich cherry pie filling!
If you love cinnamon, then you'll find this recipe to be absolutely delicious. You'll be making a fantastic tasting chocolate cake from scratch, with a touch of cinnamon to give it a delicious warmth and richness.
Not to mention, of course, the delicious fruit filling – cherries, of course, pitted and halved, and mixed with sugar, cornflour, and salt. Oh, and of course, a bit more of that delicious cinnamon – making this great for those who love it!
The author recommends that you serve this one while it's hot, and add a nice, large portion of ice cream to go with it – along with a bit of melted chocolate drizzled all over it. You know you want to make this one!
You'll only need 5 simple ingredients to make this delicious recipe – so, with just a few things and a little bit of time in the kitchen, you can have an amazing tasting homemade cherry cheesecake dump cake of your own!
You'll use both a can of cherry pie filling, and a bag of frozen cherries in this recipe, making it even more full of delicious cherries than usual! Add four ounces of cream cheese to the cherries, before covering in cake mix and dumping it into a baking dish.