Are you a fan of strawberry shortcakes, but are unsure how to make them or where you can find a decent recipe? Look no further, this article will explore 15 of the best strawberry shortcake recipes that you can easily follow at home.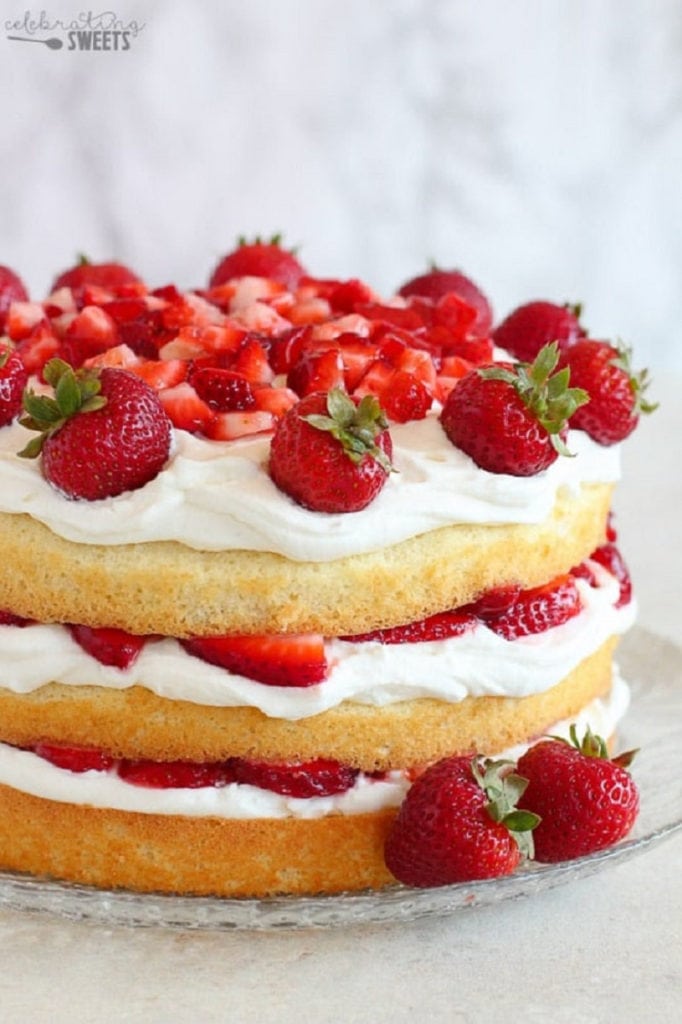 This classic cake is full of delicious whipped cream, sweet strawberries, all topped off with a delicious perfectly divine cake to hold it all together. These cakes are perfect during the summer, the light and summery fruit a joy to taste on a warm sunny day. 
The cake batter recipe itself is well laid out, and the method details what you need to do super clearly. Overall, this recipe will take you a total of 50 minutes to complete and should serve 12 people.
The recipe calls for ingredients that are quite simple and should not be a problem to find at your local store, including heavy whipping cream and fresh strawberries. Serve on a cake plate with fresh strawberries and a sprinkle of powdered sugar on top.
If you think that this classic strawberry shortcake is the perfect dessert for you, check out the Celebrating Sweets recipe and start baking yourself one of these delicious cakes. 
This whipped cream and strawberry topped cake is a perfectly delicious way to finish your meal or the perfect accompaniment to your evening tea or coffee. This single-layer cake recipe is very simple to make and offers all the information you could need to create one of these delicious cakes all on your own. 
Plus, as it only features one cake layer, this is ideal for small ovens and kitchens with only one cake pan!
The overall time it will take to finish prep, baking, and decorating this cake should be no more than 2 hours 20 minutes and this recipe should serve 8 people. The instructions are simple and easy to understand, making it easy to follow along and hopefully get everything right.
If you think that this is the right strawberry shortcake for you, check out Sally's Baking Addiction and follow her scrumptious strawberry shortcake recipe. 
If you are sensitive to gluten, this cake has the potential to become one of your new summer favorites. The juicy strawberries, whipped cream, and soft vanilla cake are bound to draw you in. This recipe should make you a cake that is two layers cake that serves, at most, 6 people.
The instructions for this recipe are simple, concise, and guide you through every step. From mixing the cake batter to the best way to assemble this delicious dessert.
Overall, this Gluten-Free Strawberry Shortcake should take 2 hours and 7 minutes to be completely cooked and ready for eating and should serve up to 6 people. Make sure to allow time for the cake layers to cool completely before adding the cream cheese homemade whipped cream.
If you think that this recipe is a great choice for you, and you really want to make it, take a look at The Loopy Whisk's Small Batch Gluten-Free Strawberry Shortcake Recipe. Grab your spatula and start baking.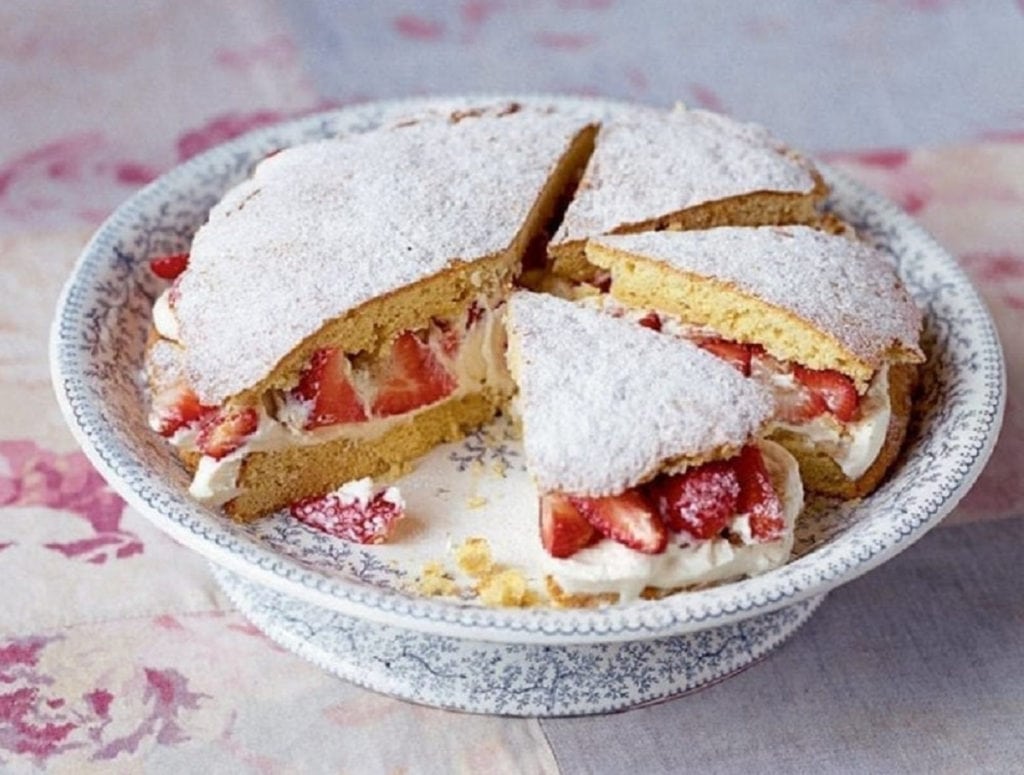 This traditional strawberry shortcake is a great summer dish. The sliced strawberries and whipped cream sandwiched between the soft and delicious shortbread. This perfectly divine cake is not only beautiful, but it is also a tried and true classic that is bound to impress. 
This cake is very simple to make, and the concise instructions really help highlight this fact in the recipe. Overall, this cake should be ready to eat after 1 hour, this includes bake time and assembling your cake to perfection.
The recipe indicates that this cake should serve about 8 people if you share out the slices evenly. So, if you think that this delicious classic shortcake is something you want to try out, feel free to check out the Delicious Magazine recipe and give it a go.
Also known as Japanese Christmas Cake, it is a soft yet fluffy sponge cake with sweet strawberry and fresh whipped cream sandwiched between two layers of sponge cake. The main difference between Asian strawberry shortcakes and the western world is that they usually substitute buttercream frosting for whipped cream. 
This cake should take about 1 hour to be ready to eat and typically serves up to 6 people. But on this recipe site, you can change your ingredient quantities based on how many people you need to serve.
The way that the recipe is laid out makes it really easy to follow the instructions, making this a great recipe to follow in the comfort of your own home any time you feel like you deserve a little cake. 
If you would like to add a little spice and flavor to your strawberry shortcake, the Food & Wine recipe might be a great fit for you. The simple ingredients and low skill level required to make this cake make it a fantastic fit for a variety of people, familiar with baking or not. 
From beginning to end, this cake should take you a total of 2 hours and 20 minutes to complete. The serving yield can vary but to be safe, this recipe allows 8 people to get a slice.
If you think that this spicy variant of the traditional strawberry shortcake is something you might enjoy, check out the Food and Wine Strawberry Shortcake with Star Anise and give it a go.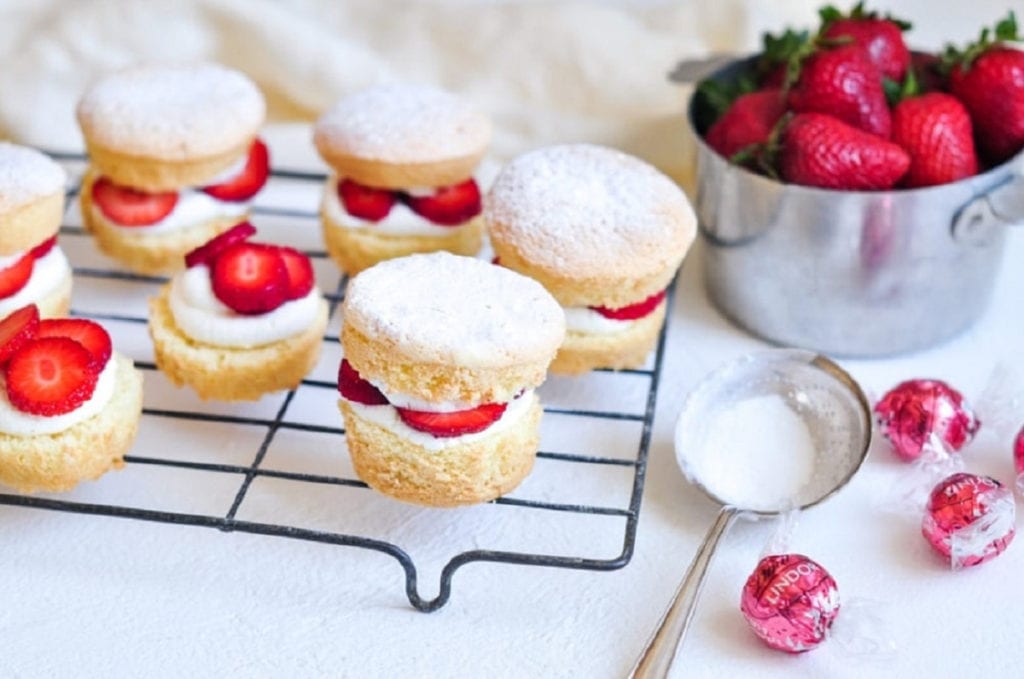 This recipe's selling point is the cute scone-like presentation of these miniature strawberry shortcakes. These bite-sized cakes are a delicious, fluffy, and sweet treat you can enjoy any time of the year. The recipe itself highlights all the information you could need to make these perfectly delicious little shortcakes. 
The Eat, Little Bird's recipe will only take 35 minutes to be fully done, this is because of the small size of the cakes and simplistic nature of these classic cakes. With the quantities this recipe recommends, you should get 12 servings out of it.
If you love the idea of making these adorable strawberry shortcakes and want to follow an easy recipe, check out the Eat, Little Bird's recipe, and don't forget to save a cake for yourself. 
If you would like to try a strawberry shortcake that you do not have to bake, this is a fun cake to attempt. It is easy to make and delicious to boot.
The main downside to this recipe is that you will have to allow it to be refrigerated overnight so that it sets, and you have your perfect set strawberry shortcake slice at the end of it all. 
From mixing the batter to leaving your shortcake to set, this cake should take you 25 minutes to prepare and be set aside in the fridge for the night. But, this recipe makes a reasonably large portion and serves 14 people, so there will be plenty of leftovers if you are just making it for yourself. 
Deep down, you have all wanted to try a cake in a mug, and now you can learn a recipe to do exactly that for a strawberry shortcake. Not only is it a fun idea and delicious, but this cake can also be ready in less than 10 minutes!
The ingredients are simple, and the recipe is easy to follow, meaning that you can be relaxing on the sofa with a nice mug full of cake with very little work. If you think that this is a fun strawberry shortcake recipe, you would like to try, check out the Chocolate and Chai recipe and start your baking adventures. 
If you love strawberry shortcakes and chocolate cake, this is a fantastic recipe for you. The perfect combination of chocolate with strawberries is a classic treat, you simply can't get better than that.
This quick and easy shortcake recipe is not only tasty but pretty to look at as well, for those that like to make their cakes look beautiful, this is a fun one to play with. 
This strawberry shortcake could very easily become one of your go-to desserts, best of all it only takes about 1 hour to prepare and serves 12 people. If you think that this delicious chocolate strawberry cheesecake might be something you want to try, take a look at the Rock Recipes and enjoy a slice of chocolate cake. 
This uniquely presented strawberry shortcake is a fun play on the original classic. It is a deliciously fresh dessert, which is especially lovely when the sweet strawberries are in season. This cake is light and airy, not too sweet, an added bonus is that it looks pretty. 
The total time this cake takes to be ready for you to eat is around 1 hour 40 minutes, and it serves 8 people if you share out the slices evenly. The instructions are easy to understand and walk you through everything you need to know in order to be successful with this recipe.
If you think that this beautiful and delicious cake is something you would like to try out, visit the Food, Folks, and Fun recipe and enjoy a slice of the Rolled Up Strawberry Shortcake. 
This keto-friendly and nut-free cake is a great option for anyone trying to resist sugar, carbs, and nuts all without sacrificing the deliciously sweet and fresh taste that a strawberry shortcake should have.
The Keto Strawberry Shortcake recipe is easy to read and explains each step clearly, allowing you to easily follow the instructions with ease. From beginning to end, this cake should take you 1 hour to make and should serve up to 8 people.
If you would like a slice of cake but are on a diet this is a great cake for you to try out, checkout Sugar-Free Mom's recipe and start baking yourself a treat, you deserve it.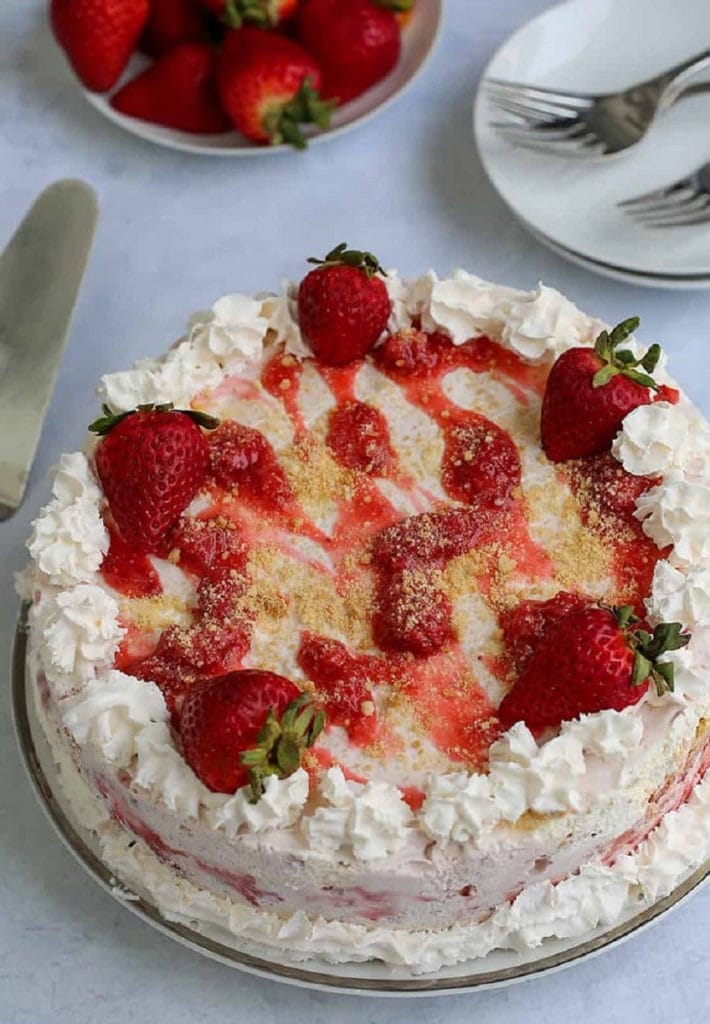 We all love ice cream and strawberry shortcake, and this recipe blends the two seamlessly together to create a perfectly delicious cold dessert.
Best of all, this recipe is really easy to do, and with the help of this recipe, you should be able to easily follow along and get yourself a slice of this delicious cake. 
In total, this cake should take you around 40 minutes to make, and it should serve one person. So if you need to make a cake for more people, you will need to up the ingredients and follow the recipe in order to make a cake with a higher yield. 
The recipe itself is simple and easy to follow, meaning you can recreate it with ease from the comfort of your own home. If you think that this recipe is something that you want to taste for yourself, check out the My Organized Recipe and get yourself a scoop of ice cream and strawberry shortcake. 
If you follow a vegan lifestyle or are unable to consume animal products, this might be a great fit for you. This delicious vegan strawberry shortcake does not sacrifice flavor in the process.
On top of that, these strawberry shortcakes are presented in a scone-like way, which makes them perfectly bite-sized and suitable for parties or family gatherings. 
From beginning to end, this cake should take you no longer than 35 minutes to be ready. This does not include preparing each tiny cake and allowing the cake to cool.
This recipe should serve about 9 people if each person takes a single cake, so if you need more you can easily double the recipe and get a greater yield. The method and instructions are really easy and simple, so you can follow along with ease from the comfort of your own home.
If you think you would like to try out this delicious vegan strawberry dessert, check out the Loving it Vegan recipe and give it a try. 
If you would like something different from the usually layered strawberry shortcake, this is the best recipe for you. The fluffy cake, sweet strawberries, and chocolate mousse are definitely something you have to try if you haven't already.
Not only is this cake delicious, different, and pretty, it is also easy to make! To top it off, this recipe is vegan friendly and perfectly delicious. 
The full time you will need to put aside for this cake is around 3 hours 20 minutes, this is so that you have time to prepare, bake, decorate to perfection. If you think that this cake is something you will enjoy, head over to Gretchen's Vegan Bakery and take on this delicious 
Conclusion
That is all for this article on 15 strawberry shortcake recipes you can easily make at home. There are plenty of variants for this cake, but at their core, they are all the perfectly delicious treats we have all come to know and love.