Coconut cream pie is one of the most delicious recipes you can make, and it is super easy, too.
You only need a few ingredients, including shredded coconut, instant pudding, and cream. It is an easy no bake pie, with a lot of flavor.
There are many variations of recipes, but we are going to be talking about an easy coconut cream pie recipe.
Let's look at a great recipe for coconut cream pie that you can make at home.
What Is Coconut Cream Pie?
Before we get into the recipe, let's find out exactly what coconut cream pie is, and what it consists of.
Coconut cream pie is exactly what it sounds like. It has a regular pie crust, filled with a creamy coconut filling, made with sweetened condensed milk and coconut, topped with sweet whipped cream and some shredded coconut.
Let's look at a good coconut cream pie recipe.
Easy No Bake Coconut Cream Pie Recipe
Firstly, let's look at what utensils and ingredients you need.
Utensils
A bowl
Pie casing
Whisk or electric mixer
Refrigerator
Mixing spoon
Ingredients
2 boxes of instant pudding mix (preferably the coconut cream pie flavor, if you can't find coconut pudding, use regular)
1 graham cracker crust pie crust
3 1/2 cups milk
2 cups shredded coconut/coconut flakes (sweetened)
1-2 cups whipped cream or cool whipped topping
1 cup toasted coconut
Coconut extract (for additional coconut flavor)
Method
Firstly, make sure your prepared pie crust has been chilled for a few hours. If you bought it, you don't need to do this step.
Add your instant pudding mix to a large bowl, and add your milk. Gradually whisk until it is smooth. You can use instant pudding mix without coconut if you want, but you should add a dash of coconut extract. This will make sure the coconut flavor is there. Let this mixture sit, and then stir in your sweetened shredded coconut.
Pour your mixture into the pie crust, and let chill in the refrigerator for three hours.
Top the pie with whipped cream/whipped topping, as well as toasted coconut. Toasted coconut is great for an added depth.
You can keep the pie in the refrigerator for three days.
This is the most common and basic no bake coconut cream pie recipe, but you can also make some things yourself to step it up slightly. Let's look at a more intricate recipe.
Homemade No Bake Coconut Cream Pie Recipe
Ingredients
Homemade pie crust
4 egg yolks
1/4 cup cornstarch
1 can coconut milk
1 cup half-and-half
2/3 cup sugar
1/4 tsp salt
1 cup sweetened shredded coconut
2 tbsp unsalted butter
1 tsp vanilla extract
Homemade whipped cream (see recipe below)
Method
Firstly, make sure your pie crust has been baked and is ready to be filled.
Whisk the yolks with cornstarch, and set aside.
Grab your coconut milk, and whisk into half-and-half, sugar, and salt. Heat this up, until it has formed a smooth liquid.
Gradually pour your heated custard into the egg yolks, whisking gradually. You do not want scrambled eggs.
Put the mixture on the heat, and add in butter, coconut, and vanilla extract.
Let it cool slightly, and pour the pudding mixture into your pie crust. Let this chill for at least four hours, and top with your homemade whipped cream.
Are There Eggs In No Bake Coconut Cream Pie Recipes?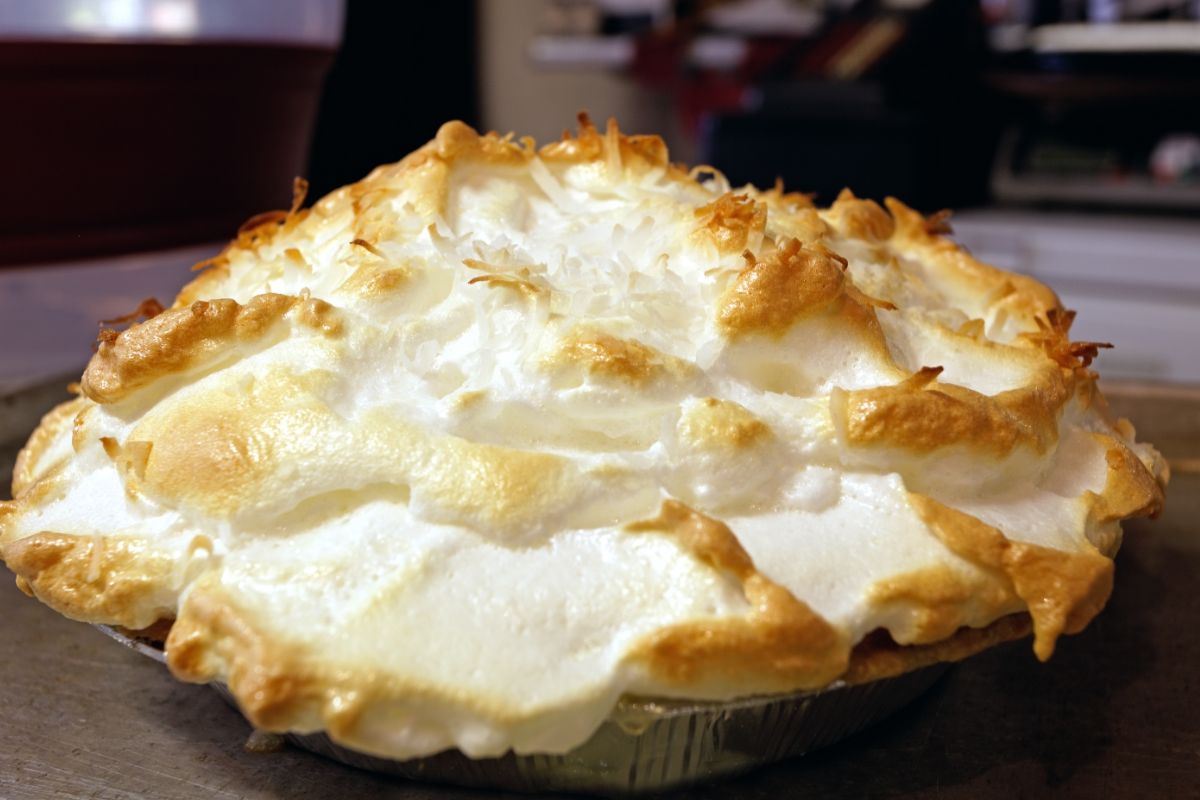 If the recipe is made from instant pudding or instant coconut pudding, it will not contain eggs.
Coconut cream pudding mix is a premade mix that is often used for coconut cream pie.
Coconut cream pudding mix will not have eggs in it, but it will most likely be made with sweetened condensed milk or cream.
If you are making the recipe yourself, you can make a coconut custard by whisking and cooking eggs with cream.
Can You Use Coconut Cream In A No Bake Coconut Cream Pie Recipe?
If the recipe calls for coconut milk, you should not use coconut cream. Coconut pie is a pudding pie, and coconut cream is thick.
This would not work in the coconut pudding mix, and you will find the mixture to be too thick.
Stick to an instant coconut pudding mix instead. A good coconut pie recipe will not use coconut cream, but coconut milk.
How To Make Homemade Pie Crust For No Bake Coconut Cream Pie
To make a homemade pie shell for a coconut cream pie, you will need the ingredients for a buttery and flaky pie crust.
Coconut cream pie requires a solid crust, as well as the addition of things such as toasted coconut and a nice whipped cream. Let's look at how to make the pie crust.
Utensils
Pie casing
2 and 1/2 cups all-purpose flour
1 tsp salt
6 tbsp unsalted butter (cubed and chilled, not melted butter)
2/3 cup vegetable shortening
1/2 cup of ice water
Method
Firstly, mix up your flour and salt in a bowl. Gradually add your butter and vegetable shortening.
Use a fork to bring the mixture together, it should be grainy and rough at this point.
Pour your ice water in, gradually. Stir with a wooden spoon, and stop adding it when the crust has formed large clumps.
Transfer to a floured surface, and fold the dough until the flour is completely incorporated, forming into a smooth ball.
Wrap in plastic wrap, and pop it in the refrigerator.
Roll the chilled dough on a floured surface, making sure not to break it. Roll it thin enough to be placed into the pie casing.
How To Make Homemade Whipped Cream For No Bake Coconut Cream Pie
Ingredients
1 1/2 cups heavy cream or whipping cream (chilled)
3 tbsp confectioners or granulated sugar
tsp vanilla extract
Method
Firstly, use a hand mixer or regular whisk, and whip the heavy cream, sugar, and vanilla extract until peaks form. You can use cool whip, but making your own freshly whipped cream is always better.
Pipe on top of the chilled coconut cream pie. Garnish with toasted coconut.
Final Thoughts
No bake pie recipes are often really simple, which is great, but sometimes you may want to make things yourself.
Toasted coconut, a graham cracker crust, coconut extract, instant pudding, shredded sweetened coconut, and whipped cream topping are staple coconut cream pie ingredients, perfect for a no bake pie recipe.
We hope you enjoyed our no bake pie recipe!