If you're looking for a recipe that you can make in a few hours that can act as a delicious, fun treat, you might be wondering where to start amid so many dessert cuisines that are out there.
How about an instant pudding with a nice pie crust and a topping of nice whipped cream? This can all be accomplished with a delicious butterscotch pie that you can easily make from home.
This article will show how to make a no bake butterscotch pudding pie that you can make from the comfort of your home.
Read on further to find out how to make this rich instant butterscotch pudding for your next meal or special occasion.
Ingredients
For The Crust
8 tablespoons of unsalted butter that is melted
2 1/4 graham cracker crumbs
For The Pudding Mix
2 tablespoons unsalted butter (For pudding mix)
3 large egg yolks
3/4 cup of light brown sugar
1/2 cup of heavy whipping cream
1 1/2 cups of whole milk
3 tablespoons of cornstarch
1 tablespoon of vanilla extract
For The Topping
3/4 cup of heavy whipping cream
1/4 cup of powdered sugar
1 tablespoon of vanilla extract
Instructions
Step 1
Prepare your springform pan and stir the graham cracker crumbs with the melted butter until it is soaked in.
Then you can place these crumbs into your springform pan and press the bottom and sides to make a crust. Now you want to measure out all of your pudding mix.
Step 2
You want to melt your butter in a medium-sized saucepan over low to medium heat, and from here, you can add the egg yolks while stirring them until fully integrated.
Now you want to add in your brown sugar, then the milk and heavy whipping cream until the mixture is smooth over medium-low heat.
Now add your cornstarch and stir the mixture constantly until the pudding begins to bubble.
Step 3
Once this mixture bubbles, you can remove it from the heat and add the vanilla extract. Then you want to strain the pudding mix through a sieve into the pie crust you made earlier, and then you want to cover the pie with some plastic wrap.
You want to let it cool for 1 hour until refrigerate it for 4-6 hours until the pie filling is nice and firm.
Step 4
From here, you can make the topping by beating the heavy whipped cream until it becomes bubbly, then you can add the powdered sugar and vanilla.
You can then beat it again until stiff peaks begin to form on your mixture. Now you can spread the whipped cream over the pie, and you can then refrigerate this to keep it fresh for a later time.
Some Tips For The Perfect Butterscotch Pie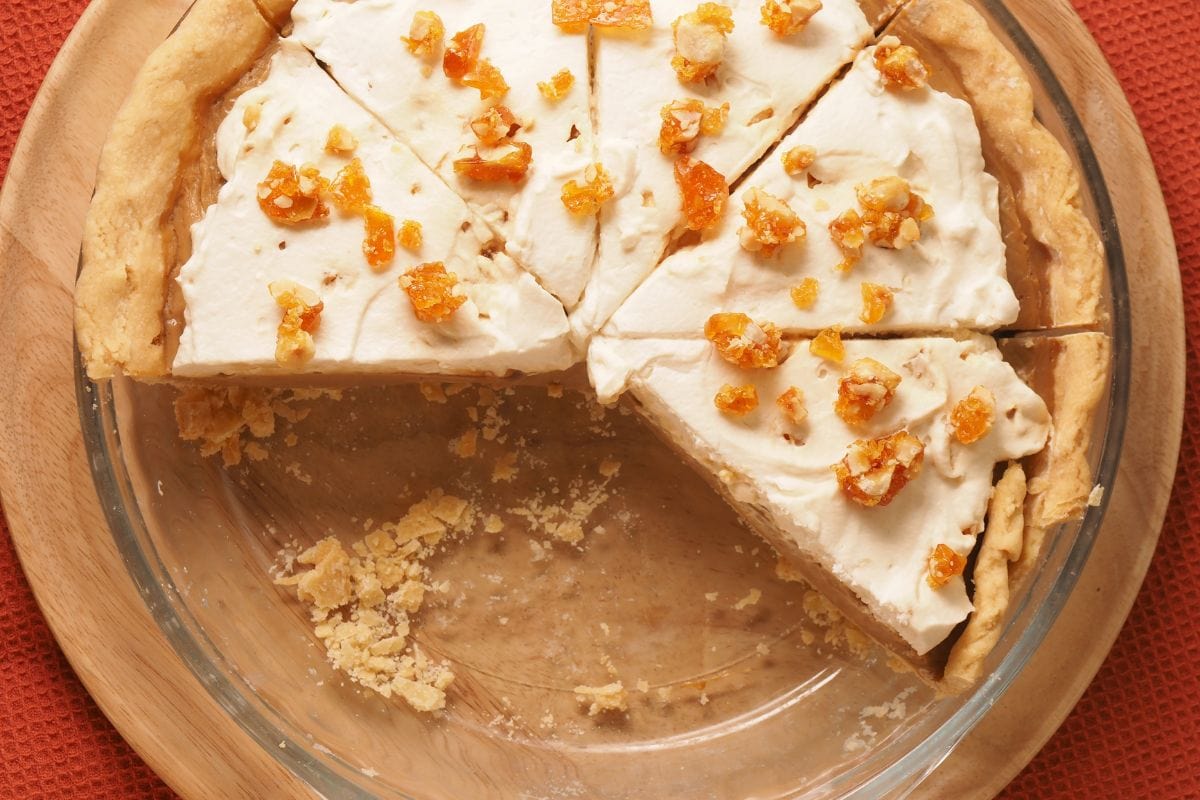 Try Different Combinations
The great thing about this recipe is that you can try different ingredients to heighten the taste of this dessert recipe by using some ice cream, chopped pecans, and chocolate chips that will work well alongside the butterscotch flavor.
You could make this a favorite thanksgiving dessert by adding cinnamon and maybe some cranberries inside to make this recipe unique.
You could go a step further and make this into a butterscotch sundae which sounds amazingly luscious.
Make Your Dessert Ahead Of Time
You can make the process easier for you by using some instant butterscotch pudding mix that you can get in most stores and perhaps go one step further by having homemade whipped cream.
You'll find that it tastes fresh, and you can taste how it compliments the graham cracker crust as you begin to add a pudding layer before the topping, which is the cherry on the top.
This makes it much easier to prepare a recipe for those holiday gatherings.
Use The Right Equipment And Utensils
As good as these optional instructions are, you'll find your time is wasted if you're searching around for extra pieces for additional steps you might need to take.
You want to ensure you have a large bowl, measuring cup, whisk, food processor, and a spare wooden spoon at hand to make your process easier.
If you think you've made too much, you can pour half of the cool whip and store some away for another recipe, for example.
Watch Your Timings
This one seems obvious, but you might be going for a nice creamy butterscotch pie filling and find out later you might have made it too thick, which can ruin the consistency of the pudding pie overall if it helps, you can make the filling and topping first to give you some time to prepare the homemade graham cracker crust.
This makes layering the filling and covering your baked dessert easier to plan and judge evenly.
Store Some Away
Using Tupperware or 3.4-ounce boxes to store your remaining pudding away is great for any future meal prep that you can usually leave in a refrigerator for up to a week afterward.
You'll find that the graham crust and the butterscotch topping begin to soften and lose their consistency if you leave them too long.
The last thing you need is to tuck into the pie to find out the press mixture filling doesn't taste quite right, as freshness is one of the main mistakes some people make with these types of dessert recipes.
Conclusion
You have here a great alternative to a traditional pumpkin pie for thanksgiving or a nice treat for a mid-week dinner, and you could use any remaining cool whip that could work with other excellent no bake desserts you decide to make.
The main thing is that you have a recipe that is not just versatile but has a sweet and creamy taste that everyone is going to find irresistible.