Baking is a pastime that pretty much anyone can enjoy.
It is a great way of practicing a skill that can be used in pretty much every part of your life, and they are also a great way of creating a wonderful gift for a person that you care about.
Plus, you also get to make delicious sweet treats for yourself and others, such as brownies, cakes, or in this case, a delicious peanut butter pie!
A Chocolate Peanut Butter Pie?
Do you remember that whole 'you got chocolate in my peanut butter' commercial for Reese's peanut butter cups?
The one from the 70s that ended up becoming kind of a meme?
Well, just apply that to a chocolate peanut butter pie, and you have your answer for this recipe too!
What Is A Peanut Butter Pie?
Peanut butter pie is a classic dessert recipe that has been around for decades at this point.
Made with creamy peanut butter filling that is made from powdered peanut butter, powdered sugar, and cream cheese, and is spread on top of a bed of graham cracker crumb pie crust base that is held together by melted butter that has set, creating a delicious smooth dessert cuisine.
Add to that a topping of whipped cream to cap off the dish, and you have a showstopper that goes down amazingly with everyone who tastes it!
Small wonder that it has become such a popular dish up and down the country!
What Is A Chocolate Peanut Butter Pie?
So, based on what we now know about peanut butter pie, we can see that a chocolate peanut butter pie isn't all that different from a traditional peanut butter pie recipe, although it does have a few key differences that set it apart from a normal peanut butter pie
(As a side note, keep in mind that the recipe we are using is based on Crazy For Crust's own excellent chocolate peanut butter pie recipe. If you're looking for some extra ideas for your chocolate peanut butter pie recipe, as well as plenty of other dishes, you should check them out!)
What Makes Chocolate Peanut Butter Pie Different?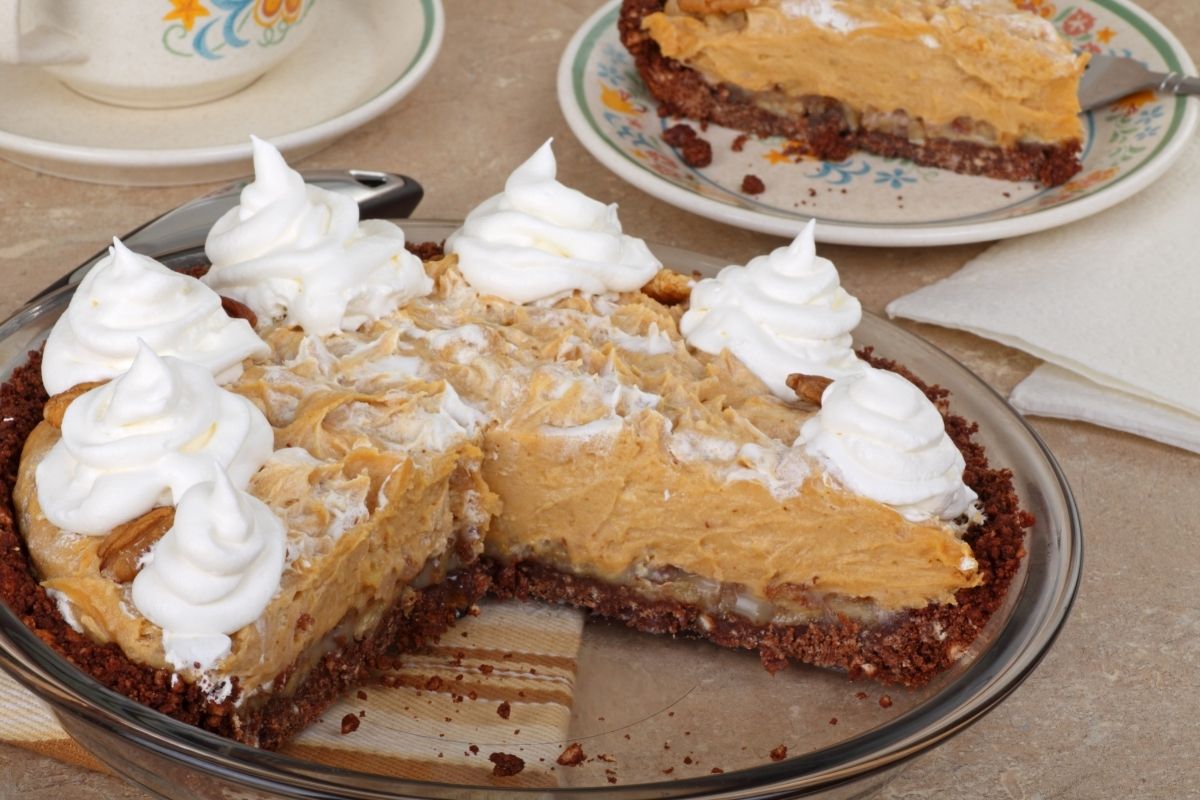 For starters, while the creamy peanut butter is used the same way as you would in a traditional peanut butter pie recipe, many of the extra ingredients that are added are, unsurprisingly, added with a little extra chocolate.
For example, this recipe makes use of a chocolate pudding to help make the filling of the pie that much creamier.
That combination of chocolate and peanut butter makes this a pie recipe that everyone will love, not just peanut butter lovers.
Not only that but the pie crust can also be altered to add extra chocolate, by replacing the traditional graham cracker base with an Oreo crust.
On a note of extras, there are plenty of options that you can also add to this pie to make that much more your own.
Adding chocolate chips or chocolate ganache topping adds that little extra sweetness to the mix.
And, of course, who can have a dessert pie without a little whipped cream on top?
However, when it comes to making pies, one of the things that many people often fret over, or even stop them from trying to bake them in the first place, is creating a pie crust.
Not only can it be tricky getting your crumbs small enough to be an effective base, but they also take a long time to bake too.
A Pie With No Baking?
This is one of the best aspects of this specific recipe that we have chosen for this guide.
This chocolate peanut butter pie recipe, whether you are going with the old-fashioned graham cracker crumb crust, or an Oreo pie base, takes very little time to make, meaning that the whole pie-making process is brilliantly streamlined.
Ingredients For The Perfect No-Bake Chocolate Peanut Butter Pie
So, now that we have thoroughly explained why a chocolate peanut butter pie recipe, and with no baking to boot, is so good, we should probably get round to making the recipe itself!
These are the main ingredients that this recipe calls for.
While there are other extras that you can add, some of which we have already mentioned, these are the core ingredients to make one of our favorite peanut butter pie recipes:
A 9-Inch Oreo crust (either pre-made or store-bought) or A 9-Inch graham cracker crumb crust base
A 3.9 to 4-ounces of instant chocolate pudding recipe
3 quarters of a cup of creamy peanut butter
1 and a quarter cup of non-fat milk
An 8-ounce container of cool whip
For garnish, some peanut butter cups
Making The Perfect No-Bake Chocolate Peanut Butter Pie
To make the pie crust, mix crushed Oreo cookies (or crumble graham crackers) that should be fine crumbs with melted butter together, then allow it to chill for 30 minutes.
This should give it enough form to work with.
After that, the chocolate peanut butter pie crust can be put in an oven for 8 minutes, at around 350 degrees Fahrenheit.
Once this is done, you will have your delicious pie crust.
Making The Creamy Peanut Butter Filling
So, with the crust out of the way, we can make the chocolate peanut butter pie filling.
Whisk the pudding and milk together, before adding the creamy peanut butter to the mix.
Once this is done, you can fold in half the container of cool whip.
Once the filling has been made, spread it across your pie crust and let it sit for at least four hours.
With the main pie finished you are free to garnish it with peanut butter cups, cool whip, whipped cream, chocolate chips, or whatever you want.
Final Thoughts
And that's it! When it is broken down, this is a very easy recipe to make for yourself! Feel free to add your extras.