Want to up your popcorn game a little? We've got the perfect recipe for you! Why not try out this delicious chocolate and peanut butter popcorn a try?
After trying this, you will never want to go back to the boring stuff. If you are a peanut butter lover, then this is the perfect way to get your peanut butter fix.
To learn how to make this dish, just keep reading. We'll go through two delicious and different recipes for you to try out!
If you try them both, be sure to let us know which one you like the most! Now, let's take a look at these chocolate peanut butter popcorn recipes.
How long it takes to make: 10 minutes
Type of cuisine: snack cuisine
What ingredients you need:
Popcorn kernels (½ cup, organic)
Canola oil (2 tablespoons)
Chocolate chips (¾ cup)
Peanut butter (¼ cup)
Salt (1 teaspoon)
Step By Step Method:
Get a medium to large skillet, heat it over a medium heat
Pour in your canola oil until it heats up
Toss in a few kernels to check the heat. Once they start to pop, move onto the next step
Add your popcorn kernels directly onto the oil in the skillet
Once the rest of the popcorn kernels are in the skillet, place the lid on, This will prevent the popcorn from flying everywhere
While the kernels are popping, shake the skillet. This will prevent the popcorn from sticking to the bottom of the skillet so that all the popcorn gets popped
When the popcorn has finished popping, transfer it onto a baking or cookie sheet large enough for it all. Spread popcorn over the tray, so it is one layer if possible.
Now to melt chocolate! Get a microwave safe dish and place your chips into it. Use the microwave to melt the chocolate chips, using the device in 10-second intervals. Be sure to stir the chips after every interval 
Once the chocolate chips have melted, remove the bowl from the microwave and drizzle the chocolate mixture over the popcorn.
Do the same thing with the peanut butter, drizzling it over the top once it has completely melted
Sprinkle the popcorn with a little sea salt. Salt just makes it that much better.
Enjoy! 
This chocolate peanut butter popcorn recipe is great for anyone who enjoys the popcorn popping process as much as anything else!
It's so easy to do, and you get great results with just a few simple ingredients. The sea salt on top is the perfect thing to counter the sweetness of the chocolate.
Even though it's not a lot, this should be enough to satisfy your chocolate craving, whether you use milk chocolate or dark!
As such, this is a must-try for all peanut butter and chocolate popcorn lovers!
Coconut oil can be added to the chocolate to ensure that it is super smooth. However, this isn't necessary.
How long it takes to make: 10 minutes
Type of cuisine: snack cuisine
What ingredients you need:
Popcorn kernels (1 bag/6oz of O Organics Kettle Corn)
Cocoa dark chocolate chunks (1 cup)
Creamy peanut butter (½ cup)
Vanilla melting wafers-white chocolate chips (1 ½ cups/10oz)
Step By Step Method:
Get a large baking sheet and cover it with a silicone baking mat or parchment paper to prevent anything sticking to it.
Get your Kettle Corn (or another brand of pre-popped plain popcorn), and spread it out over a large baking sheet.
Once laid out, get your vanilla melting wafers or white chocolate, and mix it with your peanut butter in a microwave safe bowl. Place the bowl in the microwave, and set the device to 50% power. 
Set the device to run for 2-3 minutes. Every 20-30 seconds, remove the bowl and stir everything together. 
Once the peanut butter and vanilla wafers have melted together, stir everything one last time.
Pour the peanut butter and vanilla wafer melted mixture over the popcorn on the baking tray.
As soon as it's cool enough, use your hands to toss the popcorn with the malted mixture. Ensure that all the popcorn is thoroughly coated before moving to the next step. Everyone wants that peanut butter!
Once coated, get your chocolate chunks and transfer them into a microwave safe bowl. Using the same method as before, gradually melt the chocolate chunks until they are fully melted. 
After the chunks have been melted, you can either transfer the melted mixture into a sandwich bag, or use a spoon or similar implement to drizzle it over the popcorn. If using a sandwich bag, cut the top off one end to drizzle the chocolate over the peanut butter coated popcorn. 
Once drizzled, allow the popcorn to harden, then you can simply break it apart and serve!
To store, keep the popcorn in an airtight container. It should be eaten within three days, but it should last for up to a week.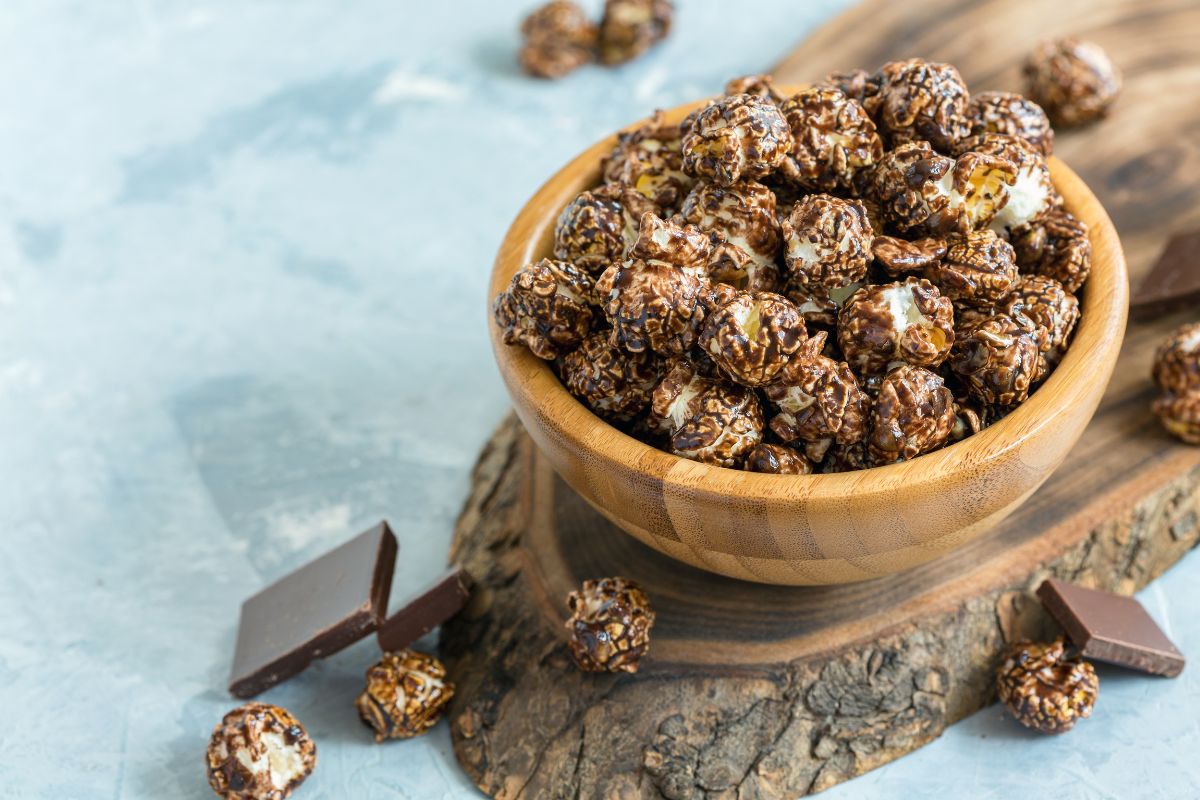 This chocolate peanut butter popcorn recipe is super easy, whether you opt for a pre popped bag of popcorn, or you want to pop the kernels yourself.
The chocolate works beautifully with the creamy peanut butter and vanilla wafers.
The sweetness gets countered by the slight bitterness of the darker chocolate, and you can even chop up chocolate chunks and sprinkle them over the popcorn. 
Having the popcorn tossed in the peanut butter and vanilla wafer mixture ensures that it's thoroughly coated, so you won't come across any plain pieces of popcorn.
You really can't get any better than that, right? This peanut butter chocolate popcorn is really next level.
You could also try using coconut oil to pop popcorn, but it's always best to stick to cooking oils that have a higher smoke point.
However, you can add a little coconut oil to the chocolate as you melt it to ensure the melted chocolate comes out super smooth.
You Can Try Spicing It Up A Little
Your peanut butter chocolate popcorn doesn't have to just be that. You can add different ingredients to make it even more interesting, if you like.
Chili works deliciously well with dark chocolate! If you don't want any actual spice, there are lots of other options, too.
You could also test out a different peanut butter, even a peanut butter with different flavor profiles!
Try adding some chopped up raspberries to the chocolate mix for something exciting! This will add a hint of freshness to the whole dish, and it's bound to be a winner for the whole family.
Final Thoughts
Hopefully this has helped, and you now have two delicious chocolate and peanut butter popcorn recipes to try out!
They are both incredibly easy and quick, so they're at least worth a try.
Whether you get pre popped microwave popcorn, or kernels, these recipes are super cheap and easy to do. 
Who can say no to peanut butter chocolate popcorn, anyway? Not even caramel popcorn can beat it.
Chocolate peanut butter popcorn is too good to just pass up. We dare you to try it and tell us otherwise.
So, the next time you are having a movie night, why not try out one of these recipes? You will probably end up with a family favorite, and you'll never look back.
Once you try this, it's the only thing you will want.  Now, get on that chocolate and peanut butter train!