When looking for dessert ideas, there's the temptation to go for something sweet and tasty, and these peanut butter cinnamon rolls are no exception.
You have a nice peanut butter mixture for the topping and a rolled-out dough that rises into a full golden brown color that is sure to intrigue you. But how do you make these, I hear you ask?
Not to worry, as we share one of our favorite recipes that you can place in your oven and takes you under 2 hours to prepare and serve.
Read on further to learn how to make these sweet cinnamon rolls for your next dessert.
Ingredients
2 cups whole wheat powder
2/3 of dry milk powder
2 packets of active dry yeast
2 tablespoons of sugar
2 teaspoons of salt
2 1/4 cup of hot water
1 cup of peanut butter
3 1/2 cups of bread flour
1/2 a cup of sugar
2 teaspoons of ground cinnamon
For Peanut Butter Frosting
4 cups of powdered sugar
1/4 of a cup of peanut butter
6 tablespoons of milk
Instructions
Step 1
First, you want to use a large bowl and place the whole wheat flour, dry milk powder, sugar, yeast, and salt, then add hot water and a cup of peanut butter.
Here you want to beat with a mixer while scraping the bowl, then add the bread flour, beat on a low-medium speed for 30 seconds, and use any remaining bread flour you have.
Step 2
Now you can roll dough onto a lightly floured surface and knead in the bread flour until it becomes smooth and elastic.
Now you want to form it into a ball and place it in a greased bowl, and this will cover the surface of your dough. From here, you can cover and let it rise until it becomes double in size.
Step 3
Once it's risen, you want to press the dough down and turn out onto a floured surface, and then divide it into 2 halves.
Then you want to let it rest for 10 minutes, and from here, you can prepare 2 square baking pans. You can move on to your filing by combining your sugar and cinnamon.
Step 4
Get both halves of dough you made before and roll each into a rectangle shape, and spread some peanut butter over these halves.
Now you can sprinkle them with the sugar-cinnamon mixture and slice each rectangle into the number of pieces you require.
You want to cover these and let them rise for about 30 minutes, and then prepare your preheated oven, where you want to bake your pieces for 20-25 minutes.
Step 5
You'll notice that your pieces have begun to brown, so this is the sign you need to remove them from your oven, where you want them to cool for 1 minute.
You can then leave them on a wire rack and cool them slightly and then place them on a serving platter, where you can spread the peanut butter frosting on top.
To make this frosting, place powdered sugar and peanut butter in a medium bowl and add enough milk to get a consistency that you can spread.
Tips For A Successful Batch Of Cinnamon Rolls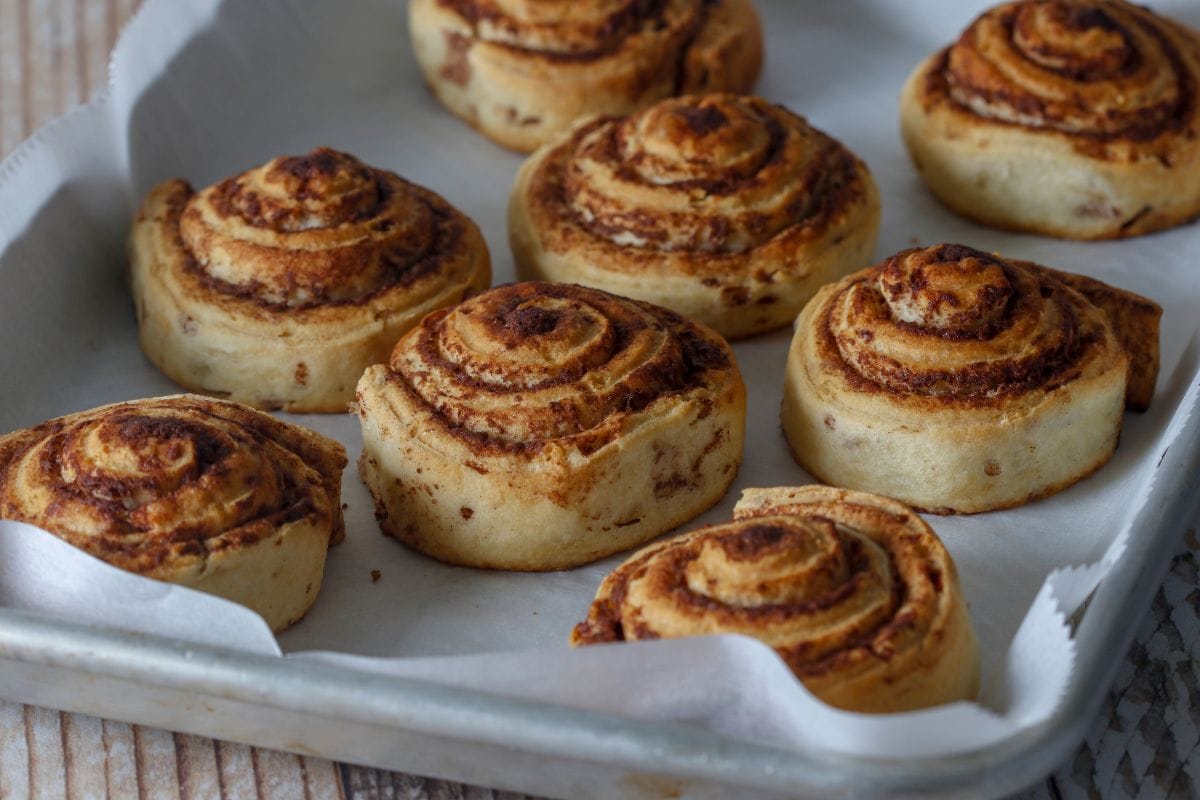 Watch Your Timings And Measurements
Whatever stage of the process you're at, whether you're setting up the pan or cutting your roll into equal pieces, you want to take your time to prepare your dough by allowing it to cool slightly once you've rolled it out or when you've reached the point where you let the dough rise in the oven.
You can make your process easier by using instant yeast, so it absorbs liquid rapidly and doesn't need to be rehydrated before it's added to the all-purpose flour, should you use it.
Use Cooking Equipment To Optimize Your Process
Before you do anything else, you want to get your small saucepan, hand mixer, small bowl, cooking spray, large mixing bowl, stand mixer, and use an electric mixer and dough hook to make your preparation easier.
Any recipe that uses dough to form bake rolls is going to cause problems for those who aren't familiar with its properties when coming to place dough in the oven or cooling tray.
Plastic wrap is your best friend here, as when you're leaving your dough before baking it, the wrap can prevent any air from getting to it, which can ruin the consistency of the end product.
Mix it Up A Little
Add some variety to your recipe, and maybe add chocolate chips, vanilla extract, cream cheese frosting, and maybe a peanut butter glaze to make it stand out a bit more.
You could add brown sugar, crunchy peanut butter, and maybe use melted butter or cake flour instead to have a more cake-like mixture which is bound to go down well at meal times.
Perhaps there are modifications you can make to the peanut butter filling to make it more sweet or savory, but as long as it compliments the cinnamon, you should be fine.
Conclusion
With this, you have an idea of how to make the perfect rolled dessert, you might find that you have leftover cinnamon rolls, which is not an issue as these will typically hold in a refrigerator for up to a week.
You might also want to pre-make these rolls and fridge overnight, which will help to hold the consistency, and you can heat them slightly to get a fresh, warm, and fulfilling roll that works alongside practically any meal.
You don't have to hold out for a special event to make these, as they're super easy to make, and if you use these instructions, you'll have yummy rolls that will be snapped up in seconds. Thank you for reading.