There is a good reason why cinnamon rolls are loved by people all over the world. They're sweet, fluffy, and can be customized to suit almost any taste you are making yourself.
Even though his classic cinnamon buns will always hold a special place in many people's hearts, you may like trying new flavors.
If that is the case, then this sweet almond and cherry twist on the classic cinnamon roll is the perfect recipe for you!
Cherry almond sweet cinnamon rolls are a type of sweet roll that has a coating that is elastic and soft on the surface, and they feature a filling that consists of sugar, tart cherries, almond paste, and cinnamon.
They have delicious almond icing on top, and sliced almonds are used as a garnish on top of it.
These cinnamon buns are a delightful treat to have first thing in the morning to get some pep in your step and be ready for the day ahead!
Keep reading to find out how to make this recipe yourself.
Almond Sweet Rolls Recipe
As a quick note, this recipe makes 2 batches of almond rolls. So after the dough is made, it is cut in half, and you will make 1 batch of rolls with each half of the dough.
Ingredients
Active dry yeast – 2 packages or 4 1/2 teaspoons
Brown sugar – 1 1/2 cups
Lukewarm water – 1 cup
Softened unsalted butter – 1 1/4 cup (will be used in both cherry filling and for the frosting)
Butter or shortening – 6 tablespoons
Salt – 1 tablespoon
Granulated sugar – 1 cup
Eggs – 2 
All-Purpose flour – 9 cups 
Hot water – 2 cups 
Almond paste – 4 ounces 
Sliced almonds – 1/3 cup
Fresh or frozen cherries – 3 cups and chopped 
Almond extract – 1 teaspoon
Ground cinnamon – 2 tablespoons 
Milk – 4 tablespoons 
Confectioners sugar – 2 cups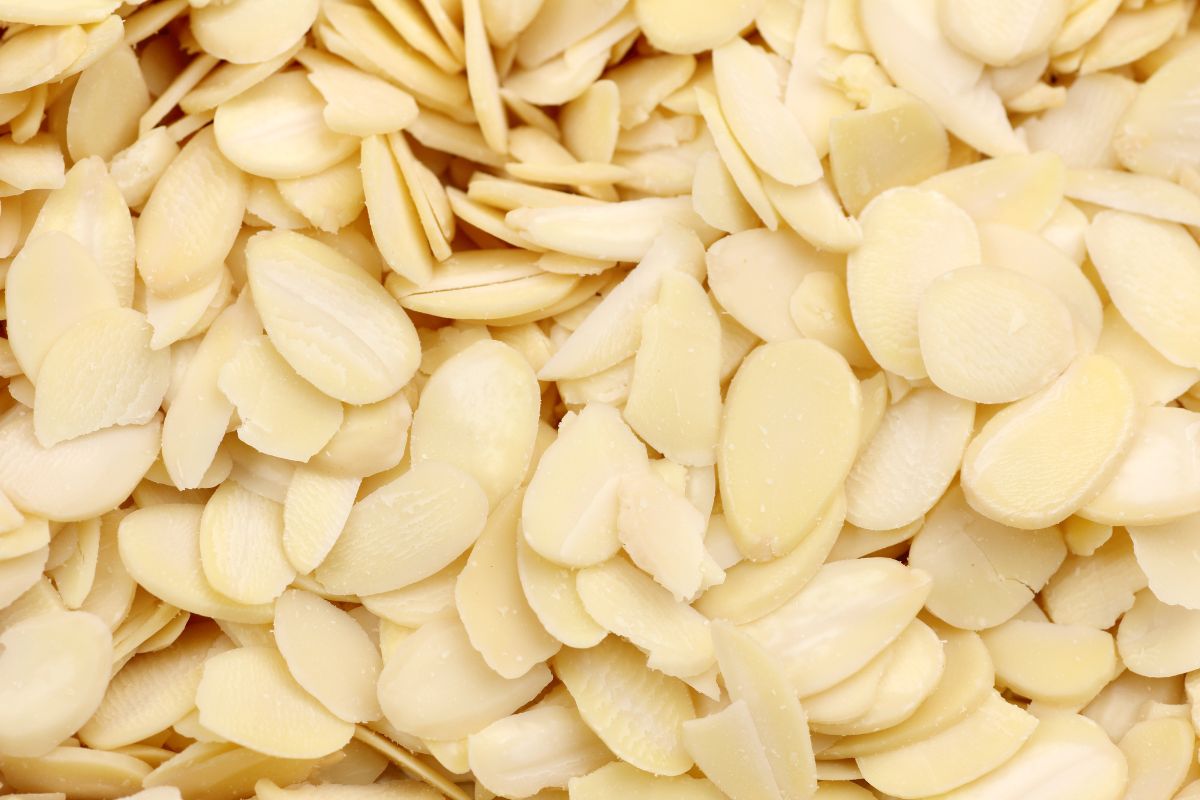 Method 
Here is a step-by-step guide on how to make these almond sweet rolls:
In a cup of lukewarm water, dissolve the yeast. After giving it a little stir, put it to the side for about five minutes.
In a stand mixer bowl, add some kind of shortening or butter, sugar, and a dash of salt. Then add the hot water to the bowl as well. beat the mixture for 30 seconds after adding the water.
Wait until the mixture cools to a lukewarm temperature. Then add 2 cups of flour and mix again until the mixture is smooth.
Next, add both the yeast and 2 beaten eggs to the mixture, making sure it is mixed until it is all well combined.
The dough hook should be used to mix the ingredients for about two minutes, during which time the remaining flour should be added in small increments.
Remove the dough from the bowl and place it on a surface that has been sprinkled with a light coating of flour.
Knead the dough by hand, and if it is still too sticky, add a little bit more flour as needed.
Work the dough with your hands until it is silky smooth and has the consistency of satin.
After this, put the dough in a basin that has been greased, then cover it with a towel to prevent it from drying out. Allow dough to rise in a warm place for thirty minutes, or until it has doubled in size.
After removing the dough from the bowl, place it on a surface that has been dusted with a little bit of flour. Using a horizontal cutting motion, divide the dough in two.
Put one half to the side, and from here make sure that you only use half of the ingredients for the filling.
Put the other half away for the second piece of dough that you will be working with later.
Make a rectangle out of one-half of the dough by rolling it out with a rolling pin.
Butter that has been melted should be spread evenly over the top of the dough in a single layer. Then spread an even layer of brown sugar on top of this.
Next, the almond paste should be cut into small pieces and sprinkled over the brown sugar in a random pattern. Spread out evenly half of the cherry pieces that have been pitted and diced, and then sprinkle with half of the cinnamon that was set aside earlier.
Now it is time to roll the dough, which can be tricky with the filling in place so take your time.
Using a piece of thread or dental floss, make cuts in the rolls at a depth of roughly two inches. Place the rolls on a baking sheet that has been buttered and be sure to leave some space between each one. This will allow the rolls to have room to expand while they bake.
Now proceed to repeat all of the steps involved in making the cinnamon rolls using the second half of the dough and the components that are remaining.
Once you have all of the rolls made and on the oven trays, place them in a warm spot in your kitchen and cover them with a cloth. Allow the rolls to rise for about an hour, or until their volume has increased by nearly double.
The rolls should be baked in an oven that has been prepared to 350 degrees Fahrenheit for 25 to 32 minutes, or until the tops become golden brown. The inside should have a soft consistency, but not one similar to dough.
After removing the pans from the oven, place them on a wire rack to cool until they are barely warm.
While you wait for the rolls to finish chilling, you can get started on the frosting. In a medium bowl, use a whisk to combine the softened butter, confectioners' sugar, milk, and almond extract. The mixture should be at room temperature.
Use this frosting to cover the almond rolls, and as some decorations and for added flavor, sprinkle some sliced almonds on top.
All there's left to do now is to serve and enjoy!
Summary
This recipe for almond sweet cinnamon rolls is super easy to follow and will give you some tasty rolls that can be used for breakfast, a snack, or as a dessert after a wonderful meal.
Give this recipe a try if you love cinnamon rolls but want to try new flavors!