Cakes. They just make everything better. With so many types of cakes out there, we are truly spoiled for choice when choosing what to have on any given day. But, one of our favorites has to be a pear apple and almond cake. This is a sumptuous moist cake that goes down a treat with coffee and tea. And, it completes any meal as a delicious dessert at the end.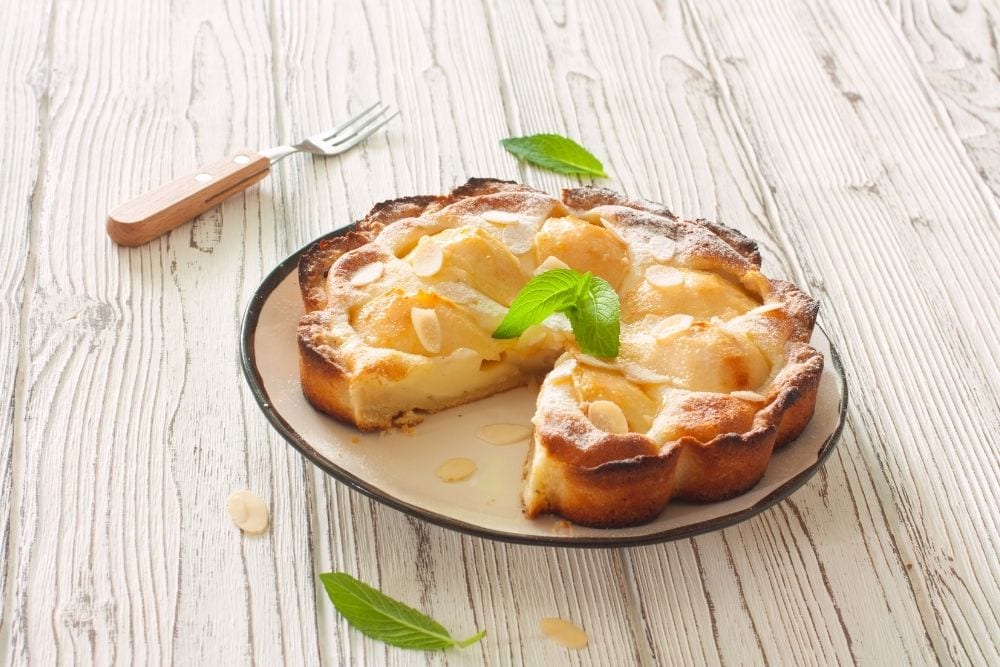 There are a few variations of pear apple and almond cakes. Therefore, we decided to get some of the best recipes in the same place for you to pick and choose which ones you want to try making.
Read on as we guide you through some of the most delicious pear apple and almond cake recipes out there. Thankfully, these are not that complicated to make so you may as well try every variation we include in today's blog!
Pear Apple And Almond Cake Recipes
Number 1
Our first recipe is probably the easiest and quickest to prepare. As with all the recipes on our list today, this is super delicious and a great cake to make for any occasion.
Ingredients
8 ounces (225 grams) of unsalted, softened butter
9 ounces (250 grams) of caster sugar
3 medium eggs (lightly beaten)
4 ounces (125 grams) of self-raising, sifted flour
3 ounces (75 grams) of ground almonds (toppings)
Two or three drops of almond essence
2 medium pears
2 tablespoons of demerara sugar
¼-ounce (15 grams) of flaked almonds
Instructions
Preheat your oven to 350 degrees Fahrenheit (180 degrees Celsius).
Line the base and sides of a 20.5-inch round cake tin with baking parchment.
Beat the butter and caster sugar together in a large mixing bowl. For the best result, use a handheld electric whisk until the mixture is pale and creamy.
Slowly add the eggs and mix well after each one is added. If the mixture looks like it may curdle, add in 1 tablespoon of flour and mix.
Now, beat the almond essence into the mixture.
Fold the flour and ground almonds using a large metal spoon. Scrape the mixture into a prepared tin before leveling out the surface.
Bake for 20 minutes.
Next, you need to peel, halve, and core the pears. Slice the halves lengthwise into 5mm (¼-inch) thick slices. But, make sure the slices stay together. Once cut, fan the slices slightly.
Once the cake has been baked for 20 minutes, remove it from the oven carefully.
Use a palette knife to lift the pear fans onto the cake. At this moment, they should slightly sink.
Sprinkle the demerara sugar and flaked almonds over the cake.
Place the cake back into the oven for another 55 minutes or until an inserted skewer into the cake comes out clear.
Once cooked, leave the cake to cool in its tin for around 10 minutes.
Remove the tin and transfer the cake to a wire rack.
Serve warm or at room temperature.
Enjoy!
Number 2
Next up is a perfect Italian example of a pear cake. Made with fresh pears that lay gently in a sweet and moist almond cake, this is a perfect cake for morning, afternoon, and nighttime treats.
Ingredients
9 tablespoons of room temperature butter (salted or unsalted). For unsalted butter, add a small pinch of salt.
9 tablespoons of white granulated sugar
6 tablespoons and 1 teaspoon of all-purpose flour
2 large eggs
1 ¼ cups of ground almonds (not almond flour)
⅓ cup of flaked almonds
½ teaspoon of baking powder
3 medium pears (ripe but still firm). These should be peeled, cored, and then halved lengthwise
Icing sugar (garnish)
Instructions
Preheat your oven to 375 degrees Fahrenheit (190 degrees Celsius).
Grease an 8-inch springform pan. Line the bottom of this pan with parchment paper and set aside.
Using an electric mixer, beat the butter and white sugar together in a large bowl. Mix at a medium speed until the color turns pale and fluffy.
Add the 2 large eggs one at a time. Beat these well after adding each one and scrape down the bowl between the eggs. Just make sure that you scrape all the way to the bottom of the bowl as some butter may be hiding on the base.
Set your mixer to low and mix in the all-purpose flour, ground almonds, and baking powder.
Spoon your batter into the prepared springform pan and, using a spatula, even out the entire mixture. The batter should be thick so fill the pan only to around an inch thick.
Now, it's time to prepare the pears by peeling and cutting them in half from their stem to their bottom (lengthwise).
Grab a small spoon and remove the core of the pear and scrape away the spine that runs through the stem end. Then, set the spine aside.
Arrange the halves of pears into a circle on top of the cake. Cut side down, with the thin end pointing toward the cake's center.
Sprinkle flaked almonds on top of the cake.
Bake in a preheated oven at 375 degrees Fahrenheit (190 degrees Celsius) for approximately 35 minutes. Alternatively, you should cook it until you place a skewer inside and it comes out clear.
Once cooked, allow the cake to cool in the tin.
After 10 minutes or so, run a knife around the outside of the cake and gently remove it from the ring and base.
Dust it over with icing or confectioner's sugar and serve.
Have your taste buds thank you later!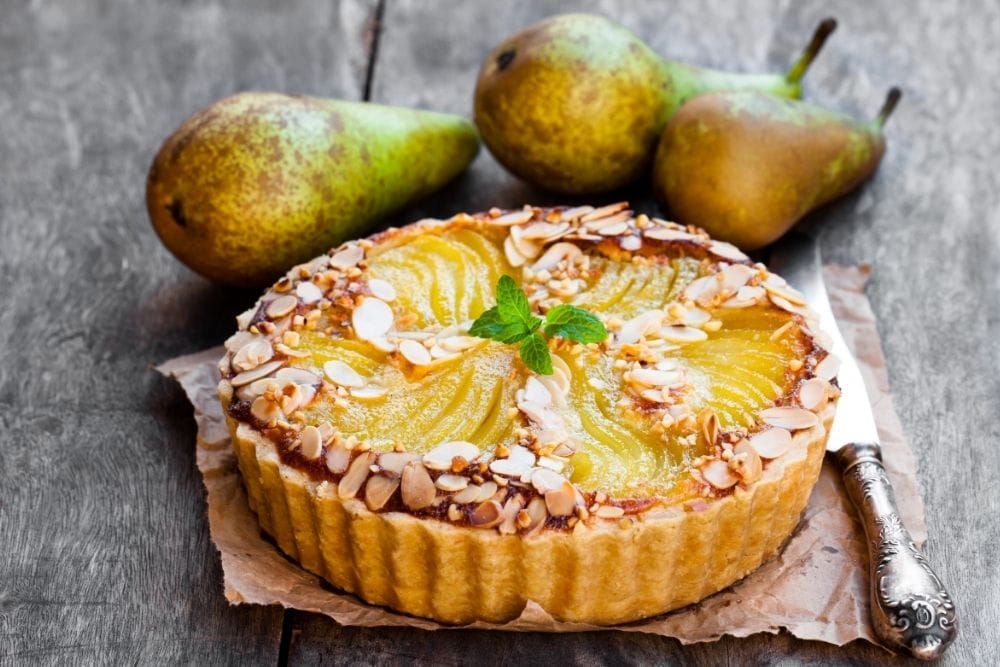 Number 3
Here is an absolute treat for your palette. This is a fragrant pear apple and almond sponge that is flavored with rosewater and topped with a heavenly almond sponge. For additional delights, served with clotted cream.
Ingredients
2 apples (around 500 grams)
500 grams of pears
The juice from ½ a lemon
1 tablespoon of rosewater
3 medium beaten free-range eggs
85 grams of caster sugar
100 grams of self-raising flour
75 grams of ground almonds
115 grams of softened butter
115 grams of caster sugar (plus a little more for sprinkling at the end)
½ teaspoon of almond extract
Instructions
Preheat your oven to 350 degrees Fahrenheit (190 degrees Celsius).
Peel, core, and chop the 2 apples and pears. Place these into a bowl along with lemon juice. Add in the rosewater and sugar and mix thoroughly.
Tip this mixture into a ⅕-liter pie dish.
Now, it's time to prepare the topping. Using a large bowl, beat the butter and sugar together until the color turns pale and the texture is fluffy.
In another large bowl, mix the flour and almonds together. Beat ⅓ of the eggs into the butter before adding ⅓ of the flour mixture. Repeat until you have used all the ingredients up.
Add your almond extract and spread it evenly over the fruit. But, it's okay if a few holes are showing.
Bake for 50 minutes or until the cake's topping has risen and become golden.
Sprinkle it with some additional sugar and serve warm or at room temperature.
Try not to eat it all at once!
Number 4
We are going to add a streusel topping with this pear apple and almond cake recipe. For the autumnal and winter months, this is our go-to cake recipe. Especially in fall when there is an abundance of ripe pears waiting to be used for such delicious treats.
Ingredients
110 grams of self-raising flour
1 large egg
1 level teaspoon of baking powder
50 grams of spreadable butter
50 grams of ground almonds
50 grams of golden caster sugar
A pinch of salt
A few drops of pure almond extract
3 tablespoons of milk
2 ripe pears (peeled, cored, and quartered). Each quarter should be sliced into three
50 grams of melted butter
75 grams of self-raising flour
50 grams of demerara sugar
40 grams of flaked almonds
A slight dusting of icing sugar
Instructions
Preheat the oven to 390 degrees Fahrenheit (200 degrees Celsius).
Sift the flour and baking powder into a large bowl. When doing this, lift the sieve quite high so the flour gets a good airing as it drops down.
Next, add in all of the ingredients except for the pears.
Using an electric hand whisk, combine the ingredients for around 1 minute. Do this until the consistency is smooth and creamy.
Spoon the mixture into your prepared tin and level it off with the back of a tablespoon.
Now, arrange the pears into a circle on top of the cake. You can also place a few in the middle of the cake.
To make the topping, mix the flour and sugar in a sizable bowl. Then, add in the melted butter and crumble it lightly with a fork.
Stir in the almond nuts and sprinkle the mixture over the pears.
Bake near the center of your oven for 45 minutes.
Leave the cake to cool in the tin for 20 minutes. Once cooled, loosen the edges of the cake with a palette knife.
Place the tin on an upturned bowl. Now, slowly and carefully slide the tin downwards. Now use your palette knife to slowly slide the cake off its liner onto the wire cooling rack.
Serve the cake for your eager family and friends and enjoy its delicious flavors.