If you're into pudding desserts, and you love cakes…why not combine both and make a pudding cake? It's the perfect blend of cake with softness inside that just sort of melts into your mouth. And the options are truly endless! 
One of the top pudding cakes that we love, is banana pudding cake. And we know, banana in cakes is that sort of ingredient that you either love or hate. But if you do happen to like bananas, and want to try making your very own banana pudding cake, then you're in the right place. 
If you haven't ever made a banana pudding cake before, but you want to give it a try, there are plenty of recipes that are easy to follow.
In fact, we've compiled a list with our top 15 favorite banana pudding cake recipes, all of them truly amazing that you absolutely need to try. So browse through them, pick the one that stands out the most, and get to work in the kitchen! 
Here are our 15 favorite banana pudding cake recipes. We would love for you to try all of them but take your pick, and hopefully, the result will be as delicious as the recipe promises!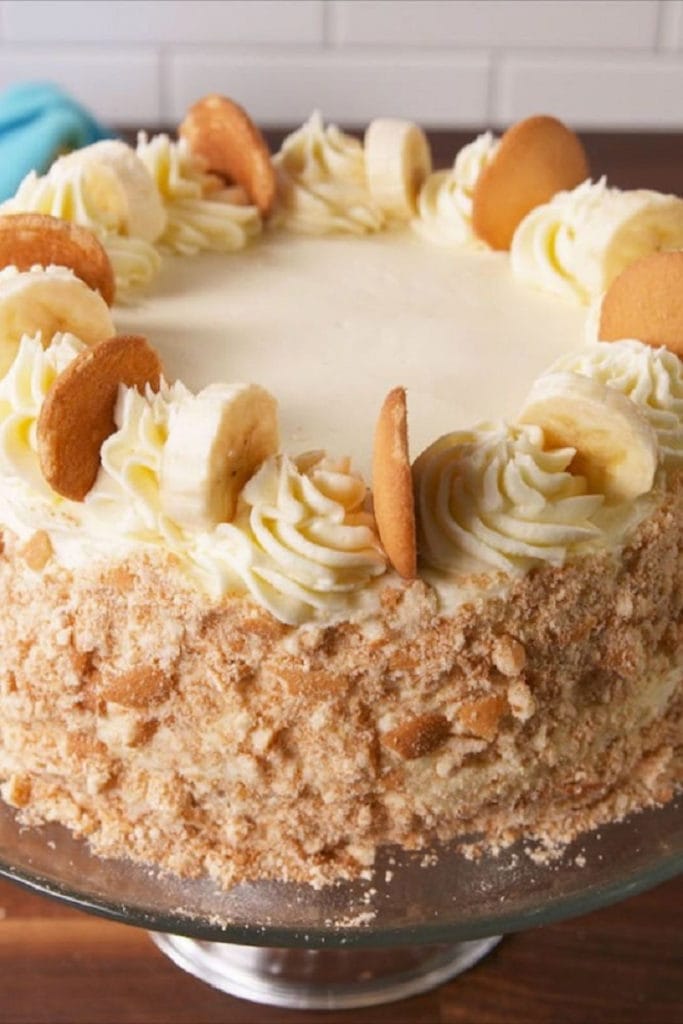 First, on our list of favorites, we have this delicious banana pudding cake recipe by Lauren Miyashiro. It takes around 20 minutes of preparation, and then a further hour of cooking, and it serves around 8 to 10 people (although you can adapt the quantities for more servings if needed).
The most important tip Lauren gives is not to overdo the pudding mix layers, or else the cake gets messy! 
Next, if you want a really easy recipe that looks a lot more work than it actually is, we recommend this easy banana pudding cake recipe by Pholsch, found on All Recipes.
It takes under an hour to make, but you should then leave it to rest for around two hours before you can actually eat it. 
Southerners are well accustomed to banana pudding cakes, as it is a staple within their cuisine, so why not follow one of their recipes, from Bintu (author of the Recipes from a Pantry blog).
The recipe itself is very easy to follow, and it combines layers of pudding with delicious banana cake, and honestly? It's flawless.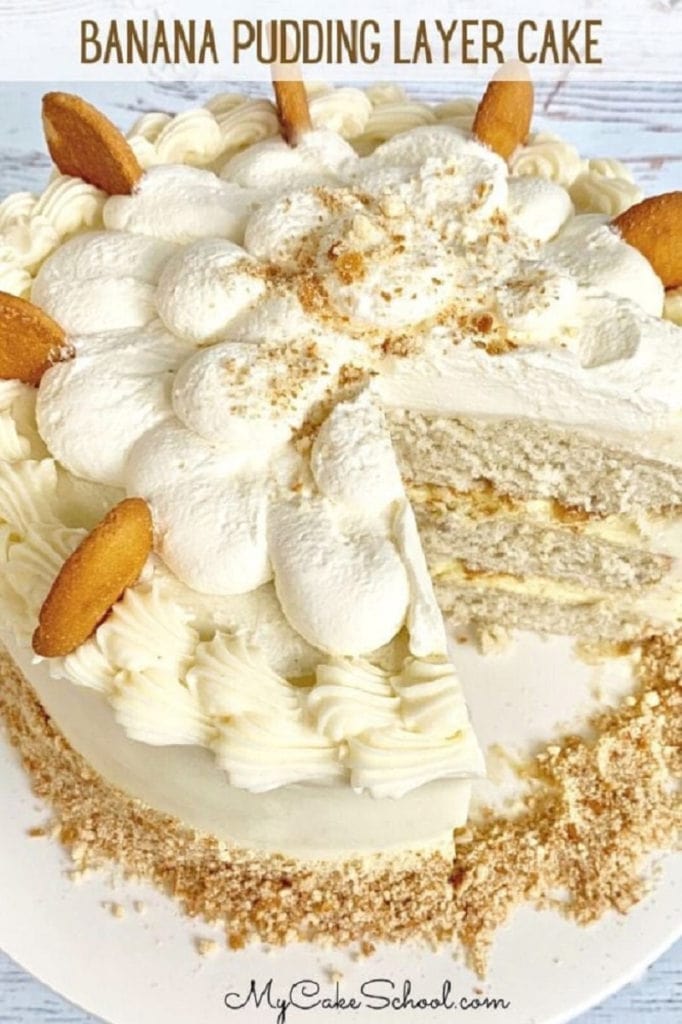 If you're looking for a light and moist banana pudding cake recipe, then we recommend you try out this one by Melissa D. (author of My Cake School).
The result is an extra-moist cake, filled with vanilla pudding mix layers, thinly sliced bananas, and vanilla wafers. It looks super impressive, and tastes even better, and shouldn't take you much more than an hour for the whole process! 
This layered banana pudding cake recipe, by Sommer Collier, is topped with creamy pudding, fresh banana slices, whipped cream, and vanilla wafers, making the end result absolutely delicious.
Plus, it's super easy to make! It takes a total time of around 50 minutes to make, and as it is made to be extra moist, it is rich in flavor without being too overwhelming. If you want an extra challenge, feel free to make your own homemade whipped cream.
Taste of Home is always one of our go-to blogs for recipes, and the one they have for banana pudding cake does not let us down in the slightest. It looks truly amazing, and guests are guaranteed to be impressed, despite the recipe actually is quite simple to follow.
In total, it should take around 30 min of preparation, and just 15 minutes of baking. So it can be done pretty quick, and will be big enough to serve 16!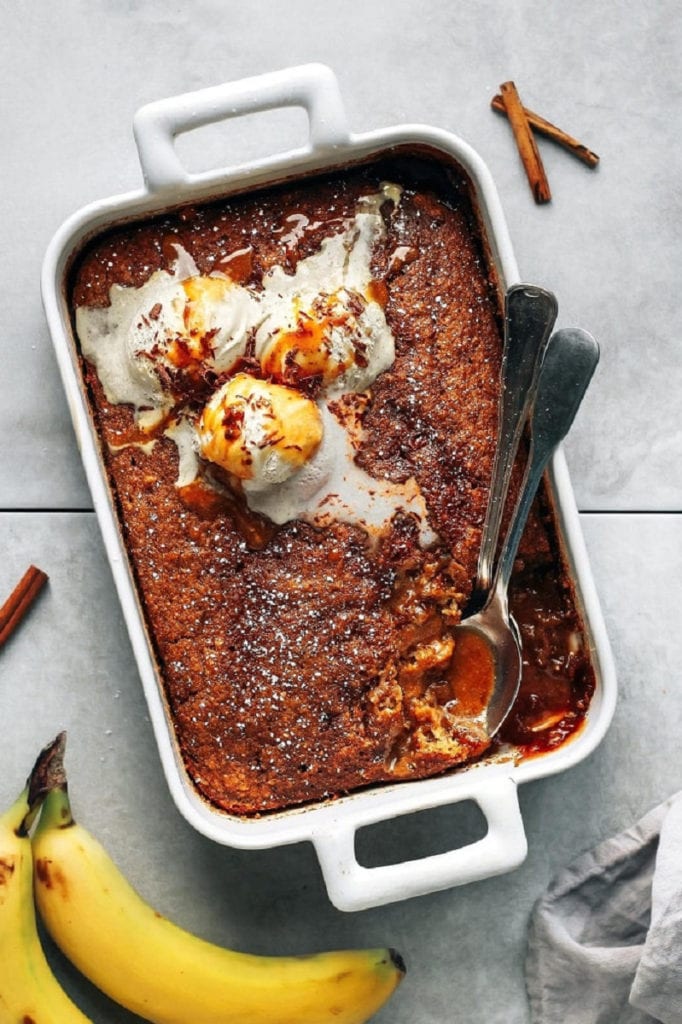 With this self-saucing banana pudding recipe, by Thomas (from the blog Full of Plants), you will get a dessert that is warming and delicious, perfect for any time of the year.
Apart from banana, it also contains cinnamon and caramel sauce, and it is best served with a scoop of vanilla ice cream on top. Plus, you should be able to make it in around an hour or so!
Banana pudding cake can look complicated, but this recipe by Jesse Szewczyk breaks it down into small simple steps, proving that it's actually pretty easy to make!
Full of rich banana flavors, and Southern ingredients, this pudding cake takes only 15 minutes of prep, and a further 20 minutes or so to cook. It also serves between 8 to 10 people, but you can adapt that with ease if needed. 
Another delicious banana pudding cake recipe is the one by Kathleen (author of the Gonna Want Seconds blog). Apart from banana, this cake is layered with vanilla filling, fresh banana pieces, and crushed vanilla wafers.
Plus, you also have the option to top it off with some vanilla pudding frosting, and any further additions you might want to make. It takes under an hour in total, and we can guarantee that you will absolutely love it.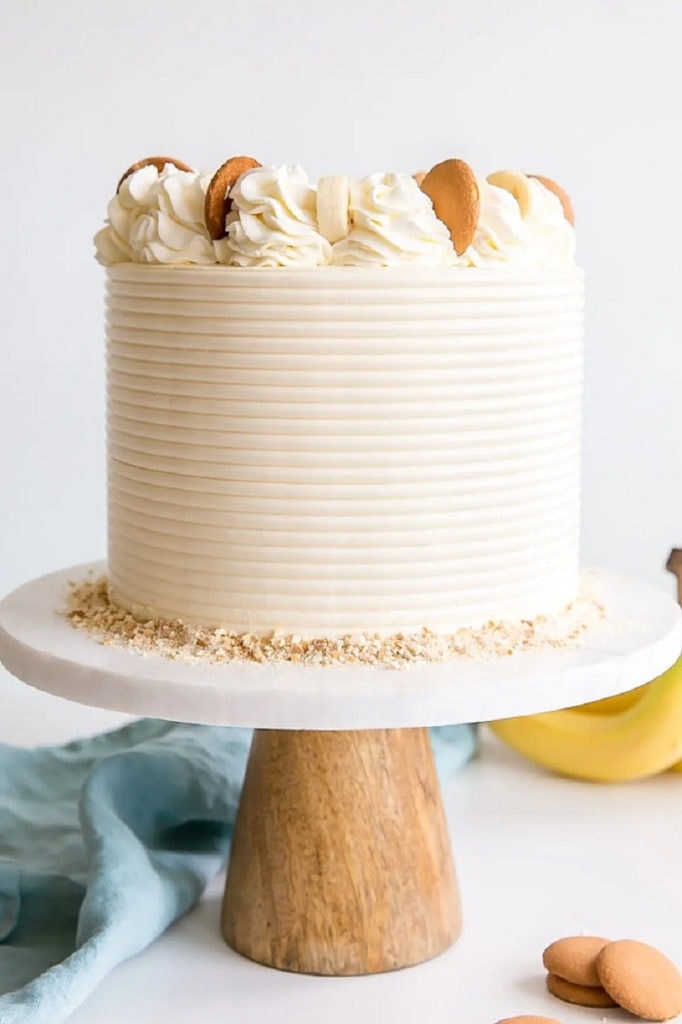 If you want a light and moist banana pudding cake, that is also going to be filling and rich in flavor, then we recommend the recipe found on Liv for Cake because it is to die for.
It looks incredible, and for the most part, follows a traditional Southern method. However, there is some vanilla buttercream added into the mix, for that extra kick. 
The best banana pudding poke cake recipe has to be the one by Brandie, the Country Cook. It is very easy to make, suitable for beginners, and takes just 45 minutes in total.
The recipe does it without the use of any fresh banana slices, but Brandie says that you can easily add them to the final result if you wish to! 
If you really want to give banana pudding cake a try…but you don't really have the time or the energy, there's a solution. Just go down the lazy route and make a microwave banana pudding, using the recipe from the Good Food Team.
It will take you a total of 20 minutes, and is incredibly easy. You could serve the whole family with the bare minimum of effort, and that's 100% a valid life hack.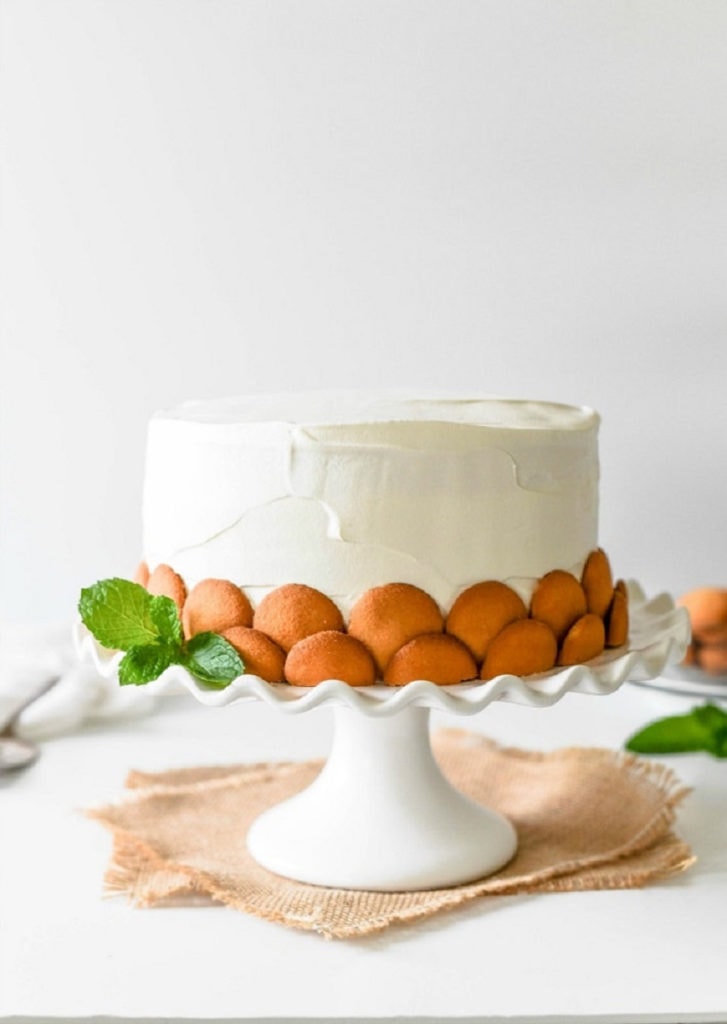 Yet another delicious banana pudding cake recipe, is this layered and made-from-scratch option by Aimee Broussard that we absolutely love.
Basically, it's banana pudding, layered in between light and fluffy vanilla cake, combining the flavors to create a perfect dessert, no matter the time of year. Plus, you can easily decorate it with some fresh banana slices, or any other ingredients you might want! 
If you prefer desserts that can be served individually, like cupcakes, then why not make some banana pudding cupcakes with this recipe by Betty Crocker Kitchens? They still count as cake…just smaller. The total time it will take you is around an hour and 40 min, and the recipe is for 24 cupcakes (although you can adapt to make more). They look and taste amazing, and are topped with a fresh slice of banana to complete the aesthetic! 
Last, but not least on our list of favorites, we have this banana lemon pudding cake, by Rachael Ray, which combines the classic banana pudding cake with some lemon, making it all the more unique.
It takes around an hour and a half to make, and the recipe is pretty simple to follow. Your friends and family are guaranteed to love this version of the traditional banana pudding cake, so you should definitely try it out! 
Frequently Asked Questions
What Size Bananas Should I Use In A Banana Pudding Cake?
You should always check the specifications of each particular recipe, as the requirements for banana sizes and quantities can vary. However, as a general rule, a standard banana pudding cake will require around three medium-sized bananas. Or alternatively, a cup or two of mashed bananas. 
Can I Bake A Banana Pudding Cake In Advance?
The answer to this is yes! Banana pudding cake will last several days in the refrigerator, so you can make it a few days before the event or occasion it is needed for, in order to save yourself some time. 
Can I Freeze Banana Pudding Cake? 
Banana pudding cake as a whole will not freeze very well, due to the pudding components. Instead, we recommend freezing the layers of cake, and then adding fresh pudding when you are ready to go ahead and eat them. 
Final Thoughts
Banana pudding cake can seem complicated, as it looks pretty fancy, but it can be very easy to make if you have the right recipe. We hope that you find a recipe suitable to you in our list of favorites and that you try it out!
Remember that you can easily adjust the recipe to better suit you, such as increasing or decreasing the quantities for each ingredient, or adding extra things on top.