The Texas sheet cake is proof that they say everything is bigger (and better) in Texas! The Texan variation of the sheet cake is extremely similar to the German sweet chocolate cake, in fact, if you tasted both with your eyes closed, you'd struggle to tell the difference.
However, there are some stark differences between the two. Firstly, the German variation is baked in layers, and the Texan variation is baked in a single pan – hence the name sheet cake.
As the Texas sheet cake is a thin chocolate cake baked in one layer, it's infinitely easier to put together. Instead of having to melt chocolate, cream butter, and beat egg whites, for the Texan cake you just need to stir all of the ingredients together in one large mixing bowl. Then, it's simply baked in a sheet cake pan.
As for the frosting, you only need to make enough to slather over the top of the cake, making it a pretty easy dessert to put together.
The Texas sheet cake is the perfect cake to make for large gatherings and parties as it's easy to transport, serves plenty, and is extremely delicious!
Although the traditional recipe uses a sweet chocolate cake batter which is covered with a coconut-pecan frosting, there are tons of new, interesting, and tasty recipe variations that have been created.
So, we've put together 15 of the best Texas sheet cake recipes that you need to try.
If you truly love chocolate – and we mean truly – then this classic Texas chocolate sheet cake will satisfy your sweet tooth cravings.
Unlike most cakes, this crumbly cake needs to be frosted whilst it's still a hot cake. So, make sure you pour on the sticky sweet pecan frosting once you've taken the cake out of the oven and watch as it becomes a beautiful glossy blanket that will keep your cake moist and fresh.
This citrusy cake is the perfect combination of tangy and sweet, which makes it a great dessert to serve at a summer function. This zesty cake has a few surprise ingredients that might shock you, but they come together to create a delightful desert.
As it's packed full of lemon, you'll need to use lemon zest and lemon juice, but have you ever added lemonade to a sponge before?
Not only is the fizzy soda a surprise addition, but get this, for this recipe you need to add ¾ of a cup of Duke's mayonnaise.
Although it might be strange to add this condiment to a cake, the mayonnaise offsets some of the stronger lemon flavors, so it's not sickly sweet, and also makes the sponge light and fluffy.
To top it off, you'll need to make some lemon cheese frosting, that will help keep the cake moist, and don't be afraid to add decorations like candied lemons to finish off.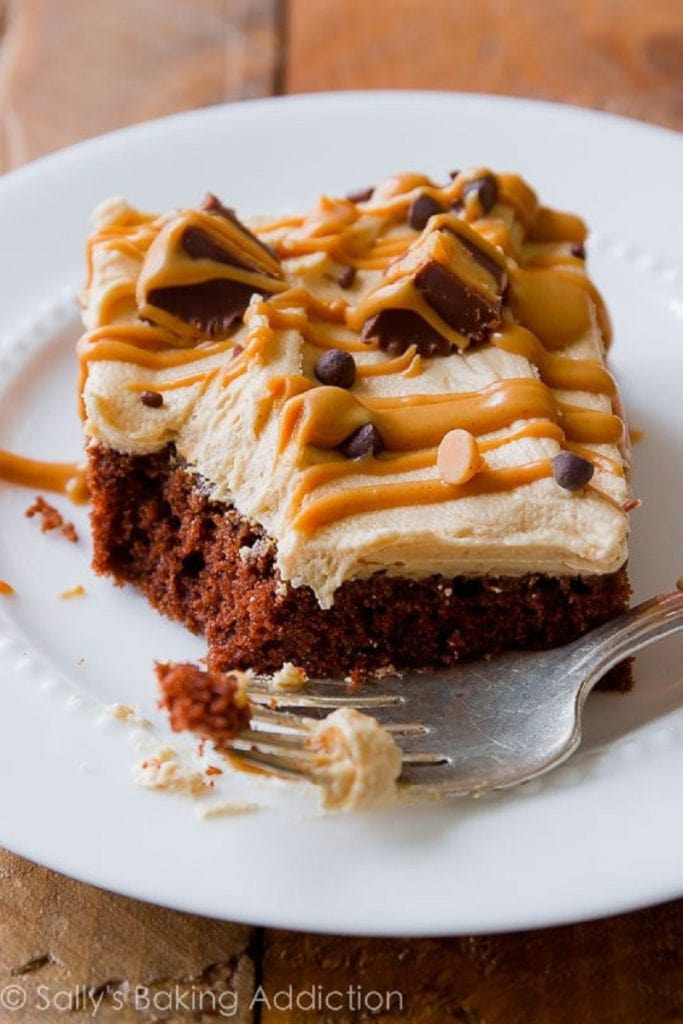 This fudgy sheet cake is so rich and heavenly that your mouth will be watering just thinking of it.
The beautifully moist chocolate sponge is covered with the creamiest peanut butter frosting you can imagine, which makes it a guaranteed crowd pleaser – in fact, if you bring this cake with you to a party it'll be gone in seconds!
The sponge itself has super moist, tender, and fudgy texture to it, which is paired with a decadent and rich peanut butter frosting.
As this cake is so rich, it's best to make it thin, as pieces that are too thick can overload your sweet tooth.
For an extra wow, scatter chopped peanut butter cups, mini chocolate chips, and chocolate sprinkles over the top. Oh, and don't forget to drizzle melted peanut butter over everything for the finishing touch.
There's nothing wrong with keeping it simple and going with a plain vanilla sheet cake. Although it might not wow, it's a classic, and is guaranteed to be enjoyed by all.
If you're not crazy about chocolate sheet cakes, then this recipe is definitely worth a try as it's much lighter in both texture and taste, but remains moist with enough sweetness to satisfy your sweet tooth.
For an interesting twist, you can add almond extract to the frosting instead of vanilla extract (as that is already in the cake mixture anyway). In terms of toppings, you can either keep it plain and simple, or add some sprinkles for a fun effect.
If you want to take a classic vanilla sheet cake to the next level, why not try adding coconut flakes?
This is a divine addition, and as the frosting melts into the hot sponge, each bite is packed with a deciduous coconut flavor that quite literally melts in your mouth.
Don't be surprised if you're asked for the recipe after serving this cake to your friends and family.
Just make sure you have coconut extract to add to the sponge and frosting as this will bring out the flavor more, and keep the coconut shavings to sprinkle over the top.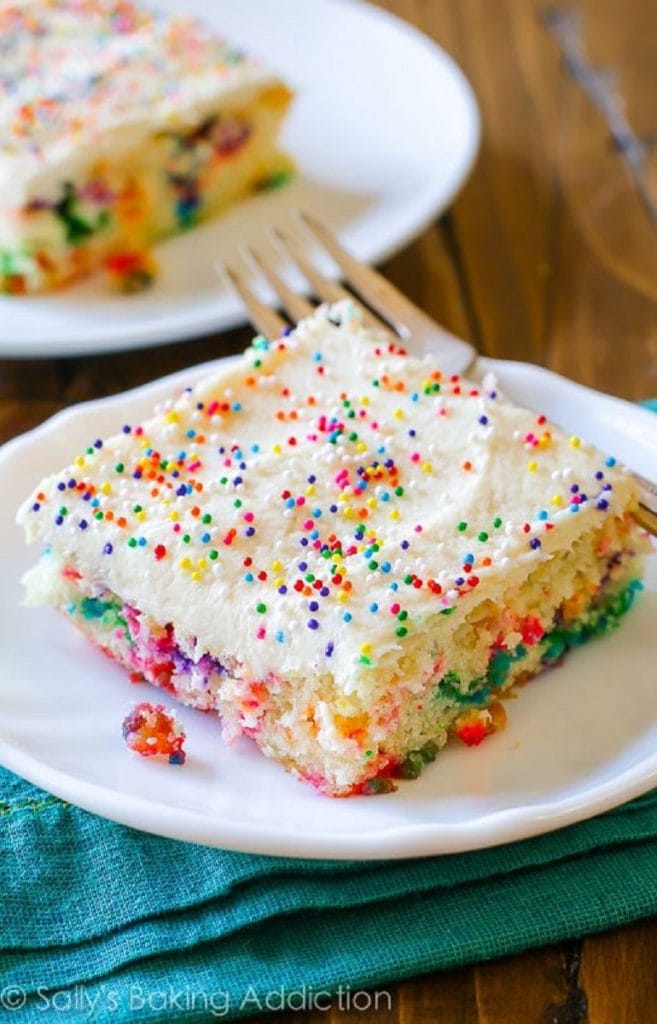 This funfetti sheet cake will liven up any party, but it's slightly different to some of the other recipes on this list.
The cake batter is loaded with colorful sprinkles which adds a spotted rainbow effect to the vanilla sponge – which is a great surprise when you cut into the cake.
And if the sprinkles inside the cake weren't enough, the frosting is loaded with even more fun rainbow sprinkles!
For the best results, use a 12×17 inch half sheet cake pan. Not only will the cake be just the right thickness, but it also means that there's more to go around. Refrigerate Texas sheet cake if you have any leftovers.
It's also important to remember to spread the frosting around in a nice, even layer, as you don't want to take away from the beautifully fluffy sponge.
If you're often left with overripe bananas, there's no need to throw them away as they can be made into a wonderful dessert.
This banana sheet cake variation oozes that fresh fruit taste, and is beautifully moist and sweet from the mashed bananas added to the sponge mix.
As it's topped with a cream cheese frosting, it adds a little tanginess that pairs with the sweet bananas nicely.
It's a simple and easy recipe to make, but is a firm crowd favorite. As it's easy to put together and bakes in no time, this cake is perfect for just about any party and event.
This pink sheet cake is bursting with that fresh berry flavor, and the fluffy lemon cream cheese frosting adds a tangy flavor.
Like all good strawberry cake recipes, this sheet cake recipe uses a ton of fresh strawberries – fresh is always best! However, you need to make sure that they're diced into small pieces, as big chunks will create soggy pockets in the cake.
As well as the fresh strawberries, this recipe has a secret ingredient that takes it to the next level: strawberry flavored gelatin powder. Not only does it help to keep the sponge light and airy, but it also helps to give it it's signature pink color.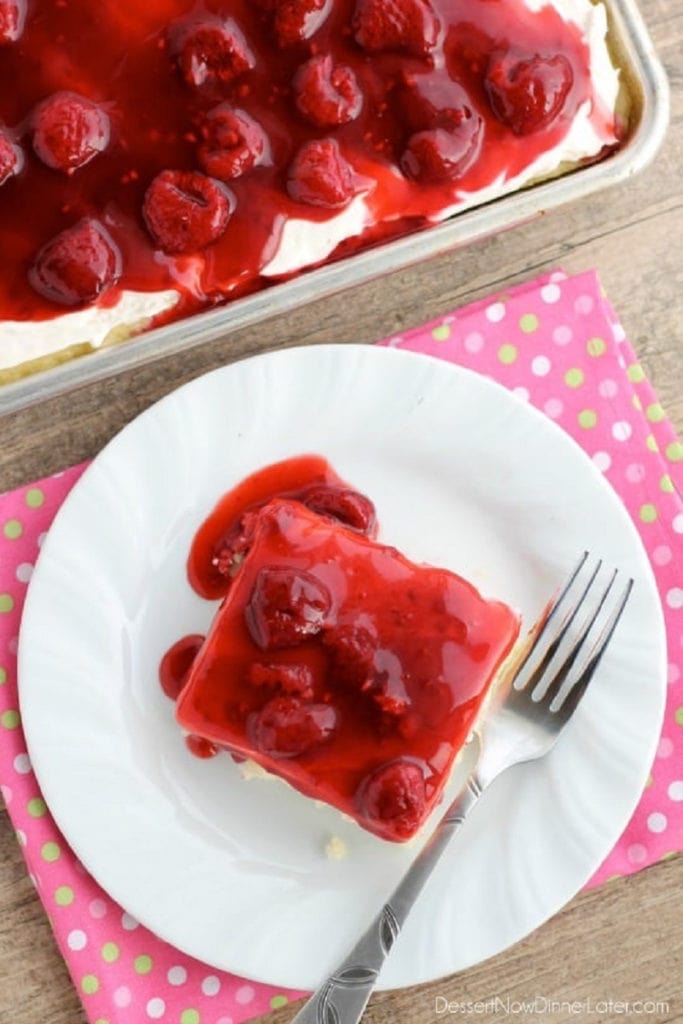 Whilst we're looking at berries, why not try this raspberry shortcake sheet cake? If you're looking for a tart and fruity kick, then this is the perfect dessert to try.
This fluffy cake is easy to make, and topped with both a whipped cream cheese frosting and fresh raspberry glaze. The glaze is created using a premade powder. All you have to do is add water and heat until it thickens. For the final touch, just add some fresh raspberries!
It may not seem like the fanciest of deserts, but the flavors work so well together that it would make the perfect Valentine's Day dessert, and will be a great way to finish a romantic meal.
If you're a fan of the raspberry glaze, why not try pairing it with a chocolate sheet cake for a truly rich and indulgent taste.
Some of the best recipes come from our grandmother's kitchens, and this sheet cake recipe is a testament to that. As the recipe's author states, this cake is "straight from heaven", and the great thing is that it only takes 20 minutes to make.
This classic recipe takes a traditional chocolate sheet cake recipe and elevates it to the next level. The addition of cinnamon in the cake batter adds a warm note to the taste.
As for the frosting, grandma keeps it plain and simple by sticking with a rich, smooth chocolate frosting that helps keep the cake perfectly moist. The best part? You get to lick the spoon, of course!
Is there anything more Southern than a coca-cola sheet cake? It follows the same chocolate premise of a traditional Texas sheet cake, however, both the cake mixture and frosting are each spiked with a can of coke.
Because of this fizzy addition, the cake is supremely moist, and the extra sugar makes it nothing but sweet.
This cake is irresistible! The white chocolate is the main star of the show, and the malted milk simply compliments its flavor and taste. This is another simple but effective recipe that will impress your friends and family.
In terms of frosting, the recipe keeps it simple by adding a white chocolate cream cheese frosting. However, you can add a little wow to your cake by adding white chocolate shavings, or drizzling melted white chocolate over the top.
Who said that sheet cakes had to be served as a giant rectangle? Why not take your sheet cake to the next level by cutting into a classic Christmas tree shape?
Designing and decorating the cake is almost as fun as eating it, and it's a good way to get your kids involved in the process.
The recipe follows a traditional vanilla sheet cake recipe, so all you'll need to do is add a few drops of green food coloring to the vanilla frosting and use an assortment of candies and icing pens to decorate your tree.
This recipe would totally be Girl Scout approved! The chocolate-caramel cookies have the perfect flavor combinations to add to a sheet cake.
The rich chocolate cake mixed with the gooey caramel topping makes for a decadent dessert that will go down well with a crowd. To finish it off, simply add toasted coconut flakes and chocolate chips – just like Samoas Girl Scout Cookies.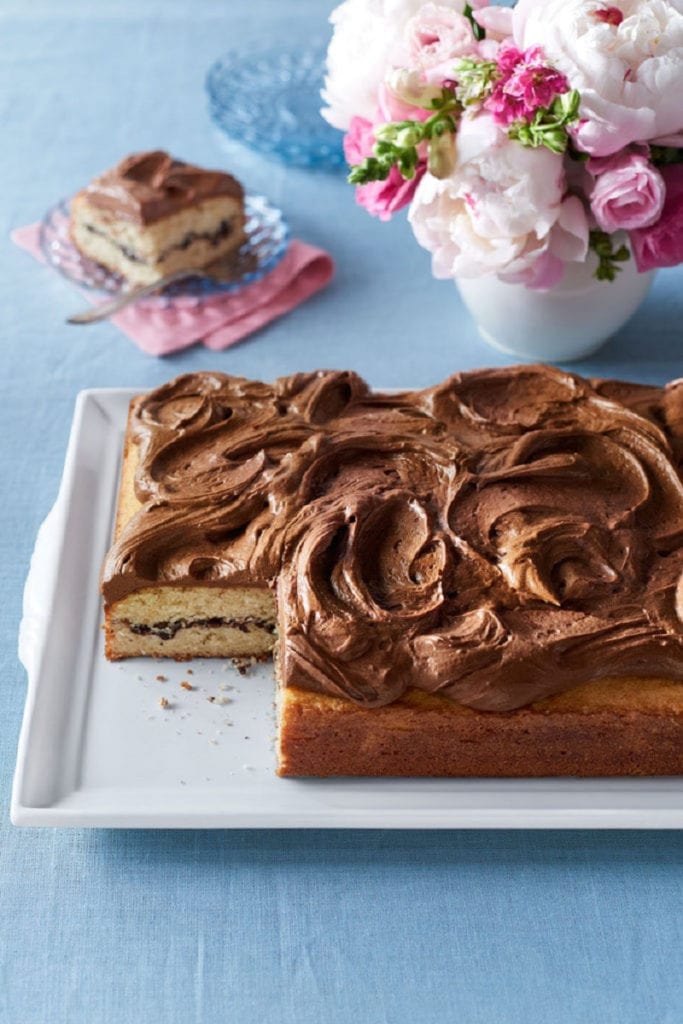 This sheet cake recipe is pure indulgence, and literally melts in your mouth. However, it's a little more complicated than your usual sheet cake.
Instead of one solid sheet of cake topped with frosting, this cake has a surprise in the middle! In order for it to work you need to pour only half of the cake mixture into the tin at first.
Then you must spread the rich, chocolate-cinnamon filling and spread it evenly over the batter before topping up the tin with the remaining batter. The frosting is kept simple by opting for a plain chocolate frosting.
Tips For Making The Perfect Sheet Cake
For the best results, do not substitute any of the ingredients! This is important as baking disasters often happen when people try to substitute, replace, or forget to add an ingredient. If you change the ingredients, you won't get the same flavor or outcome as the original recipe.
Try to use a pan that is no more than an inch tall. The batter will rise slightly during the cooking process, and if the cake is too thick it ruins the premise of the sheet cake.
Add the frosting whilst the cake is still warm. Unlike most cakes, you don't have to wait for a sheet cake to cool before you can add the frosting. In fact what keeps sheet cakes so moist is adding the frosting whilst the cake is still hot, so some of the frosting seeps into the cake itself.
Don't be afraid of toppings. There's lots of room to experiment with topping sheet cakes. Just make sure all the flavors work together and your cake is guaranteed to go down well.
Final Thoughts
We hope these sheet cake recipes have given you a lot of ideas and some inspiration for you to use in your own kitchen.
Most of these are simple, easy to follow, and quick cook recipes that won't take up much of your time. The sheet cake is a wonderful dessert to use for a whole manner of social events, including birthday parties, bbqs, and dinner dates.
We must warn you, however, as the sheet cake is a crowd favorite, wherever you bring one you must expect it to be gone in a matter of minutes.