The two-day celebration of Rosh Hashanah is an important holiday in the Jewish religion that signifies the beginning of the Jewish New Year.
This holiday encourages Jewish people to reflect on their year, from whatever they are most grateful for to asking for forgiveness for whatever they are ashamed of. It's a time of balancing good with bad, and seeking forgiveness from God regardless. 
Rosh Hashanah comes with a variety of traditions and customs, with some communities eating the heads of fish and others blowing the shofar.
As with most holidays, Rosh Hashanah is an opportunity to cook and eat a multitude of traditional foods – including the iconic Jewish apple cake. This delicious apple cake encompasses all the flavors of fall.
Whether you're preparing to celebrate Rosh Hashanah or if you're simply craving the humble apple cake, here are 15 amazing Jewish apple cake recipes!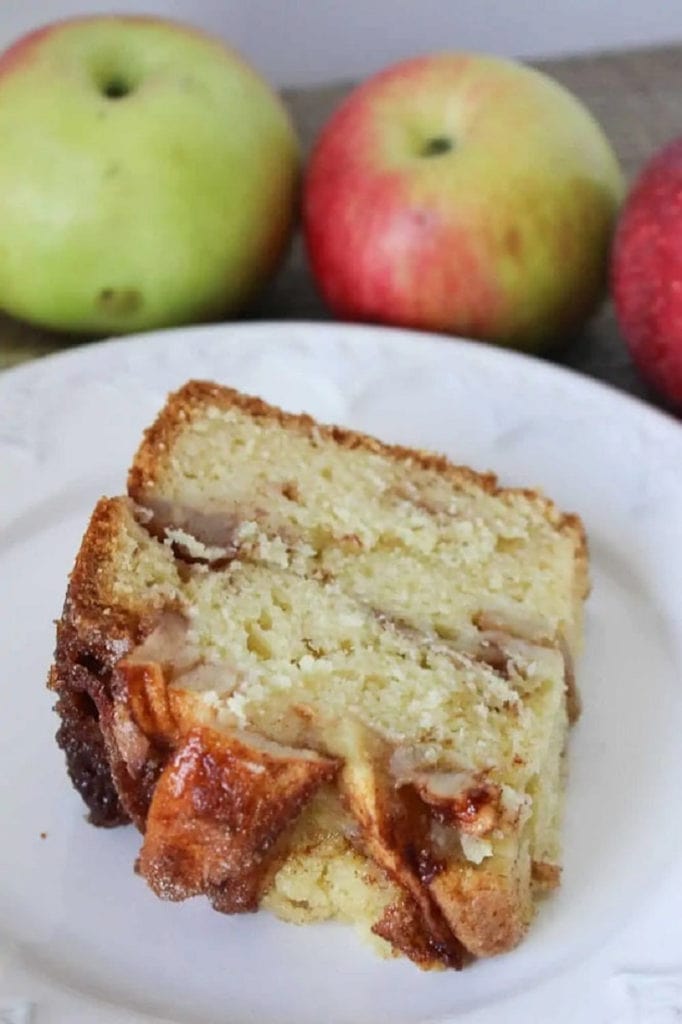 This Jewish apple cake recipe is called "the best" for a reason. Packed with mouth-watering apples, orange juice, and a hearty dosage of cinnamon, this cake is as moist as it is flavorsome.
This recipe is great because it doesn't require a specific type of apple, so you can pick whatever is your favorite or mix and match. 
Plus, this apple cake recipe is surprisingly easy to make! Just make sure you have access to a mixer, tube pan, and an apple paring knife. Serve it alone or with a dollop of ice cream or a drizzle of double cream. 
The mark of a reliable traditional Jewish apple cake is how long the recipe has been used for. In this case, this Jewish apple cake recipe has been handed down the generations for over 30 years.
If you vibe well with this recipe, it must just become a part of your own family tradition, too! 
This apple cake recipe is a sure-fire crowd-pleaser. Using the popular Rome Beauty apples, the ingredients in this recipe are accessible and easy to find in any grocery store. Plus, the layer of sliced apples on top makes for a satisfyingly crispy outer layer. 
If you're a fan of super moist apple cake, try this apple and honey cake recipe. This recipe probably isn't ideal for those who don't have a sweet tooth, but for those who do, you're in for a treat.
With a lovely helping of honey (and the interesting addition of sour cream), this is a remarkably sweet and moist cake that is perfect for finishing an evening of celebrations.
If you find this cake a bit too sweet, you can pair it with some mild cream or double cream to lessen the sweetness! Just remember that the sour cream ingredient might disrupt your dinner plans if you intend on eating meat.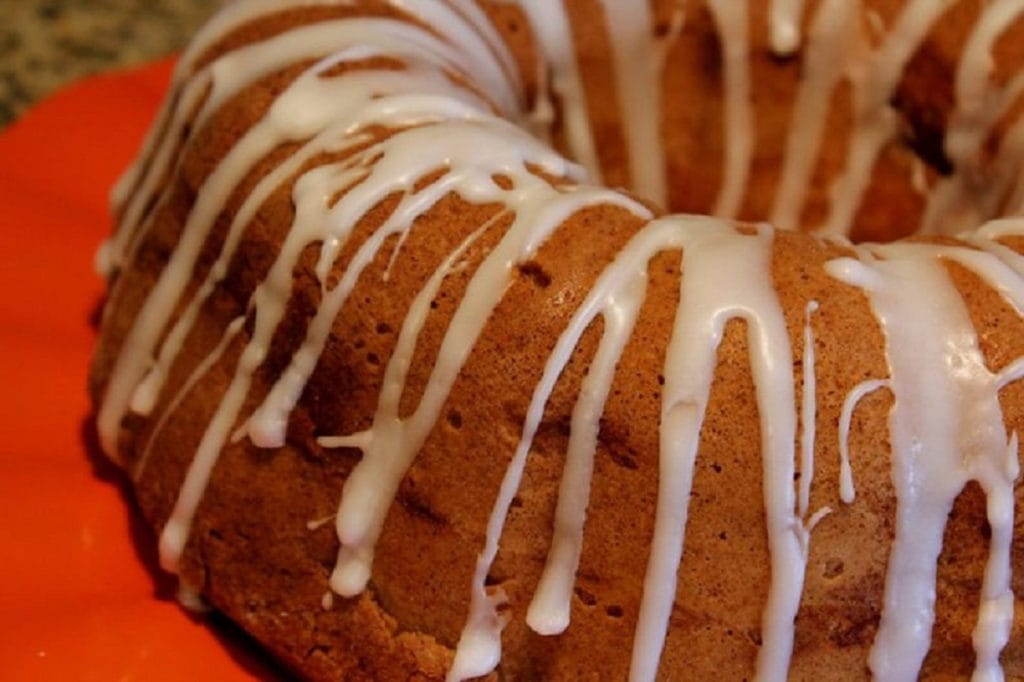 Granny Smith apples are one of the most popular forms of apples purely for their versatility. Brilliant in a variety of desserts, Granny Smith apples are particularly wonderful in an apple cake thanks to their distinctive tartness – making this recipe ideal for those who don't want an overly sweet cake.
This recipe also features several heaped spoonfuls of cinnamon to provide that lovely autumnal flavor, so you don't even have to make this cake specifically for Rosh Hashanah! 
While the sugar glaze on top is optional, it does help to provide a bit of sweetness to the tart apples – just ensure the cake cool completely first. This cake is baked in a bundt pan.
This Jewish apple cake recipe stands out for its apple cider addition (which can be substituted with orange juice). While most Jewish apple cake recipes use orange juice to avoid using dairy, apple cider works beautifully with the apples to provide enough acidity to create a hearty, moist cake. 
This recipe is a good, bog-standard Jewish apple cake recipe that is easy to follow and adapt to your liking. To add a bit more flavor, you can make a sugar-based glaze to drizzle over the top. 
The best bit about having a bundt pan cake-shaped Jewish apple cake is that you can fill the middle with a creamy filling if you so wish (and if it applies to the Kashrut dietary rules).
This Jewish apple cake recipe offers just that, and with the additional sprinkling of almonds, you've got yourself a perfect autumnal and Rosh Hashanah cake. It also features a nice amount of vanilla extract for a comforting and heartwarming flavor. 
Plus, this recipe doesn't actually use as much apple compared to the other recipe, which is suitable for kids who aren't a fan of the fruit!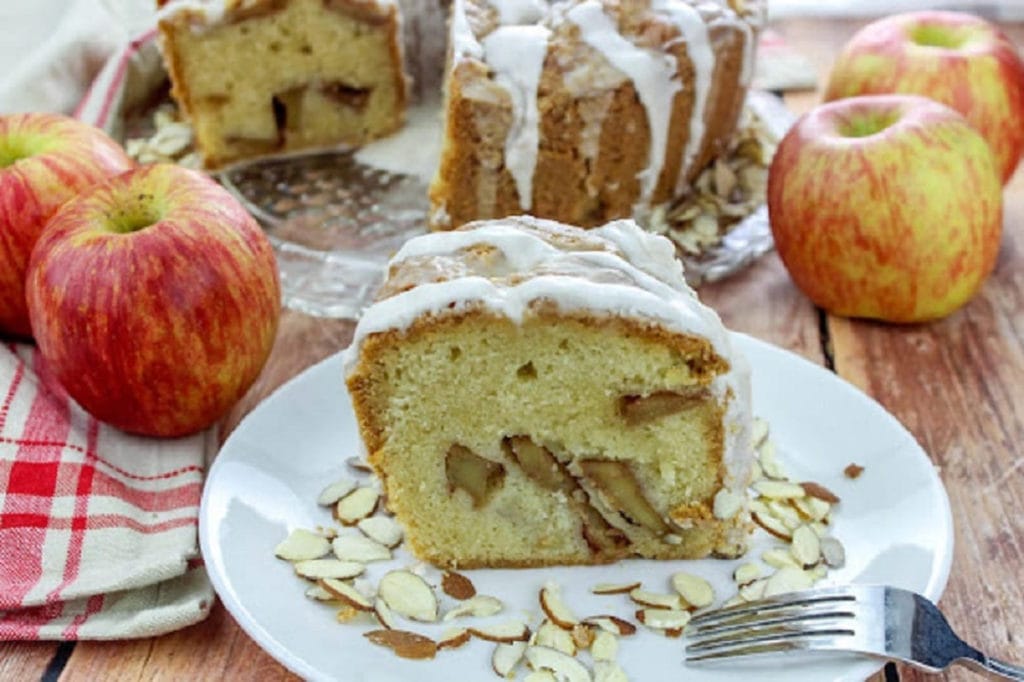 If you don't have a bundt pan, don't fret! The shape of the apple cake won't affect the taste or quality of it. This Jewish apple cake recipe can be baked in a classic loaf pan or a tube pan and features a lot of apple slices.
While it might seem odd to say that this apple cake features a lot of apples, some recipes only use between 3-5 apples, whereas this one calls for 6. 
Once baked and cooled, it's recommended that you leave the cake in the refrigerator for a couple of hours before serving it, as this intensifies the flavors. 
If you want your apple cake to resemble something like a classic Victoria sponge with layers of apples, check out this recipe. This is probably the neatest apple cake you'll ever make, which is equally satisfying to cut into as it is to eat.
It also recommends using firm apples like Granny Smith or Honey Crisp apples to prevent them from becoming a mushy mess as the cake bakes. 
Serve this cake with a sprinkle of sugar or drizzled in cream – or even layer the top with apple slices. 
Not all Jewish apple cakes have to be served during Rosh Hashanah! This cinnamon-apple cake recipe is referred to as Hanukkah cake, so it can actually be made and eaten whenever you like.
Due to its size, you might want to share it with friends and family, though! This is a ridiculously moist and fluffy cake thanks to the cream cheese ingredient, and the gentle spice of cinnamon gives it a mouthwatering autumnal flavor. 
Cover this cake with a cinnamon sugar mixture to enhance those warming cinnamon flavors.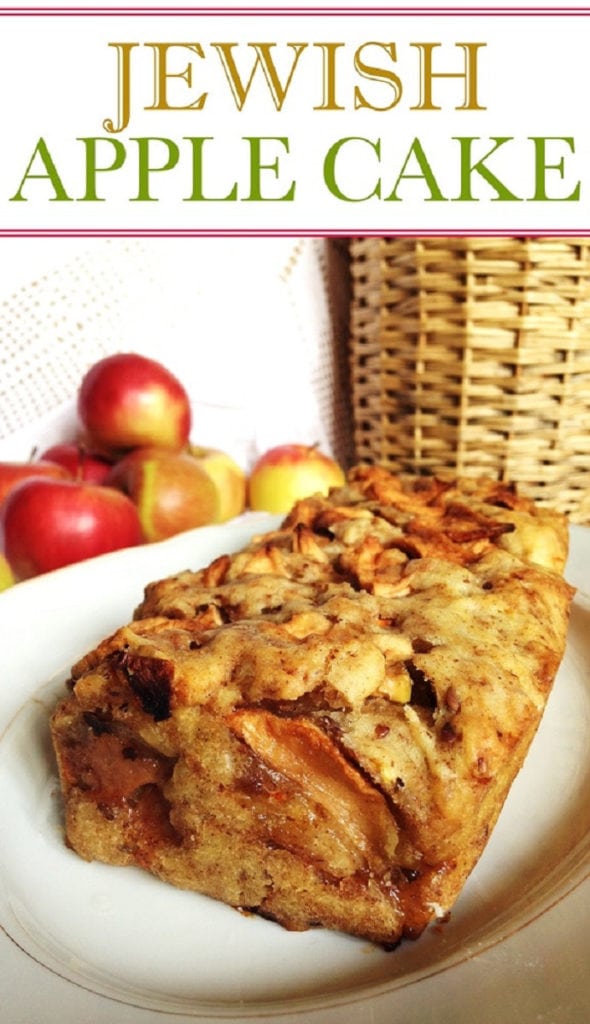 Did someone ask for a moist and rich apple loaf cake? This Jewish apple loaf cake recipe stands out for its unique inclusion of lemon and an optional addition of grated carrot, which helps to enhance the tart yet sweet flavors of the apples.
This isn't the type of cake you'd make for its appearance, but the messier, the better, right?
As for toppings, sprinkle a handful of cinnamon-sugar or brown sugar over the cake. Also, cut some thin slices of apple and allow them to crisp at the top of the cake. 
Again – if a recipe has been in the family for several decades, you know it's going to be a good one. Introduce this Jewish apple cake recipe to your family and it's certain to be a new heirloom.
This recipe ensures for a dense yet moist and fluffy apple cake with little pockets of air and a lot of flavor. The mixture of orange juice and cinnamon compliments the tartness and sweetness of the apples, enhancing the overall flavor of the cake. 
If you're wanting a healthy alternative to the humble apple cake, check out this whole grain Jewish apple cake recipe.
Instead of using refined all-purpose flour, this recipe calls for whole wheat flour that is packed with nutrients and fiber, making for a guilt-free apple cake for dessert or breakfast.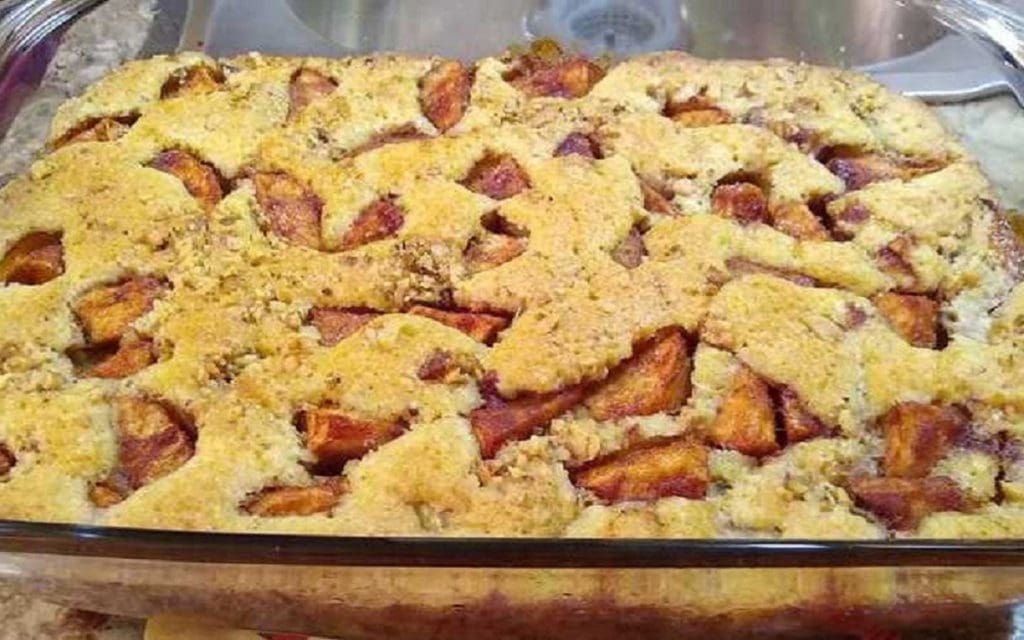 With the unique and underrated inclusion of chopped walnuts, this Jewish apple cake recipe provides a mouthwatering range of textures to make for an interesting cake.
With the option to sprinkle the chopped walnuts in the cake batter or on the top as a crispy topping, bakers have the freedom to experiment with different textures and tastes.
Plus, not only is the nutty flavor complimented by the cinnamon and apples, but it also helps to lessen the sweetness. 
There's no better way to celebrate the Jewish holidays starting in fall than with a moist apple cake. This honey apple cake recipe is sweet and oh-so-satisfying, which is ideal for starting the Jewish New Year at Rosh Hashanah.
Also, the apples are shredded rather than chopped, allowing for the apple flavors to run throughout the cake – ideal for those who dislike the chunky texture of regular apple cake!
Whether you're a vegan or if you simply want to expand your baking knowledge, this vegan Jewish apple cake is ideal for those who don't want to risk eating dairy after a meat-based meal!
Using vegetable oil and soy flour dissolved in water instead of egg, this apple cake is sweet, moist, and will fool all eaters into assuming it's got egg in it. With a topping of walnuts, this cake also allows for a satisfying variety of textures.