A Bundt cake is special because of the way it's baked, it doesn't conform to any standard recipe as it can be changed so much and is famous for its doughnut shape.
It's great because it can be made into any flavor. Baked in a bundt pan with a tube running through the middle, it allows for a much faster bake to provide light and fluffy cakes more efficiently. If you don't have one, it's time to invest in a bundt pan.
Read on to find the perfect lemon bundt cake recipe!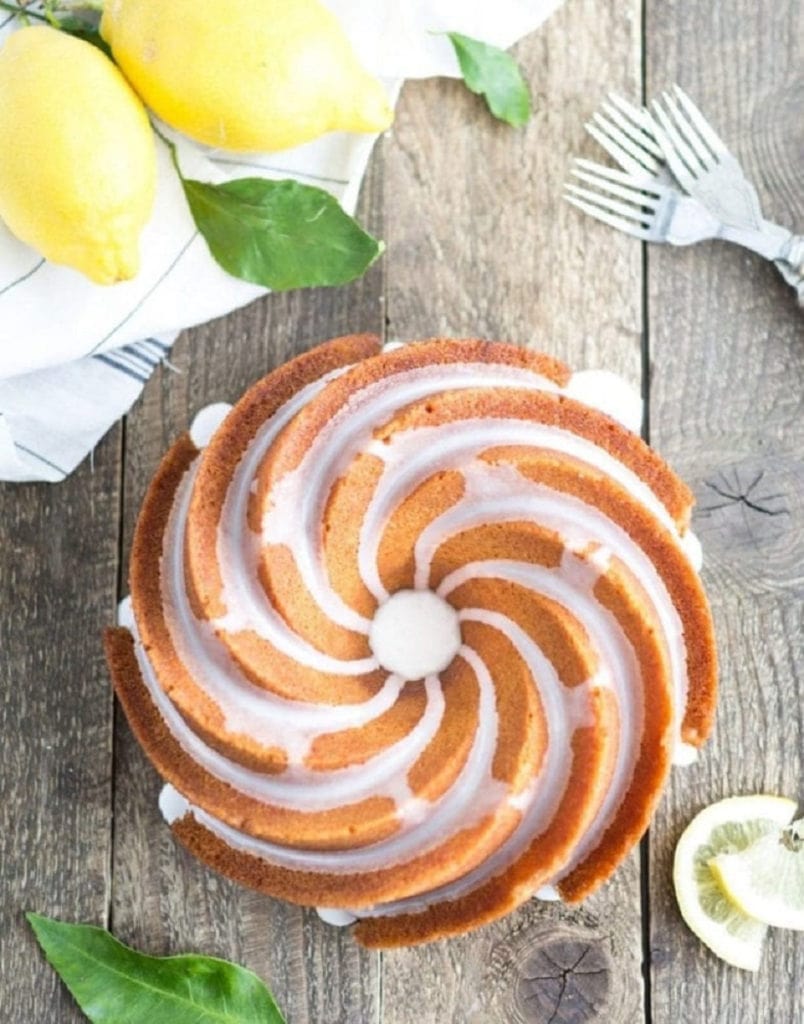 For anyone who's a fan of the traditional lemon drizzle cake this will be the Bundt cake for you. The way it's baked and dressed it's perfect for a light and refreshing summer teatime or picnic.
It's recommended to keep the cake cool just before serving to ensure that the fresh lemon flavors and scent please the senses, and so the lemon glaze icing doesn't melt.
For those who want the tangy fresh lemon taste in their Bundt cake this could be the one for you, the mixture of the actual cake combined with the sweet citrus icing pairs perfectly.
This one differs slightly from the drizzle cake as it has more of a set icing rather than one that seeps into the cake, and this gives it the lovely party cake aesthetic that will please more than just the taste buds and nostrils. Serve with a sprinkling of lemon zest.
This one will definitely stand out as a favorite, baked by beloved British baker Mary Berry. This is definitely going to be a showstopper at any occasion you arrive at with this in your hands.
Mary herself says that this dessert doesn't need anything more than the cake and its flavors, a fresh lemon cake with a crumb that keeps it fresh and moist, perfect for those springtime events. The crunchy glaze is perfected thanks to the freshly squeezed lemon juice.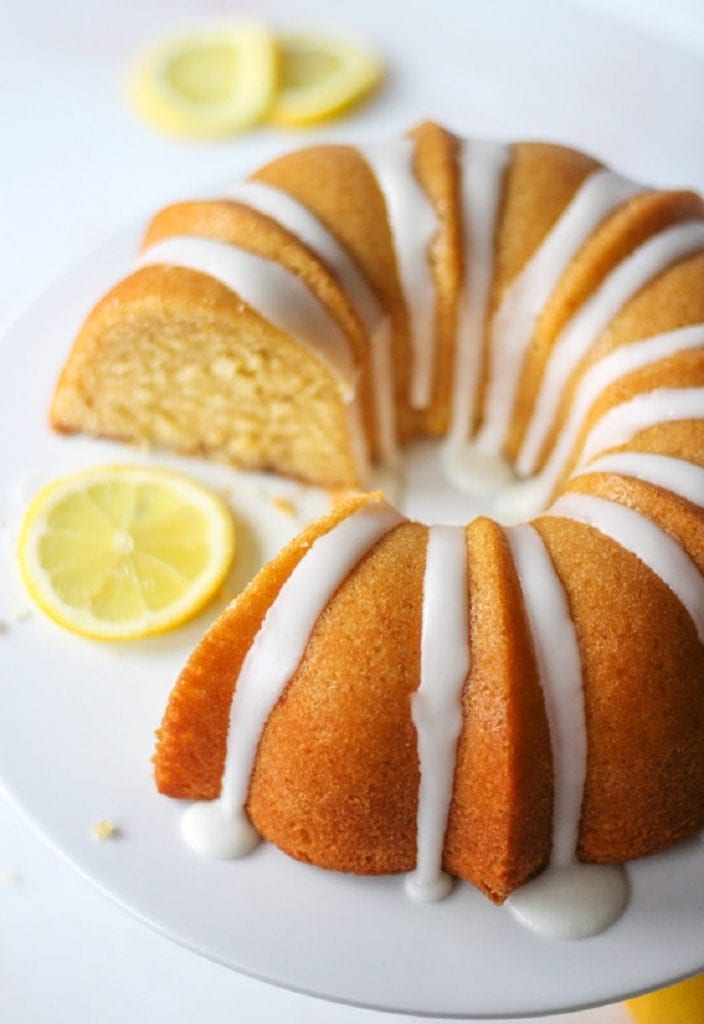 This version of the lemon drizzle is slightly different, as rather than the icing covering the cake, it's used to divide the cake up into portions to give it the simple clean look.
She claims this to be a great recipe due to how amazing it tastes and how simple it is to whip up.
Sainsburys have delivered a tasty lemon bundt cake recipe based around an Easter bake. They recommend using a Bundt tin with more of a swirl pattern for looks and to get the icing sugar in the crevasses to deliver a fresh lemon cake with a light and fluffy texture.
They also recommend using lemon zest, rosemary, thyme, and chocolate mini eggs to decorate.
Described as easy, moist with a tender glaze full of lemon flavor. This cake claims to be dense, more so than described by others so it can pack all of the zingy citrus burst of lemon juice and hold all of that moisture to create an indulgent cake.
Again, like the others, this is so simple to make and will have your mouth watering.
This version of the springtime treat is great to serve at any dinner party to wow guests. Martha Stewart flavors her cake batter with lemon and glazes the whole of the outside of the cake in a rich lemon glaze.
With plenty of user reviews pointing out how rich the flavors are.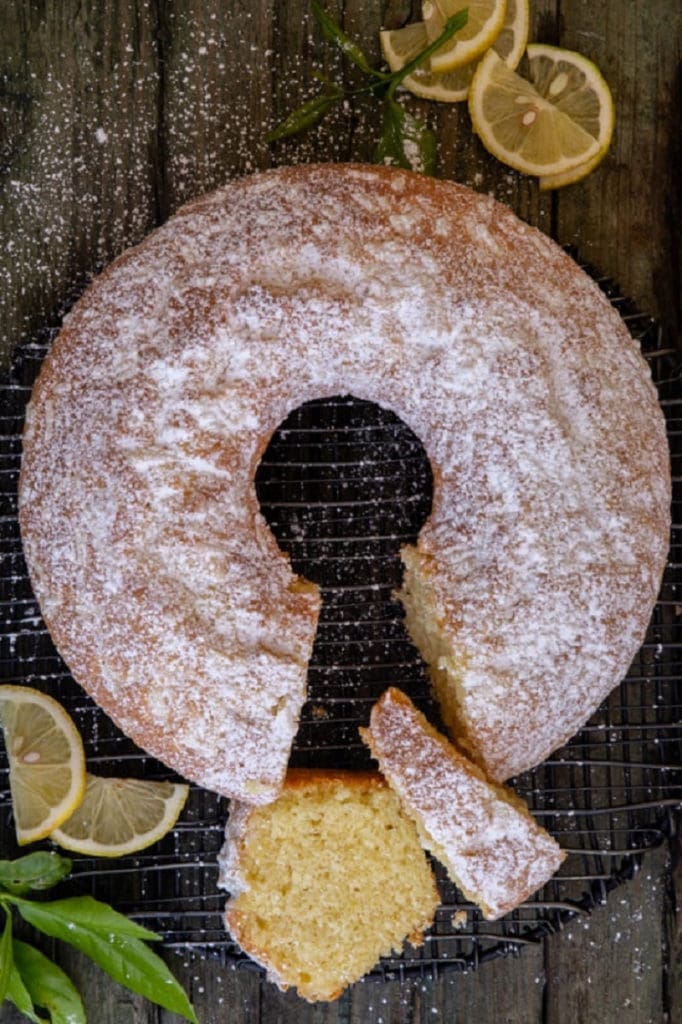 Simple, soft, lemon and vanilla. The few words needed to describe the Italian's traditional method of making this classic treat. Claimed to be just as or more important a full course meal, this is the center piece to an Italian household.
Baked with a pearl sugar to give it that extra bite and heavily dusted with powdered sugar to give it that extra sweetness to enhance the refreshing lemon flavor.
If you're looking for the cake to show off to your friends with a lovely golden presentation, bake this one.
It's packed with flavors creating an indulgent, dense moist cake perfect for sharing, and if you want to level up this one add some lemon icing sugar and maybe some fresh garnish.
All about the lemon, for those who love an intense lemon cake this one is absolutely packing with the lemon citrus edge.
Heavy flavors, heavy icing and heavy cake, perfect to pack in every ounce of deliciousness possible.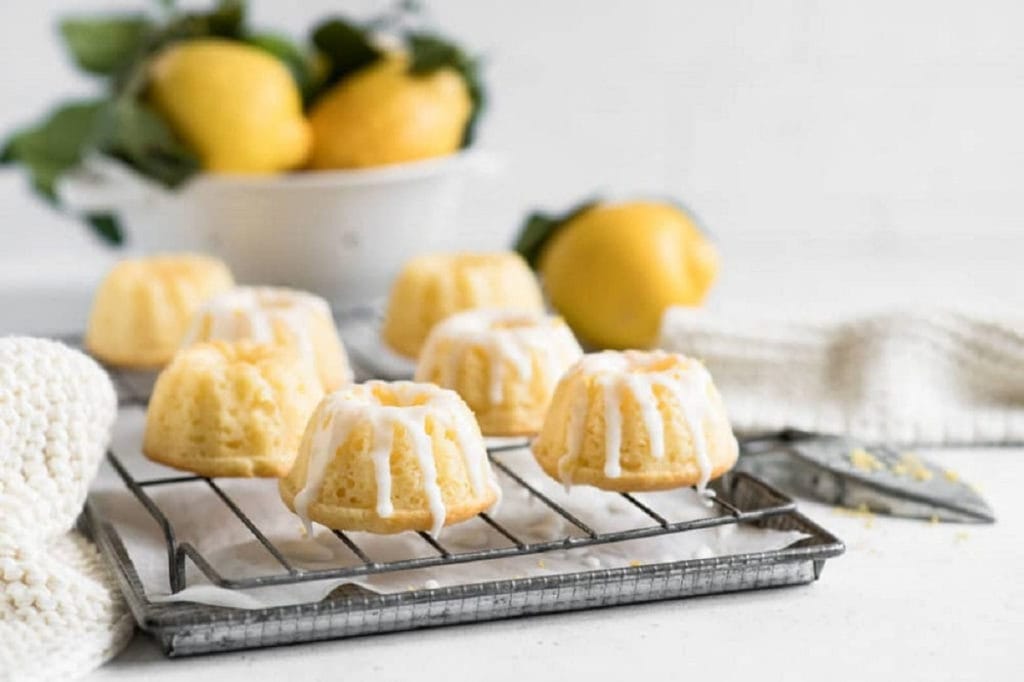 These cute little lemon cakes are perfect for a sharing platter and to bring along to a picnic or dinner party.
Simple yet classy, these will be the perfect after tea snack to give your guests a fresh, sweet taste in their mouths.
This lemon Bundt cake has a nice refreshing twist to it. To enhance the citrus burst you add the zest and juice of an orange, this takes it away from a standard lemon cake to something more like a showstopper.
Light and fluffy and pairs well with some pistachios to garnish and add a healthy crunch to the cake.
A 2017 recipe of the year, this cake comes in with a healthy, uplifting lemon glaze to ensure that it's perfectly moist and bursting with lemony goodness. This cake comes recommended to add some extra class to the traditional birthday cake and leave everyone satisfied.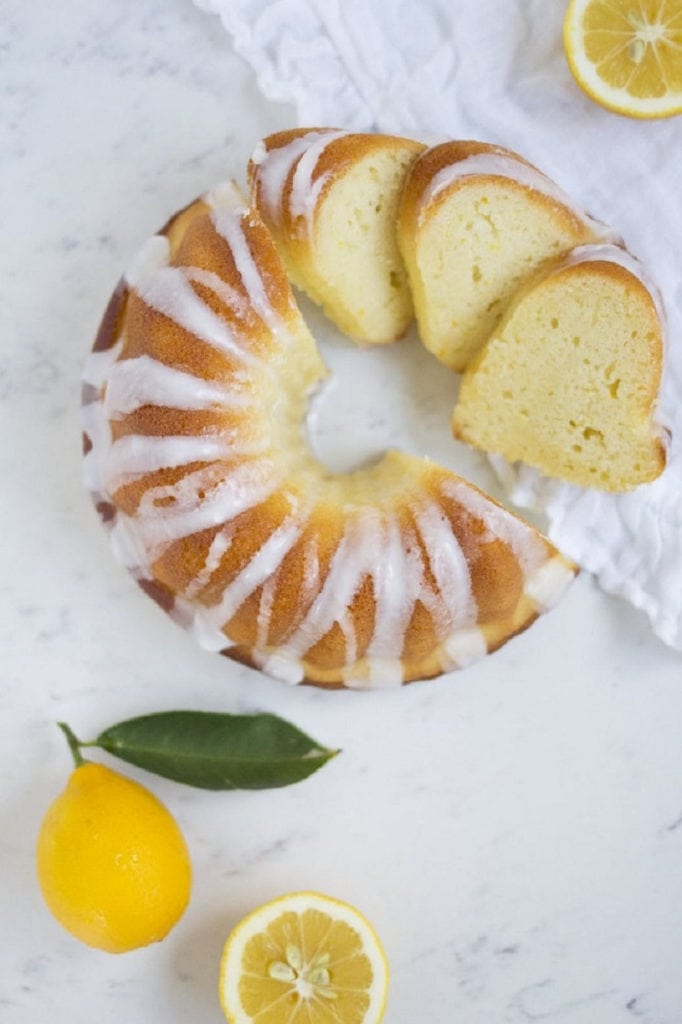 A classic recipe with a twist added to ensure that it will last longer than a day (if it's not eaten all at once). The added yogurt creates a tartness to it that locks in all the moisture, sealing the wonderful lemon flavors.
Add a beautiful lemon iced glaze to present it as the best treat for your guests.
A classy way to enhance your Bundt cake from a springtime special to the centerpiece at your Christmas party. The bright flavors that the lemon delivers pairs perfectly with a pop of bubbly.
The champagne helps to bring that extra winter class to the cake, keeping it rich, moist and dense.
Frequently Asked Questions
What is a Bundt Cake?
A Bundt cake is a regular cake that can come in a variety of flavors and uses pretty much any batter you want, but ultimately has to be baked in a Bundt tin.
A Bundt cake tin is a doughnut shaped tin usually with some kind of pattern that forms on top of the cake and allows for a quicker, more even bake due to the hole through the middle of it.
How Big Should the Bundt Tin be?
It really depends on the amount of people that need serving and the amount of ingredients you've purchased. You'll want the ingredients to fill the tin to the right level so that when it's baked it rises enough and doesn't come spilling out.
Do All the Ingredients Need to be Room Temperature?
If you want to make a smooth batter, then it helps for all the ingredients to be room temperature. If not, this can prevent them mixing well and cause lumps in the mixture.
How Do I Store the Cake?
As long as the container used is good then it really doesn't matter as much where it's stored. Can be a fridge or just left at room temperature if need be.
Nutritional Information
This depends on the ingredients used in the baking. If you're not sure it can help to find the measurements of each ingredient and add them up yourself to get an accurate measurement.
How Do I Stop the Cake Sticking to the Pan?
The best way to do this would be to line the pan with something like butter or non-stick baking spray. This will help to remove the cake carefully and in one piece when taking it out.
Does it Have to be a Lemon Bundt Cake?
No, but these recipes are specifically for lemon flavored ones, or a lemon variation. As they're quite dense and moist most recipes do call for a lighter or more refreshing flavor so that the cake isn't overindulgent.
Does it Have to Have Icing?
No, this is up to the baker, but again recommended as it adds a good sweetness and flavor to the cake. Try to pair the flavor of the cake and icing for best results.
Final Thoughts
This cake is perfect for almost any occasion just because of how delicious it is. Most recipes do say that it suits a warmer event like an easter picnic or something of that variety, however, with the right combination of flavors can easily be adapted for something else.
Most of these recipes are similar but will offer something different, some being more traditional, some being heavier, some being fluffier and some even having a stronger taste to them.
With these it's important to think about the people you'll be serving and the occasion before choosing the right recipe.
There's no need to be afraid to modify any of these recipes yourself especially if you're familiar with baking or just looking for a different variation of the recipe that wasn't listed.