Almond cake – a tasty and seasonal treat. With marzipan-like flavors that excellently combine with so many types of fruit (like blood oranges, apricots and pink lady apples), almonds make a perfect, adaptable and absolutely delicious addition to any bake. 
Listed below, you will find five different almond cake recipes, that range from citrus to sweat, and hail from French, Italian and American origins.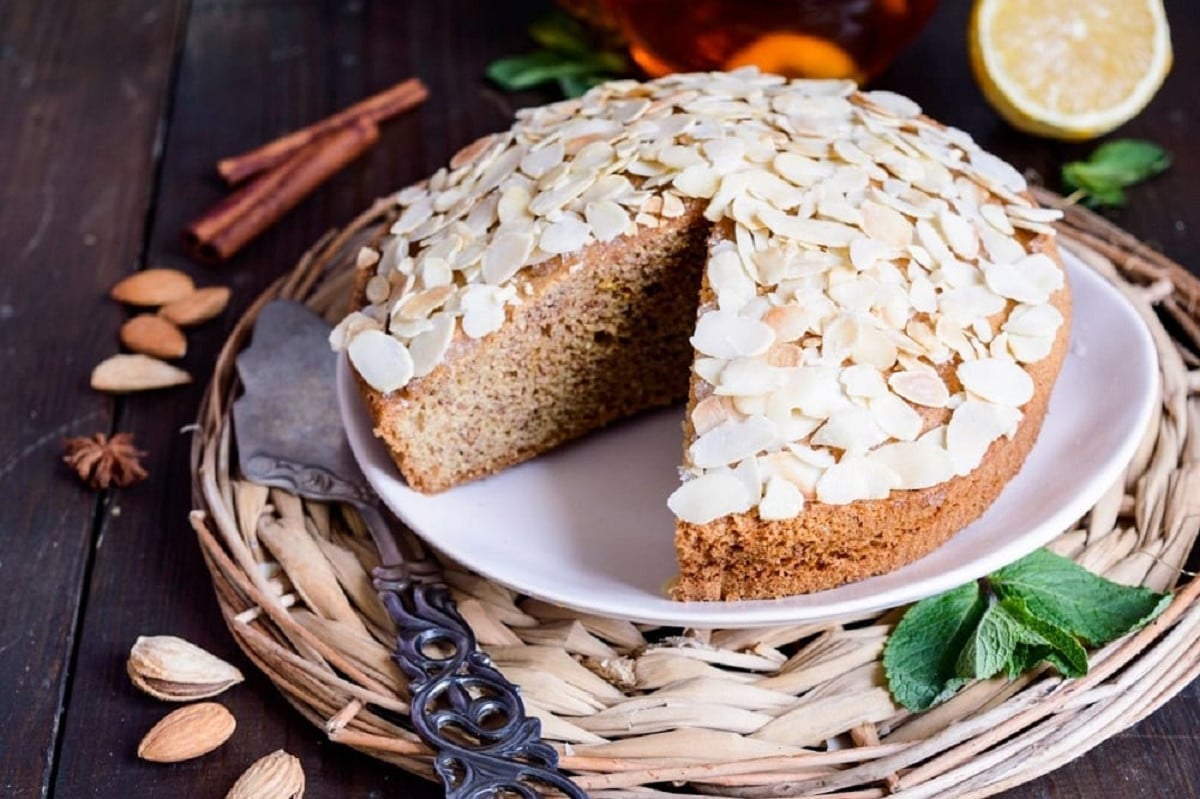 These recipes are great for when you're due guests over, as they aren't too complex, whilst still being spectacular and delicious occasional cakes – but don't worry, we won't tell if you end up eating them all yourself.
This simple and beautiful almond cake has a wealth of 5-star reviews. It is rated as an easy recipe to complete, and it is not hard to see why – the recipe itself only has four steps, the most difficult step is preheating the oven, and the whole prep time lasts only 20 minutes.
All the baking magic seems to happen during the one-hour long cooking time. If you're looking for an easy and simple but delicious cake, this is the recipe for you. 
Ingredients
125 g Unsalted Butter. 
150 g Unrefined Golden Caster sugar. 
3 Free Range Separated Eggs. 
1 tsp of almond extract. 
40 g self-raising flour.
75 g ground almonds. 
Step One = preheat your oven to 180 degrees Celsius (160 degrees Celsius on fan/gas mark 4). Grease and line the base of a 15 cm round cake tin. 
Step Two = beat the sugar and the butter until it lightens in color, and develops a creamy texture. Add the egg yolks one at a time, with the almond extract. Make sure everything is incorporated well. 
Step Three = gently sieve the self-raising flour and ground almonds into the cake batter, and mix. Beat the egg whites in a clean, grease-free mixing bowl, until they become very stiff, and fold it into your cake batter without knocking out the air in the mix. 
Step Four = pour your mixture into the lined cake tin, and bake for 50 to 60 minutes, or until a skewer inserted into the cake comes out clean.
Another easy recipe, this one only uses one bowl, and results in a most, tender, and delectable cake that is just perfect for gifting. 
Ingredients for the cake
¾ cup plain yogurt or Greek yogurt. 
1 ½ cups of granulated sugar. 
4 large eggs. 
1 ½ cups of all-purpose or plain flour. 
¾ cup of almond flour. 
3 teaspoons of baking powder. 
¾ teaspoon of salt
1 teaspoon of almond extract.
 
2 teaspoons of vanilla extract. 
¾ cups of sunflower oil (can be substituted with grape seed or canola oil). 
 
Ingredients for the glaze
1 teaspoon of finely grated orange zest. 
3 tablespoons of fresh orange juice. 
¾ cup powdered/icing sugar, with more for sprinkling.
1 teaspoon of vanilla extract. 
½ teaspoons of almond extract. 
½ cup of sliced almonds. 
Instructions
Step One = preheat your oven to 175 degrees Celsius / 350 degrees Fahrenheit. Grease a 9-inch round care tin, and line the bottom of the pan with parchment paper. 
Step Two = Place almonds in a small baking tray, and spread into a single layer. Bake for 15 minutes, or until they begin to brown. Make sure that you stir every five minutes. Remove from the oven and let cool. These will be used later to top the cake. 
Step Three = combine the orange zest, juice, powdered sugar and flavoring extracts in a bowl. Whisk gently until smooth. Cover and set aside – this will be used to glaze the cake later. 
Step Four = combine the sugar, eggs and yogurt in a large bowl, stirring well until completely blended together. 
Step Five = add the flour, almond flour, baking powder, salt and extracts. Stir to combine. 
Step Six = add the oil, and continue to stir well. This might take a few minutes, as they are initially reluctant to combine, but will eventually smooth out. 
Step Seven = pour the batter into your prepared pan. Bake for 35 to 45 minutes, until the cake feels springy to the touch in the center, and a toothpick inserted into the center comes out clean. If the cake looks like it is getting too brown, you can cover it with foil. Be careful not too over bake! Cool the cake on a wire rack for 10 minutes, then remove it from the pan and allow it to cool a little more. 
Step Eight = whilst the cake is still warm, use a pastry brush to gently pat the glaze all over the cake. Do this until all the glaze has soaked in. sprinkle the toasted almonds over the top of the cake whilst the glaze is wet. Allow the cake to cool completely, then sprinkle the remaining powdered sugar over and serve.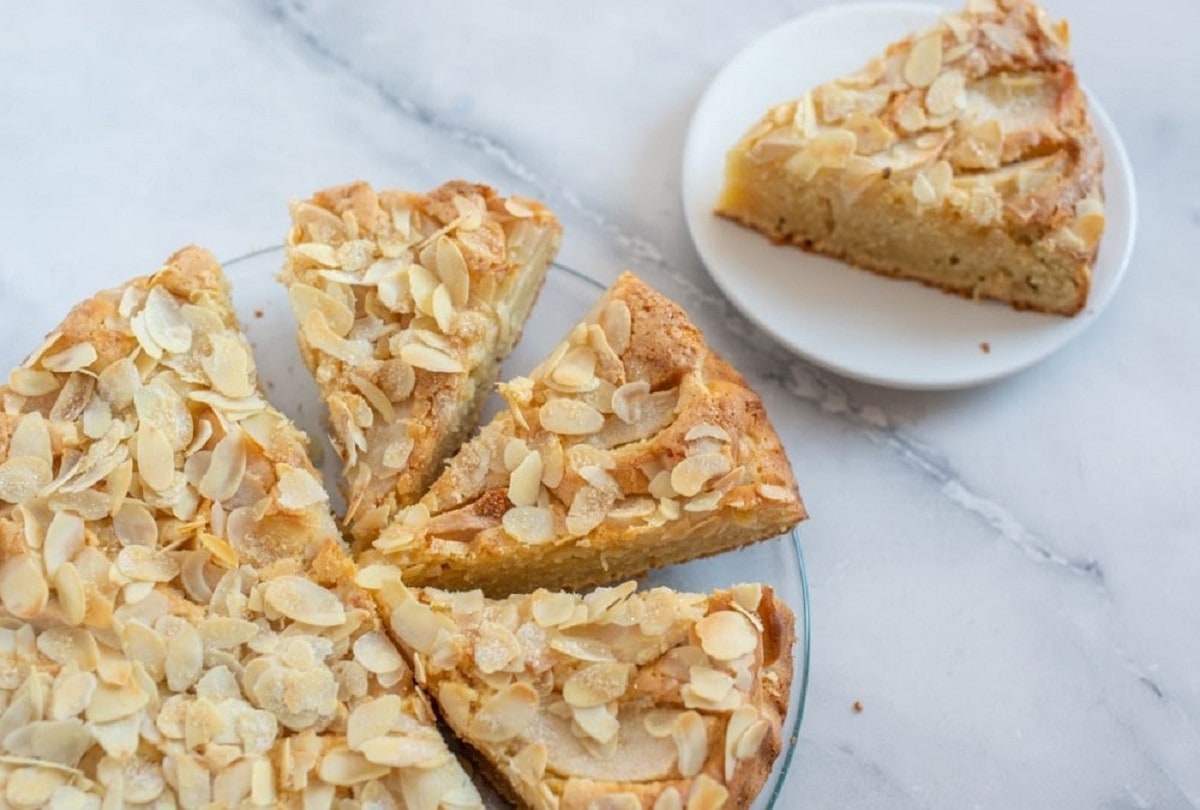 This citrusy lemon cake has a delicious light, soft and fluffy texture. This is because it its made with finely ground almonds – rather than coarser, denser almond meal. It also bakes level, and is pretty sturdy, meaning that it is great to stack up!
Ingredients
1 ½ cups almond flour.
4 free-range, room temperature eggs, separated. 
½ cup of granulated sugar. 
1tbsp lemon zest. 
¼ cup of sliced almonds, 
Powdered sugar and lemon sliced to decorate. 
Instructions
Step One = grease a nine-inch cake pan or spring form pan. Line the bottom with parchment paper, and preheat the oven to 350 degrees Fahrenheit. 
Step Two = in a large mixing bowl, combine the four egg yolks with ½ a cup of sugar. Beat this with a mixer on a high speed until it is thick and creamy in texture, and has lightened in color. Add the almond flour, and the lemon zest, and fold this into the batter until it is incorporated.
Step Three = in another large bowl, add the egg whites and beat together until they form stiff peaks, which takes about two minutes. Fold the egg whites into the almond batter, one heaping spoonful at a time. Make sure that the batter is of an even consistency. 
Step Four = once the egg whites are incorporated and the batter is of one consistency (make sure you don't over mix – as it will make the batter separate), transfer the batter into a prepped baking pan. Sprinkle your sliced almonds over the top. 
Step Five = bake at 350 degrees Fahrenheit for thirty minutes, or until the top is firm to the touch. 
Step Six = let the cake rest in the pan 15 minutes, then run a spatula or knife around the sides and then place it right side up on the rack. Let it cool completely, and then decorate with lemon slices and powdered sugar if you desire. 
This classically tasty Italian-style almond cake is easy to make, but is still professional, authentic and traditional (both in look and flavor!). 
Ingredients
175 g butter/spread 
200 g caster sugar
4 large, free-range eggs 
125 g ground almonds
70 g plain flour. 
4 drops of almond extract
Flaked or sliced almonds to decorate 
Powdered sugar and warmed apricot jam to decorate. 
Instructions
Step One = Beat the softened butter/spread and sugar until they are light and creamy. Beat the eggs into the creamed mixture one at a time, and then fold the ground almonds into, flour and almond extract. 
Step Two = spread the cake batter into a greased and lined deep cake tin. Sprinkle the top with as many of the flaked/sliced almonds as you desire. 
Step Three = bake the tin in a preheated oven at 180 degrees Celsius (or 160 degrees with the fan on, or at gas mark 4) for 60 to 75 minutes, or until a skewer inserted into the center of the cake comes out clean. 
Step Four = let the cake cool completely on a wire rack. Make sure you don't remove the cake from the tin too early, as it will crumble and fall apart!
Step Five = dust with icing sugar, or brush over a layer of the apricot jam to decorate the cake. 
This is one of the most spectacular cakes on this list – the marzipan is incorporated into the batter, and if done right, will deliciously ooze out when you slice. 
Ingredients
250 g unsalted butter (softened)
250 g marzipan (softened)
150 g caster sugar 
¼ teaspoon almond essence 
¼ teaspoon vanilla extract 
6 large free-range eggs 
150 g self-raising flour.  
Instructions
Step One = preheat your oven to 170 degrees Celsius (150 degrees C when using the fan, gas mark 4, or 325 degrees Fahrenheit). Chop the butter and marzipan, and blitz it in your food processor with the sugar, until combined and smooth.
Add the almond and vanilla extract, and process again. Add the eggs in one at a time, processing well after each one. Tip the flour into the mixture, and blitz yet again. Pour this batter into your cake tin. 
Step Two = bake this for 50 minutes (but check from 40), when the cake looks golden broen, and a skewer inserted into the center comes out clean, remove from the oven. Let it cool in the tin before turning it out. 
Step Three = this cake can keep for at least a week, and you can easily get 12 slices out of it, making it great when you have guests round. It is great when eaten with fruit – particularly apples, raspberries, and blood oranges.