Crepe cakes are becoming more and more popular, replacing traditional birthday and celebration cakes for a variety of different occasions.
Crepe cakes (also known as gâteau de crêpes) are usually made of 15-30 layers of crepes and fillings of your choice. If you're looking for the perfect crepe cake recipe, you're in the right place.
In this article, I will cover 15 amazing crepe cake recipes. So, next time you have a celebration coming up, you have plenty of inspiration.
So, let's get started.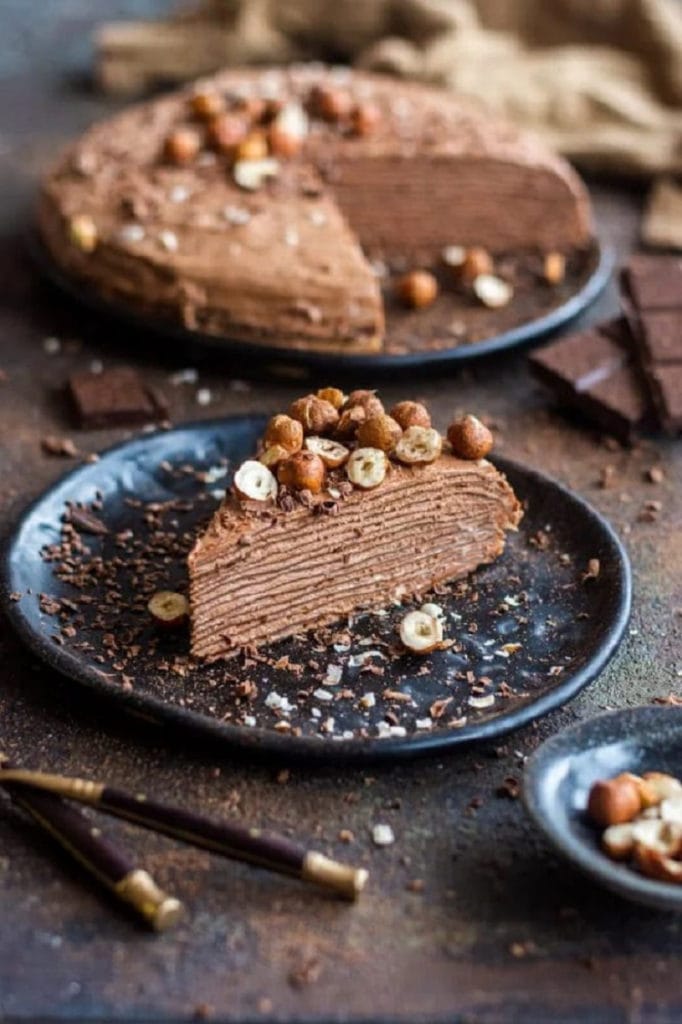 If you're a big fan of Nutella, then this Nutella crepe cake is the recipe for you. This crepe cake is separated by layers of Nutella pastry cream made with Nutella, condensed milk, cocoa powder, and butter.
To make the chocolate crepe batter, you need to combine eggs, flour, cocoa powder, sugar, and milk in a mixing bowl with oil for frying.
Once your crepes have completely cooled, it's time to assemble your crepe cake with cream and allow to chill (preferably on a cake stand). Top with crushed hazelnuts, and you're ready to dig into this truly decadent dessert!
If you're feeling something fruity, why not opt for this lemon drizzle crepe cake?
This lemon drizzle crepe cake is perfectly balanced with sweet pancakes and a sharp, creamy lemony filling that is sure to impress your guests!
The crepe batter couldn't be simpler to make, only using flour, eggs, milk, and butter. The crepes are then layered with a filling made of mascarpone, lemon zest, double cream, and sugar.
Simply cook each pancake on each side until they're golden brown. Pile the crepes on top of one another with a thin layer of the lemon filling, and serve!
If you're a fan of the traditional Italian dessert, tiramisu, then you're going to love this tiramisu crepe cake.
This crepe cake is the epitome of indulgence, featuring 25 paper-thin homemade crepes, 24 layers of fluffy tiramisu filling, and is topped with sweet whipped cream and cocoa powder.
For the batter, you need butter, flour, eggs, sugar, milk, salt, water, and vanilla extract. Once your crepes are cool, you will layer them with a tiramisu filling made of espresso powder, water, heavy whipping cream, rum, mascarpone, powdered sugar, and vanilla extract. 
Top with whipped cream, and dig in!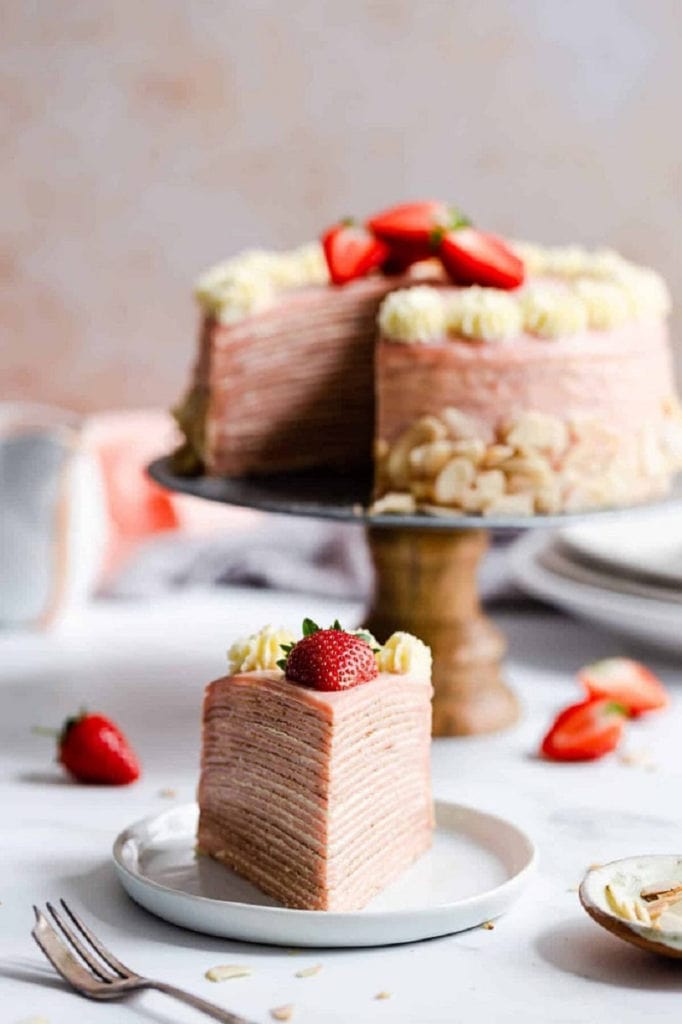 Strawberries are a crowd favorite, and this strawberry crepe cake is no exception.
This is the perfect celebration cake for any occasion! This crepe cake is layered with light crepes, whipped cream, and is then covered with strawberry ganache.
The crepe batter contains eggs, milk, flour, sugar, salt, vanilla extract, melted butter, and red food coloring. 
For the filling you will need to combine double cream, vanilla, and double cream. Layer the crepe cake, and then cover the cake in a strawberry ganache made of white chocolate, double cream, strawberries, and butter. Serve on a cake stand or serving platter for the full effect.
Sometimes the simplest recipes are the most delicious, and this vanilla crepe cake definitely falls into that category.
This stack of golden crepes and creamy mascarpone filling is simple yet deceptively delicious.
This vanilla crepe cake uses a basic crepe recipe, but the cream filling is where the recipe truly comes to life. For the filling, you will need to combine mascarpone cheese, powdered sugar, whipping cream, and vanilla in a stand mixer.
Layer your cake and then allow it to chill before you top the cake with whipped cream and fresh berries. Delicious!
If you like the combination of fruit and chocolate, this raspberry and chocolate hazelnut crepe cake provides the perfect balance.
This crepe cake is made with two whipped-cream fillings: white chocolate-raspberry and dark chocolate-hazelnut.
The recipe calls for flour, milk, eggs, sugar, eggs, and unsalted butter.
For the raspberry filling, you'll need gelatin, water, raspberry jam, and white chocolate. For the hazelnut filling, you'll need Nutella, chocolate, creamy, and powdered sugar.
Allow your crepes to completely cool before you layer them, alternating between each flavor of filling. Set for up to 8 hours in the refrigerator (room temperature is too warm) before serving!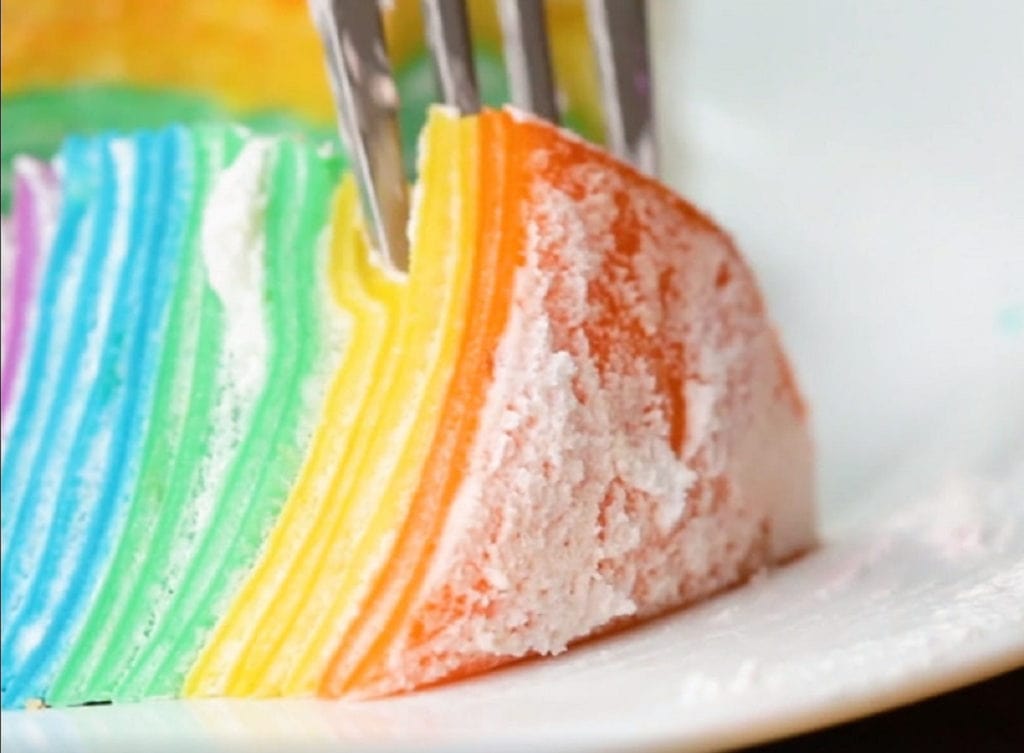 For a colorful cake that is bound to be a hit with the kids, why not try making a rainbow crepe cake?
This rainbow crepe cake can be achieved with a basic crepe batter recipe that has been divided into six different bowls. Each bowl belongs to a different color, dyed with red, orange, yellow, green, blue, and purple food coloring.
Once cooled, stack the crepes on top of each other in the order of the rainbow with a layer of whipped cream between each crepe. Cover the crepe cake in cream, and you're done!
Plus, use any remaining batter for a colorful breakfast the next morning.
Sometimes you can't beat a classic, and this chocolate crepe cake is perfect for any chocolate lover out there.
If you're looking to indulge, then this is the chocolate cake for you. Made with chocolate crepes and layered with beautifully silky chocolate ganache, this cake is nothing short of heavenly.
The crepe batter contains eggs, milk, flour, cocoa powder, unsalted butter, sugar, and salt. Once cooled, you can layer your crepes with the rich chocolate ganache made of chocolate chips and heavy cream. It doesn't get much more delicious! 
For a trip to the tropics, why not opt for this glorious mango crepe cake?
This crepe cake is layered with whipped cream, fresh mango mango slices and is then drizzled with a beautiful mango glaze to finish it off.
To make the crepes, you need a basic crepe recipe of flour, eggs, whole milk, butter and sugar.
Allow the crepes to cool before assembling with fresh mango slices and the whipped cream topping.
To finish off, add a mango glaze simply made with blended mango and lemon juice to give it a nice zing!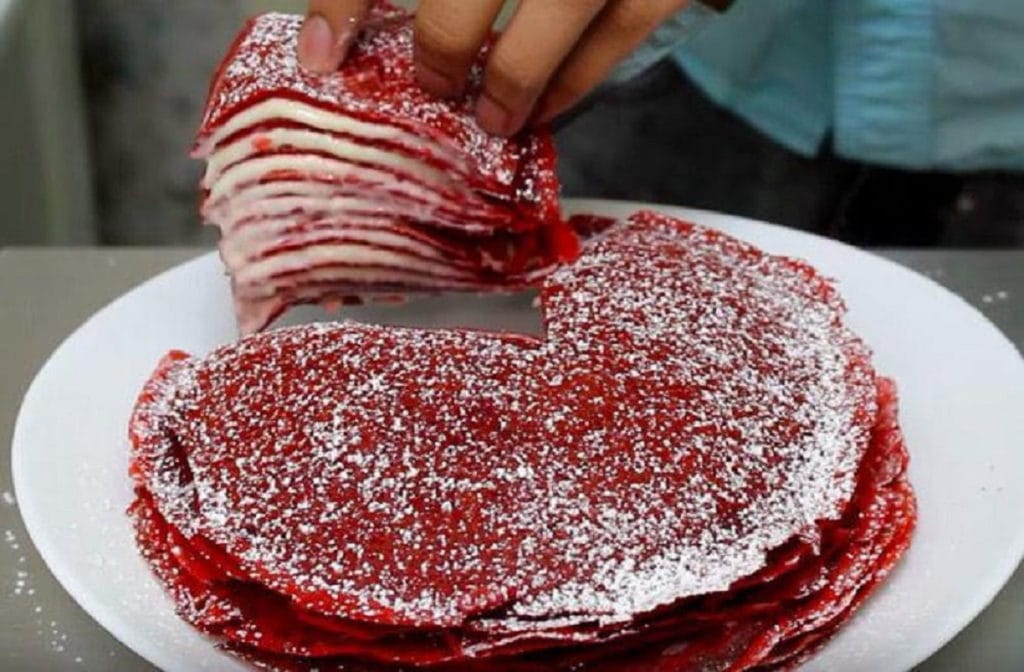 If you're looking to impress, this red velvet crepe cake makes the perfect dessert for any occasion, especially a special dessert on Valentine's Day!
Made with light red velvet crepes that are layered with a delicious cream cheese frosting, this crepe cake is as tasty as it looks!
Combine flour, cocoa powder, sugar, and salt with milk that has been colored with red food coloring, eggs, and vanilla extract.
Layer up your crepe cake, dust in icing sugar, and the result will be the ultimate centerpiece on your table – especially on a rotating cake stand!
This blackberry and mascarpone crepe cake is the perfect autumn dessert, and looks much harder to make than it is!
Combine flour, sugar, eggs, milk, cream, lemon zest, salt, and butter together to make the batter. Cook each crepe on medium heat until golden brown.
Layer up your crepes with half of the blackberry mascarpone whipped cream and allow the cake to chill for 8 hours. Once this time has passed, top the cake with the remaining mascarpone cream and top with fresh blackberries! 
If you like a hint of coffee with your chocolate, then this mocha crepe cake is bound to please your taste buds! This gorgeously rich and indulgent crepe cake is mouth wateringly delicious.
For the smooth chocolate filling, combine dark chocolate with cream and espresso. For the mocha sauce, you will need chocolate, cream, espresso, coffee liqueur and brown sugar.
Layer up your crepes with your chocolate and espresso filling, and top with the warm, mocha sauce for a truly magical eating experience.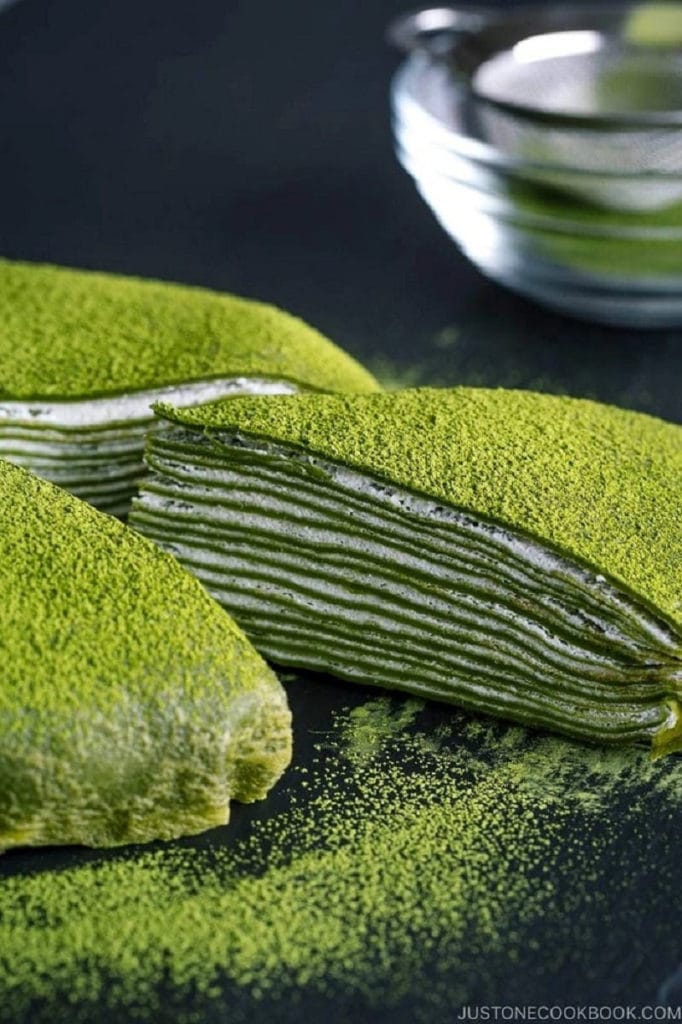 If you're looking to get your matcha fix in a different way, this matcha crepe cake is the perfect dessert for it.
This crepe cake is made of thin and light green matcha tea crepes all layered and stacked with fresh whipped cream.
The crepe batter is made of milk, sugar, eggs, butter, matcha, and baking powder.
Simply layer each crepe with a generous amount of whipped cream, chill, and serve!
If you're wanting to make a tropical-themed centerpiece for your table, why not opt for a tropical fruit crepe cake?
This stunning crepe cake is layered with coconut-infused pastry cream that is simply divine. The pastry cream is made with milk, flaked coconut, sugar, egg yolks, cornstarch, and butter, and then needs to cool with plastic wrap to prevent a skin from forming.
Layer up your crepes with pastry cream, and allow to cool overnight.
To serve, add whipped cream and finish off with a sprinkling of toasted coconut to complete your tropical fruit crepe cake!
This mixed berry crepe cake is the perfect winter dessert this holiday season.
Featuring beautifully light vanilla crepes paired with a sweet mixed berries sauce, this crepe cake is sure to be a crowd favorite.
Allow your crepes to cook until golden brown and then cool them completely.
To layer your crepe cake, spread the berry sauce onto a crepe and spread out evenly. Follow this by adding another crepe with the whipped cream, and keep repeating these layers until you have your crepe cake.
Cover the top with whipped cream, more berry sauce, and finish with fresh strawberries!
In Summary 
Hopefully after reading this article you find a crepe cake that is perfect for you and your celebration.
Enjoy getting creative in the kitchen and experimenting with different flavor combinations!