Pound cake is a classic – and it's a classic for a very good reason. It's a simple cake that's easy to learn how to make, and can be whipped up by anyone with a hot oven in little over an hour.
They're great traditional cakes, with many old fashioned recipes that you'll absolutely love. However, with so many great recipes, it can be overwhelming – which ones are the best?
We've compiled a list of the 15 best recipes for you. With these, you'll have so many great options for old fashioned pound cakes – and there are plenty of recipes with interesting twists too!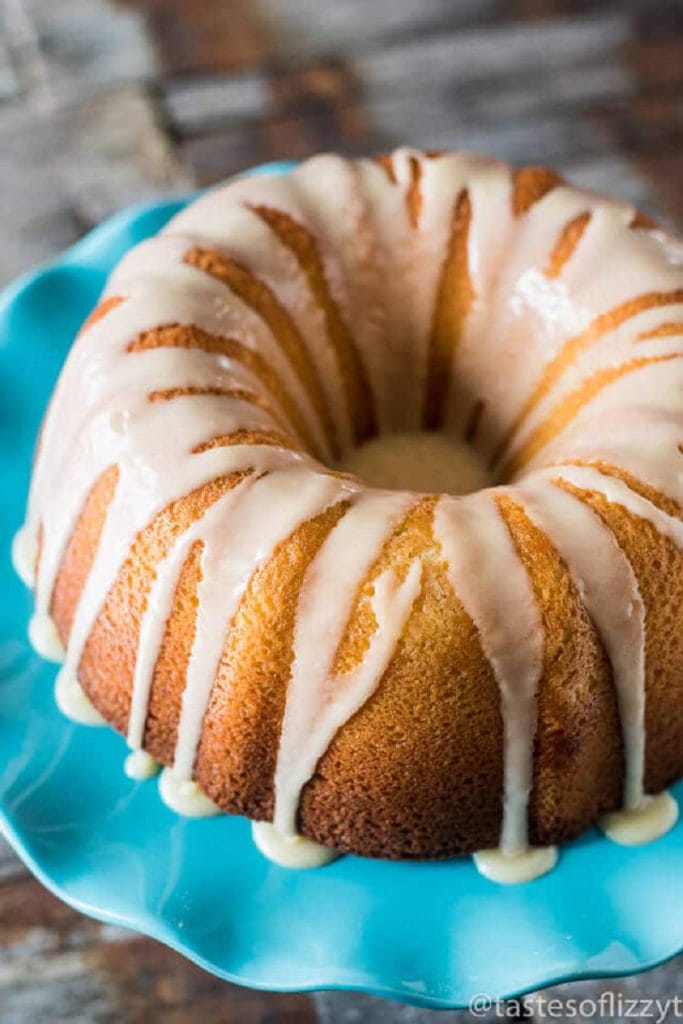 If you're looking for a classic pound cake recipe, then this recipe should draw you in by its name alone! The cake of course is extremely simple to make, needing just a few standard ingredients, a bundt pan, and a hot oven.
It's the glaze where this cake (pardon the pun) shines – and if you've never made a glaze before, this is the perfect way to learn! You'll end up with a delicious cake that's covered in a shiny vanilla glaze. It's delicious, and so simple!
If you don't know what miso is, then it's a simple answer – it's a paste made out of fermented soybeans. It's got a savory flavor, which you might think seems at odds with the sweetness of a cake.
However, once you try this cake, you'll see just how much of a difference miso makes to this recipe! It's topped off with a compote made of sour whipped cream and apple too – giving this recipe a selection of varying flavors!
Aren't lemon cakes fantastic? Well, if you've been wanting to learn how to make your own delicious lemon cake, then there's a great recipe for you right here!
There's a secret ingredient too! Ok, that's not really true, as it's in the title – but who would have thought that 3/4 cup of olive oil would be a key ingredient in a delicious cake? Slightly different to a traditional pound cake recipe, but certainly worth it.
One more great thing about this recipe – you can make it with just one bowl!
Using ground mace, a yellow spice, and a cup of sour cream, this sour cream pound cake recipe is a pound cake with a little bit of a tang to it! It's absolutely delicious, and great for that old-fashioned feel.
Really simple to make, and making 16 servings in the original recipe, this will be a cake that you'll enjoy making and eating again and again.
When you're finished baking, then dust off with a tablespoon of confectioner's sugar, to give this a light yet sweet topping!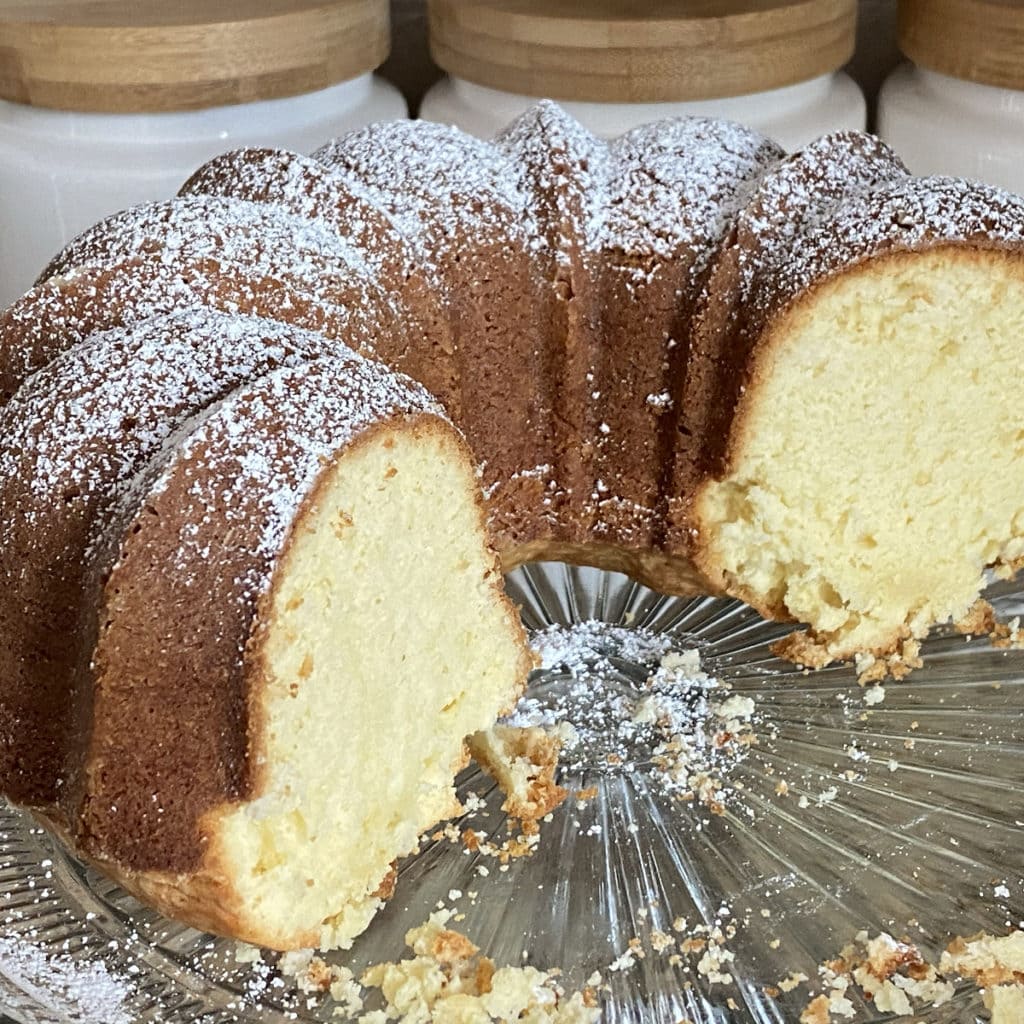 Sometimes, going back to basics is a great thing to do – especially in the kitchen! This easy pound cake recipe is about as simple as it gets.
The only ingredients you'll need are butter, white sugar, eggs, flour, and milk. Mix them together, bake in the oven for around an hour and ten minutes, and it's almost ready!
Just make sure to leave this delicious yet simple homemade pound cake to cool completely before eating. And, if you like, you can always (as the recipe suggests) add some vanilla or almond extract to the mixture before baking too.
For a delicious and interesting twist on a pound cake recipe, you should try out this orange poppy seed pound cake!
You'll use freshly squeezed orange juice, as well as some zest – about 2 teaspoons worth, which gives this pound cake a fantastic taste of oranges! 1/3 of a cup of poppy seeds to add to the whole delicious fruity taste.
You'll have the whole thing ready in just over an hour, too! Serve with some ice cream – you know you want to!
If you think pound cakes all have to have the same flavor, then think again! This delicious recipe is every bit a traditional style, old fashioned pound cake recipe – but it's completely full of flavor.
5 flavors, in fact! Vanilla, coconut, almond, lemon, and rum extracts all combine to make an absolutely glorious, rich, tasty cake that you just won't be able to stop eating.
And what's more, you can keep it for up to a week in an airtight container – so you can keep coming back to it! You'll need to, too, as this recipe serves 12 – so if you need to make it smaller, adjust the amounts of each ingredient accordingly.
Such an easy cake to make, yet it's one of the greatest. And this recipe is an absolute classic. You'll need milk, eggs, flour, vanilla extract, sugar, baking powder, salt, and some unsalted butter – pretty much the standard ingredients for a cake. Pour the pound cake batter into a loaf pan and let it do its thing.
Just 15 minutes of preparation, and a baking time of around 50 minutes means that this is a recipe you can whip up really quickly – and all you'll have to do is be patient, and wait for your delicious pound cake!
The title of this recipe, "Best old-fashioned pound cake" might be a bold claim, but if you agree with it, then surely you'll also agree that what makes this recipe the best is the inclusion of 8 ounces of delicious cream cheese.
Some vanilla and almond extract combine with the cream cheese to make a delicious tasting cake that's gloriously old-fashioned. As the recipe says, you can serve this with whatever scrumptious things you like – making this a great base for whatever beautiful ideas you have!
Now here's a pound cake with a real difference! Not just a beautiful vanilla pound cake, no – this fantastic recipe used matcha powder to give the cake a unique and delicious flavor. And, of course, to give the whole thing an intriguing, healthy green color!
Topped off with a simple glaze made from sugar, milk, vanilla extract, and a hint of salt, this is a delicious and fascinating cake. This is certainly one of the most unique pound cake recipes out there.
Maybe this isn;t as traditional as some of the recipes on this list, but what a fantastic idea anyway – and full of the delicious taste of home!
You'll absolutely love the sweet, sticky flavor imparted by the maple syrup, and the vanilla gives it a great smoothness, as well as the familiarity of an old fashioned pound cake. Add half a teaspoon of lemon zest, and 3/4 cup of yogurt, and you've got a great tasting recipe, and a great twist on a classic!
Cinnamon is a popular addition to many recipes – it's warm and rich taste makes it a great, versatile spice that's fantastic to use in both sweet and savoury recipes! It's perfect for cakes, of course – which is what makes this cinnamon roll pound cake recipe so delicious.
You'll make a great tasting cinnamon swirl, using ground cinnamon, vanilla extract, and dark or light brown sugar – according to your taste. If you're looking for a richer flavor, then you know you'll love to make this with dark brown sugar!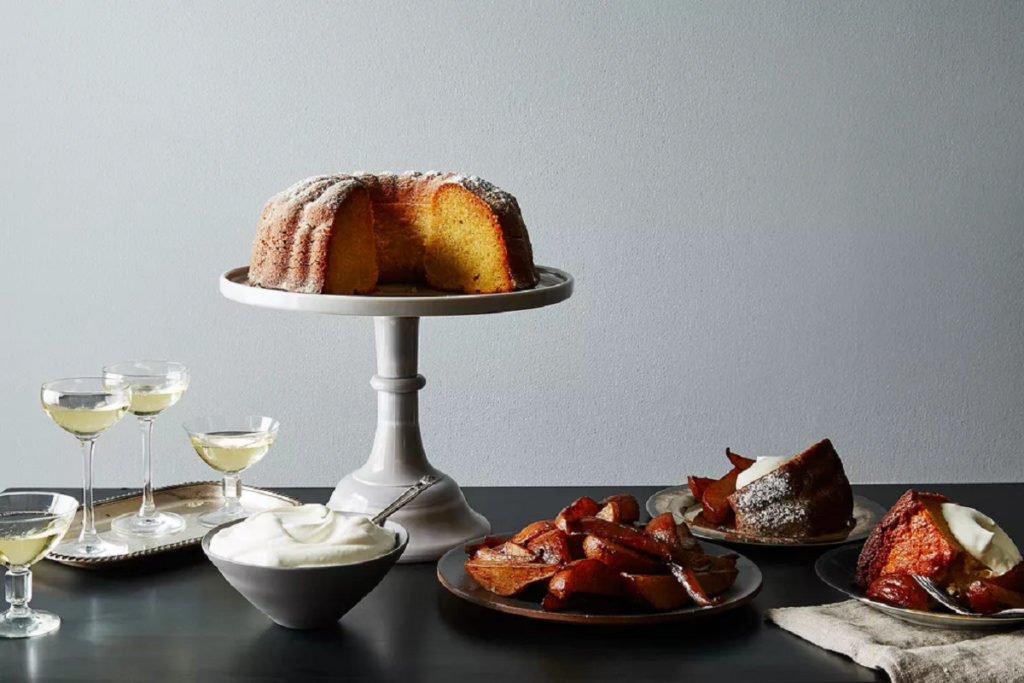 A great way of making a pound cake that requires a bit of baking skill, and some patience! You'll be using yeast to make this delicious cake rise in the oven – which means you'll have to wait until it's fully risen for the best results.
It's totally worth the wait, however – it's a delicious recipe that, as the author states, goes well with whipped cream and roasted fruit. If you follow the recipe, you'll end up with a 10-inch cake – if that means you've got leftovers, then great news, as this cake will keep for a few days if stored in an airtight container!
If you love chocolate – and let's face it, if you're looking for cake recipes, there's a pretty good chance you love chocolate – then you're going to go crazy for this eclair pound cake recipe! You'll use a few tablespoons of custard powder along with your flour in this one to give the cake a nice custard flavor.
And you can't, of course, forget the absolutely heavenly glaze, made from a cup of dark chocolate, some heavy cream, and – if you're looking to make something truly rich and decadent – just a hint of espresso powder!
Another cake that makes great use of olive oil! You'll absolutel;y love the richness of this recipe, provided of course by a cup of medium or dry sherry. A few teaspoons of grated orange zest adds a lovely refreshing tang to the cake.
If you like, you can even follow the recipe's suggestion and try out the cake toasted! You'll have this one made in just over an hour – and if you haven't finished the cake off soon after you've finished baking it, you'll find that it keeps just fine for a few days in an airtight container!
Conclusion
SO many delicious recipes – you're sure to have fun with them! And of course, feel free to use these as a base for your own great ideas!