Plum cakes are a delicious treat and perfect for the summer and winter months. This is a versatile cake that can be made all year round. Plum cakes obviously contain plenty of sweet plums and a range of other flavors such as dried fruit can be added.
Some plum cakes are also known as fruit cakes as they involve prunes which are a form of dried plum. Hence, there are different styles of plum cake to choose from. Therefore, below we have given you the 15 most delicious plum cake recipes that you will just love.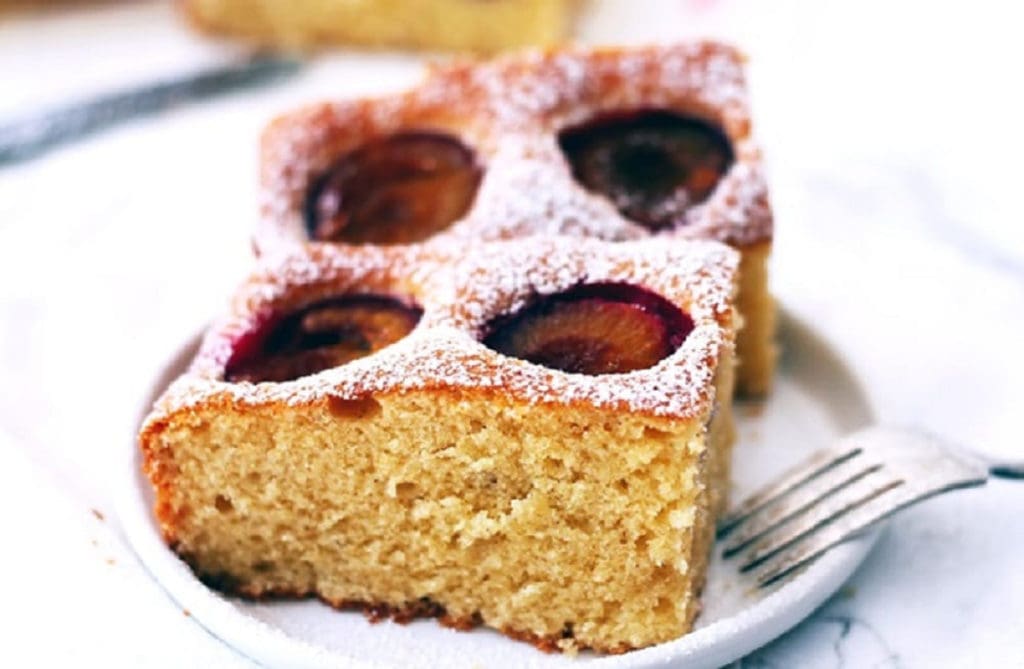 This is a very extremely easy cake to make. It is up to you what kind of plums that you want to choose, as this recipe describes the different kinds of plums that they used.
The key with this recipe is to use plums that aren't too big, otherwise they will just sink to the bottom of the cake while cooking. The plums should also be ripe but not overly soft and juicy. 
This great recipe will help you make a fluffy cake batter and then plums of your choosing are half and placed on top. It may sound like a very simple recipe, yet it will give you one of the fluffiest and delicious plums cakes ever.
Plum and lemons go so well together. With every bite you can taste those sweet plums and then taste a bit of that sour and sharp lemon. This cake is a match made in heaven. This is a very moist cake that is finished off with a generous sprinkling of powdered sugar and lemon zest. 
You can eat this cake by itself or for an extra special treat add a dollop of sour cream. This recipe takes 25 minutes to prepare and a total time of 1 hour 30 minutes, including baking and cooling of the cake.
This makes a large cake that can serve up to 10 people. Thus perfect for any social gathering.
Perfect for brunch or dessert served with whipped cream or ice cream. This cake is great to make at the end of summer/start of fall. The plums are quartered and placed on top of the cake batter.
Spices like cardamom, cinnamon and nutmeg are mixed into the cake batter to complement the fruit and to give this cake a warming nature. The spices that are used is what separates this cake from the rest of the cakes you'll see on this list. A splash of vanilla extract provides that lovely, comforting flavor.
This is a very easy cake to make and looks really attractive with the fresh plums carefully arranged on the top. As the cake cooks, the plums will sink a little bit and turn into a very jam-like texture.
Overall, it will take 1 hour and 20 minutes to make this cake. 20 minutes of preparation time and 70 minutes cooking time. However, the end result will be a delicious cake that will feed 8 to 10 people.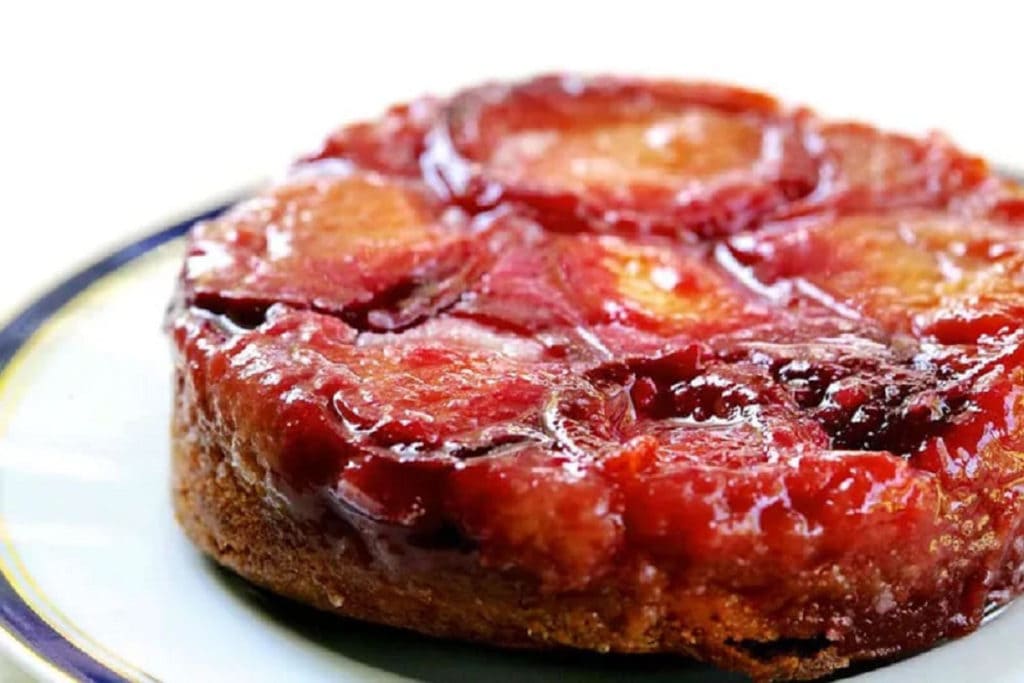 Upside cakes are delicious and they can be seen to be made with pears, yet they work so well with plums. For this recipe, you'll place plums that have been halved on the bottom of your pan in a decorative pattern. You can use either fresh or frozen plums. Cake batter is placed on the top and they are both baked together. 
The outcome makes an impressive cake that will impress your guests. This cake only takes 60 minutes in total to make and bake, and serves up to 4 people. Therefore, this is a great recipe for a midweek dessert, that is easy to knock up when little time is required. 
Yogurt in cake is a great combination, it adds a lot of moisture and makes your cake really tender. As well as that this cake is made with just one bowl and no special mixers are needed, to produce this gorgeous looking plum cake.
The caramelized topping can look intimidating but it's very easy to do. Butter and sugar melted together and placed in the bottom of your pan, then you thinly sliced your plumes. This recipe takes time over the arrangement of the plums, but it is up to you how you arrange them and how much time you have.
Overall, this recipe will give you an impressive looking cake, that you can guarantee to be moist and tender. Just make sure the prepared pan is layered with parchment paper to make it easier to remove the cake. This cake works particularly well with vanilla ice cream.
Do you have lots of plums and a party where you want to impress your friends and family? Then this is the ideal plum cake for you. In this recipe you will roast your plums and create a rich and sticky plum syrup.
Both the syrup and roasted plums are rippled throughout your cake batter, which means you'll find glorious deep red plums all throughout your cake. 
If that wasn't enough, to really show off why not add a swiss meringue frosting. This frosting is a little bit more effort, but it is totally worth it and will make your plum cake a showstopper – especially when the meringue peaks turn golden brown.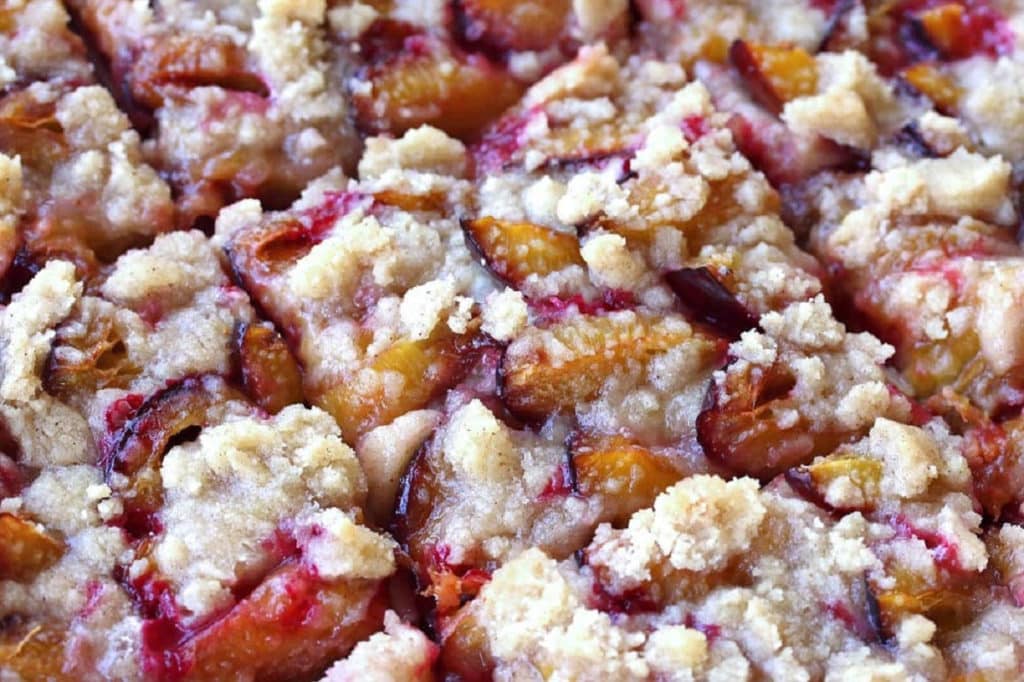 Depending on which region of Germany you are in, this cake has different names and there are variations of this cake as well. This cake asks that you use European plums because this variety is ideal for cooking and flavors. However, you could switch them out for whatever plums you can get your hands onto. Italian prune plums are particularly good to bake with as they have a lower water content.
This cake uses a sweet yeasted dough, which you then place sliced plums on top of. Finally the streusel is placed on top of the proved plums and dough and it is ready to bake.
The plums, with the sweet and spiced streusel and dough is a delight to eat. This recipe does take a bit of effort but the outcome is definitely worth it. Serves 12 people and takes a total of 2 hours and 30 minutes to complete.
If you are in a rush or want to knock up a quick pudding then you have found the recipe that you need. Made in a skillet pan, this is a great after dinner or breakfast cake recipe.
It is really easy to make and no electric mixers are necessary. Browned butter is used in this recipe for an extra nutty flavor – especially with the addition of almond extract. A simple cake batter is made, with sliced plums thrown on the top.
This recipe will see you having a piece of plum cake within 30 minutes and can serve up to 8 people. It's easy and a recipe you can go back to again and again to not let you down.
This plum cake is a type of Italian dessert that uses flour, almond meal, sugar, butter, plums and lemon. It already sounds amazing. This is a simple cake that celebrates the summer and can be made with whatever variety of plums that you have at hand. 
The plums in the cake turn into a jam-like consistency as they bake alongside the tender and delicate sponge. You can show off your Italian cooking but cooking this classic Italian plum cake. It only takes 1 hour and 30 minutes to create and bake, and serve 10 to 12 people.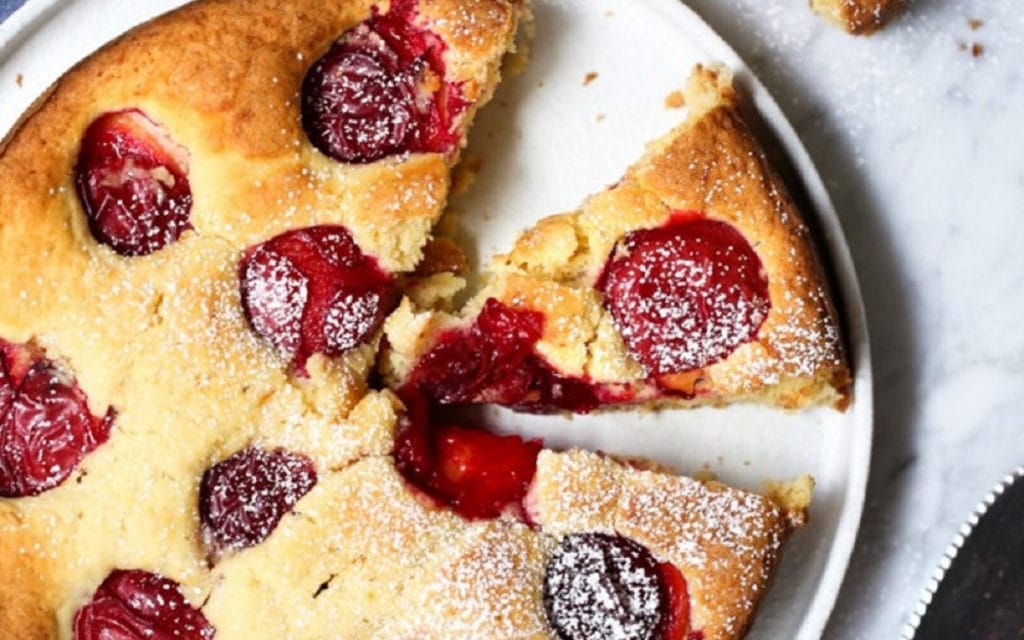 This is an easy vegan alternative to a normal plum cake, that is full of plum, orange and vanilla. This recipe can be completed in just one large bowl, which saves on washing up and only takes 15 minutes to prepare. 
This cake can serve up to 8 people, and with every slice of cake you will have a slice of sweet plum to eat. This recipe is perfect for any and is vegan as well!
A delicious and nutritious plum and cinnamon cake. This cake is perfect for those colder months, when everyone starts to crave more hot and spiced foods. This is a very easy cake to make, all you have to do is add the wet ingredients to the dry ingredients. Then you top the cake with your sweet plums and bake. 
This is such an easy and heart-warming cake, that this may be your new favorite cake to make. This recipe uses vegan ingredients, but you could substitute the ingredients for what you already have in your cupboards at home. 
Who would think that chocolate and plums would go together and yet they do. You can impress your friends and family with this cake and it is really easy to make.
This recipe uses canned plumes that come in a syrup, if you want to use fresh you will need to make sure that they are ripe and juicy. 
In the batter, you will find plum pieces and on top of the cake you will place more plum halves before baking, for that extra plum hit. Easy to make and perfect to serve with whipped cream, Greek yoghurt or with a coffee.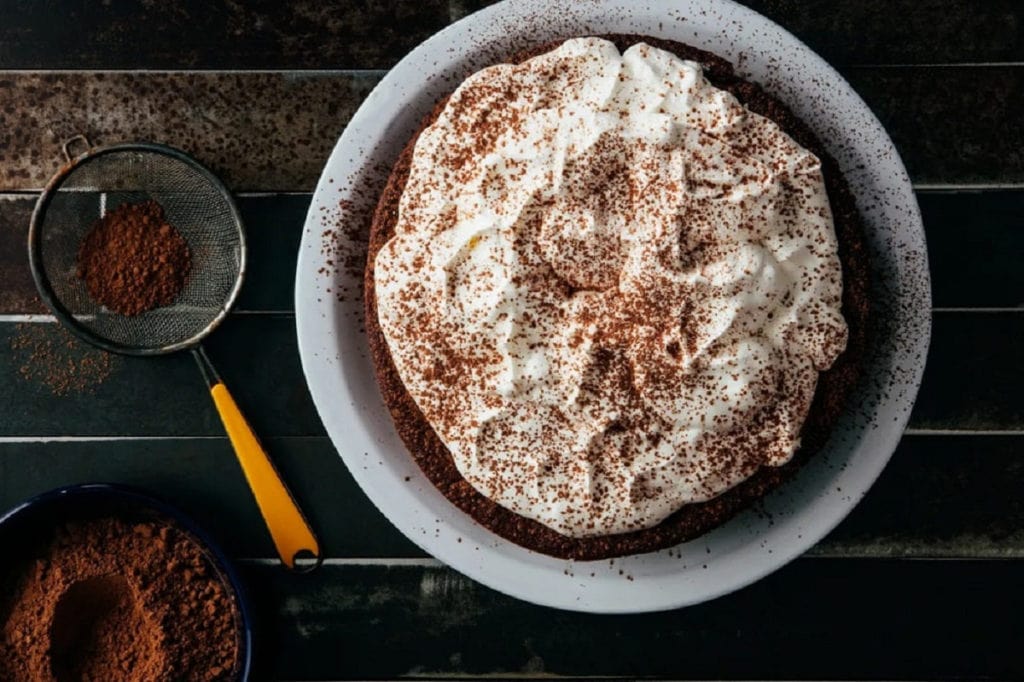 This uses plums in a completely different way compared to the other recipes on this list. In this recipe, your plums are turned into a puree, which is then folded into the chocolate cake batter.
The end result is a very moist and tender cake that still tastes of chocolate and plums.
Whipped cream and cocoa powder are added at the end to serve this divine looking cake. This easy plum cake recipe only takes 1 hour and 15 minutes to make, and will be enjoyed by everyone. 
An almond sponge, topped with syrup plums with lots of orange juice and zest, what's not to love. This is a great snack or after dinner treat. This is a very easy cake to make, the only thing that may take time is getting your plum topping to the right consistency.
The plum topping will be sticky and slightly bleed into your cake. However, your cake will be very moist. A very enjoyable plum cake to eat.
This plum cake is perfect with a cup of coffee or tea. This cake replaces some of the flour used with ground almonds for a nutty taste and the almonds give the cake a much firmer texture to support the plums.
Chopped up plums are integrated into the batter, with a few slices of plums being laid on top of the batter. This cake is an extra moist and perfect birthday cake for the end of summer and start of fall with its bright and deep colors. 
This cake can serve up to 8 people and will only take 1 hour and 10 minutes to create, including baking time. This cake will make your home smell amazingly. 
Final Thoughts
You now have 15 new delicious plum cake recipes that we know that you are going to love. There is a recipe for everyone. Therefore, if you find yourself with some leftover plums, now there is no excuse to throw them away.
You can make some delicious plum cakes that everyone will enjoy.