Without a doubt, the combination of Hazelnut and coffee is my favorite flavor of anything ever. If I'm ever treating myself to a coffee when out and about, you best believe I'm asking for an Americano with hazelnut syrup (with an extra shot of the syrup if I'm really treating myself, or I think the barista's going to be stingy).
But sometimes this rare treat isn't enough, and I want to find another way to bring this delicious combination to other aspects of my life.
With this in mind, I have scoured the web to find the top 15 sweetest hazelnut and coffee flavor biscuit recipes available. There are some variations and lots of different styles, so I'm sure that one of these will take your fancy if you too, like me, crave the bold sensation of coffee and hazelnut.
I've managed to separate these into their different varieties, as well as find some tasty vegan, and gluten-free options as well. So go ahead and check these out:
Cookies
These buttery, crispy, melt-in-the-mouth cookies keep the earthy aroma of the coffee, combined with the sweetness of the hazelnut and milk chocolate. They make the perfect gift as this recipe yields a lot of cookies that can easily be divided into gift jars for the holidays, just as something special now and again.
The recipe notes to freeze the cookie dough in plastic wrap before baking them to encourage the cookies to keep their circular shape.
Ready In: 20 Minutes
Yields: 40 Cookies
This recipe includes the coffee but lets it do its job quietly in the background. Whilst there's no denying the coffee flavor, the mocha and hazelnut are definitely the stars of this show.
Perfect for anyone who loves the idea of coffee, but maybe doesn't want something with an intense espresso flavor and instead can appreciate the sweet nutty aspects of this recipe instead.
Store these in an airtight container to keep them fresh.
Ready In: 20 Minutes
Yields: 18 Cookies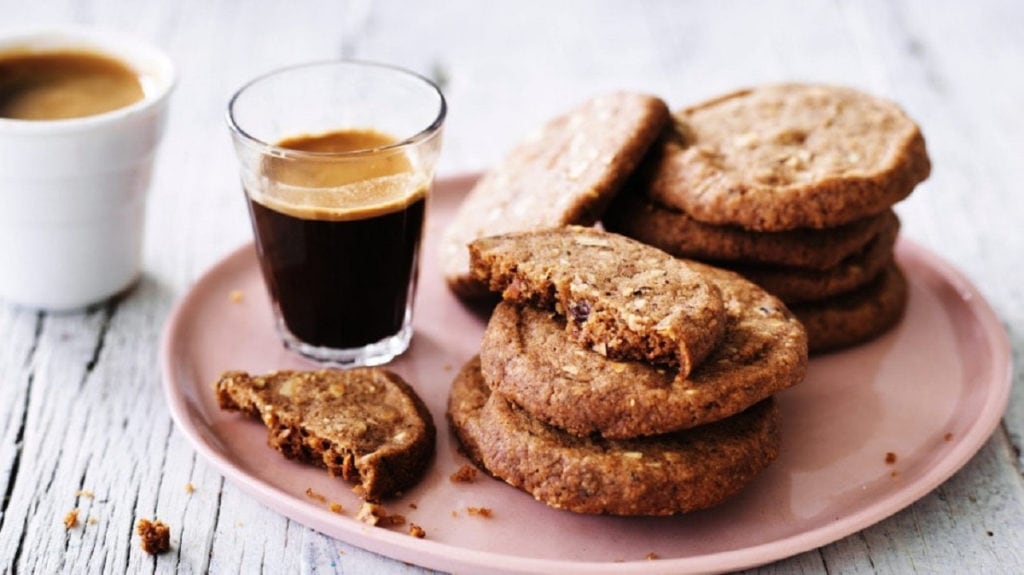 This is another recipe with a particularly high yield, which makes it perfect for filling the cookie jar, or even multiple jars and giving as gifts.
If you're not wanting to let anyone else have these delicious cookies then you can keep the dough in the freezer for up to 3 months to bake whenever the mood takes you.
This recipe is also easily customizable, so you can substitute the nuts, omit the coffee, change the flavors any way you want (but really, why would you not want to stick to the original?).
Ready In: 30 Minutes
Yields: 40 Cookies
This recipe makes a load of great finger-sized cookie bites that you can pop into a bowl when you're expecting company – or just to keep next to you whilst you watch a movie, or in a snack box whilst you're at work.
However, when you decide to consume these cookie snacks you can be confident that anyone that requests a taste will be enamored with the rich coffee, and the bold nut flavor that comes from the whole hazelnut that comes on top. You can also replace the chocolate flakes for cocoa powder.
Ready In: 50 minutes
Yields: Enough for 6 people
Our first vegan option! These deliciously indulgent thumb-print cookies will show your vegan friends that you've really stepped up your game when it comes to vegan-friendly baking. Or perhaps you're looking for something you can bring with you to a party you know won't cater to your dietary needs.
Whatever the situation, these cookies take a little longer to make than most but are more than worth the effort. Just make sure to stock up on parchment paper, because these cookies are sticky!
Ready In: 1 Hour 15 Minutes
Yields: 24 Cookies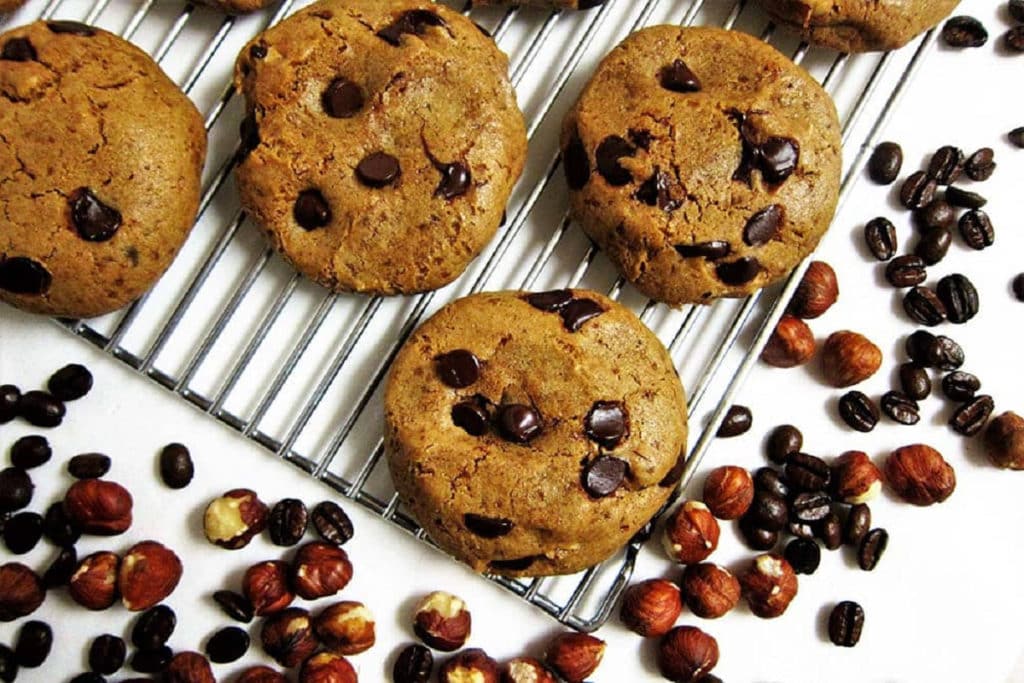 Nice and simple chocolate chip cookies with a delicious combination of bold coffee, sweet chopped hazelnuts and milk chocolate chips. These three ingredients really work well together to create something just that extra bit special. The best part? Not only are these cookies vegan, they're also gluten-free!
Ready In: 20 minutes
Yields: 28 Cookies
Gluten-free AND butter-free? These cookies are a wonderfully chewy addition to your coffee whilst you recharge ready for the afternoon. Although the lack of butter and flour mixture might raise some eyebrows, anything that can bring this combination to a wider group of people must be a good thing.
Ready In: 40 Minutes
Yields: 10 – 14 Cookies
Vegan, gluten-free, grain-free, dairy-free. You may be sat wondering what else could possibly be left to actually put in this biscuit, but you'd be surprised!
This recipe calls for hazelnut butter and hazelnut flour – which can either be homemade or storebought.
Although this recipe doesn't specifically include any hits of coffee, you should be able to add some espresso powder without compromising the mix, or the 'everything-free" aspect of the recipe.
Ready In: 25 Minutes
Yields: 18 cookies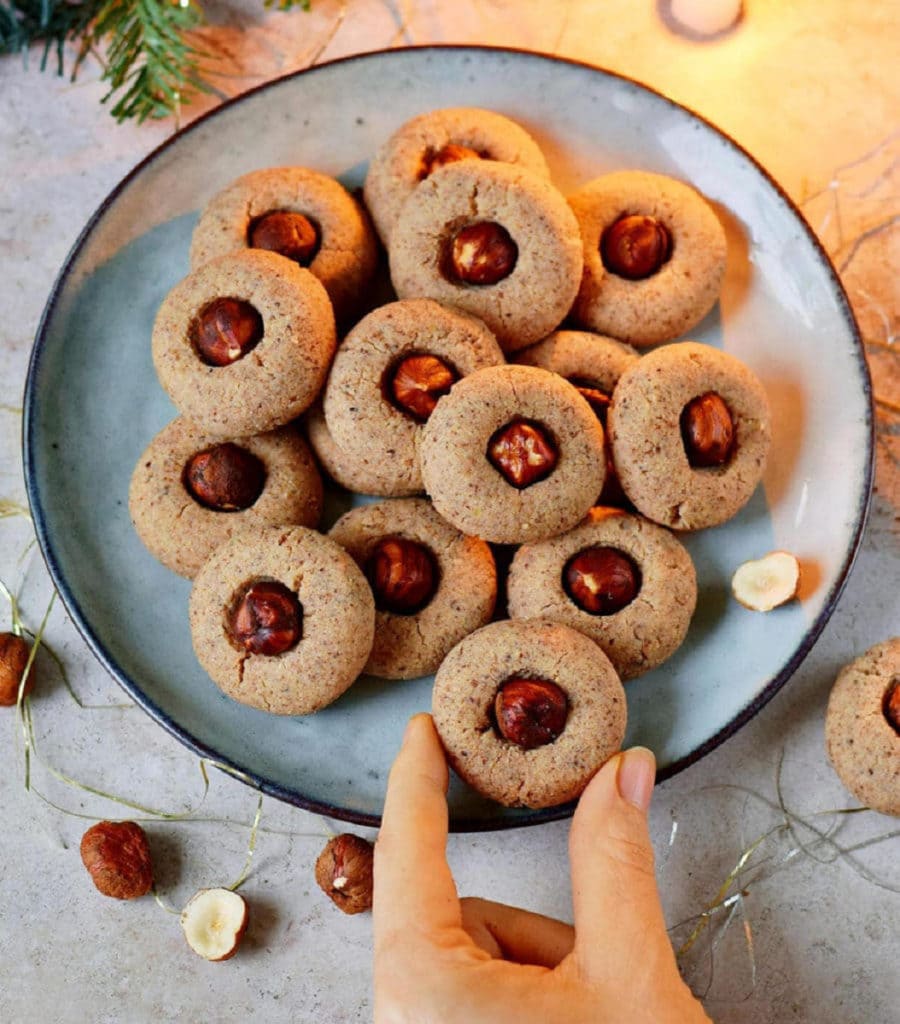 Another delicious vegan alternative to the hazelnut biscuit that once again you could easily add a tablespoon of espresso to in order to give the recipe a hit of caffeine. These traditional German biscuits are perfect for the holidays as tiny sweet treats.
These cookies work well with a sprinkling of powdered sugar or melted dark chocolate drizzled on top.
Ready In: 25 Minutes
Yields: 16 cookies
Sandwich Cookies
These coffee-flavored biscuits are stuck together with a solid chocolate-hazelnut filling, making an indulgent snack, that will make a great gift, or pair wonderfully with your morning coffee.
Ready In: 40 Minutes
Yields: 36 Sandwich Cookies
Ready In: 60 Minutes
Yields: N/A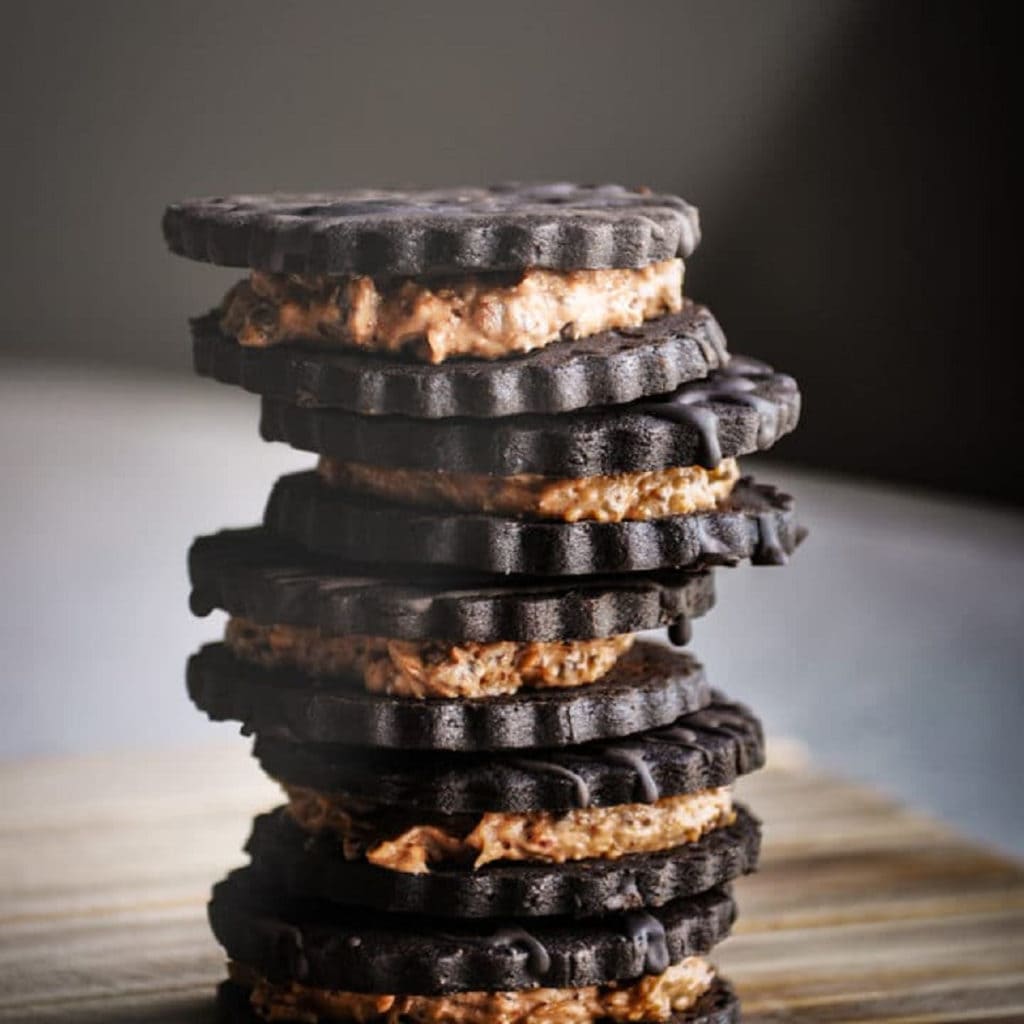 This recipe swaps the flavors around from the previous recipe, going for hazelnut-flavored biscuits combined with a coffee-flavored chocolate filling. These biscuits are small and crips, more similar to shortbread than cookies.
Ready In: 1 Hour 7 Minutes
Yields: 30 Sandwich Cookies
Something a Little Different
If you're an experienced baker, or perhaps just looking for something new and challenging, then this recipe could be a great experiment. Featured in series 10 of the Great British Bake Off, these Hazelnut bars are a delectable treat, but not for the faint of heart to try.
Ready In: 2 Hours 30 Minutes
Yields: 12 Bars
A Chifferi, in case you don't know, is a European delicacy. A light, airy cookie, shaped into a distinctive crescent shape. This recipe has been played around with by the baker for years, and she has found the perfect combination of all the flavors to give an irresistible fragrance and taste.
Ready In: 3 Hours (if you let the dough chill in the fridge for the recommended 2 hours)
Yields: 48 Cookies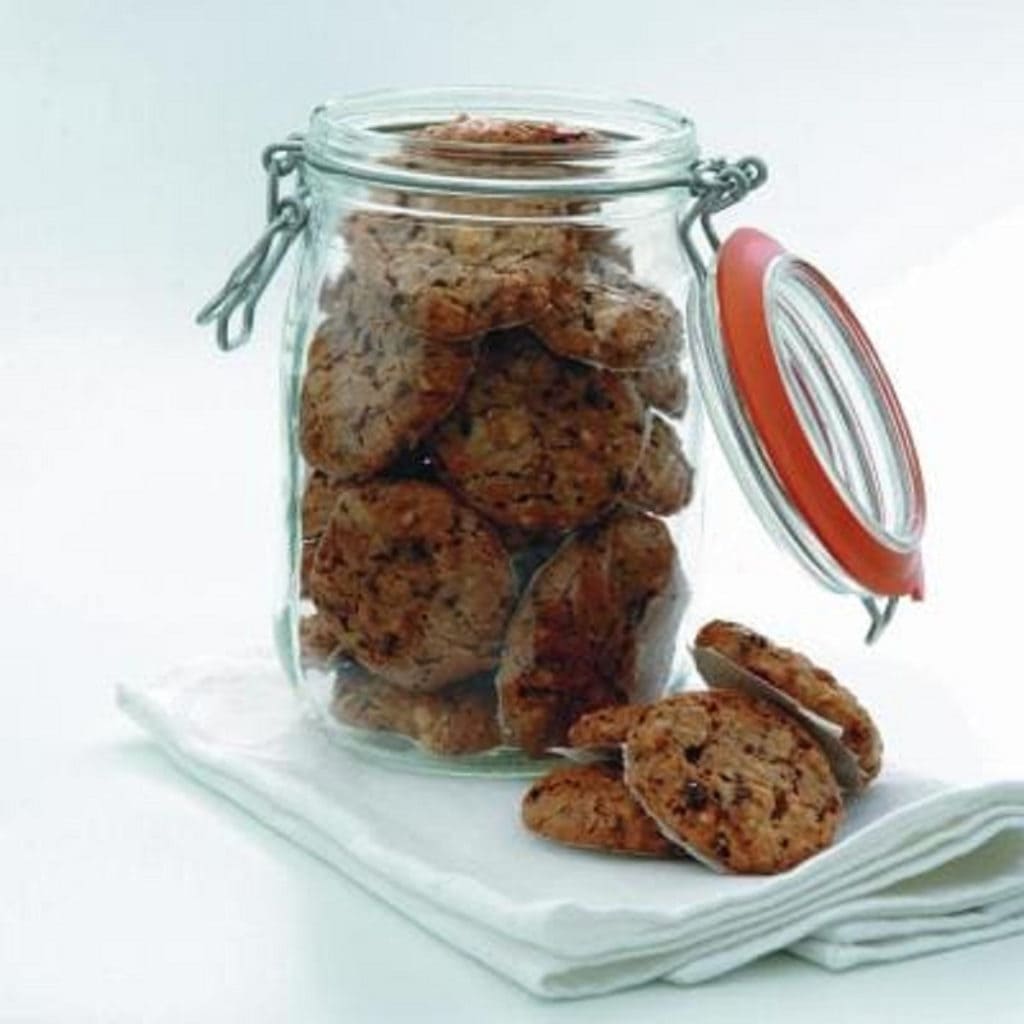 These crunchy little coffee and hazelnut biscuits are perfect as a side to your afternoon coffee, or with a bowl of ice cream.
This simple recipe would be perfect to try out with kids if you were so inclined, though if you do that, perhaps you'd want to lower the amount of coffee you include so they're not bouncing off the walls. They also work quite well sandwiched together with a whipped cream filling.
Ready In: 30 Minutes
Yields: ~30 Macaroons
What could be better than a crunchy, flavorful hit of biscotti to complement a cup of coffee after a meal? I don't think anything comes close to how indulgent a biscuit like this can feel. Add to that the fact that it's vegan, and that it's homemade, and you have a fantastic little treat with this recipe.
Ready In: 1 Hour 20 Minutes
Yields: 24
Final Thoughts
Whichever recipe you decide to try out, you can't go wrong with a combination like hazelnut and coffee. And also chocolate, like the majority of these recipes point out as a fantastic addition to this flavor profile.
Good luck with whatever you decide to go out and bake, and don't forget that if something doesn't work for you, you can just experiment with the ingredients and find something that's perfect just for you.
Like Bob Ross says, there are no mistakes, just happy little accidents – and I believe this counts when cooking too.