There are many different versions of the classic spring roll, and this can make finding the right recipe a little tricky.
Whether you are after the perfect breakfast pancake roll or a delicious savory spring roll recipe, it can be difficult to find the right recipe for you.
Here, we are going to be diving into three different ways you can make pancake rolls. Check out the recipes below to make your ideal spring roll!
Breakfast Pancake Roll Recipe
This version of the pancake roll is super easy to make and is super sweet, making it a perfect breakfast dish or treat to eat in the middle of the day.
To try out this easy recipe, you will need to gather your ingredients:
one egg
3/4 cup of milk
1/4 teaspoon of vanilla extract
1 cup of flour
You will also need to choose your filling for your pancake rolls. These are usually sweet spreads such as fruit jelly, honey, or peanut butter.
If you want your breakfast pancake roll to be super sweet, then grab some cinnamon sugar too.
To start making your pancake rolls, mix together all of the ingredients (minus the filling ingredients and cinnamon sugar) together in a bowl.
Over a medium heat, pour your mixture into your pan until you have a thin layer. Let the mixture cook until golden brown – as if you are making a crepe.
Then, transfer your roll onto a plate where you add your fillings such as peanut butter or jelly.
Sprinkle in some cinnamon sugar or brown sugar to make it extra sweet. Roll up your pancake roll from one corner and it is ready to eat!
This is one of the most popular recipes for breakfast pancake rolls due to its low prep time and cooking time. Now, let's move onto the next recipe!
Fresh Spring Rolls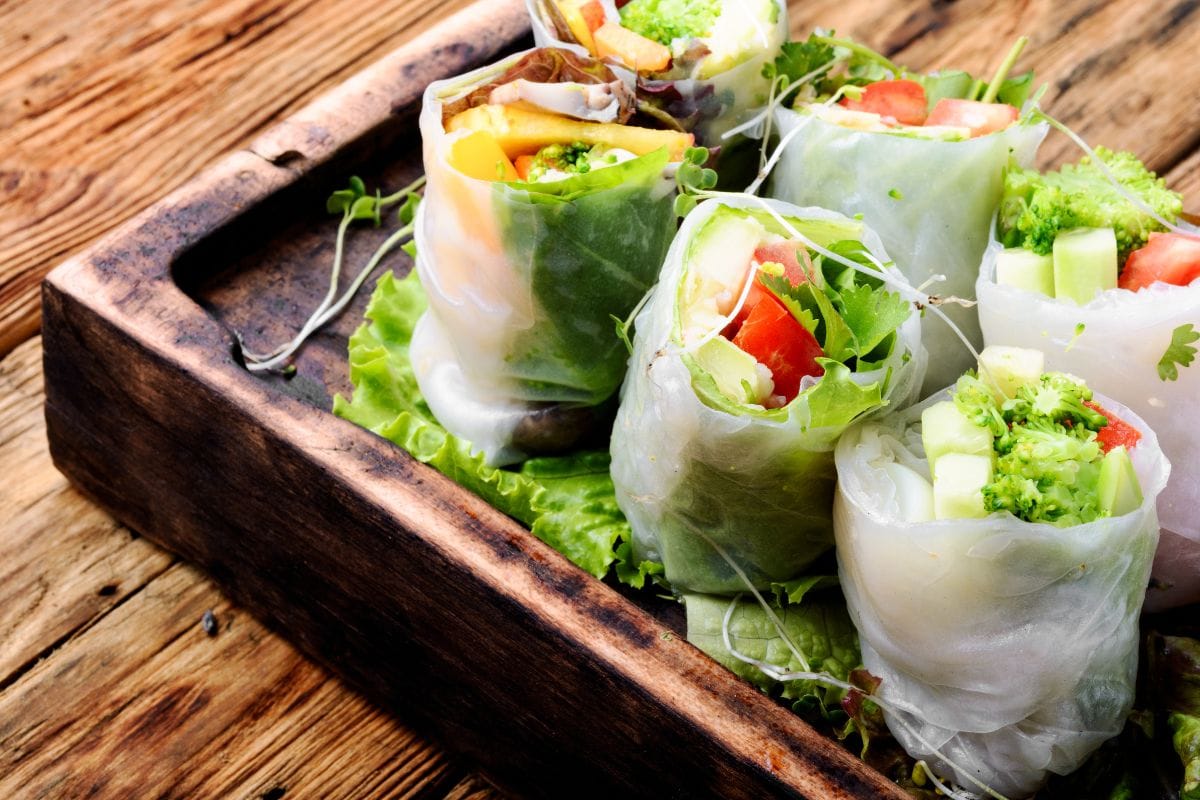 This version of the pancake roll is far more savory yet just as delicious – the classic spring roll. Spring rolls are a great side dish to serve with authentic Chinese meals so how do you make your own?
Let's check out this super easy recipe!
First, let's get all the ingredients together. You will need:
4 ounces of flour
1 egg
1/2 pint of warm water
7 ounces of bean sprouts
4 ounces of chicken
2 tablespoons of soy sauce
1 clove of garlic
2 teaspoons of spring onion, minced
2 small carrots, chopped
Salt
Dipping sauce, such as fish sauce or soy sauce
Vegetable oil
You can use any kind of ingredients you want for your filling. Some people swap out the chicken for pork, others use celery instead of carrots, or leave out the garlic altogether.
Adjust your filling mixture as you see fit. Once you are ready, it's time to start the recipe!
First, let's make the spring roll pastry mixture. Add your warm water, flour, and egg together in a bowl. You can also add a pinch of salt for extra flavor.
Mix the pastry up and leave to stand while you start assembling your filling.
Make sure your bean sprouts, chicken, garlix, spring onion, and carrots are all finely sliced and diced. In a pan over a medium heat, stir fry your chicken until it is cooked.
Drain off any excess oil before adding the rest of your filling ingredients. Mix and put aside while you make your spring roll pastry.
In another pan over a low medium heat, spread a little bit of vegetable oil and pour a thin layer of your spring roll batter and fry. Do not turn the roll over – once it's cooked, transfer to another plate.
Once all of your spring roll wrappers have been made, take your filling mixture and divide it between your spring roll wrappers. Fill the middle of each wrapper with some filling mixture
Then, it's time to get rolling. Fold the bottom of the wrapper up and the sides over the filling. Use a paste of flour and water from a small bowl to help seal the spring roll shut.
Then, deep fry your spring rolls for 10 minutes until they are crispy and golden brown.
Now your spring rolls are ready to eat, you can serve them as a side dish with some dipping sauce.
Some popular dipping sauce to try include sour sauce, fish sauce, or classic sweet and sour sauce. Whatever dip you choose, your spring rolls are sure to taste amazing!
Air Fryer Spring Rolls
This simple recipe will help you cook spring rolls in an air fryer and have great results in just half an hour. So, grab your air fryer and the all the ingredients below:
1/2 teaspoon of minced garlic
1 tablespoon of soy sauce
1 tablespoon of rice vinegar
2 cups of regular supermarkets coleslaw mix
1/2 cup of bean sprouts
1/2 cup of spring onion, chopped
1/2 pound of chicken
1 egg
Water
Salt
Mint leaves or thai basil
12 egg roll wrappers or rice paper wrappers
To start, you will need to make your filling. Stir fry or cook your chicken with the spring onion, bean sprouts, and garlic, over a medium heat.
Add a pinch of salt, mint leaves or thai basil as you see fit. One the filling is done, it's time to fill your rolls.
Grab your egg rolls and fill one wrapper at a time. Once your rolls are done, it's time to start rolling.
Roll up your rolls and seal the ends by mixing the egg and warm water in a bowl, then brushing the mixture over the ends.
Place your spring rolls in your air fryer and let them cook for just 6 minutes. Take your fresh spring rolls and serve them with some dip such as soy sauce. Delicious!
Final Thoughts
So, you have plenty of spring roll recipes to choose from and each one above is delicious. From fresh spring rolls to a breakfast egg roll that will taste amazing, you have a lot of choice when it comes to what kind of spring roll dish you prefer.
Check out the delicious recipes above to find the best spring roll recipe for you!