Your leftover cake batter doesn't need to be thrown away. If you ever make a little too much cake batter, don't waste it!
In just a few simple steps, your leftover cake batter can be frozen or repurposed. It's never been easier to use leftover cake batter for good, and we're here to show you how. 
What Can You Make With Leftover Cake Batter? 
So, you've ended up with a little extra cake batter after whipping up a sweet treat. What can you make with all that sweet, gooey goodness you've left behind in your mixing bowl?
Thankfully, baking leftover cake batter with your cake trimmings is simple. Here's a few ways to use leftover batter.
Cupcakes
Nobody wants to waste a perfectly good cake. So, grab your extra cake batter and a cupcake pan/baking dish and get to work! It's time to make cupcakes.
Making cupcakes with your leftovers is simple, and it will require no extra ingredients or effort. 
All you need to do is grab your cupcake pan or baking dish, add some cupcake wrappers, throw in the leftover cake batter, bake them in the oven for around 15 minutes at 350F, and you're good to go.
Depending on the cake batter, you can throw in some extra chocolate chips for an extra gooey sweet treat. 
Freeze It 
If you don't have enough creative juice to cook up something sweet, but you don't want to waste cake, freeze your cake batter for later.
Cake batter freezes exceptionally well, and when it's ready to use, you can remove it from the freezer up to a month later, thaw it, and create a new extra cake in quick time!
Frozen batter is super convenient, and if you're a keen baker, it's great to have to hand.
Make Waffles 
Why not treat yourself to a super tasty breakfast and use your leftover cake batter to make cake batter waffles?
Cake waffles are a true delight, and they're so versatile you can add in any extra ingredients you want or simply leave the cake batter as it is! 
If waffles are the way to go, the process is simple. Pour your excess batter into a waffle iron, and bake it as you would a regular waffle!
A standard waffle iron will take just 5 minutes to cook your waffle to perfection, making this a super simple way to make the most of your excess batter. 
If you want to make things extra sweet, why not throw in some vanilla extract or add white chocolate chips to your cake waffles? 
French Toast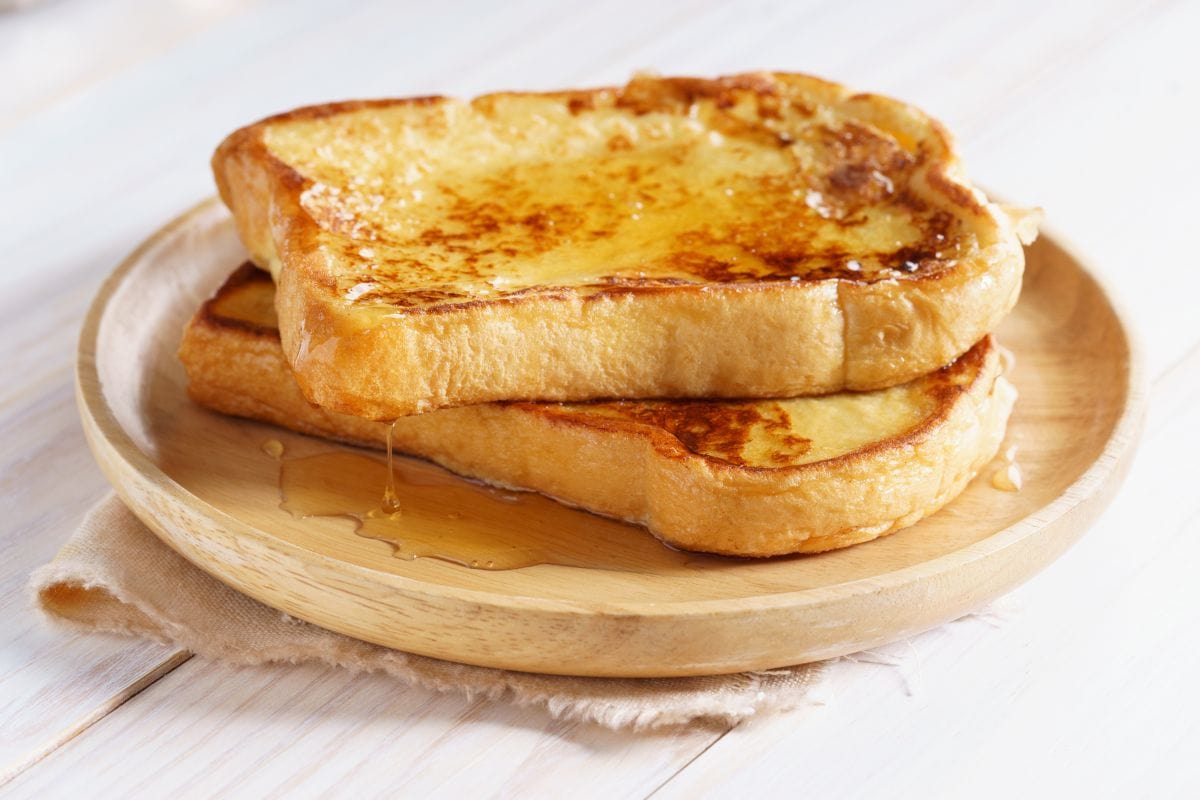 If you've got too much cake batter to hand, you can also use your leftovers to create this decadent french toast. To create your leftover cake french toast, the only extra ingredient you'll need is an egg!
However, you'll have complete creative freedom to make this toast any way you want, so feel free to throw in any extra ingredients like vanilla extract, cream cheese, or whipped cream for good measure. 
Bake your leftover cake scraps into bread-shaped slices, beat some raw eggs and vanilla extract into a separate bowl, dip in your cake-bread creation (and coat both sides), and cook in the pan until they're brown on both sides. 
Cake Shooters
Want to flex your creative skills in the kitchen? Use your cake mix to make cake shooters!
These super sweet treats are traditionally served in shot glasses, but you can use any container you like – even mason jars will do the trick! 
If you don't want to waste cake, you can make these with your leftover batter or cake scraps.
We'd recommend making cheesecake cake shooters with your leftover batter – it's easier!
As an example, here's what you'd need to do to make these cake batter cake shooters: 
Sprinkle some crumbled or blended delicious cookies of your choice into the bottom of your mason jar 
Whisk together some cream cheese and vanilla extract, and add in your leftover cake mix until combined 
Transfer your cake mix to a piping bag, and gently pipe over your delicious cookies until your mason jar or tall glass is full 
Top it off with some rainbow sprinkles, whipped cream, fresh fruit, or your other favorite toppings for some extra taste!
Cake Pops 
Another great way to avoid wasting your cake mixes is to whip up some cake pops.
Cake pops can be made from your cake batter and trimmings, and in just a few simple steps, your leftovers can be made into these delightful sweet treats that will leave the whole family hungry for more. 
To make cake pops from your cake batter and trimmings, simply place your leftovers in a mixer, add a small amount of frosting, and mix until blended.
Once blended, scoop your mix together into small balls and add lollipop sticks into the bottom. Freeze for at least two hours, but preferably overnight.
Once frozen, remove your cake pops from the freezer and dip them into a melted candy ice cream topping for some extra crunch! 
Cake Bread Pudding 
Last but not least, you can try using your leftover batter to create a delightful pudding! If you have a large amount of leftover cake trimmings, this is the best way to use them. 
Making this recipe from your leftover cake trimmings is simple. All you need to do is follow any existing bread pudding recipe you have and replace the bread with your cake pieces! 
Just bear in mind that this recipe will come out a little sweeter than you're used to, so you may want to reduce the amount of sugar in your batter if you can.
If you love all things sweet, why not throw in a little maple syrup for a gooey, stickier creation? 
This recipe freezes well, so you can even store your creation ahead of time for a rainy day sweet treat!
Simply put your cake bread pudding into a freezer bag and freeze it until you're ready to thaw and enjoy it. Just like that, your cake trimmings have taken on a whole new lease of life!
Final Thoughts 
If you've made more cake batter than you need, don't throw it away!
Whether you're craving waffles, cupcakes, a frozen treat, or a traditional pudding, you can use your leftover batter to create all sorts of tasty, weird, or wonderful creations.
The only thing limiting you is your imagination! So, grab your cake batter and trimmings and use leftover cake to create a whole new treat!