If you're making a delicious chocolate recipe that requires melted chocolate, it can sometimes be hard to measure the exact amount you need (you may also want leftover melted chocolate on purpose because…it's chocolate!). 
As heartwarming as it is to simply lick the spoon that's covered with melted chocolate, it is useful to be aware of some creative things you can make with your leftovers.
This article is going to provide you with some yummy ideas for that tub of leftover melted chocolate (if your family hasn't got to it first!). 
Chocolate Candies
This is probably the easiest (and most fun!) way to use up your leftover chocolate. All you need to do is pour your melted chocolate into some candy molds and let them cool and harden. 
You can place them in the refrigerator in order to speed up the process too! You can also add any extras you like with this idea. You can add some marshmallows, cuts, dried fruit, you name it! 
Frosting 
You can also transform your melted chocolate into frosting very easily. Simply stir some powdered sugar with it until it reaches a thick consistency, and you're good to go! 
This is perfect for adding to any cakes or cupcakes you may be baking! 
Brownies 
You can either add your melted chocolate to your brownie batter, use it as a chocolate glaze for your brownies, or go crazy and use it for both! 
If you decide to use it in your batter, simply fold it in ensuring you don't over-mix it. Combining it with cocoa powder will make your brownies extra gooey and chocolaty. 
Chocolate-Covered Fruit 
Name a fruit that doesn't taste good with chocolate, I dare you. 
Using leftover melted chocolate to drizzle over your favorite fruits is a great way to use it up, and is a great, fancy snack to serve any guests you may have over. 
Simply cut your fruit into your pieces, lay them on a tray, and drizzle a good amount of chocolate over each piece. Place in the freezer for around an hour, and you've got yourself a delicious snack! 
Chocolate Fondue
Chocolate fondue is a great, fun snack you can have with friends, family, or even on your own! 
You can use it as a dip for all kinds of snacks, such as marshmallows, crackers, or even churros! 
Simply continue to melt your chocolate. You can do this in the microwave in 15-second intervals, or use the double boiler method. 
Once melted and warm, pour it into a pretty bowl, lay out your snacks for dipping, and enjoy! 
Pancakes
Chocolate and pancakes are a match made in heaven, and there are a few ways in which you can add your melted chocolate to them. 
Firstly, you can add your chocolate directly to the batter, resulting in chocolate pancakes that taste delicious with some whipped cream and fresh fruit.
Secondly, you can use it as a topping for your pancakes, and last, but definitely not least, you can make a little pancake chocolate sandwich. 
You can do this by placing some batter onto your pan, adding a dollop of melted chocolate on top, and then cover it with some more batter.
This will create a delicious, gooey, warm center for your pancake, really leveling them up.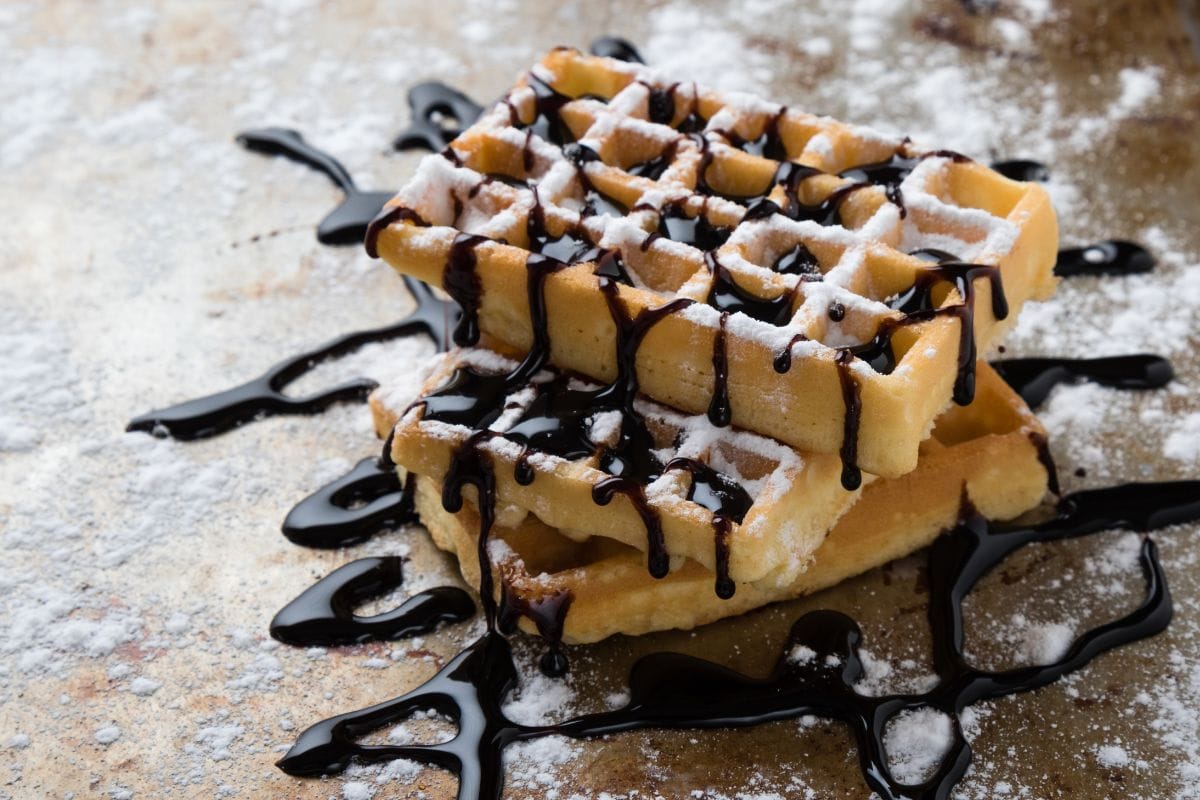 Waffles
This idea is for all of you who have waffle makers lying around that you barely use. All you need to do is add your melted chocolate to the waffle batter, and pour it into the waffle maker. 
If you rather have regular waffles, then you can make your batter as you normally would, and then drizzle your melted chocolate over your waffles as a topping! 
Toffee 
Toffee is a lot easier to make than people think, and adding some melted chocolate on top will make it even more delicious. 
Melt some butter, sugar, and salt in a pan and bring to boil on a medium-low heat. Be sure to keep stirring, and once the mixture reaches 300 Degrees Fahreinheit, remove it from the heat and add some vanilla extract. 
On a baking tray, lay out some parchment paper and spread out some pecans and other nuts you enjoy evenly over it. 
Pour the candy mix over your nuts, and let it cool for around half an hour, to an hour, Then, pour our melted chocolate on top and place it in the refrigerator to cool. 
Hot Chocolate 
Using melted chocolate to make hot chocolate will make it taste a lot richer than using powered chocolate. 
All you need to do is heat up some milk in a saucepan, and stir in your melted chocolate. You can also add any extras you like, such as cinnamon, peppermint, and even marshmallows! 
Top it off with some whipped cream for more of a luxury experience, and enjoy! 
Add To Coffee
A mocha is a delicious mix between chocolate and coffee. Make your hot coffee as you normally would, add around a teaspoon of melted chocolate, and stir until mixed in. 
Feel free to add more chocolate if you'd like more of that flavor. This works with all kinds of chocolate, including dark melted chocolate. 
This is the perfect treat to wake up to, on a cold, winter's morning, especially at Christmastime! 
Chocolate-Covered Nuts
Nuts and chocolate pair very well together, so using any leftover melted chocolate to cover up any nuts you've got in your pantry is a great way to put together a snack! 
Just drizzle your chocolate over your nuts, and place them in the refrigerator to cool! 
Final Thoughts 
There are several creative things you can do with any leftover melted chocolate. From adding it to cake batter, to making chocolate fondue, there are treats available for everyone. 
Next time you're making a chocolate dessert, make extra melted chocolate, so you can use the leftovers in one of these recipes.
We hope this article has given you some inspiration to make some delicious, chocolate treats!