With so many different cupcake combinations to choose from, we've whittled it down to our top 12 favorite recipes that we think you should try.
Even if you're not the biggest fan of chocolate, fruit, and nut, we guarantee that you will find something on this list that will tickle your tastebuds.
These recipes all come with step-by-step instructions and are so easy to follow, even the most amateur of bakers will be able to wow their guests with these delights.
So choose your favorite recipe, get your piping bags at the ready, and before you know you'll be a fruit and nut lover just like us.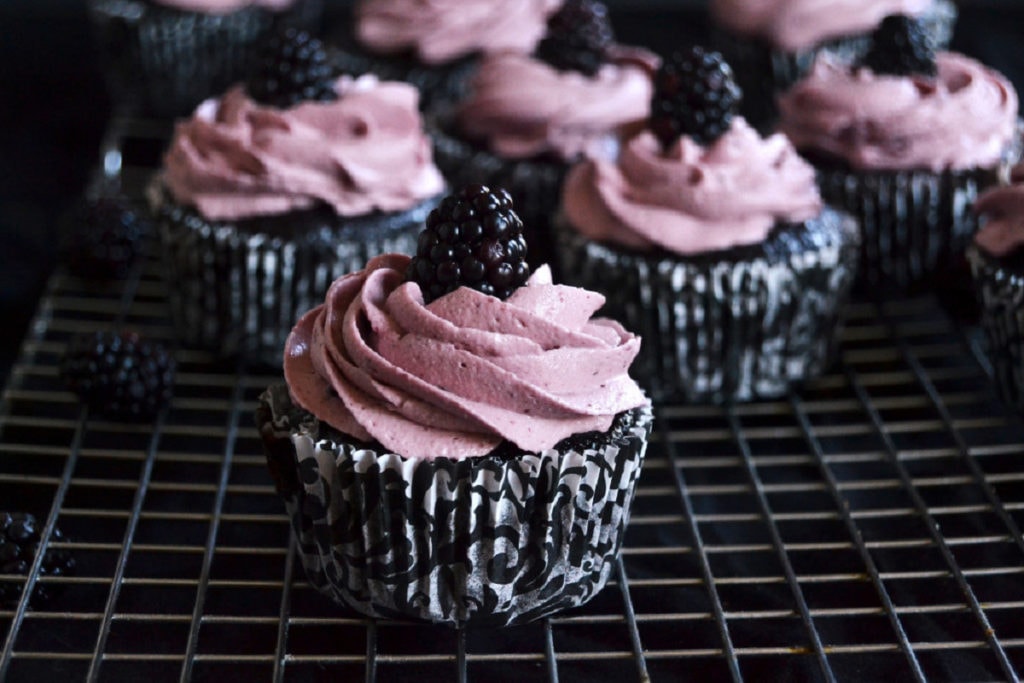 These cupcakes are super moist, tasty, and incredibly pretty in decoration.
Walnut butter is used as the base of the cupcake, but flavor-wise, it's incredibly subtle. If a nutty flavor is what you're after, you can include it in this recipe by toasting your walnuts before blending them. Paired with the chocolate flavor, these cakes are rich, moreish, and very hard to say no to.
The buttercream frosting is delicious and really adds a perfect amount of fruity flavor to the cupcakes.
With a swirl of purple buttercream topped with a blackberry, we think the colors of these cakes are what really make them stand out. You can even sprinkle some chopped walnuts on top to tie it all together.
Overall, a unique twist on classic chocolate muffins.
Name a better combination than chocolate, peanut butter, and banana. We can't think of one either! These cupcakes are the perfect combination of flavors and are a true delight to eat.
The sponge itself is light and moist and includes all three of the main ingredients, so it really packs a punch flavor-wise. To ensure these cakes are as moist as can be, the added step of freezing the cupcakes after cooking really helps to lock in any moisture.
This is an easy recipe to follow, as it involves mixing the ingredients together in a medium bowl and then evenly filling the muffin cups with the batter. No need to separate the dry ingredients!
The frosting is rich and adds the perfect amount of sweetness to balance the flavors of the cake, and with peanut butter running through it, it's the perfect topping for these delightful cupcakes.
As the mixture is so moist, just make sure that a toothpick inserted comes out clean.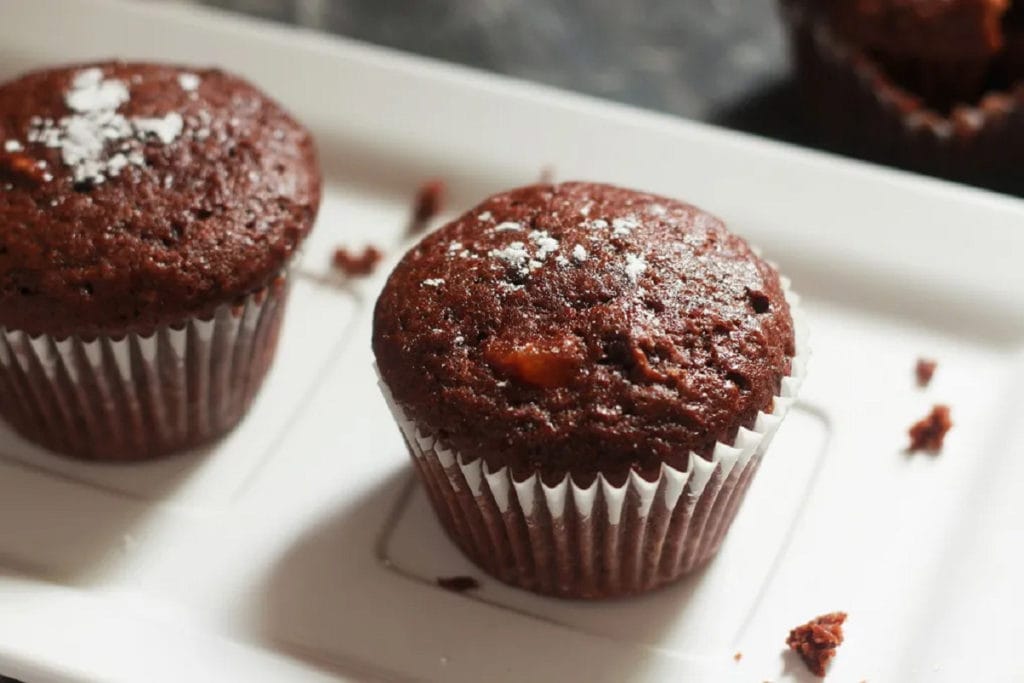 These eggless muffins are perfect for those with specific dietary requirements, and we promise you won't be able to notice the lack of egg.
With this recipe, you can add any combination of fruits and nuts that you want. Perfect for pairing up your favorite flavors, whether that's figs and pistachio or apricot and cashew or even all of the above. You can go wild with your flavor combinations in this recipe.
To make it extra chocolatey, you can even add chocolate chips into the batter, which will make each muffin gooey and rich. Perfect with a cup of tea or even a birthday treat, these muffins are a great way for you to find your new favorite flavor combinations.
When we say these chocolate hazelnut cupcakes are truly delicious, we're not lying. If you're a chocolate lover, then these are the perfect cakes for you.
The hazelnut flavor comes from the chocolate hazelnut spread, which is used both inside the chocolate muffins for a little surprise when you bite into them, and also in the frosting for extra flavor.
The fresh berries which decorate the frosting are the perfect partnership to the intense chocolate flavor of the soft sponge and frosting, and if you're feeling creative, you can even place some fresh berries inside the cake.
We promise these eye-catching cupcakes will be a huge success with all of your guests no matter the occasion.
These muffins are a perfect way to use up your Cadbury's fruit and nut bar and make something really tasty while doing so.
This simple muffin recipe is easy to follow and will have even the most amateur of chefs creating impressive treats for everyone to enjoy. Simply cut up your Cadbury's fruit and nut bar into rough pieces, add to the muffin mix, and voilà! You have yourself some yummy fruit and nut muffins.
You can either leave them topping free or drizzle with melted chocolate for a professional finish. Whatever your decision, we guarantee you'll be going back for seconds.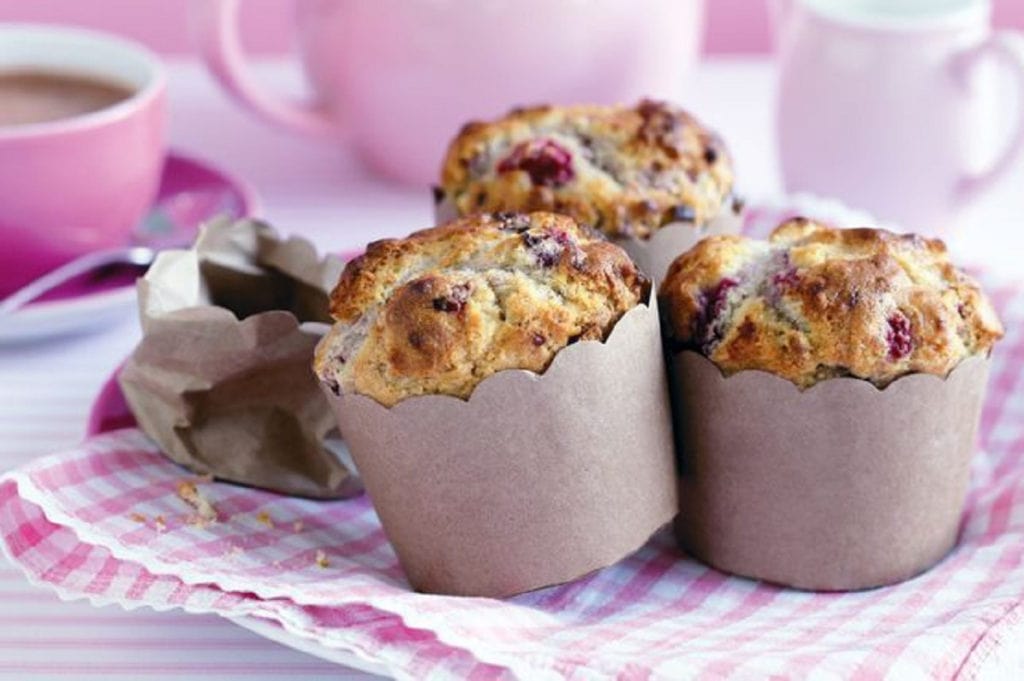 These muffins are packed with a nutty flavor which works so well alongside the sweetness of the raspberries and chocolate.
Thanks to both the macadamia oil and the roughly cut macadamias used in this recipe, you can really taste the nutty tones, which are delicious! Paired with frozen raspberries and white chocolate buds, these treats hit all the right notes for fruit and nut lovers.
Sweet, flavorful, and easy to make, these muffins make for a perfect picnic treat or slightly naughty breakfast bake.
Fig, walnuts, chocolate, and toffee are a combination of flavors you may not be entirely convinced of. But trust us when we say, these cupcakes are divine!
With fig, Mars bar, and walnuts packed into the cake mixture, the sponge is filled with both texture and plenty of flavors to satisfy those tastebuds. Topped with whipped milk chocolate ganache, the richness of this cake is undeniable.
You'll also need to have some skills to decorate this cake. With step-by-step instructions on how to create a toffee decoration, you'll be the proud creator of the best-looking cake in town.
If you're a fruit and nut lover, this cupcake recipe should definitely be on your radar. It's packed with flavor and will be a firm favorite of yours after just one bite.
The simple, yet delicious, chocolate sponge is packed with chocolate-covered raisins for maximum flavor and an extra chocolate hit.
The frosting includes even more chocolate raisins to carry the flavor through to the finish, as well as chopped mixed nuts to add texture and a complimentary nutty tone.
Topped with a piece of Cadbury's Fruit and Nut bar, these cakes definitely tick all the boxes. Don't expect them to last too long, they'll be gone before you know it!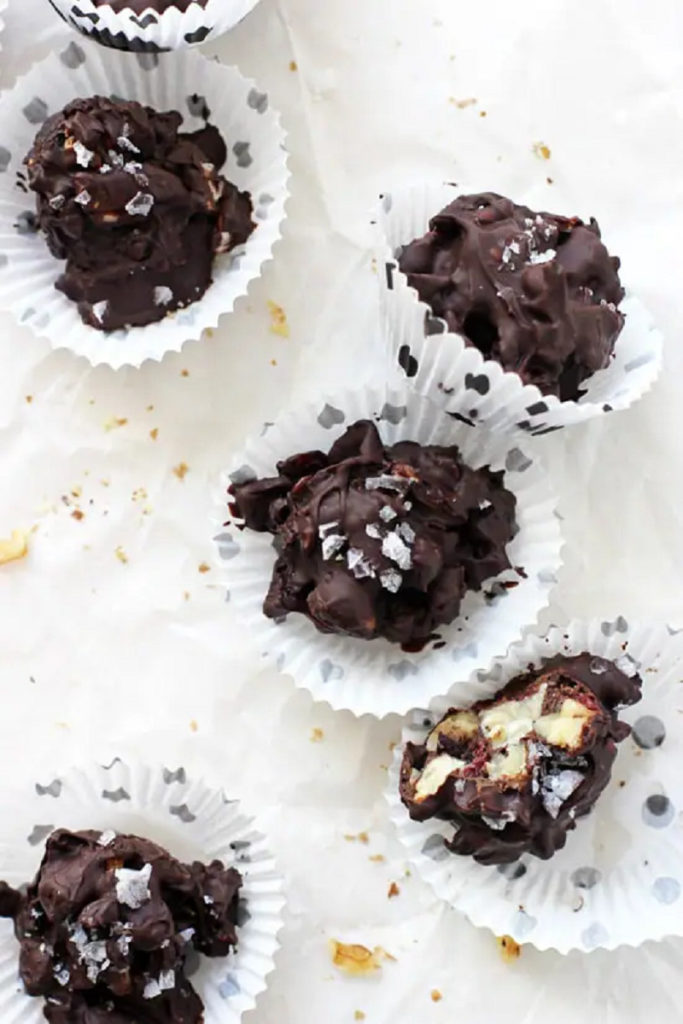 Not exactly a cupcake recipe, but we couldn't create this list without including these delicious treats.
oWith only 5 ingredients, one of which is for pure decoration, these chocolate, fruit, and nut clusters are so simple to make, and yet they taste phenomenal.
Depending on what chocolate you use, these cakes can also be vegan, gluten, and dairy-free, so a perfect option for those with dietary restrictions.
The most complicated part of this recipe is toasting the nuts, and we think that's a pretty easy step. So no matter what level your culinary skills are at, everyone should be able to impress with these cute fruit and nut clusters.
Who doesn't love a classic rocky road cake? We certainly do, and that's why we've included this recipe in our list.
The sponge for these cupcakes is your standard vanilla sponge with the added inclusion of chocolate chips and chopped nuts to give it that added flavor. The cake itself is light, airy, and tasty, but the true rocky road flavor is in the topping on this cake.
The chocolate buttercream is rich and delicious and makes the perfect base for your favorite rocky road ingredients.
The placement of cherries, mini marshmallows, digestive biscuits, walnuts, and chocolate chips is all down to your preference. Push them into the buttercream for a perfect presentation and drizzle with melted chocolate to finish. Enjoy!
This recipe also doesn't include vanilla extract, which is handy for those who have run out.
Rich in chocolate with a delicious hazelnut flavor running through them, these muffins are truly decadent.
With dried cherries and sultanas also on the ingredients list, the combination of flavors is a match made in heaven.
Just when you think these muffins couldn't taste any better, let us introduce you to the chocolate ganache topping. Smooth, glossy, and rich in flavor, this topping is the perfect decoration for your muffins. Simply sprinkle with some chopped nuts and fruit and you have yourself an irresistible cake.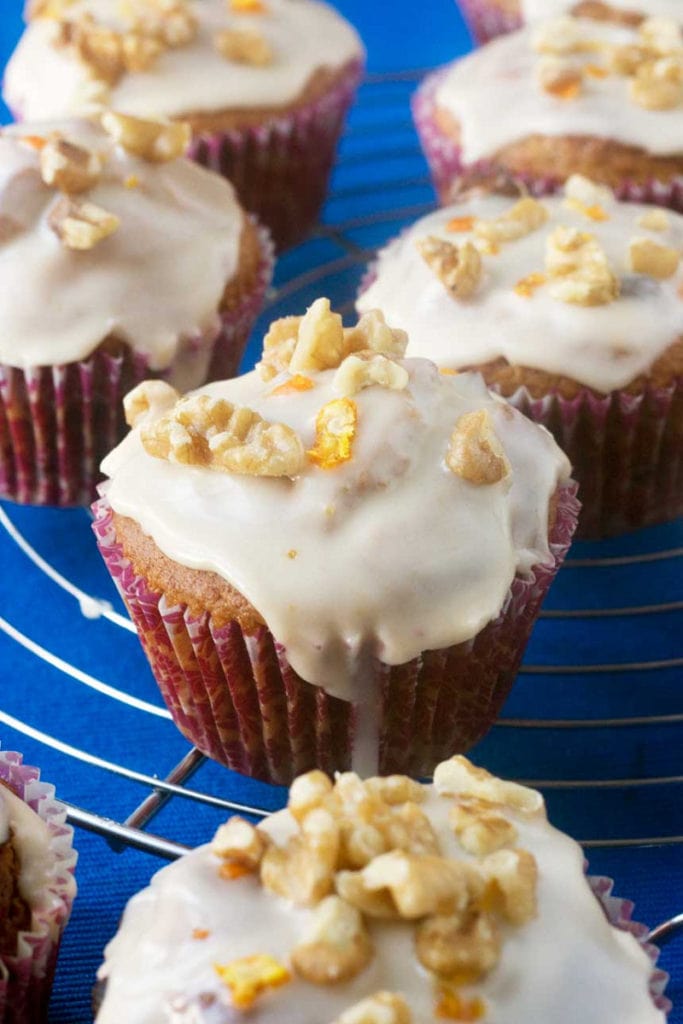 These muffins are a great breakfast snack or a mid-morning treat and are jam-packed with that incredible flavor of tangerine.
Nutty, chocolatey, and citrusy, these muffins have the perfect combination of complementary ingredients.
With the inclusion of walnuts, cinnamon, and nutmeg, these treats almost have a Christmas feel to them thanks to the subtle hint of spice typically found in Christmas cakes.
The sponge is incredibly moist with a light crumb and because of the tangerine juice and zest, these cakes aren't too sweet. You can also add in more fruit flavors if you want to such as blueberries or cranberries which would go perfectly with the rest of the ingredients here!
Conclusion
So, there you have it! Hopefully, this guide will have given you inspiration to create more recipes for everyone to enjoy.