Baking cupcakes is all fun and games until something goes wrong. 
We start off with a dream of creating delightfully moist cupcakes. They're evenly baked, beautifully decorated, and ready to serve to your hungry guests…
Unfortunately, plenty of things can go wrong in the oven. Whether it's too much moisture, the wrong oven temperature, or a failure to stick to the right baking time, things can go south pretty quickly. 
If your cupcake liners are folding and sticking, you're not alone. Liners can easily shift out of place and quickly destroy your cupcakes, so knowing how to fix the issue is essential.
To prevent sticking and create the best cupcakes EVER, keep reading… 
How To Prevent Cupcake Liners From Folding 
Is there anything more frustrating than finding out that your cupcake liners are folding in every direction? Presentation is important, especially if your cupcakes are for a special occasion.
Thankfully, the solution for a folding cupcake liner is pretty simple. 
Our first word of advice is to pay close attention to the size of your muffin tins.
Your muffin tin will need to be the same circumference as your paper liners, otherwise, you're already setting yourself up for a culinary disaster. 
Ensure your cupcake papers sit well inside your tin. They'll need to be exactly the right fit if you want to prevent any issues.
If they're not the right size, the weight of our cupcake batter will damage your paper liners, and cause them to fold. 
Don't worry, you probably won't need to buy a whole new cupcake tin.
We'd recommend buying slightly larger non-stick liners – these will reach all the way to the bottom of the pan, and ensure a better fit. 
If you can't get larger liners or a new pan, don't worry. You probably already have a few items to hand that can prevent your cupcake cases from folding. 
Before you pour the batter into the liners, take a shot glass and push and rotate it at the bottom of the liner.
This will ensure your batter is evenly distributed, and it'll stop the weight from folding your liners. 
If your batter is already the liners, push the liner from the inside out with a teaspoon. 
How To Stop Cupcake Liners Sticking 
If your cupcakes are sticking to the liners, we'll need to take a slightly different approach. 
If your cupcake liners are sticking to the batter, here are a few tips you can use when baking cupcakes. 
Grease Your Liners 
First things first, grease your liners! Invest in a quality nonstick cooking spray or melted butter, and apply a generous amount before you fill cupcake liners.
Greasing your liners with butter or a non-stick spray will prevent your liners from sticking to your cupcakes and ruining your baked goods.
Adequate greasing will also make it easier to peel your cupcakes from the liners when they're completely cooled. 
Leave To Cool 
This may sound a little too simple, but it's a great tip.
Don't remove your cupcakes from their liners until they're completely cooled. If you try to remove your cupcakes from their liners when they're too warm, your liners are more likely to stick.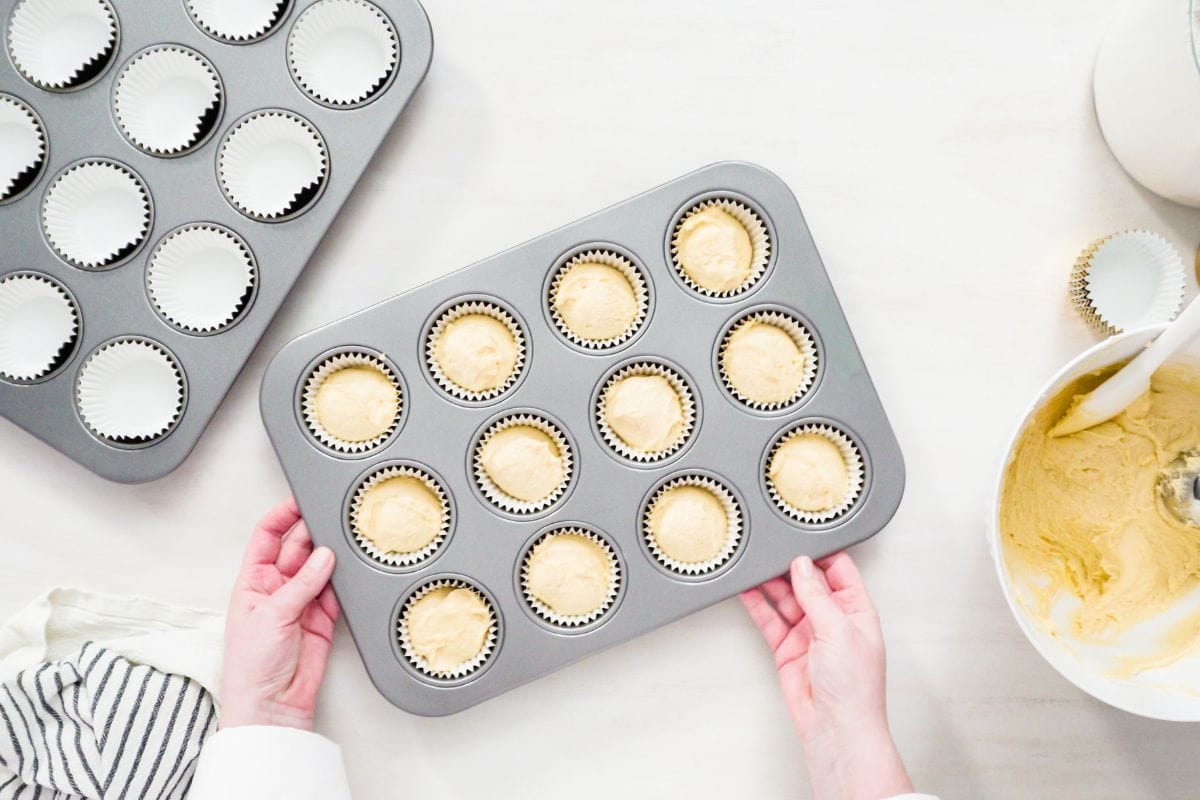 Let your cupcakes cool completely before removing their wrappers. 
Use Silicone Cupcake Liners 
If you're a fan of silicone bakeware, you can ditch your paper liners for a silicone model.
Silicone cupcake liners are naturally non-stick (although we would recommend lightly spraying them before baking to make sure), and they'll help prevent your liners from sticking to your cupcakes.
If you want to bake with silicone liners, remember to follow the temperature guidelines to prevent damaging your cakes, bakeware, and appliances. 
Why Do Cupcakes Pull Away From The Liner? 
Okay, let's look at a different problem altogether. What if your cupcakes are pulling away from the liner? 
Most bakers will agree that any cupcake that's pulling away from the liner is undercooked.
Undercooked cupcakes will shrink in the oven, and their smaller size will prevent them from sitting neatly in their cupcake liners. 
Now, we all love moist cupcakes, but if there's too much moisture, they may also start to pull away from the sides.
This is a particularly common issue if you're using fresh fruit in your cupcakes. 
So, to prevent your cupcakes from pulling away from the liner, you'll need to balance out the moisture content with extra ingredients like flour.
If it's too late to adjust the batter, you can also try putting them back in the oven for a few minutes – just be careful not to let them burn! 
Do You Really Need to Spray Muffin Liners? 
If you want to prevent sticking, peeling, or burning, we'd definitely recommend spraying your cupcake liners with a quality cooking spray.
Even if you're using nonstick liners (such as silicone models), it's always worth adding a little extra spray to prevent sticking. 
Remember: when you do this, you'll also want to prevent any excess grease from building up at the bottom of your liners.
To avoid excess grease, spray your liners quickly and evenly. We'd recommend between 2-3 sprays to cover the whole tin. 
Tips For The Perfect Liners 
If you want to wow your guests with your cupcakes, you'll need to serve up something that LOOKS appetizing.
Preserving the quality of your liners is important, and these tips will ensure they come out perfect every time. 
Use Lighter Batter: Lighter batter won't weigh down your liners and will prevent folding.
Use Bright Colors: A more vibrant liner will distract from any creasing or discoloration. 
Use an Internal Oven Thermometer: To stop your liners from burning, invest in an internal oven thermometer. 
Final Thoughts 
Creating the perfect cupcakes isn't always easy.
Even if they taste great, presentation is everything.
One spoiled liner can affect a whole batch, so be sure to follow the tips and tricks in this article to ensure you come out with the perfect liners every time.