Cheesecakes are delicious and universal desserts that you can pair with almost anything.
A cheesecake is like a blank slate for you to make art on, topping with whatever you're in the mood for.
Whether that's chocolate, fresh fruit, peanut butter cups, or more, a cheesecake is always delicious. Today we're looking at how you can decorate your cheesecake with fresh fruit.
Fresh Strawberries
Can you ever go wrong with a strawberry cheesecake? Especially when using strawberries!
The tart flavor of strawberries complements the creamy cheesecake flavor perfectly. We love using fresh strawberries on any cheesecake that contains vanilla flavors or white chocolate.
You can also add strawberry compote to your cheesecake recipe if you want a stronger flavor.
When it comes to the decoration of your cheesecake, there are plenty of ways that you can cut strawberries. Thin slices work well when placed in circles, like a flower.
Alternatively, whole strawberries can be used for a more sophisticated look.
If you have a steady hand, you might even carve rose petals into the strawberries to make them look like real flowers. This would certainly wow your guests!
Fresh Fruit Slices
Any fresh fruit slices can be used to decorate a cheesecake! Think which fruits you enjoy the most – whether that's peaches, bananas, apples, or others – and slice them up to decorate your cheesecake with.
Choose flavors that pair well together to ensure your cheesecake tastes as good as it looks.
The decoration depends on how intricate you want to go with it. You could make flowers with your fruit – banana wheels as the middle and peach slices for the petals.
Or, you could make a landscape with plenty of colors and textures.
The possibilities are endless!
Leftover Fresh Berries
There is plenty of versatility when it comes to using leftover fresh berries to decorate your cheesecake.
The sweetness of berries compliments the cream cheese amazingly, and you can use up any fruit that you have in your fridge.
Add some lemon zest and powdered sugar over the top of your berry cheesecake and you've got a yummy dessert that everyone is bound to love.
Serve with whipped cream to keep the tartness of the berries to a minimum.
Or, if you want to whack the tartness up to 1o0%, top it with lemon curd and really get those taste buds tingling!
Fresh Blueberries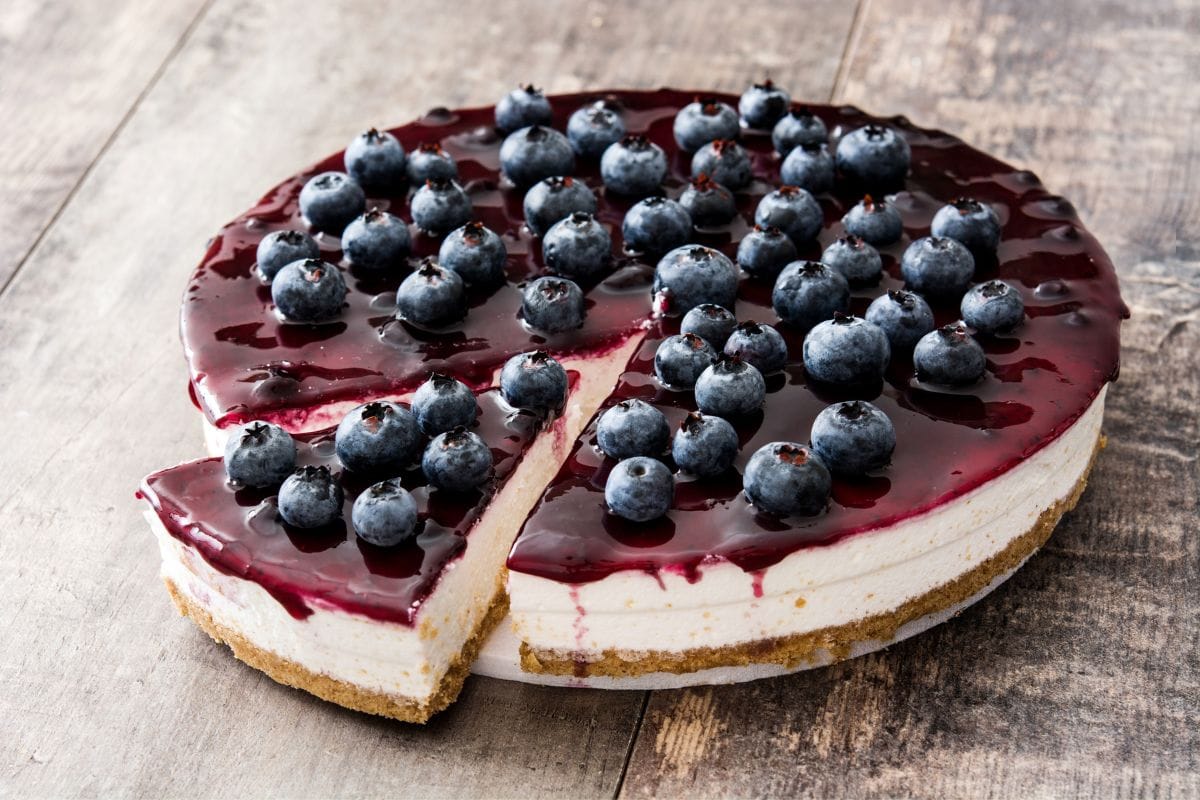 Speaking of fresh berries, blueberries make an excellent decoration for cheesecake all on their own.
You can even bake some of the blueberries into the cream cheese, if your cheesecake recipe calls for it, to create a gorgeous purple color.
Use fresh blueberries to customize your cheesecake however you want. They are small enough to be able to create patterns, with shapes, or even letters.
You could even make a blueberry coulis, which would add another level to your decoration.
Blueberries would make your cheesecake look almost too good to eat… almost.
Fresh Raspberries
When we talk about the epitome of fresh fruit on cheesecakes, raspberries take the cake. Their juiciness and vibrant red color make them perfect for pairing with the mellow cream cheese color.
Not to mention that raspberries go with absolutely everything – from milk chocolate to peanut butter cups, other berries to caramel sauce.
If you're not a fan of how the fresh raspberries look on your cheesecake, you could whip up a raspberry compote within 10 minutes and swirl it over your cheesecake.
Top with some powdered sugar or chocolate shavings and you have yourself a delicious fruity cheesecake!
Fresh Mangos
You've found the perfect cheesecake recipe but are unsure of how to take it to the next level in terms of decoration. We have the answer for you – fresh mango slices!
The great thing about mangos, besides their delicious taste, is that they are large enough to cut into any shape that you want.
We've even used small cookie cutters on mango slices to decorate our cheesecakes with mini yellow hearts and stars.
Mango has a juicy yet mellow taste, which is ideal for anyone who enjoys a calmer taste rather than tart berries.
Finish off with whipped cream and serve to all of your guests! When it comes to fresh fruit on cheesecake, you can never go wrong with mangos.
Fresh Cherries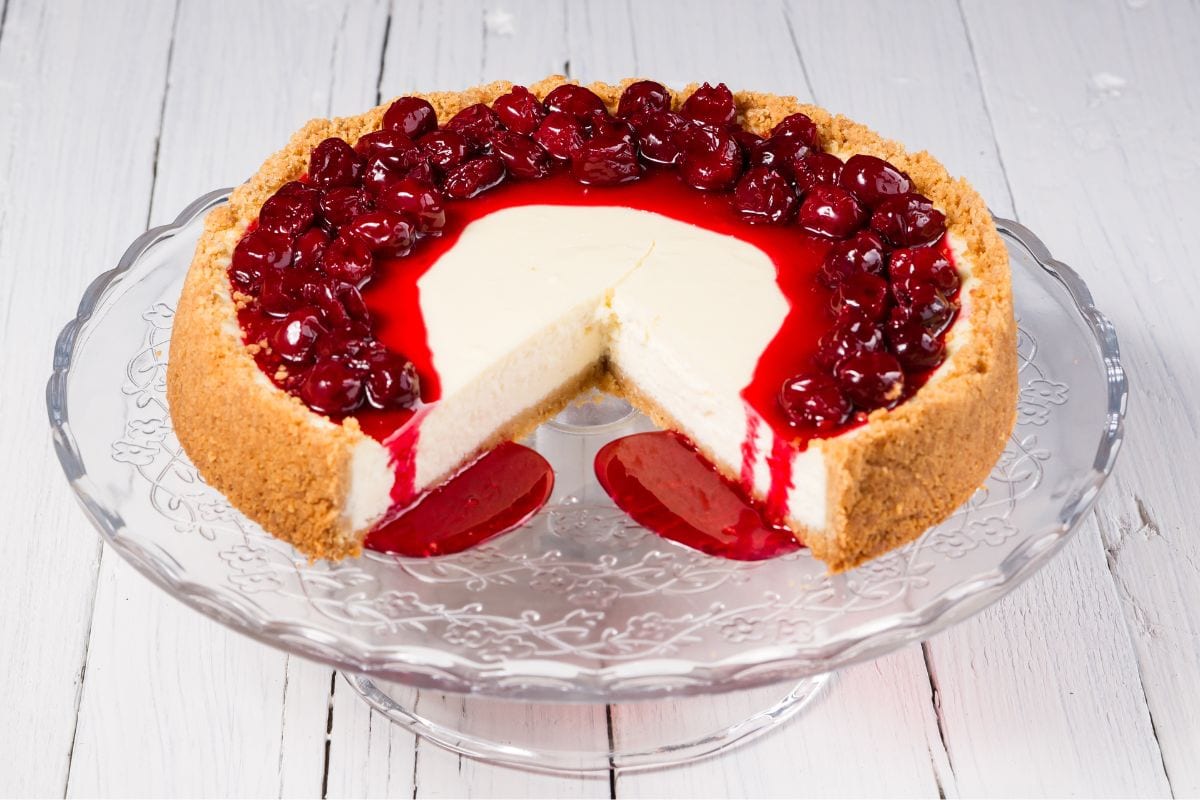 Again, cherries are an excellent fruit to add to your cheesecake recipe. they're juicy yet hold their shape well, so are ideal if you want a more structured design.
Be mindful that this type of fruit will take more preparation than most other fruits as you will have to halve and pip them carefully.
Pair cherries with almonds to make a Cherry Bakewell-inspired cheesecake, and be sure to wow your guests with this beautiful cheesecake.
You can also make a cherry sauce with your fresh berries if you'd prefer a vibrant red liquid to decorate with. Finish with a cream of your choice and enjoy.
Summary
We hope that you have enjoyed our article on decorating your cheesecake with fresh fruit. Once you have a great cheesecake recipe, you'll need a good fruit to turn it into a decadent dessert.
Our favorite has to be the mangos – which was yours?
Frequently Asked Questions
What Is The Secret To Making Good Cheesecake?
There are plenty of tips that we could offer to make a good cheesecake, but the most important one is that you have a great recipe to make the perfect base.
Use warm cream cheese, use flour, and cornstarch to thicken it up, avoid overmixing by using a low speed on your stand mixer, use springform pans, and don't keep opening your oven while it bakes are some of our top tips top baking the perfect decadent dessert.
What Can You Use To Decorate A Cheesecake?
You can use anything to decorate a cheesecake – that's the best part about baking cheesecakes! Caramel, chocolate, cream, lemon, berries, fruits – the list goes on and on.