Ah, cheesecake. It's a crowd-pleaser for sure. It's one of everybody's favorite desserts. And it's so versatile too. There are hundreds of different flavors to play around with.
You can add lemon curd for a scrumptious lemon cheesecake. You can use vanilla extract in your cheesecake recipe.
Or you can add Oreos for those with a sweet tooth. And that's just the cheesecake filling. You can also play around with the crust too.
A classic crunchy graham cracker crust is probably my favorite, but a biscuit base of crushed Oreos is pretty heavenly too.
But when you've got bigger parties or events, you don't often want to serve up a whole entire cheesecake just cut into slices. It's awkward and difficult to eat.
Cheesecake bites or mini cheesecakes, whichever you'd like to call them, work so much better.
So, in this article, we'll take a look at how you can turn a larger cake into those little versions and ensure that it will still taste amazing. Let's get to it.
How To Turn Cheesecake Into Mini Cheesecake Bites
So the first thing you'll want to do is find your desired cheesecake recipe. You'll want to make this recipe following the instructions provided.
Then you have two options when it comes to turning it into mini cheesecake bites.
Once cooled, you can use a hot knife and then cut in a grid pattern to create small cubes or you can grab a cookie cutter to create fun and cute shapes.
How To Correctly Cut Your Cheesecake Into Mini Cheesecakes – Knife Method
Cutting a cheesecake can actually be more difficult than you'd first imagine. So if you want pretty mini-sized servings then you'll need to cut it just right.
TIP: You want to ensure that your knife is hot when you cut your cheesecake, otherwise it's going to stick to your knife and completely fall apart.
Step One
The first thing you'll want to do, as I mentioned above is heat your knife. Then you'll want to make a small indentation horizontally and vertically across your cheesecake so that it looks like a + sign.
Step Two
Then, you'll want to continue making these indentations in both directions with around an inch between each indentation.
Step Three
Next, you'll want to heat your knife again, and then start to cut these indentations.
After each cut ensure that you reheat the knife so the cheesecake batter doesn't stick to it. Repeat this process until you have cut all your indentations.
You should now have several one-inch by one-inch mini cheesecake bites.
Tip 1: Since your cheesecake will be round, you'll have a few pieces left over that are strays.
You can add these to your batch of mini cheesecake bites, or if you're greedy like me you can reward your hard work by tasting and sampling your cheesecake recipe.
Tip 2: Always press down to cut your mini cheesecake bites. Never drag the knife forward and backward.
Serving Recommendations
Once you're done, I would always recommend decorating them to make them more presentable and extra delicious.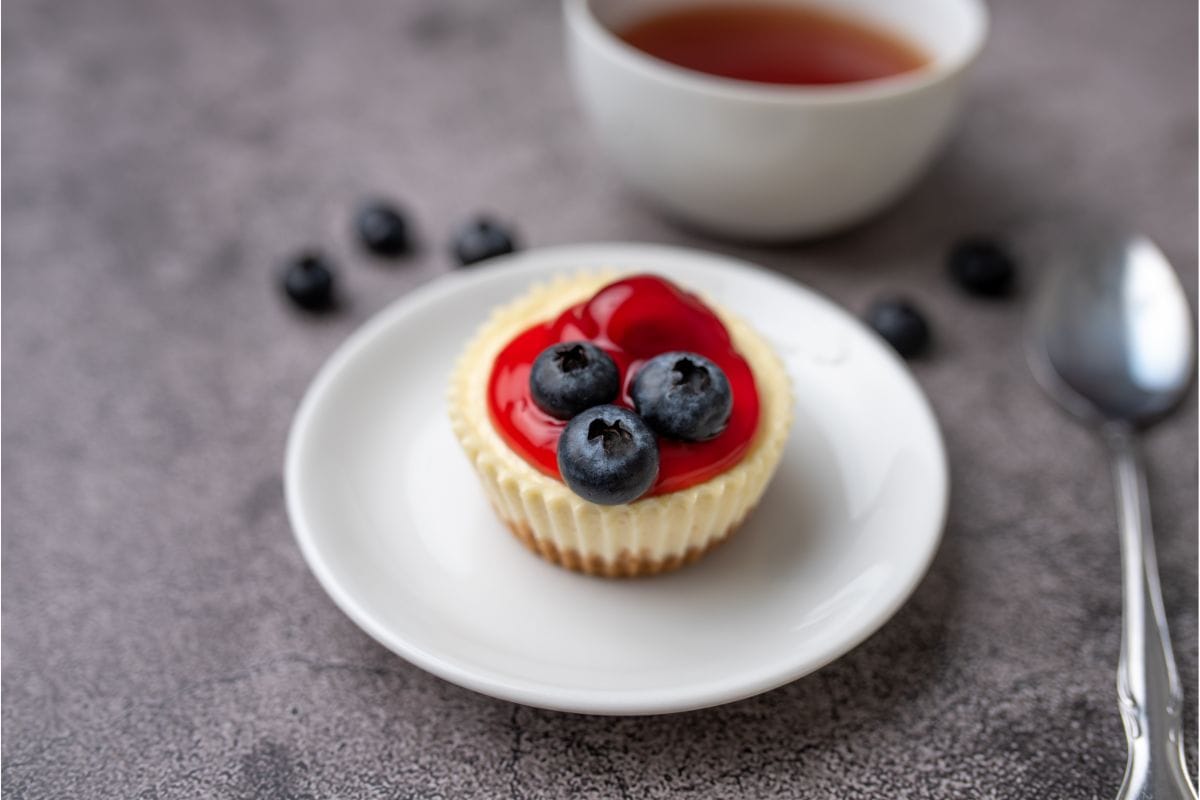 You could go sweet with a chocolate ganache, chocolate chips, or melted chocolate. You could even add a small dollop of whipped cream.
Crushed vanilla wafers or crushed Oreos work really well too.
You could even serve your mini cheesecakes next to some sauces so that your guests can get dipping and dunking. Berry sauce, chocolate sauce, and caramel sauce are my favorite options.
Regardless of your serving choice, they are sure to look great, just don't forget to pop a toothpick in your mini cheesecakes so that they're easy to grab.
Ensure that the toothpick hits that delicious graham cracker crust so that it doesn't fall apart when the pick it up.
How To Correctly Cut Your Cheesecake Into Mini Cheesecakes
If you want unique mini desserts that will wow your guests then you can always opt to create mini bites in a variety of different shapes.
Step One
You want to use cooled cheesecakes for this method, so ensure they've been in the refrigerator for at least half an hour.
Step Two
Pick your favorite shapes from your cookie cutters to use to make your mini cheesecake bites.
Then you want to warm the cutter up in hot water for about 20 seconds and then wipe it down with a warm towel.
Step Three
Starting from the outside and working your way inwards, press down with the cookie cutter. Then pick up from the cutter and bang until the mini cheesecake comes out.
Repeat until you have the desired amount of mini cheesecake bites.
And there you have it! Easy mini cheesecakes that are ready for serving.
Don't forget your toothpick, and ensure that you decorate them with fresh fruit and berry sauce, or whipped cream and chocolate ganache and they are sure to taste amazing.
Frequently Asked Questions
What Are Cheesecake Bites Made Of?
Typically, the graham cracker crust will be made of graham cracker crumbs, melted butter, and brown sugar.
The cheesecake batter usually includes cream cheese, sour cream, vanilla extract, sugar, and eggs.
How Do You Get Mini Cheesecakes Out Of Mini Muffin Pan?
You won't want to take them out of the mini muffin pan while they are still hot.
You want to let them cool, Leave them out at room temperature for 10 minutes and then place them in the freezer.
They will remove much cleaner once they are solid and cold.
Final Thoughts
As you can see to make mini cheesecake bites all you need is a great recipe for a full cheesecake and a knife or some cookie cutters.
This option for larger parties is such a good one because you can make your mini desserts ahead of time and then just pop them in an airtight container and leave them in the refrigerator until it's time to serve.