Everything you want to be placed on top of dessert is this crumb topping. It tastes fantastic, by being flaky, full of sweetness and cinnamon flavor. While also, it crumbles when put under pressure.
Put all of that sweetness on top of a small cake to create a cake that is so delicious, you won't believe how good it is. 
Then, just for show, we sprinkled some powdered sugar on top. These mini muffins are the perfect snack when you crave something small and sweet while on the go.
In this article, we will show you how to create the perfect mini crumb cake bites.
Why Should You Try These Mini Crumb Cake Muffins?
All food that is mini just looks amazing and is still packed with flavor.
In addition to being a lot of fun to make and eat. Just like the famous Entenmann's little bites crumb cakes, you could easily eat these crumb cakes for either breakfast or dessert.
They have a similar flavor to Entenmann's, but you can add your own twist on the crumb topping you decide to make. We created cinnamon crumbs, but you could change the cinnamon to ginger instead.
What makes these muffins so easy is the fact that they are created using a simple cake mix. This means you don't need a large range of ingredients to make these cakes.
Ingredients You'll Need
For The Cake
1-15.25 ounce box yellow butter cake mix
2 tablespoons of sour cream
1/3 cup of softened butter
2 eggs
Crumb Topping
3/4 teaspoon of cinnamon
1/4 cup of softened brown sugar
1/2 cup of all-purpose flour
1/4 of softened butter
Step-By-Step Instructions For Crumb Cake Bites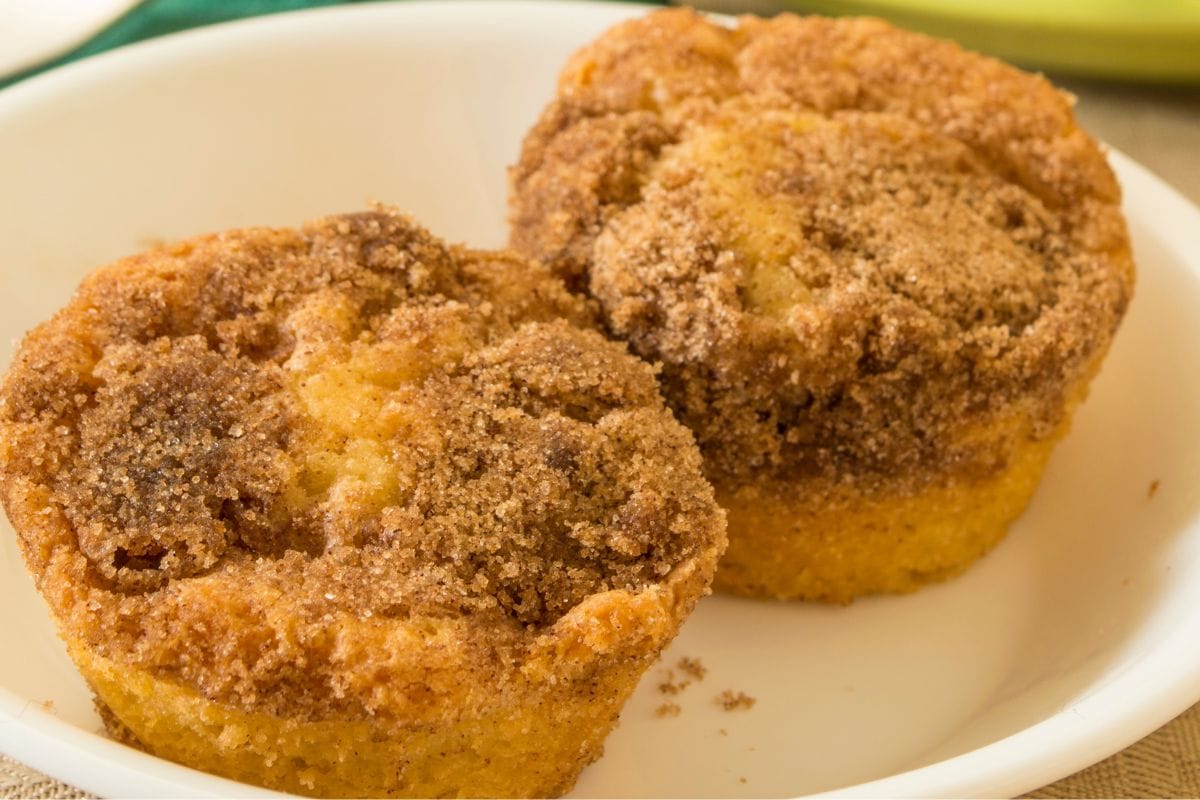 Follow these steps to create moist golden cake-topped cakes in no time.
Step 1: Preheat Oven
Preheat your oven to 350 degrees Fahrenheit. Then spray each cup of your mini muffin pans with nonstick cooking spray.
Step 2: Create Your Muffins
Combine the butter, sour cream, eggs, and yellow cake mix. Use a hand mixer to combine the ingredients into a smooth batter. It's okay if the dough is thick and somewhat sticky.
Step 3: Fill Your Mini Muffin Pans
Fill each cup with heaping tablespoonfuls of dough using a tiny cookie scoop. Then you need to flatten the tops. To do this, press them down, using the tips of your fingers. 
If you find that the batter keeps sticking to you, then get your hands slightly damp or dusted with flour. This will prevent the dough from sticking to you. 
The middle of each muffin should then be pressed down using the end of a wooden spoon. You need to make an indentation that is big enough to hold the crumb topping.
You can also flour your wooden spoon's handle to prevent the dough from clinging to it.
Step 4: Make Your Crumb Topping
In a medium bowl, mix the brown sugar, butter, flour, and cinnamon to form the crumb topping. To create a crumb-like mixture, combine all the ingredients with a pastry cutter or fork.
Make sure not to over-mix the crumbs because doing so would result in a paste. To maintain more control over the consistency, you may use your hands to create the crumbs. 
Next, top each spoonful of batter with about a half teaspoon of the crumb topping. Make sure to add more crumb mixture to the top, as well as to the hole you created with the wooden spoon.
Step 5: Bake And Cool
Now you can place your cakes into the oven. They will take around 10 minutes to bake, or until the cake is firm and the topping is golden brown. 
As soon as the muffins are taken out of the oven, run a standard knife or an offset spatula all around the edges of each cake. This will prevent them from sticking to the pan.
Step 6: Add Powdered Sugar
This step is optional, however, once cooled you can sprinkle powdered sugar over the cakes. This is a nice extra touch, which adds some extra sweetness to the cakes.
Best Way To Serve These Cakes
These bite-sized pieces of crumb cake are delicious and served warm or at room temperature.
If there are any leftovers, they can be frozen without powdered sugar on them for up to 3 months. Or they can be kept at room temperature for a maximum of 5 days.
Tips To Follow
As we are using a cake mix, this helps to create mini muffins really easily. Some people like to add a teaspoon of baking powder to help give the cake mix a better rise. This step is optional.
Also, you don't have to make mini muffins, you can easily create classic crumb cake muffins with this recipe, using a regular muffin tin.
In addition to that, you can also add chopped nuts such as walnuts and pecans to the crumble topping. This will add another texture to your muffins, alongside a nutty flavor.
We suggested adding powdered sugar on top, but this is optional. However, a simple vanilla icing works really well as a special finishing touch as well.
The choice is up to you. You can easily leave the cakes how they are or add powdered sugar or a glaze.
Conclusion
There you have our easy mini crumb cake bites recipe. They are really easy to make and all your friends and family will enjoy them.
There are a lot of ways to add your own spin on these mini muffins, such as the crumb topping you decide to create.
We hope this article has inspired you to try and create this recipe for yourself the next time you want to create something small and sweet.