For an experienced cook, creating a fruit pie should be simple. It may prove more difficult to cook mini berry pies, there is more pie crust to create and the berry mix has to be just right.
Too thin and it may leak, too thick and the ratio of sugar and berries may be off. You may also have to use a muffin tin and create a mini lattice design to go on top of each one of those mini pies. 
In this guide, we will look at creating mini berry pies including mini blueberry pies, how to get a flaky pie crust, cutting them out, and filling them in.
We will also look at baking mini berry pies and why they work so well. 
Creating Mini Blueberry Pies
Your first key question for creating a batch of mini blueberry pies is whether to use fresh or frozen blueberries. The berry mixture is crucial so place the blueberries in a medium bowl.
Mix in the cornstarch, granulated sugar, and vanilla extract until both the cornstarch and the granulated sugar coat the blueberries.
You may want to use a food processor to ensure the coverage or try just stirring occasionally.
The berry mix can be made in a medium bowl though you may want to transfer it to a small saucepan. If you apply heat the mixture thickens after a few minutes.
How the mixture thickens and how quickly can depend on whether you use fresh blueberries or not as there is a difference when you use fresh or frozen blueberries in how long they take to thicken in a berry mix.
You do not want your mini blueberry pies to leak when they bake so ensure that the sugar dissolves.
Working Out The Pie Crust To Get A Flaky Pie Crust
It is not just about using the right cookie cutter to create the right pie crust for tiny pies. The crust still needs to be lightly browned while the bottom crust has enough chance to bake.
Pie crusts are an important element of any pie so make sure that you use egg wash to create that golden brown appearance.
Start the pie dough by mixing together flour, granulated sugar, unsalted butter (cubed), and a few tablespoons of ice water.
The ice water should bind the mix together until the dough comes together and you can roll it. A pastry blender may come in useful to cut the flour though you can use a food processor too.
You may have your own pie recipe but you need to be able to roll it on a work surface without taking up too much prep time.
Cutting Out The Pie Crusts
You can place some parchment paper onto the work surface as you roll out the dough.
Place the dough ball on the work surface then cover with another piece of parchment paper and roll it to a quarter-inch thickness.
The dough can be left to cool slightly in the refrigerator before you create it into pie crusts.
Timing is important when you bake mini pies so prepare the berry mix once the dough has been given the chance to cool completely.
Filling In The Pie Crusts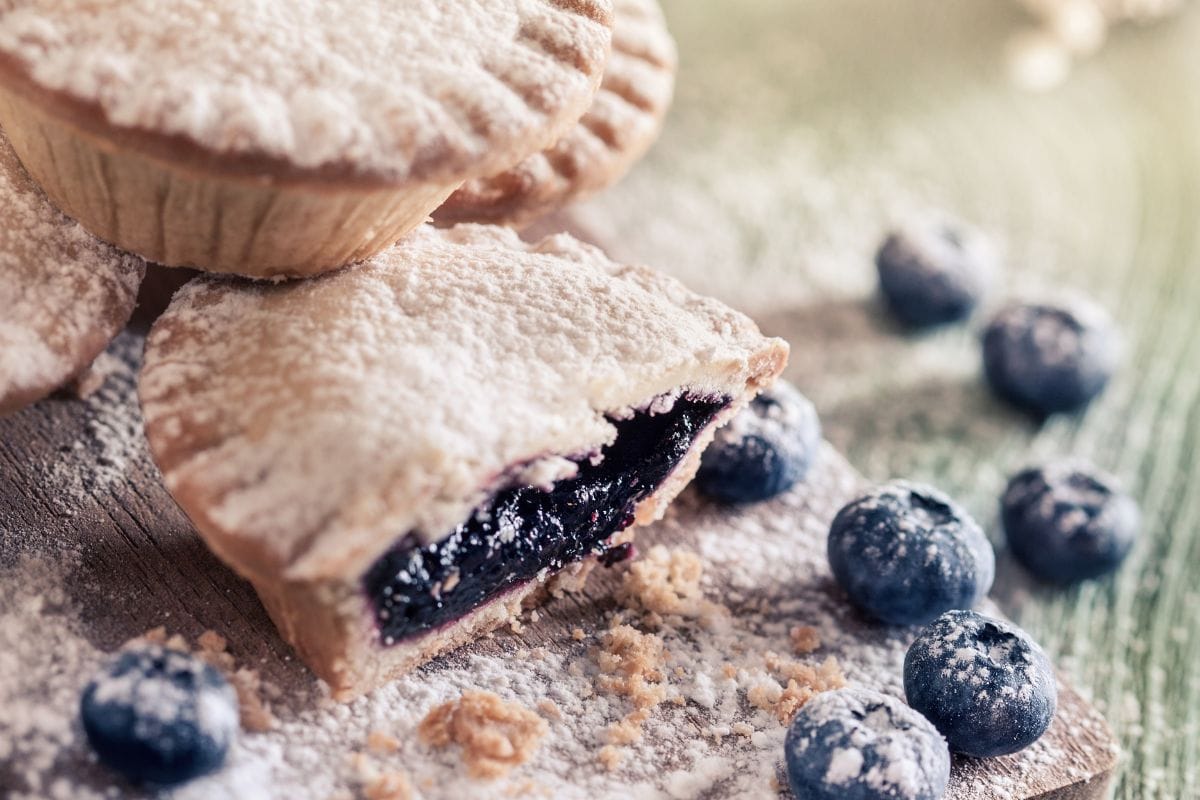 Use a cookie cutter or a pastry cutter to work out inch round circles from your dough.
Press the inch round cut circles into your muffin tin and fill each one around three-quarters of the way up with the berry mix.
With the rest of the dough, cut out thin strips to create a lattice design over the top that you can press in. Brush the pastry with egg wash then sprinkle on some more granulated sugar or brown sugar.
Bake The Mini Berry Pies
Preheat oven to 375°F and bake for around 25 to 30 minutes until the mini pies are golden brown. Allow the batch to cool slightly while the mixture thickens.
They do not need to cool completely as you will want them slightly warm when you add a dollop of vanilla ice cream.
Why Mini Berry Pies Work So Well?
Mini pies are delicious comfort food and could become one of your favorite recipes. With a sweet berry filling and a flaky pie crust, these are well worth making at home.
You do not even need specific equipment for a mini pie as you can use a muffin tin or muffin cups.
Mini pies are also a great way to use up some preserved berries so make a batch if you have some fresh or frozen blueberries.
The recipe for delicious mini pies does not have to be that much different from a regular fruit pie recipe. The nutrition information may be similar as the same sort of ingredients is used.
You still need to create a pie crust for your tiny pies, but you can create a variation.
Use some lemon juice to mellow out the mixed berries, you can search recipes that use different blends of butter and flour for your pie crust.
You may even be the type of cook that prefers to bake their pies with an overall crust instead of a lattice design.
If you create full-size pies quite often then mini berry pies should be relatively straightforward. You can experiment between fresh blueberries or a different type of pie filling.
There are many different berries you can cook with including raspberries and blackberries so look out for new recipes.
Final Thoughts
Make sure that there is enough sugar in the mix as this can help the mixed berries thicken and protect the crust.
The delicious filling may be the most important part when you make mini blueberry pies before they have even had to chance to go into the oven.
Cook them at the right temperature but enough that you check them regularly as they bake.
Once the mini berry pies are lightly browned, leave them on a wire rack to cool. Using the wire rack is important for the filling to thicken, whether you are using white sugar or decide to mix in brown sugar.
The brown sugar can add a moreish taste to the filling when you add it in a small bowl yet a recipe for mini pies may simply specify white sugar with mixed berries.
This is to ensure that the filling thickens which also comes from the cornstarch when the pie bakes in the oven.
Frequently Asked Questions
Why Might I Want To Use Lemon Juice In The Pie Filling?
The lemon juice will balance out the tartness of the pie filling, specifically if you use other berries aside from fresh blueberries.
That pie filling is crucial so find the right balance of berries and maybe consider putting in some lemon zest as well as lemon juice.
Make sure that you taste the mixed berries before putting them in pie crusts as the taste will rarely chance after they have come out of the oven. 
How Do You Store Leftover Mini Berry Pies?
No matter your mini blueberry pies yield, there may be too many servings, even during the holidays. Like many dessert recipes, you should know how to adequately store leftover mini berry pies.
Allow the mini berry pies to cool completely and then keep them in an airtight container.
With leftover pie dough, you can wrap the ball in plastic wrap, then use it again to bake in the oven for another delicious pie recipe.