Do you ever find yourself with leftover cake mix and aren't sure what you should do with it all? Did you know that you can easily make cookies from cake mix? Well you can! The process is actually surprisingly easy as well.
This recipe calls for your favorite cake mix flavor, be it red velvet cake mix or a gluten-free cake mix, then whatever extras you'd like to load your cookies with. You can go for the traditional chocolate chips, or chopped maraschino cherries if you're feeling like something fruity.
But we hear you calling: how can we make cookies from cake mix if that's not what it was meant for? Well, first of all, we have to turn the cake mix into cookie dough. Don't worry though, because this page will perfectly explain the method needed for making cake mix cookies.
What Will You Need?
For this cake mix cookie recipe, you'll need just a few ingredients. Add eggs and oil to the batter and see how the batter turns into a dough.
We recommend vegetable oil as it offers the best results, however any other light colored oil such as corn oil or canola oil will also be fine. Adding oil will help the cake batter solidify, allowing the cookies to be crispier after being in the oven.
Instructions: preheat oven to 350 degrees Fahrenheit, get a baking sheet and prepare it with parchment paper, then move onto your batter.
In a large bowl, you'll want to combine cake mix with two eggs and oil and mix together until everything is well combined. Everything will be thick and sticky, but should be able to stay together and form small balls.
Once you're happy with the texture of the dough, fold in any mix-ins that you want – these could be semi-sweet chocolate chips, or peanut butter chips, whatever you think will make your cookies even better.
Using either your hands or a spoon, form small balls with the cookie dough and place them on the prepared baking sheet. If you have a cookie sheet, this will be even better to use.
Top tip: make sure the cookies are well spaced out because they will spread whilst baking.
Put your cookies in the oven for about 12 minutes or until they're a golden brown color and set. Let your cookies cool on the baking sheet for a few minutes before you transfer them to a wire rack in order to cool completely.
Once they're cool, you can move them to an airtight container and leave them in the fridge for up to a week before they're stale.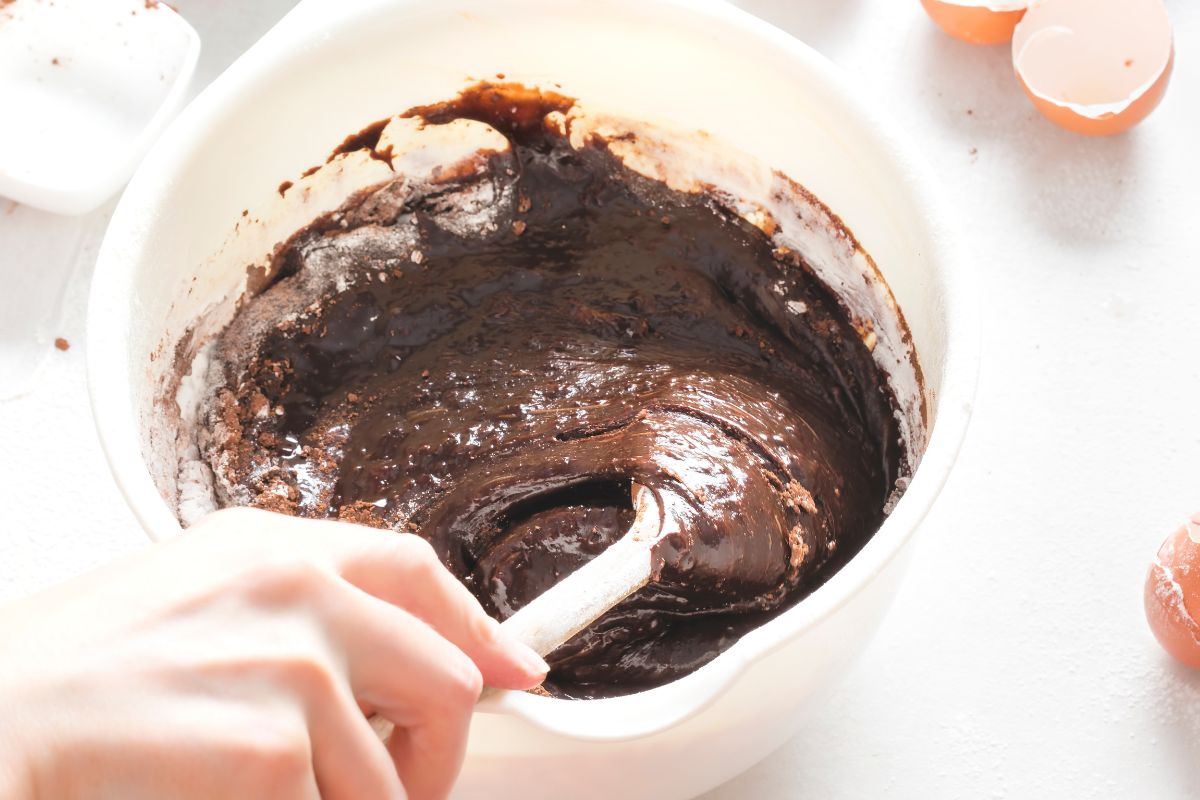 Can You Freeze Cookie Dough?
If you've managed to transform your cake mix into a cookie dough, but don't want to make a whole batch of cookies just yet, then transfer the dough into an airtight container or ziplock bag, and place in the freezer for up to 3 months.
Instant cookies whenever you want them, what's better than that?
What If Your Batter Is Too Thin?
If you're finding that your batter is far too thin and won't form cookie dough, then there are a few things that you can do.
Adding eggs and oil should help the batter thicken up, however, if it's not enough, try adding more flour, a tablespoon at a time, until you're happy with what you've made.
You should always be mixing your batter at a low to medium speed. This is so that you can incorporate more air into the dough without over mixing it. If the batter is overmixed, your cookies will be dense and hard to eat.
Personally, we like to use a stand mixer as this helps me control the speed with more ease, however it's not a necessity.
The Differences Between Cake and Cookies
There are a few things that are different between cake and cookies that will affect the way that they cook and how they turn out. Because of this, cake mix cookies will always taste a bit different to regular cookies – if you're wanting fluffy cookies, definitely make them with cake mix.
Liquid
The biggest difference is the amount of liquid used for these different recipes. Cake mix will always have more liquid in them, which is why we need to add eggs, oil, and flour to counteract this.
Leavening Agents
Another big difference between the two is the inclusion of a leavening agent that will help the cake batter to rise in the oven. These agents might be baking powder or baking soda, but these are ingredients that aren't often found in a cookie recipe.
This is because cookies typically don't need to rise as much as cakes, and they use air bubbles that are created during creaming to help them rise.
Ingredient Ratio
The general rule of thumb is that cake mix is two parts flour and liquid, one part eggs, sugar, and fats, with just a teaspoon of baking powder. On the other hand, cookie batter is typically three parts flour, two parts fat, and one part sugar.
Cookies are supposed to be much chewier than cakes, which is why the ratios are different.
Different Flavors
One of our favorite thing about cookies compared to cake mix is all of the flavor combinations you can experiment with. If you want to put chopped candy bars into your orange cake batter cookies you can. Softened cream cheese and macadamia nuts in a strawberry cake mix?
Or just chocolate chip cookies made out of a yellow cake mix if you want something simple. The possibilities are endless – it's great.
Final Thoughts
If you have leftover cake mix and don't know what to do with it, add some eggs, extra flour, oil and suddenly you have cookie dough – it's as simple as that.