Pumpkin pie is an American classic. They are most popular around Thanksgiving, with everyone making room for dessert after a big meal because these are just so good.
That doesn't mean that you can only have this dessert once a year though! If you love desserts, this is something that can be enjoyed year-round.
If you make your pumpkin pie, you may find it too much effort to keep making it throughout the year.
After all, you have to prepare all the ingredients, and then put it all into the oven for 2-5 hours depending on the recipe.
In summer, having the oven on for this long can make you feel even hotter, so you may avoid this dessert for months at a time.
If this is how you feel, then you will love this no-bake pumpkin pie recipe that we are about to show you.
Recipes that don't call for baking are the best thing that's ever been made, especially if you don't have a lot of time to spend in the kitchen.
Pumpkin may be a flavor that you never knew that you liked until later in life. It seems that there has been a pumpkin boom recently.
Coffee shops now do seasonal pumpkin drinks, and cafes often do their unique pumpkin cakes and pies in the fall.
If you want to experience this flavor all year round, then you should try out our No-Bake Pumpkin Pie!
This recipe takes just 10 minutes and is not only straightforward and speedy to make, but it also does not require baking!
This is very simply a pumpkin pie prepared with canned pumpkin, cinnamon, cream cheese, and other great autumn flavors, layered in a graham cracker crust and topped with whipped cream.
This unique variation on the traditional pumpkin pie doesn't require any baking at all and offers a fun twist on the flavor profile. Keep reading to find out how to make this delicious dessert!
How To Make No Bake Pumpkin Pie
As you will see below, this recipe calls for 2 pie crusts, because this recipe makes 2 pies.
While this may be great for a large family gathering or event, or for if you want to give a gift to the neighbors if it is too much then simply half the recipe.
Ingredients
Canned pumpkin – 2 cups
Pre-made Graham cracker crust – 2 crusts at 9 inches each
Sugar – 1/2 cup
Milk – 1 cup
Softened cream cheese – 8 ounces 
Instant vanilla pudding – 1 box (3.4 ounces)
Cool whip/whipped cream – 2 containers of 8 ounces
Nutmeg – 1 teaspoon 
Cinnamon – 1 tablespoon
Pumpkin pie spice – 2 teaspoons
The Method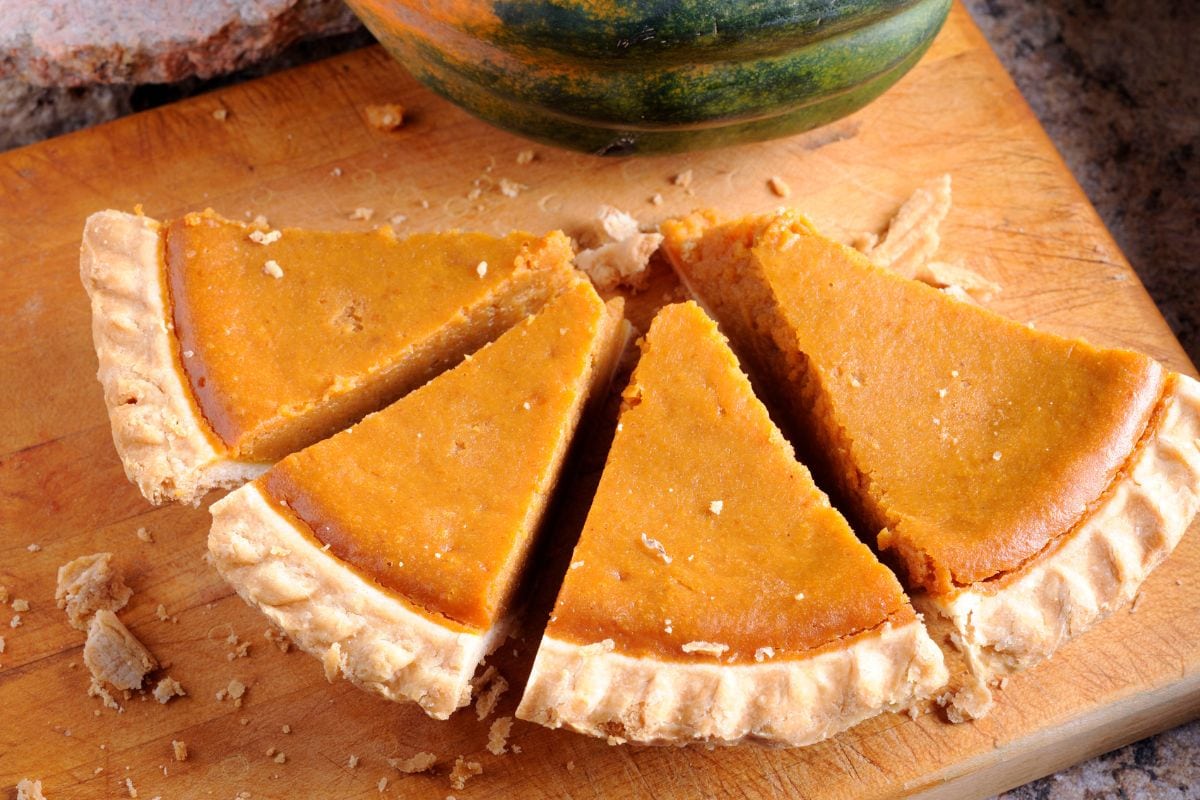 This no-bake pumpkin pie recipe can be made in just 10 minutes! Find out how below:
Prepare your graham cracker crusts to be ready for the cream cheese filling by putting them into a pie dish.
Place cream cheese, sugar, and one 8-ounce box of Cool Whip in a large mixing bowl. This will be the bottom layer of the cheesecake. To properly blend the ingredients until they are smooth, you may use either a hand mixer or a stand mixer.
Distribute this layer in an even way across all of your previously prepared crusts.
In a separate bowl, stir together the pudding mix and the milk. Keep doing so until the mixture begins to thicken.
In the dish containing the pudding and milk mixture, mix two cups of canned pumpkin, , nutmeg, pumpkin pie spice, and cinnamon. Stir until completely blended.
Spread the pudding and pumpkin mixture over the cream cheese layer.
Take the second container of Cool Whip (each having 8 ounces) and spread it out equally for the top layer of the pies.
Sprinkle some of the spices on top for added flavor and then put the pies into the fridge.
Make sure the pumpkin pie has been in the refrigerator for at least an hour before you want to serve it to ensure that the filling has had sufficient time to be completely set.
And just like that, your no-bake pumpkin pie will be ready to enjoy! The best way to serve this is with a delicious pumpkin latte and with ice cream or whipped cream on the side.
Storage
As this recipe makes 2 pies, you will probably have some left over. Luckily, this pie can be stored in the fridge for 2 days as long as it is covered.
For added convenience, it's possible to prepare this pie a day in advance of a big event, however, it is recommended that you hold off on topping it with whipped cream until just before you want to serve it.
Top Tips
Here are a few tips to try out to get your pumpkin pie perfect every time.
When you go to the grocery store, you need to be sure that you get pure pumpkin purée rather than pumpkin pie filling that is sold in a can. While they may seem similar, pumpkin pie filling is for baked pumpkin pies.
For the cream cheese to incorporate properly into the mixture you are making without causing lumps to form, it must be at room temperature first.
Add a little something more to the flavor by sprinkling pumpkin pie spice on top of the Cool Whip. This will give it a nice finishing touch.
You must not skip the step of chilling the pie since the filling needs time to set, despite how tough it may be for you to wait!
Summary
This no-bake pumpkin pie recipe is by far the easiest one you'll discover, and it's a delightful twist on the classic version of pumpkin pie.
Because it includes a crust made of crunchy crackers, a filling made of pumpkin, and a layer of cream on top, it will be an outstanding choice to prepare on Thanksgiving or any other day where you want a quick and delicious treat.