Pies are incredibly versatile dishes, being filled with pretty much any kind of ingredient that you desire.
Do you want a sweet and sugar-filled apple pie, topped with whipped cream? You can have apple pie! Want something a little more savory? Add some potatoes and meat to mix, and turn that savory pie! Want to fill it with sweet and creamy ice cream? Consider it done!
However, one of the most underrated parts of making a good pie crust is what shape it is going to be in. Not only are we going to show you the different shapes you can make with your pie crust, but we're going to show you how you can bake a square pie for yourself!
Do Pies Need To Be Round?
You'll be surprised just how many people don't realize that pies can come in different shapes!
Many people often accept that, because so many pies are round pies, there just aren't any other shapes that you can get out of them. However, that is not the case!
Why Are Most Pie Crusts Round?
Whilst they are by no means the only way for pie crusts to be made, there are a few reasons why round pie crust is the most common type of pie that you'll usually see.
For one thing, round pie crust is significantly easier to make. All you need to do is cut a round pie crust shape in a piece of pie dough and making it fit a pie pan or cake pan is very simple, with very little work needed to accommodate any awkward corners.
Plus, cutting into a pie crust and dividing it into sections is much easier with a round pie pan than it is with a square pie crust. Everyone gets an even amount of crust and filling, and is also usually a lot less messy, too!
Can Pies Be Square-Shaped?
Yes, pies can come in squares, and they can be surprisingly easy to make. However, there is more than one way to make a square pie, and there are quite a few different recognized square pies out there.
Slab Pies
These particular square pies, sometimes known as slab pies, are probably some of the thinnest pie crusts out there that you can bake.
This is due to the pie being baked on a square pan, making for pies that are both large, and yet still surprisingly light and easy to transport. Of course, this is a double-edged sword for some, as there is usually less filling in these types of pies.
However, the overall baking time for a sheet pan pie is also on the shorter side, making them very popular for some people who are in a hurry to make their slab pies.
Square Pie
This is the kind of pie crust that most people are likely thinking of when it comes to square pies. While you can get a crisp dough with pretty much any kind of pie you are making, the top crust, the side crust, and the bottom crust edges in a true square pie are something else.
Plus, you get tons of extra filling out of these pies, making them very popular dishes for recipes such as apple pie.
The only thing that makes them tricky to make is their long overall cooking time, which is noticeably longer than their slab pie counterpart.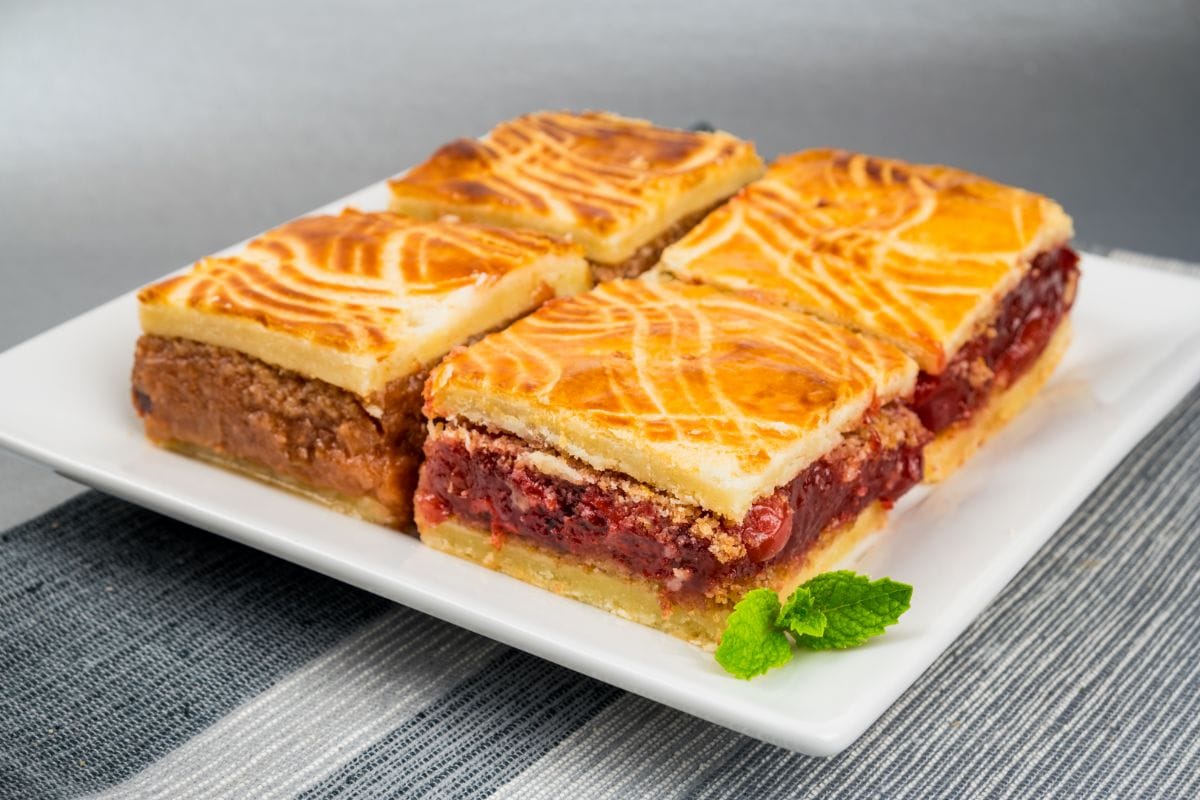 How To Make A Square Pie
So, by now you are probably wondering how you can make one of these square pies for yourself. Fortunately, we have a guide to that little step for you here too!
Ingredients Needed
You'll need the following items to make your square pie crusts:
1 Cup of all-purpose flour (most flour aside from self-raising will do)
Half a teaspoon of salt.
2 Tablespoons of either margarine or Butter (diced into cubes)
Cold water
You'll also need a square pan, either:
1 square pan (for slab pie recipe)
Or
1 deep square pie pan (for square pie recipe)
Making Pie Dough
Preparations
First, you should make sure that your oven has been preheated to around 375 degrees Fahrenheit. You may also want to prepare your lightly floured surface area in advance.
Mixing The Dough
As the oven heats up, you can then start to whisk your purpose flour and salt together in a medium bowl or large bowl.
From here, you can add cold water slowly to the mix until you get the right consistency. Add a little more cold water if it's too floury.
Then you can add the butter or margarine cube to the mix until the batter you start to make starts to thicken into more coarse crumbs.
Rolling Out The Dough
Once the pie crust dough starts to look like this coarse crumb texture, it should be able to be removed from the bowl as a bowl with very little sticking or crumbling off of it.
With the pie dough in a ball, you can start to flatten it out with a rolling pin on a lightly floured surface. Start to flatten your dough out until it is your desired thickness.
Make sure that the pie dough is rolled out to a diameter at least one inch larger than your pan of choice, then cut off any remaining dough (a pastry cutter may be helpful here) From here, the steps are pretty easy to follow and will depend on whatever type of pie you are making.
Making A Square Slab Pie
Make sure that there is a sheet of parchment paper on your baking sheet before placing your pie crust dough down.
(If you want, you can use large heavy flat objects as pie weights to get your pie dough into every corner) Lay out your filling, and lay the top crust over it, before putting it in the freezer.
Making A Square Pie
This method is very similar to the previous slab pie, only here, you will be filling a much deeper pan with your crust.
What Kind Of Pan Can I Use If I Do Not Have A Pie Pan?
Sometimes, despite how prepared you think you are, you may find that when it comes time to bake, you end up forgetting to have a pie pan.
What do you do in these situations? Well, casserole pans are great for getting that classic deep square pie that you love.
If you're making a slab pie, a tart baking sheet pan will also work nicely as a good substitute.
Final Thoughts
Hopefully, you have found this guide helpful!