If you love a bit of fruit in your baked items, then this article will be right up your street. Almond and raspberry are a proven winning combination, and especially so in baking.
Raspberries on their own are packed with potassium which is essential for healthy heart function and are a source of omega-3 fatty acids, without, of course, being fattening themselves.
They are a relatively low-carb fruit, so are a favorite with many a health fanatic, too.
What about almonds? What are they good for? One of the world's most popular tree nuts, almonds are rich in healthy fats and are actually very nutritious.
They contain a large amount of protein and fiber in just a small portion, too.
Most importantly, though, they are absolutely delicious. While a piece of cake is not always a healthy eating choice, we can surely kid ourselves that eating cake is a little better for us with these two healthy foods inside, right? Grab your loaf pan, it's time to make the cake of dreams.
Of course, the best thing about loaf cakes is that they are so quick and easy to make, which is a very good thing seeing as they no sooner arrive at the countertop than they disappear again. Where do they go? It's a real mystery. Anyway, here you are, ten of the best raspberry and almond loaf cake recipes.
This recipe uses a 2lb loaf tin and uses fresh orange zest and juice to give it some added zing, making it a little taste of summer. Except for a dash of almond extract, the only almonds in the cake are sprinkled on top, so make sure you've got some slivered almonds for this cake.
Serves: 8 people
Prep time: 15 Minutes
Cooking time: 45 minutes
Who turns down a bit of white chocolate? Doesn't it make everything just a little better? It certainly has a positive effect on this loaf cake. What could be more luxurious than a handful of white chocolate chunks in your raspberry and almond cake?
This recipe says it serves twelve, but we're not sure that we could find the strength to share this fabulous cake with anyone else.
This recipe calls for one teaspoon of almond extract as well as ground almonds to achieve that satisfyingly nutty flavor.
Serves: 12 people
Prep time: 10 minutes
Cook time: 45 minutes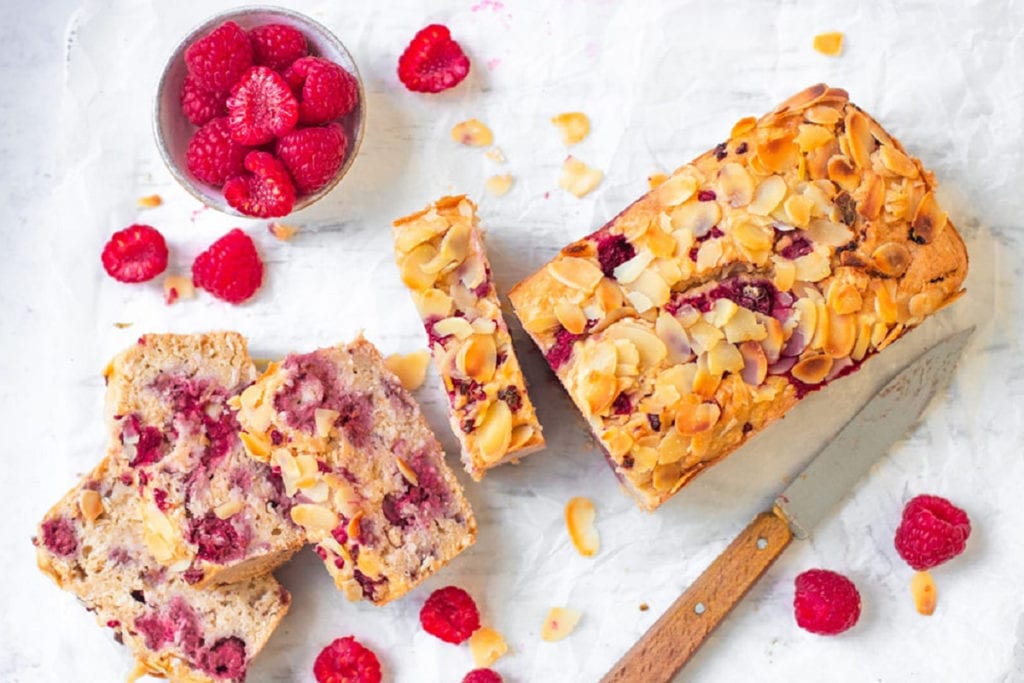 If you're trying to cut down on sugar, but not necessarily on sweet treats, then this raspberry and almond loaf cake from the fertility kitchen will be just the thing for a mid-afternoon pick-me-up. You don't have to be trying to conceive to enjoy this guilt-free desert.
This recipe uses ground almonds and gluten-free oat flour (blended oats) to make this cake dairy and gluten-free (just make sure to use gluten-free baking powder), as well as being low in processed sugar. It uses frozen raspberries for the decorations, so it can be made any time of the year.
Serves: 8 – 10 people.
Prep time: 10 minutes
Cook time: 35 minutes
And another entry with white chocolate! That's excellent news because we ought to try them all, really. This recipe claims that it can be a sweet breakfast treat. Is cake for breakfast acceptable now? Since when? It doesn't matter, we're in.
Now they mention it, I suppose we do traditionally eat eggs for breakfast and cake contains eggs, so it actually makes total sense.
The ingredients list is a more simplified version of other similar recipes, but if it makes it easier, then great – especially when everything is basically chucked into a large bowl and mixed together.
A lot of these recipes have some kind of citrus twist, which is great for keeping the flavor light. The cooking time for this one is a little longer than average, but we're sure it's just as tasty. A little sprinkle of icing sugar rounds the cake off perfectly.
Serves: 10 – 12 people
Prep time: 20 minutes
Cook time: 1 hour – 1 hour 10 minutes.
The Cherry Bakewell Tart is a traditional English treat that involves the combination of almond essence and cherry flavors cased in a shortcrust pastry cup. We're interested to see how they have taken the concept and adapted it into a loaf cake.
According to the author, the "fresh raspberry Bakewell cake has a hidden jam center and is bursting with fresh raspberries." Well, that sort of explains it.
They're going for raspberry jam instead of cherry and fresh raspberries instead of a cherry on the top. It sounds great, and we like the little icing sugar glaze on the top. Not too much, but just enough.
Just keep in mind that this recipe calls for fresh fruit, meaning it only lasts 3 days in a container – eat up!
Serves: 8 – 12 people
Prep time: 10 minutes
Cook time: 45 minutes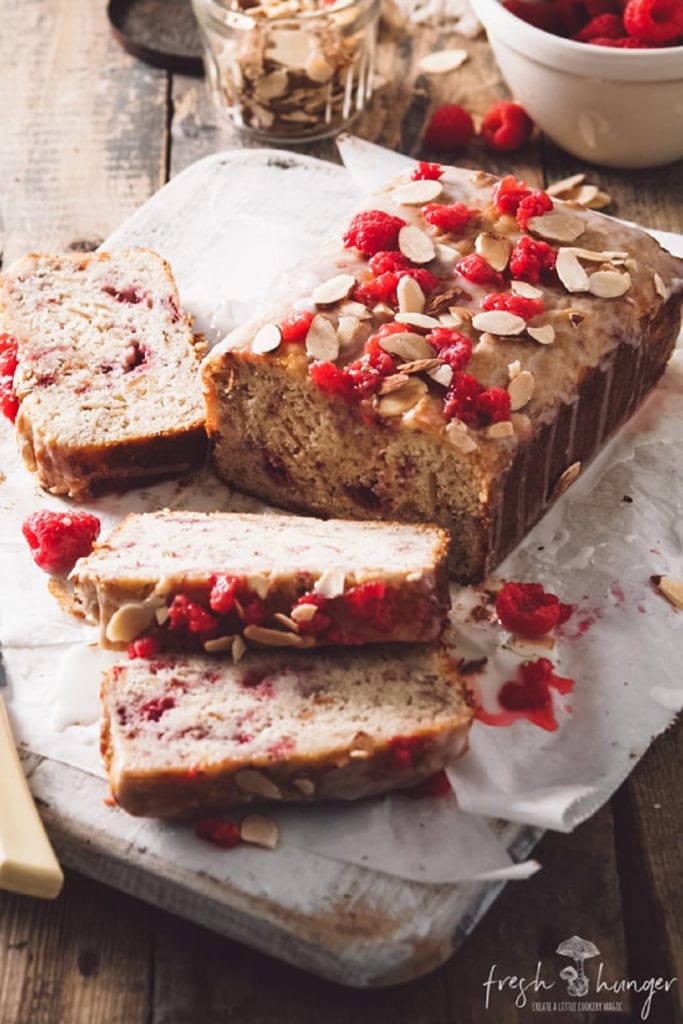 Bursting with citrus and tastes of summer, this loaf cake is a slice of sunshine. If you love a lemon drizzle cake, then this will knock your socks off. Raspberry and lemon are such summery flavors, but the drizzle will make sure this cake isn't dry like Arizona heat in August.
You can use fresh or frozen raspberries for this recipe, which is helpful if you're cooking it out of season. There is the option of whipping some cream to serve it with, but we're certain this cake can speak for itself on the plate. Just make sure to allow the cake to cool completely before adding the lemon drizzle.
Serves: 8 people
Prep time: 15 minutes
Cook time: 1 hour 10 minutes
This gluten-free loaf cake is a simple version for anyone with an intolerance to gluten. Keeping the theme with the raspberries and almonds, this cake is also a little coconutty. Again, make sure the baking powder is gluten-free, too.
The almond content of this cake will be pretty high because ground almond meal is a substitute for flour in many gluten-free baking recipes.
They have chosen to also use gluten-free flour in this one. The recipe also suggests optional spreadable butter to serve. Why not just slice it thinly and toast it? Then we really can have it for breakfast – especially if you have any remaining batter afterwards.
Serves: 8 people
Prep time: 15 minutes
Cook time: 1 hour
This is clearly cake but is labeled as bread. We guess it's because it is quick and is cooked in a loaf tin. That's a good enough excuse to use it for sandwiches, right?
Maybe not. This recipe claims that the almond, despite being in the cake in two ways, takes a back seat to the raspberry flavor.
If you really like almond flavor in your baking, though, just add a whole teaspoon of the almond extract instead of the recommended half, or add some ground almonds to the recipe. If you choose to add ground almonds, you may need to use less plain flour in the recipe, so be mindful of making the correct adjustments.
You can even add a splash of vanilla extract if you're feeling particularly brave.
Serves: 8 – 10 people
Prep time: 15 – 20 minutes
Cook time: 55 – 60 minutes.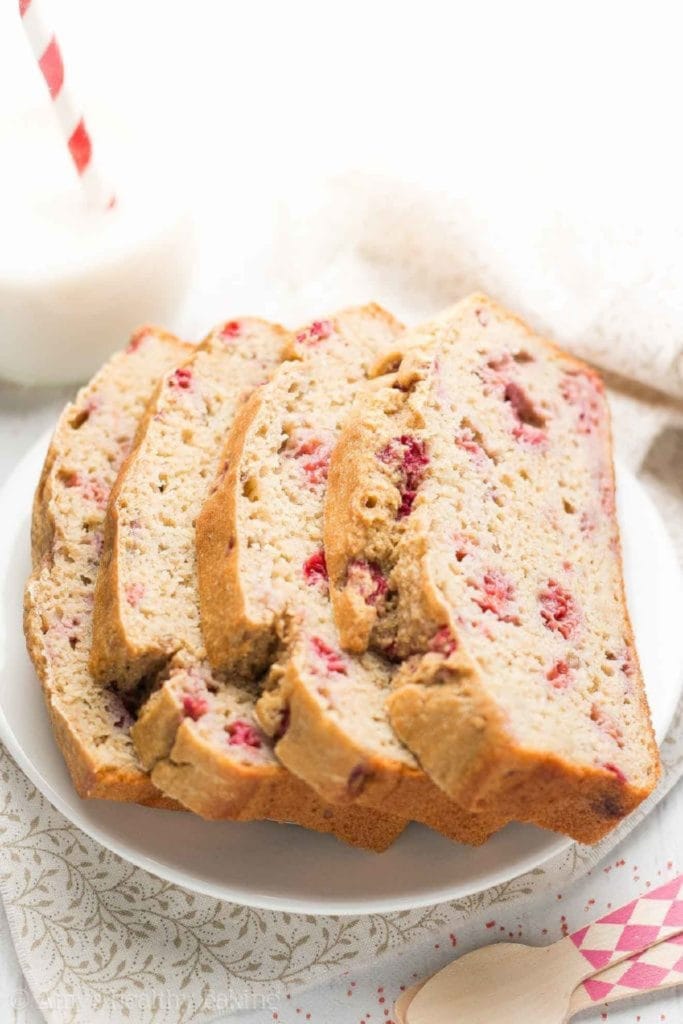 We're really hoping that the word 'healthy' in the web address and the title will mean that we don't put on a pound every time we nibble this pound cake.
The creator claims that their cake batter contains no refined flour or sugar and that each portion is only 126 calories. That's math we can get behind.
We have used Greek yogurt in cake recipes before, and it often does make the cake come out moist and gooey in the best way, so this is promising.
Replacing the usual mountain of butter and several eggs, this recipe uses just one tablespoon of butter and 3 egg whites. Cooking with Greek yogurt can be healthier because it adds the same moisture factors into the recipe that cooing with lots of oil or butter would, but without the hefty calories attached. Hallelujah!
Serves: 12 people
Prep time: 15 – 20 minutes
Cook time: 50 – 60 minutes
We do love a decadent touch of icing on a loaf cake. Fruity, berry-inspired cakes are too much like a summer treat to warrant heavy frosting, but a little thin drizzle of icing is just right.
This recipe is another Bakewell creation with raspberries instead of other usual fruits. Bakewell loaf cakes are pretty much cake with jam baked in the middle, but it does work. There's nothing like a desert with a gooey center, is there?
The serving suggestions for this recipe involve decorating the top with some flaked almonds and glacé cherries. That will confuse whoever you serve it to. It looks like a cherry Bakewell cake, it's called a Bakewell cake, but it's actually raspberry, not cherries inside.
At least they're relatively similar in their flavor profiles, so it's not such a shock when you bite into a slice.
Serves: 8 people
Prep time: 15 minutes
Cook time: 1 hour
So, there you have it. Ten of the best raspberry and almond loaf cakes the internet can provide. Also, featuring star performances from coconut, lemon, orange juice, and Greek yogurt. Hopefully, you will have loads of fun choosing which one (or which five) to try at home. Bon baking, everyone!