Christmas is the most wonderful time of the year – and the most perfect time for baking! What better than to treat your friends and family to your handmade baked treats this Christmas.
Christmas is for sharing and giving, and nothing has more love in it than a home-baked Christmas cake.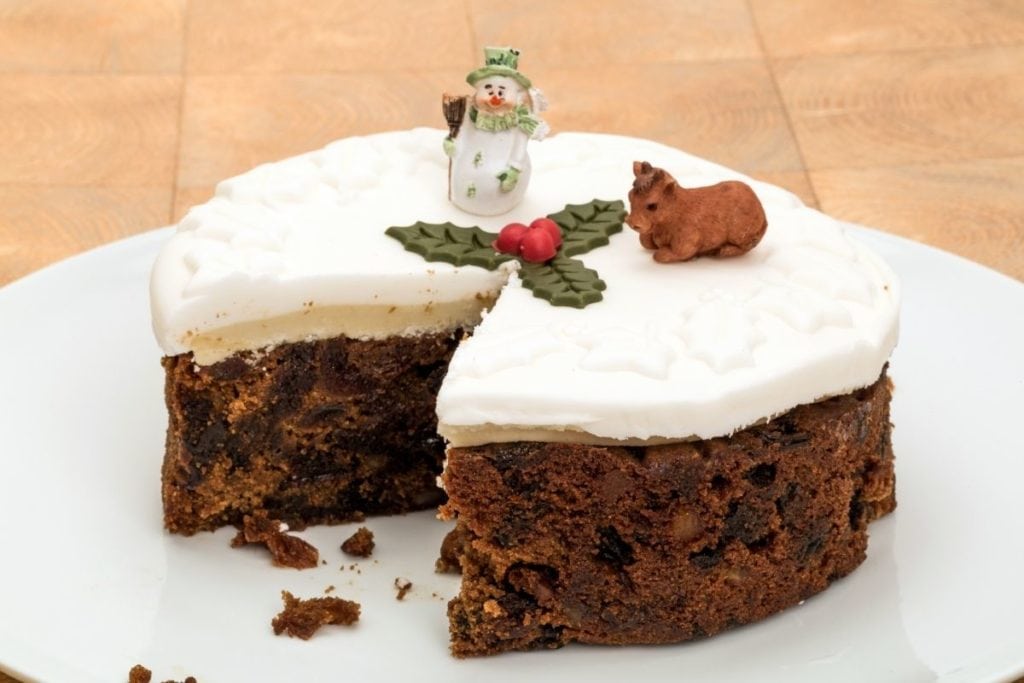 You can make a Christmas cake that is suitable for anyone – from kids to colleagues to friends and family! So, get out your apron and mixing bowl, and turn up those Christmas tunes, let's make some delicious Christmas treats!
It's Christmas time, which means it is family time! If you are looking for a fun way to spend more time with your children this year, then baking is a great way to start.
It's fun for everyone involved and everyone gets to join in. This layered Christmas cake is a classic sponge cake batter with a slight chocolatey twist.
The real fun in this Christmas cake is the decorating. Not only will you have a fun time mixing the icing, but decorating the cake itself! Ensure the cake has time to cool completely before decorating.
With Christmas-colored jelly sweets and candy canes, creating a Christmas Wonderland has never been easier or more fun. Plus – it's a winter wonderland which means it is very open to interpretation and a kid's messy imagination.
Difficulty: Easy – suitable for children.
There's not much better than a classic yule log over the Christmas holidays – but why not upgrade it? Add winter spices and alcohol to your regular Christmas yule log to give it a bit of a twist.
This indulgent yule log is only for grown-ups and is a great way to inject more Christmassy flavors into the cake. You can even make this an alcohol free cake by replacing the brandy with apple juice or orange juice.
For an alternate Christmas cake this year, try this spiced walnut recipe. Everyone knows that Christmas is a time for spices and nuts so what's better than this Christmas cake? This tender cake tastes delicious with a topping of pomegranate molasses.
Bring something a bit different to your average fruit cake this Christmas. It is always fun to have something a little different from the traditional desserts and this cake is exactly that. Spice up your Christmas table with this spiced walnut cake.
This Christmas cake is sure to stand out from any other! Kids can help decorate this cake to make it snowy and wintery with coconut snowballs and flakes. This cake is not only lovely and festive to look at, but also super delicious as well – with a unique texture that only coconut can give.
This is a particularly moist cake, so much sure to use parchment paper to help you remove it from the cake pan.
Sometimes there is nothing better than a classic Christmas light fruit cake, marzipan, and all. This recipe is the perfect fruit cake for those of you who value tradition over the holidays.
No Christmas would be complete without one of these cakes – they are super festive and taste of pure Christmas. This Christmas cake is even more fun because of the little iced holly decorations!
You don't need to be a professional cake artist to decorate this cake! The design is simple, and I'm sure you could find ready-made holly decorations if you didn't want to attempt to make them yourself. Plus, a sprinkle of orange zest ties in the fruity flavors beautifully.
Another fun recipe to make with kids this Christmas. Sometimes it is more fun and let's be honest, easier to make cupcakes when you are baking with children. Spend some quality time over the holidays with your little ones making these Santa and elf cupcakes.
Plus, the inclusion of orange zest (or even a splash of fresh orange juice) adds a citrusy flavor.
They are super cute and festive, and easy to make. Kids will have bundles of fun decorating the cupcakes and you could even leave a couple out as a treat for Santa! With a printout stencil included with the recipe, these are simple, fun, and creative cupcakes.
Difficulty: Easy – suitable for children.
It can become rather boring to have the same old Christmas fruit cake year after year. So this Christmas, why not try something a little different?
Why not put a twist on the classic fruit cake and instead make a modern salted caramel Christmas cake? With toffee pieces and chopped dates on the inside, you get all the texture and goodness you usually would with a fruit cake but this time, your taste buds are treated to sweeter, more fun flavors. Unlike most other Christmas cake recipes, this Christmas cake uses brown sugar.
Salted caramel is a super popular flavor currently, so why don't you treat your guests with a Christmas cake to remember?
Caramel is a modern flavor so why not put a modern twist to a classic yule log, and add smooth caramel flavoring rather than your expected chocolate. This recipe is gluten-free but just as tasty as any other recipe! The addition of caramel adds a warm hint of winter flavor into the yule log. Give a little extra with your yule log this Christmas – your guests are sure to love it.
Instead of a standard fruitcake, why not try sponge this holiday season? Let's be honest, classic Christmas fruit cakes just aren't for everyone – especially for those fussy kids. So why not try a cranberry Christmas cake with a twist!
Nothing tastes like Christmas more than a yummy mix of orange and cranberry cake batter, paired with white chocolate to sweeten the tart cranberries. If you want to try something a little different this year, this cake is the one for you. This white chocolate cake is an absolute crowd-pleaser for the whole family! And you can decorate however you like, simply or over the top. Even better, this cake is suitable for vegetarians!
There is always going to be at least one fussy person who isn't going to want a fruit cake for dessert – so, how about making them this delicious chocolate treat instead?
A twist on the classic Christmas pudding, this recipe uses chocolate and cherries instead for those with a sweeter tooth. The pudding is served with a rich silky dark chocolate and brandy sauce, to keep it moist and mouth-watering. Cherry complements the taste of chocolate better than anything, so give this recipe a try for all those chocolate lovers in your life this Christmas.
One of the most festive flavors there is, is gingerbread! But perhaps you don't want to make a gingerbread biscuit house this year – let's be honest they are much more hassle than they are worth sometimes.
Why not try making a gingerbread-flavored sponge cake this year instead? And top it off with caramel biscuit icing – yummy! The key is to separate the wet ingredients from the flour mixture to get the right consistency.
No hassle trying to decorate this gingerbread, this cake is super easy to whip up and serve. Get festive with your flavors, twist the classic gingerbread house into this beautiful and tasty ginger dessert that the whole family is sure to enjoy!
One of the best things about this chocolate, orange, and hazelnut Christmas cake is that the ingredients can be substituted to make it dairy-free for anyone of your friends or family with dietary requirements this Christmas!
Say goodbye to the classic and boring fruitcakes and ginger spices, this mouth-watering chocolate cake is a fabulous Christmas cake to create this season.
We all know a chocolate lover that will adore the festive twist on this chocolate Christmas cake. The orange and hazelnut warms the mouth and perfectly complements the chocolate flavoring of the cake.
Usually, when it comes to making a stollen bundt Christmas cake, it takes more than just one day to mature. But – worry not! With this marzipan bundt Christmas cake recipe, it is only going to take you a day to whip up! And, it is super easy!
So, if you have forgotten to make your Christmas cake and you are looking for a last-minute recipe – this is the one for you to try. With winter spices and festive flavors, this cake is filled with dried fruit and the twist – the marzipan is a surprise in the middle.
What a fun and easy treat to share with your friends and family this Christmas. It is a simple cake that is guaranteed to impress your guests.
Perhaps you are not looking to make a sponge cake this Christmas. Well, that is no problem because here we have a recipe for a chocolate orange cheesecake!
Christmas is all about indulging and there is nothing more indulgent than this cheesecake. Sometimes you just need a break from sponges and puddings and this is the perfect dessert for that. Everyone loves a cheesecake, and this is no ordinary cheesecake. With a chocolate and orange twist, the cheesecake is full of festive flavors that will bring a smile to your face this Christmas time.
If you are looking to impress this Christmas, there is nothing like this chocolate and peppermint shooting star cake to blow the socks off of your guests!
The show-stopping cake, although a challenge to create, will no doubt be the talk of conversation at any Christmas party you bring it to.
With a star design inside the cake, and a distinct chocolate and peppermint taste, there is nothing more fun and festive this season.
And not only does it look spectacular – it tastes divine too! It will be impressive to adults and fun for kids, a perfect festive treat for those of you who want to show off your baking skills.
Conclusion
We hope that with this list of Christmas cakes, you can find the perfect one for you to bake over the holidays.
Christmas doesn't just need to be traditional – why don't you try out some of the cakes with a twist from this list?
With these Christmas cakes, there is no doubt that you and your family and friends will have a very merry Christmas indeed!