June is the month when summer truly starts. It's a time of bright sunshine, tropical fruits, afternoon tea, and good times with friends and family over delicious food.
It's also a wonderful time to do some baking. There are so many deliciously summery options when it comes to baking cakes for an afternoon tea party. An afternoon tea party is more than just finger sandwiches, after all.
We've selected 15 wonderful recipes here to help usher in the summer season when June hits. Some are straightforward, some are more complex, but all will make you feel the joy of summer with every bite.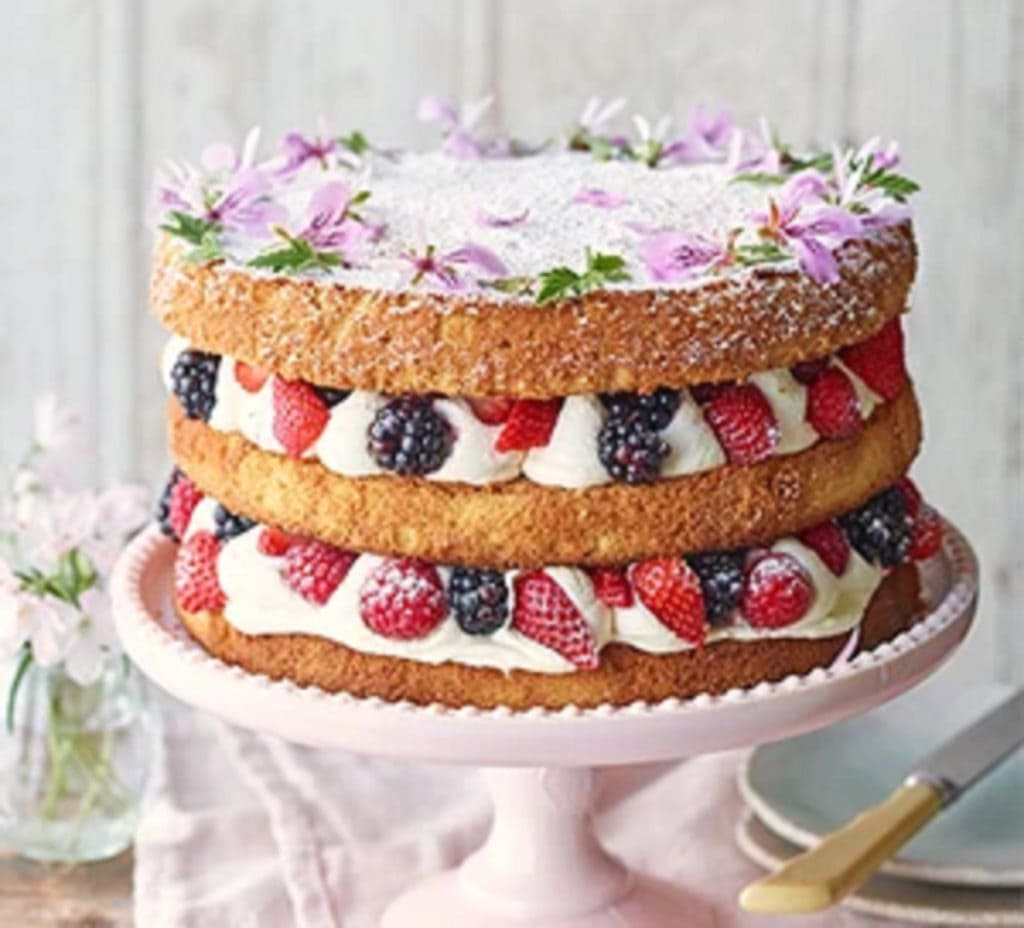 This one is one of the more complex entries on the list, but it's so worth it. However, the only unusual ingredient here is the rose geranium. To make it, you'll need rose geranium water, but you can substitute it for rose water if rose geranium water's too hard to get hold of.
The recipe also calls for rose geranium flowers as part of the decoration but you can replace them with any edible flowers. Alternatively, you can just leave them out, as long as you don't mind the cake looking slightly less fancy.
The finished cake is one of the most fresh and delicious foods to have at an afternoon tea party, and will be sure to impress your afternoon tea guests if you're throwing a party.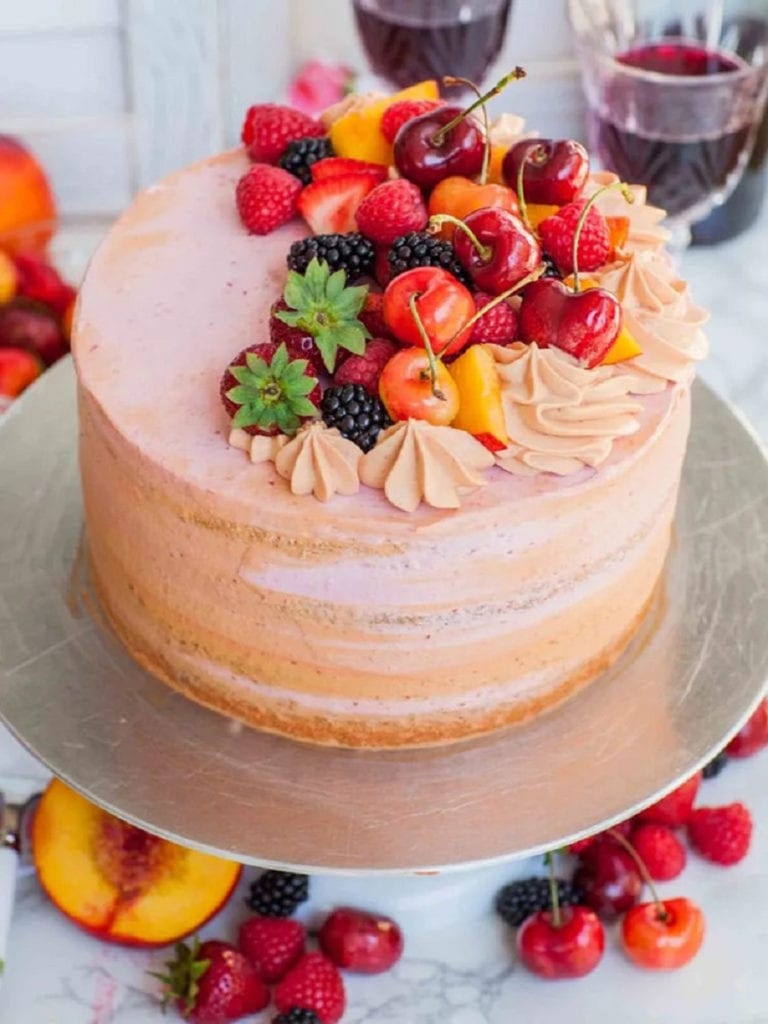 Sangria is one of the best drinks for a summer picnic, or an evening spent eating outdoors in the warm summer air.
The combination of red wine and bright fruits just screams summer. So really, who wouldn't want all that put into a cake? This one is a fluffy sponge cake with plenty of fruit and little chocolate, whipped cream, and, of course, sangria. Make sure you buy enough sangria so that you can drink some with the cake!
This cake is best served on a cake stand filled with fresh fruits and sweet treats.
The Caribbean seems like an almost mythical land where it's always summer, and the pace of life is relaxed and happy. If you want to capture a little bit of that spirit in your summer baking, then try this delicious Caribbean coconut rum cake. This is one of the most fun afternoon tea recipes to make. Naturally, it includes coconut and rum as part of the recipe, and the two flavors go together perfectly.
The rum flavor can be quite strong, so you can add less than the recipe calls for if you prefer. Either way, if you can leave it to sit for a day or two before you eat it, the flavors will develop and become even better.
Aperol Spritz is another afternoon tea classic drink that also shines when put into a cake. The cake is bursting with orange, both in terms of flavor and color, and is almost as much of a joy to look at as it is to eat. The orange slides sitting in the drizzle as decoration top it off. It also has the advantage of being very simple to make, so you can whip one up in a short time for dinner or a party.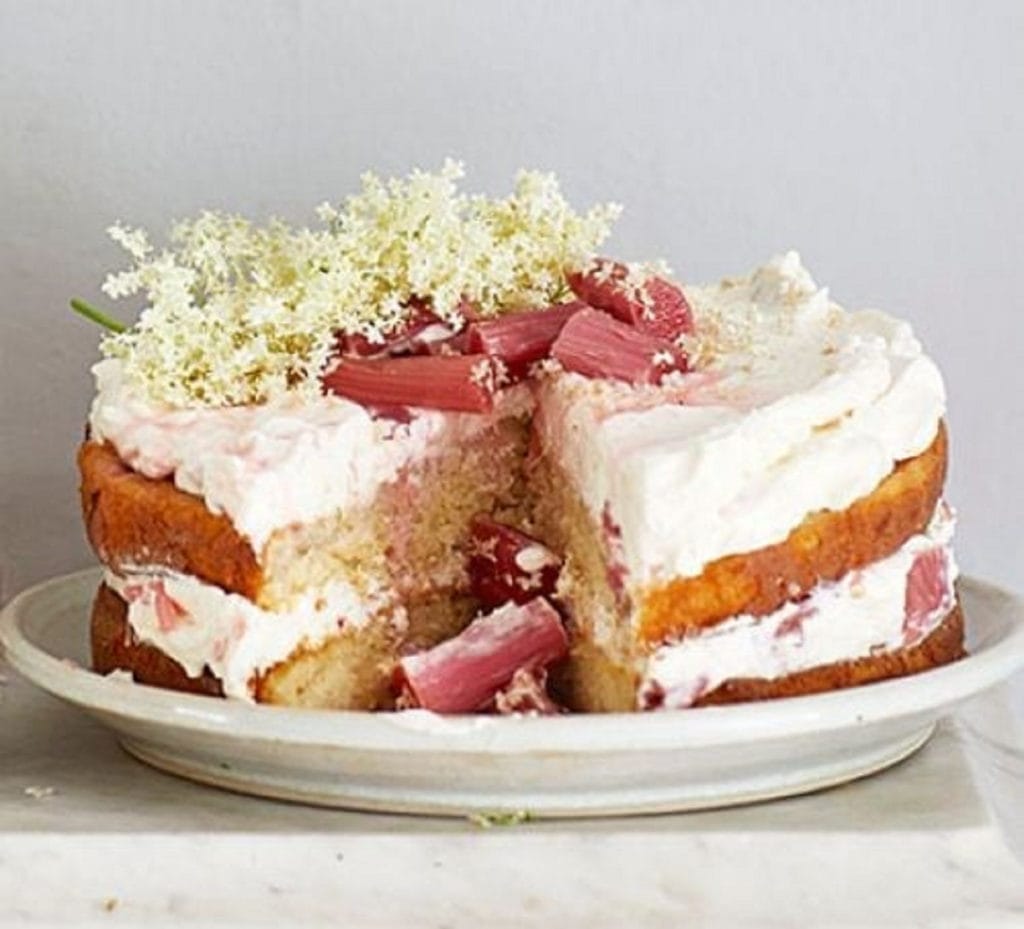 This cake combines the delightfully tart flavor of rhubarb and the sophisticated sweetness of elderflower cordial in a wonderfully refined tasting cake – perfect for a summer afternoon tea. It's especially nice as these two flavors aren't so commonly seen in cakes, so if you bring this to a party, you might be introducing your guests to something exciting and new.
The recipe also features almonds in the mix to add a subtle nuttiness to the final product, but you can sub them out if you don't like or are allergic to nuts.
This one doesn't even require any baking! The mixture of cream, cheese, sugar, strawberries, cookies, vanilla, and butter combined wonderfully to create a no-bake cake. Top it liberally with strawberries and strawberry sauce to complete it.
One of the great things about this is that it can be made so quickly. Just give it some time to set and you'll be done, ready to enjoy the perfect teatime treat to an al fresco dinner.
The zesty lime flavor and cool mint of this simple loaf cake are seriously summery, and the chocolate is sure to make this cake a huge crowd pleaser. It's easy to add extra flavors to loaf cakes as you please.
You might want to replace the lime with lemon, for example, or mix them together. Homemade lemon curd is a beautiful addition to this recipe, as well as a crunchy lemon glaze. Or maybe you'd rather have dark chocolate. All of this can be done easily, and all will taste great!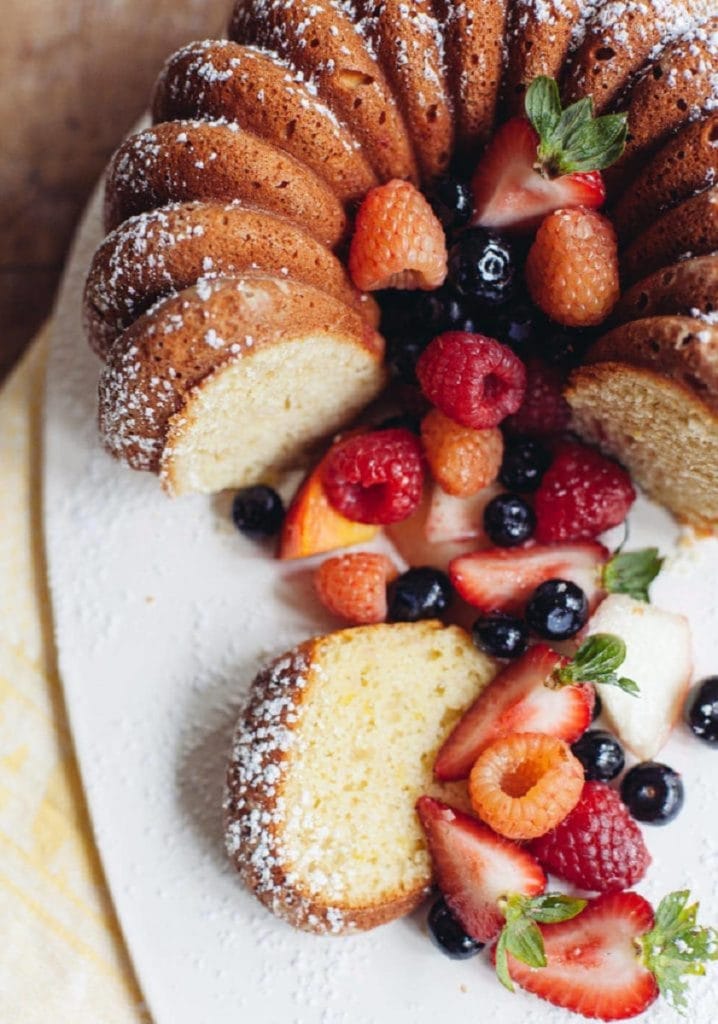 This is a delightfully rustic Italian ring cake loaded with fruit. It's a summer favorite in Tuscany and once you'll eat it, you won't have any doubt about why. You can serve it with whatever fruits you like best, but of course, summer fruits go the most naturally. Berries, plums, and peaches are great.
Finish it off with a dusting of powdered sugar and get eating! This cake goes beautifully with a dollop of clotted cream.
This is a bit of an unusual one, but what else would you expect from the eccentric Brits? Courgette is also known as zucchini in the US and if you're wondering why anyone would think to put that in a cake, then you're probably not alone. However, the combination of zucchini and crystallized thyme makes a wonderfully refreshing alternative to summer fruits.
Great though they are, variety is the spice of life, right? Your guests probably won't have tasted anything like it before, but they'll definitely like it!
Here's another sumptuous cake based on a well-loved summer cocktail, the mojito. You probably know that mojitos combine a hit of rum with a refreshing mixture of soda water, lime, and mint.
Lovers of this combination will be delighted to know that it exists in cake form too. It's topped with a glorious buttercream infused with lime zest, so lime runs throughout the whole cake. Decorate it with lime wedges and mint leaves and it'll look incredible.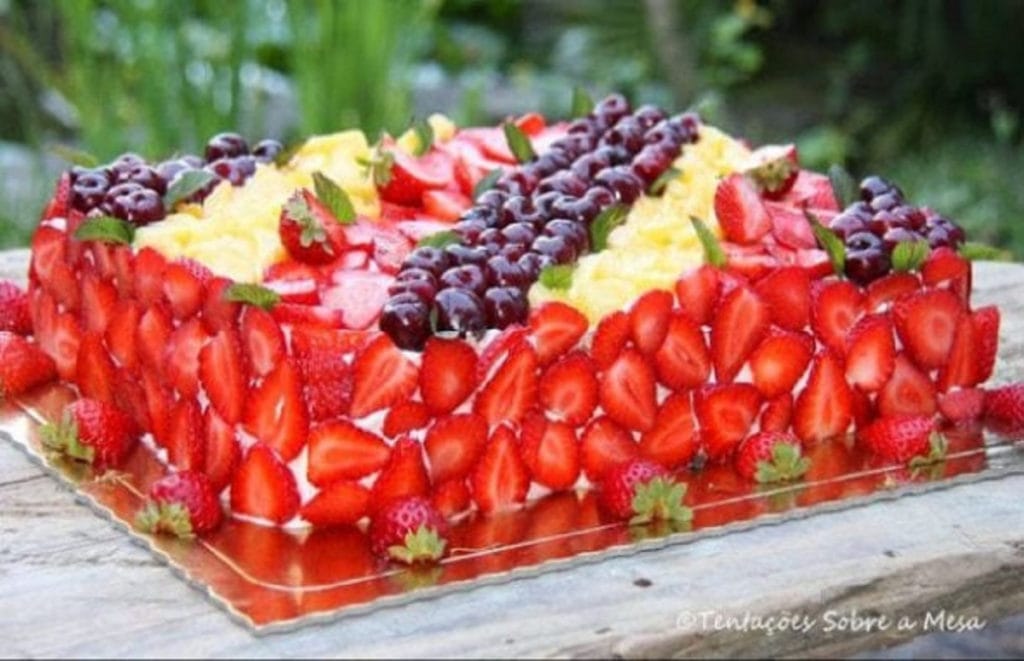 Source: Portuguese Recipes
This cake is incredibly colorful, even by the bright standards of summer cakes in general, and is an absolute must for fruit lovers. Between the strawberries, cherries, and pineapple, it's difficult to see the rest of the cake at first, but it's an indulgent heavy cream and yogurt combination that makes the perfect addition to the assorted fruit. You can change some of the fruits for your favorites, of course.
Berries like blueberries would be a good addition, though you might want to save the autumn fruits like apples for another recipe.
If there's anything more refreshing than an ice-cold glass of strawberry lemonade on a hot, humid summer day, it hasn't been discovered by humanity yet. This cake is an ideal accompaniment. It's a light and zesty lemon sponge topped with a thick, delectable strawberry buttercream frosting.
Alternatively, enjoy a slice of this cake with a pot of earl grey tea, complete with a slice of lemon.
Key lime pie is a classic dessert but it's disqualified from appearing on this list because it's, y'know, a pie. Its fans don't need to worry however, because key lime cake is very much welcome here. It has the flavor profile you'd expect of a key lime pie – the citrus burst of the limes tempered with a wonderful sweetness that cuts through it.
Garnish it with slices of fresh lime and you're good to go. If you're feeling adventurous, you can try including some different flavors in the sponge – who's for chocolate?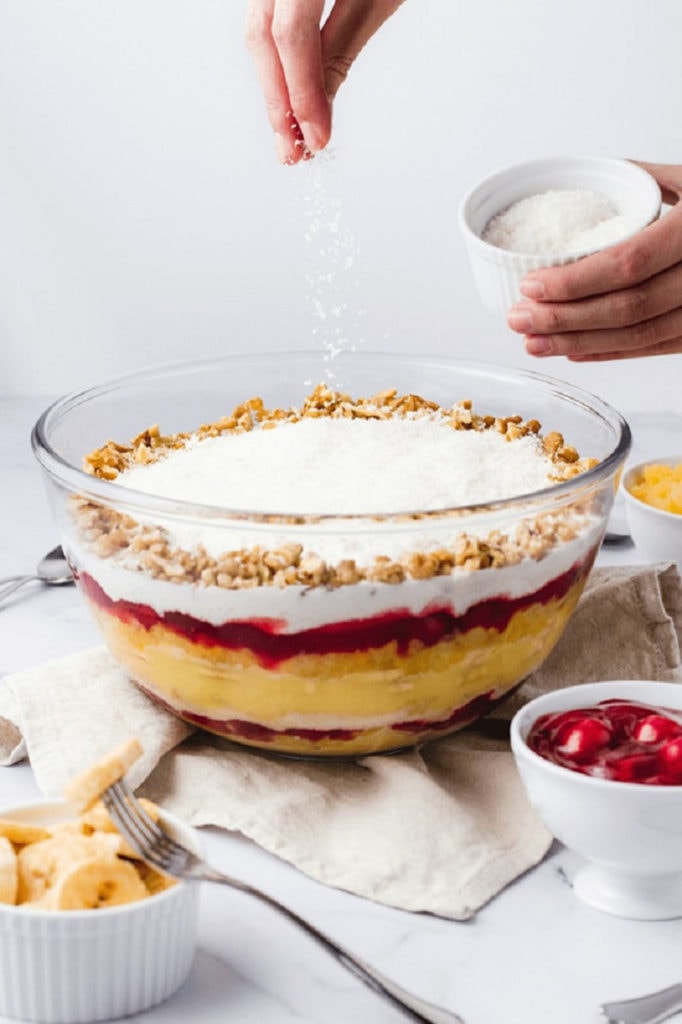 A good fruit punch can really be the element that guarantees a successful summer party. However, serving this cake alongside it is a good idea if you want to be extra sure.
This recipe calls for pineapple, banana, and coconut, so it's one of those cakes that's going to take you away to a blissful tropical paradise with every bite.
The sponge that forms the base of the cake is also up to you, so you can go for whatever flavor you think would add most to the cake. Keep it plain to let the fruit do the talking, or make it extra rich with a chocolate base – all these and more are possible!
If you're thinking that coffee isn't exactly a taste that reminds you of summer, don't stop reading just yet. This version is more about Caribbean flavors than coffee.
First off, this take on tiramisu is creamy, and we mean creamy. The first three ingredients in the recipe are mascarpone, double cream, and coconut cream.
Convinced yet? Add in plenty of coconut, mango, and sugar, and you'll have something that will leave you happy to wait 'til fall to go back to the tiramisu you knew before.
Final Thoughts
If you weren't sure how best to take advantage of summer flavors and recipes in your baking, this list should have given you tons of inspiration. There's really something for everyone on this list.
Whether you like it sweet or tart, dense or light, with an alcoholic touch or teetotal, summer shines through in all these recipes. Pick whichever you like and be the hero of the party when you bring your cake along!