Summer is a perfect time to make use of fresh, seasonal ingredients packed with flavor, such as berries, oranges, and lemons.
We've put together 15 of the best summer cake recipes you can make in August, guaranteed to brighten any summer gathering and leave your guests wanting more.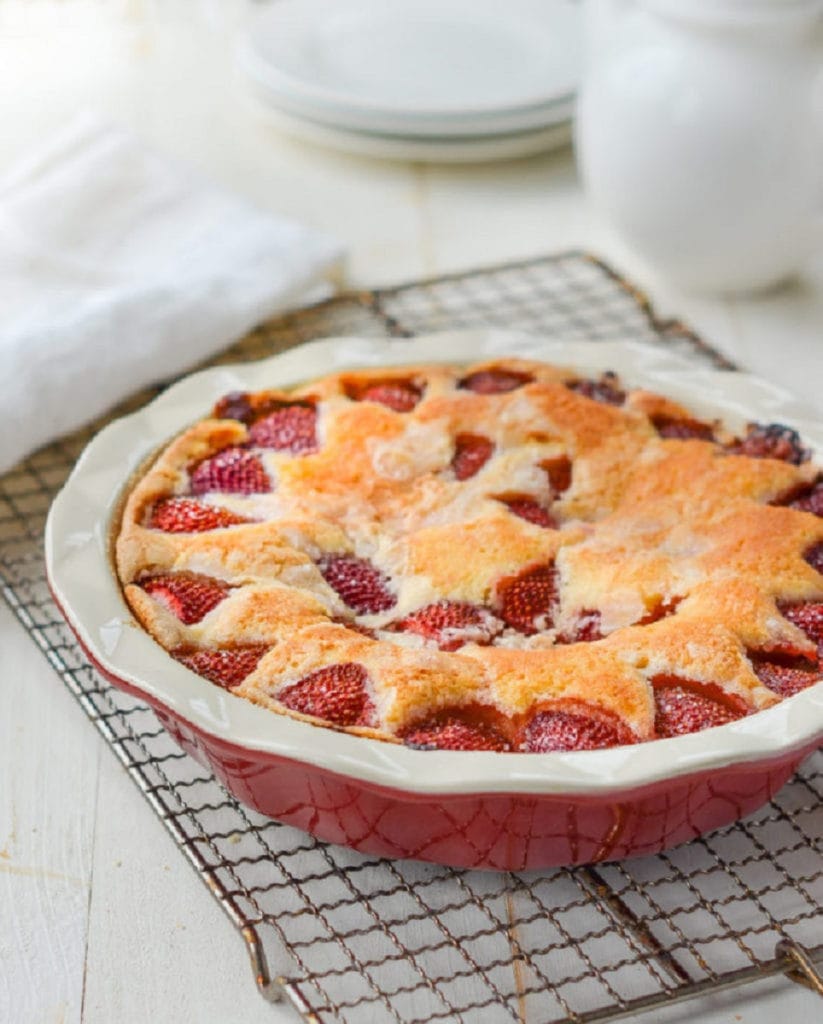 This strawberry cake is a true classic, brimming with the fresh taste of strawberries and packed with that Summer flavor. Not only does it look great but it also tastes great too.
The sweetness of the strawberries truly shows through with a basic cake batter base, and if you have some strawberries that are a little less than perfect, this cake is a great way to use them up.
The best part? It's really simple to make! With only a few ingredients needed to make this masterpiece, you can have this in the oven within 15 minutes.
This cake is delicious warm or room temperature and can be topped with whipped cream or eaten on its own.
Any cake that includes buttermilk in its ingredients list is guaranteed to be incredibly soft and moist, and this lemon blueberry buttermilk cake is a perfect example.
Aside from the wonderful velvety texture, you'll adore the flavor which is bursting with zingy blueberries and sharp lemon zest and juice. A perfect combination if ever there was one.
The cream cheese frosting is – no pun intended – the icing on the cake and elevates this bake to the next level thanks to its creaminess. Simply divine, this cake is a true taste of Summer greatness.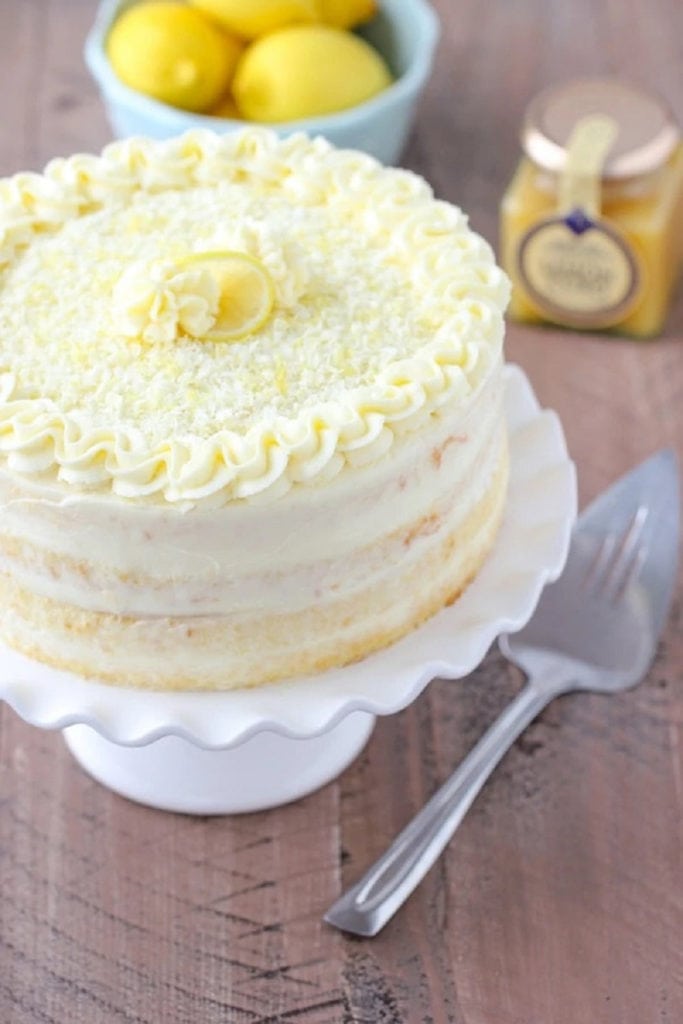 If you like your cakes zesty and bursting with that lemon flavor, this is the bake for you. This limoncello-brushed sponge cake is perfect for any occasion and with its main ingredient being a delicious lemony syrup, it's sure to pack a punch.
Piped between the sponge layers of this cake is a layer of lemon curd, mascarpone, and cream cheese frosting making it taste rich, flavorful, and extremely decadent.
With its refreshing taste, we can guarantee you'll be fighting over who gets the last slice.
What's better than drinking a margarita, we hear you cry? Eating a margarita cake of course! With this delicious recipe, you'll be able to take a sip and a bite at the same time.
This moist and tender layered cake is packed full of lime and tequila flavors, perfectly capturing the essence of a classic margarita. With lime juice used in the icing, the sweetness and acidity of this cake are perfectly balanced and create an incredible slice of heaven with every mouthful – perfect for those summer events.
If the tequila taste is too strong for your guests, you can simply add more milk to tone down the flavor but we have a feeling this recipe may be a winner.
This multi-layer ice cream cake offers 5 different layers each with a different flavor and is the perfect way to cool down on those hot summer days.
If you're an inexperienced cook looking to impress your friends, then look no further. This is a no-bake delicious dessert recipe so even the most basic of home chefs will be able to master these simple instructions. This is also a perfect cake to prep way ahead of time for those with busy schedules.
With an oreo cookie crust, 2 layers of your favorite ice cream, a layer of hot fudge, followed by a layer of whipped cream and sprinkles, this cake will satisfy those with the sweetest of sweet teeth!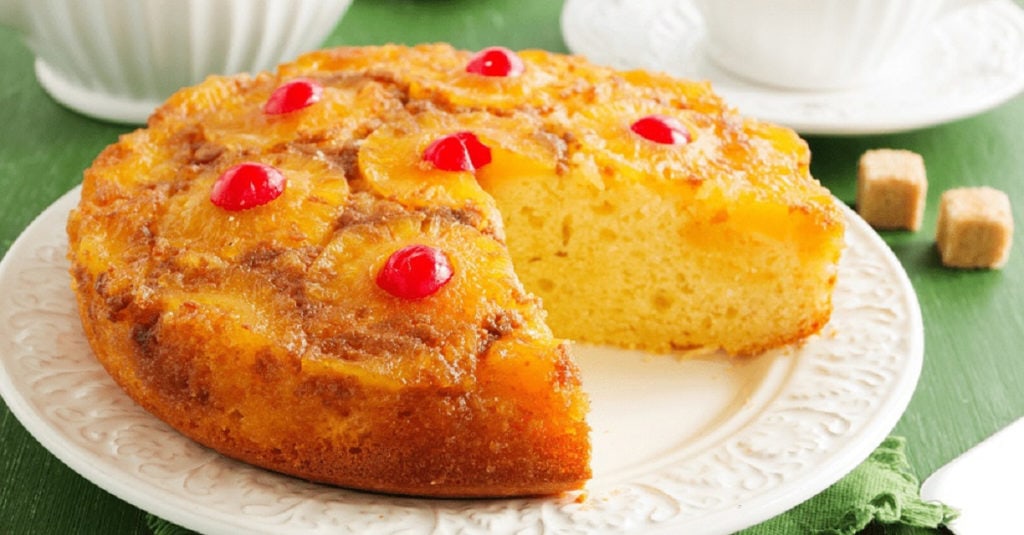 This upside-down cake is a superb treat for any summer event and from its appearance to intense flavor to pure simplicity, it's a guaranteed showstopper.
The key to making this dessert look good is pretty easy. Simply fill the bottom of your cake pan with pineapple rings, maraschino cherries, and a butter and brown sugar syrup. Once flipped, you'll be able to stare in awe at the stunning pattern that sits atop your cake.
With no need to frost or decorate your cake, once it's flipped, you're finished! You'll be left with an incredibly moist and buttery sponge cake drizzled with pineapple juice and caramelized brown sugar. Our mouths are watering just thinking about it!
With so many banana cake recipes to choose from it can be tricky to pick the right one. But we're here to point you in the right direction.
This particular banana cake recipe is simply delicious and so easy to follow. The method though, may take you by surprise.
It's baked at a low temperature and placed in the freezer immediately after baking. Sound a little unusual? We thought so as well, but this process allows the cake to cool quickly and locks in all the moisture. What you're left with is a nice soft crust and an incredibly moist sponge.
Topped with some rich cream cheese frosting, this cake is sure to be a hit!
If you're looking for a cake that will truly wow guests with its flavor, then look no further.
This citrus summer cake showcases zesty orange and lemon sponges sandwiched between blackberry swiss meringue buttercream. It really is as delicious as it sounds! With incredibly moist cakes to liven up your palette and the softest buttercream infused with blackberries to hit that sweet spot, this cake ticks all the boxes.
This swiss buttercream frosting is also sightly less sweet than regular cream frosting, so if you're scared this may be too sweet for you, fear not. This cake screams 'summer' and will delight everyone who is lucky enough to grab a slice.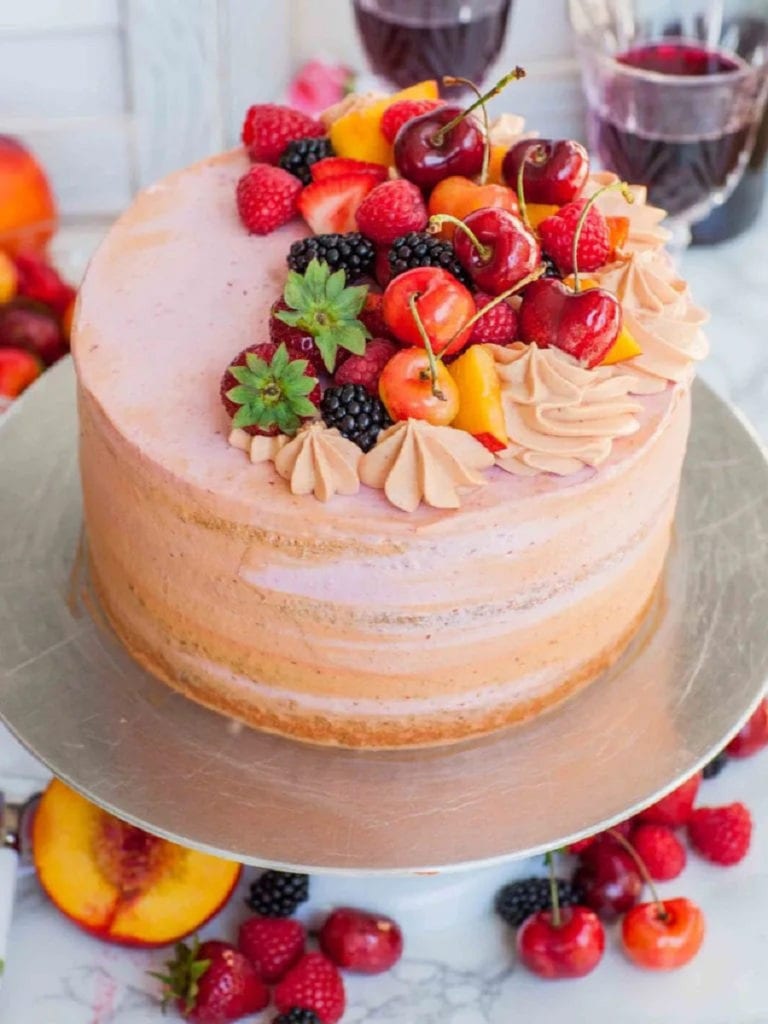 If you're partial to a little sangria in the summer months – and who isn't? – then you will definitely fall in love with the flavors in this cake.
Once cooked, the light and fluffy sponges are soaked in sangria to give them that much loved flavor. Accompanied by sun-ripened fruit such as nectarines, raspberries, and strawberries, and finished off with a berry whipped cream frosting, this cake is a glass of your favorite sangria in cake form.
The frosting itself is incredibly decadent and made with mascarpone, white chocolate, heavy cream, and fresh raspberries. If we're honest, we could eat this straight from the bowl, but we'll try out best to wait until we're offered a slice.
Coconut and ginger are a fantastic combination for any summer treat and this cake will hit all the right notes for those wanting something a little special.
Standing tall, this cake not only looks impressive but also tastes incredible. The airy texture of the chiffon sponge creates a lightness to this cake that compliments the strong coconut frosting topped with toasted shredded coconut.
There's also the option of adding candied orange and lime peel to the finish of this cake to truly wow any guests.
This cake is bursting with that fresh summer flavor and combines two of our favorite summer treats – lemonade and strawberries!
Delicious as a drink, you can now enjoy a slice of strawberry lemonade cake to cool you down during the hot summer months instead.
Its eye-catching pink frosting finish is sure to turn some heads this season, and packed with fresh strawberries at every layer, it's guaranteed to be loved by all those lucky enough to grab a slice.
Fruity, lemony, and quite simple to make, this cake is a slice of summer.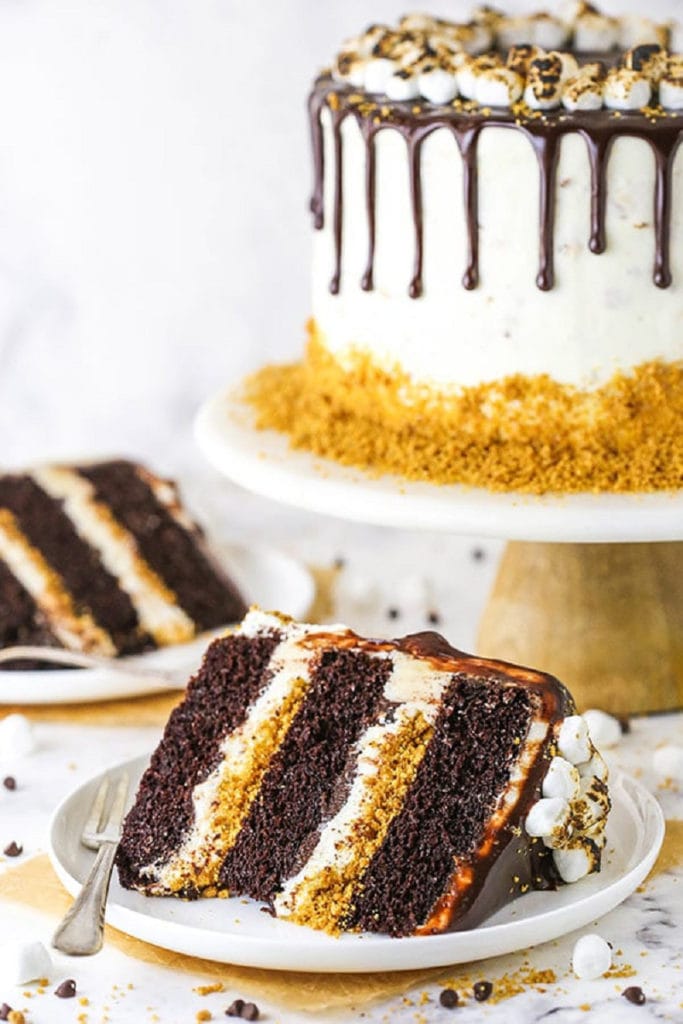 We couldn't have a list of August cakes without mentioning this summer camp classic. Transporting you back in time to those childhood days around the campfire, this cake will treat you to a smorgasbord of flavors, sensations, and memories.
Rich chocolate ganache and moist, fudgy chocolate sponge make up the delicious body of this cake which is covered in a toasted marshmallow frosting. If that doesn't sound like enough decadence for you, there is also another layer of chocolate ganache drizzled over the frosting, making this take on a childhood favorite every dessert lover's dream.
For a surprise element, crushed graham crackers can also be found inside the cake. What more could you ask for?
For this fruity cake, you don't need to have any oranges to hand. Instead, you can substitute them with orange soda which will provide you with the same refreshing taste.
With its orange hue, this tender cake looks delicious especially when topped with tasty orange cream cheese frosting.
Delicate, yet addictive, the orange and vanilla extracts in this cake help to pack a punch when it comes to flavor. And what's even better, is that this cake can almost be excused for being eaten at breakfast! Now that's an idea we love!
Sweet tea and lemon are a fantastic duo and when used together, they make a truly delicious summer treat. Light and refreshing, but still with a distinct flavor, this cake is perfect for those sleepy summer evenings.
A handy tip with this cake is to serve it chilled as it's a great way to draw out the flavor of the tea. It also gives you the perfect excuse to hide a few slices away in your refrigerator.
The rich and creamy lemon frosting gives this cake a real kick of flavor that's bound to be a people pleaser come the summer months.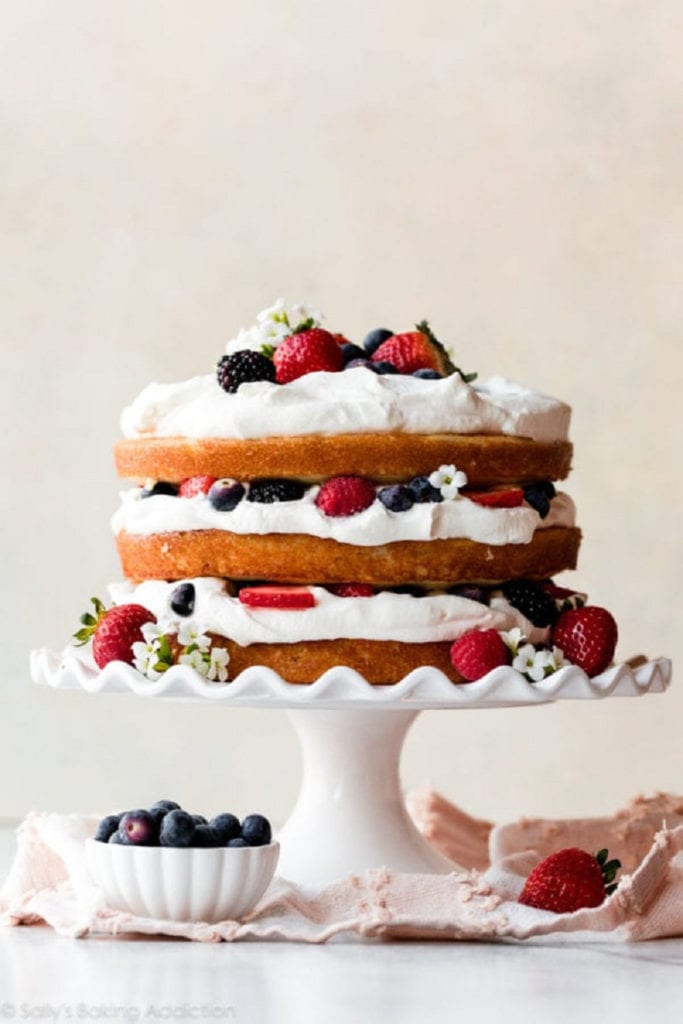 If you're searching for something that truly tastes like summer, then search no more.
This layer cake is well worth the effort it takes to make it look so good! And with a fresh berry and cream filling between each sponge layer, it tastes just as good as it looks.
The light and fluffy sponge is so delicate and a perfect match for the juicy berries and rich cream. It's also a great way to use the last of your summer produce should you need to.
Impress your friends with your cake decorating skills by piping cream swirls on top of your cake decorated with blueberries, strawberries, raspberries, and more.