October is a special time of year. The summer weather has officially passed, and a chill settles in. It starts to get dark earlier, orange leaves are scattered across the streets, and it becomes acceptable to cozy up in front of the fire with cake and hot chocolate
But then you're faced with a problem; you have to find a cake recipe that is fitting for the Autumnal season. The internet is filled with them and it becomes impossible to choose one!
Lucky for you, we have narrowed down our personal favorite fall cakes to make in October, ranging from spiced cakes and pumpkin bakes to spooky, Halloween creations. We have got all of your cold-weather cravings sorted, so take a look at our selection and get baking!
Of course, we had to start with a Halloween treat! This fun fall cake will end up looking like a large piece of candy corn when you cut it because it's split into three colored layers.
To achieve this look, you'll have to split your vanilla batter into a yellow and orange mix, as well as an original cake color. This has to be frozen for 20 minutes between each layer, otherwise, the colors will bleed into each other.
Once your cake is cooked, you will have the task of poking holes into the cake and filling them with condensed milk, making for an exciting surprise when you bite into it! Top it off with whipped cream and candy corn pieces to finish off the ultimate October bake.
This tray cake is made up of three different components – a crunchy pecan topping, a cranberry filling, and cream cheese and pumpkin spice batter. The combination makes a 'cross between a fruit crisp and a moist cake', as one reviewer commented.
We have classed it as medium difficulty, simply because you need to make three separate mixtures, but once it is in the tray, it just needs to be baked and it's done because there's no icing. That is combined into the cake, with the cream cheese cake batter!
The mix of fruit, nut, and spice makes it a brilliant choice of cake for a chilly October evening – especially when accompanied by a scoop of vanilla ice cream.
We may be cheating slightly by adding a cupcake recipe to this selection, but these looked too good to resist! The cupcakes are so easy to make (they just use a yellow cake mix), but it can get a little fiddly with the apple pie filling.
While the cupcakes are cooking, you will need to cook the chopped apples on the stove with sugar and butter. When the cakes are done, you have to remove the center of them and fill them with the browned apples.
It says to discard the removed bits of cake – we take that as eat all of the leftovers! Cover the apple filling with buttercream and you've got yourself a complete spice sensation, fit for an Autumn evening.
Prepare to get messy with this marshmallow masterpiece. The cake is flavored with various types of pumpkin for a spiced taste, and the addition of milk will make it incredibly soft.
The rich buttercream frosting has dark chocolate powder and heavy cream, the thickness of which should help to hold the cake in place. Color your frosting with black paste for a spooky Halloween look, and then have fun with the marshmallow spiderwebs!
The recipe does warn about the stickiness of melted marshmallows, so make sure nothing else touches the finished spiderwebs – unless you want it to be attached to the cake.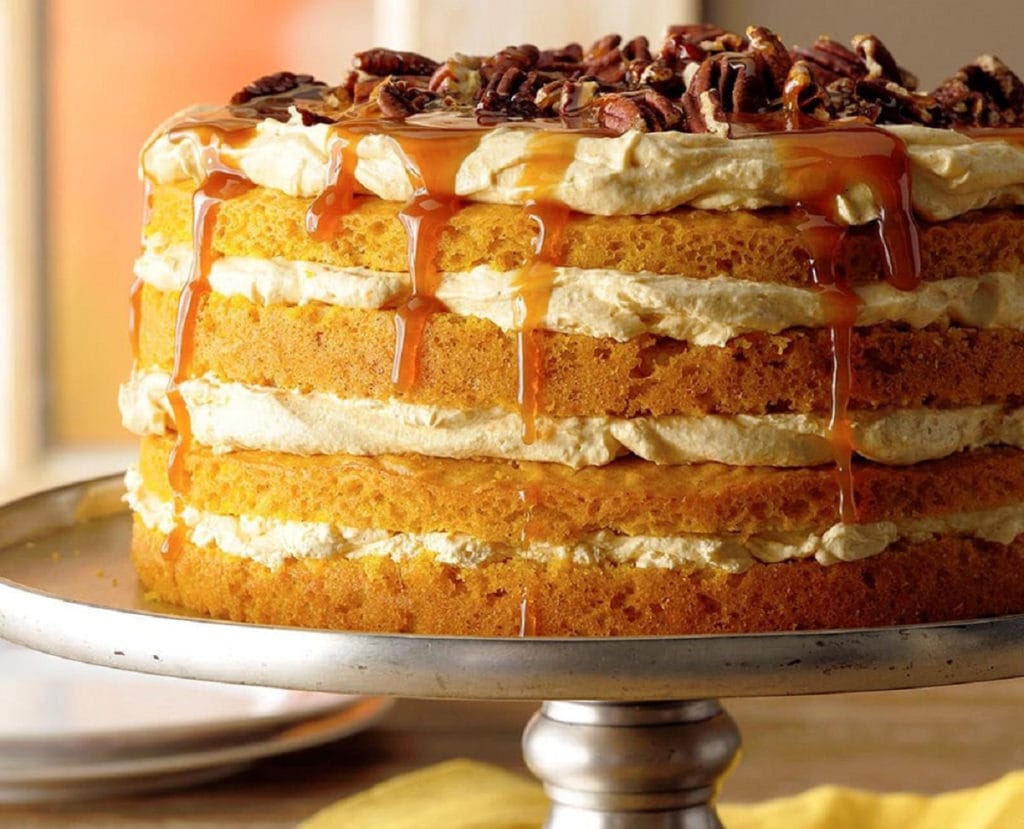 This super-easy pumpkin cake is perfect to place on the table at an Autumn feast. It only requires a simple cake mix with canned pumpkin and pumpkin spice for the bake itself, and the icing is a simple rich cream cheese frosting. You can top it off with some caramel ice cream topping, as recommended by the recipe, and some pecans.
The recipe says the whole bake will take an hour to complete, so it is great for a last-minute dessert. The only part that may be a bit finicky is cutting the two prepared cakes in half each, to create a four-tiered decadent layer cake. Other than that, this should be a go-to October treat.
This simple recipe will only take minutes to whisk up – just make sure it gets enough time in the oven as it will end up quite a deep bake!
Interestingly, this recipe doesn't use any sugar (apart from an icing sugar dusting at the end). Instead, it relies on molasses and canned pumpkin for its sweetness. The addition of buttermilk and salt will add a slightly savory taste, but the pumpkin pie spice will easily balance this out for a rich, Autumnal bake.
The run-up to Halloween is always stressful, especially when you don't have a show-stopper cake to sit in the middle of your ghoulish display.
Lucky for you, we've found the perfect one! This chocolate cake requires a special skull-shaped cake mold (there's a link to where this baker found it in the recipe). The use of sour cream in the cake mix ensures that your skull will have a thicker texture and hold its shape while it's being decorated.
There are two types of glazes used, both of which hide the seam from when the skull is put together – and also make for a very delicious topping! The final product looks amazingly spooky and very fitting for an October bake.
Difficulty Level: Medium (requires preparation)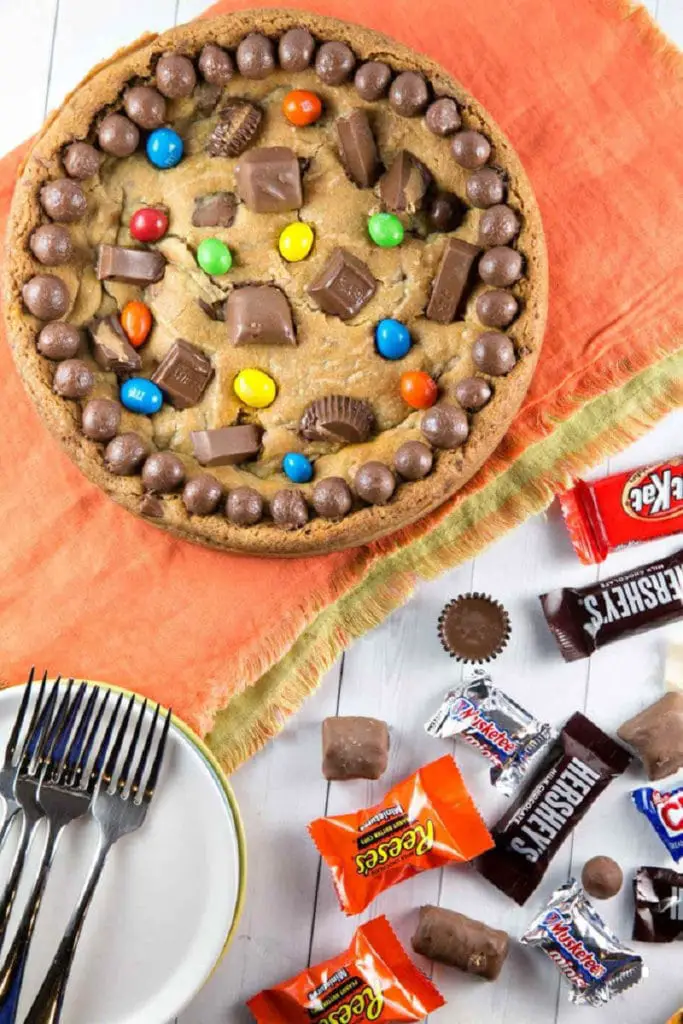 This cookie cake is slightly different from our other cake recipe choices, simply because it is, essentially, a large cookie. It still counts though!
While the recipe title does say leftover candy (which you are more than welcome to choose) you don't need to wait until Halloween is over to indulge in this moreish cake. It's extremely easy to make and uses brown sugar to give it a caramel flavor. You can use whichever candy you like on top, though the recipe recommends M&Ms for a spot of color!
This Monster Mash Cake is definitely striking in its appearance – black buttercream icing and green and purple cake make for a Halloween extravaganza! While the recipe itself is fairly simple to bake, with just a regular vanilla sponge and buttercream, the use of food coloring and multiple layers of decorating can make it a bit more time-consuming.
The cake uses both vanilla extract and vanilla bean paste to make the flavor more intense, and it also has a cup of milk in it to make the sponge very soft and light.
If you're after a thick, creamy cake, then this is the one for you – it has three types of milk! This recipe is slightly unusual, in that it uses mayonnaise as one of the cake ingredients.
The flavors seem to center around chocolate and coffee, although there is a hint of cinnamon in there too to warm you up. Once the cake has been baked, you pierce the top of the cake and pour milk and cream on top, as you would a glaze.
After this has soaked in, you add another layer of cream icing, creating a rich and heavenly bake for Autumn.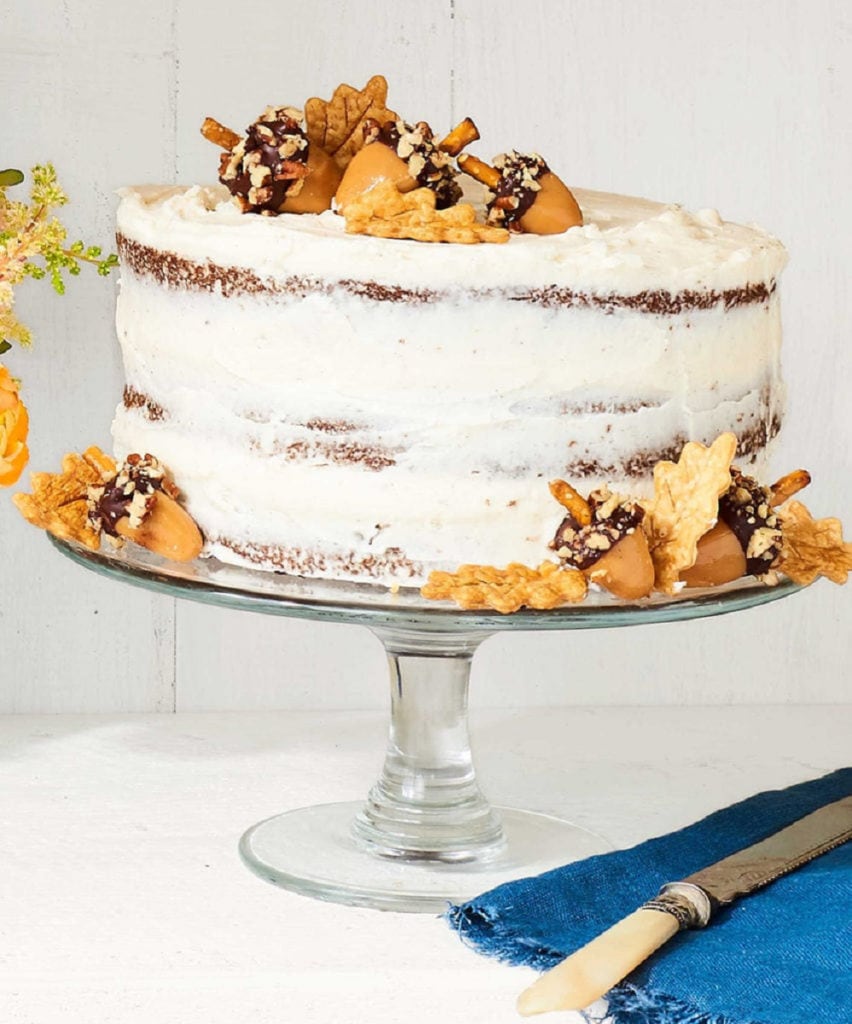 While this spiced cake may have a huge variety of ingredients, with five spices used in the bake, this is actually a relatively easy cake to make. The light brown sugar and molasses make for an intensely warming flavor, and the ground ginger will add a bit of heat to the otherwise milder spices.
There is also some cinnamon in the cream cheese frosting, with a small amount of vanilla to add some sweetness to the mix. The recipe recommends decorating this stunning tiered cake with caramels shaped like acorns, and piecrust leaves (these will have to be cooked separately).
This beautiful tiered cake is made up of apple spice cake layers and salted caramel buttercream, topped with a caramel-dipped apple and chopped almonds. While the cake itself appears simple to make, the homemade salted caramel can be a difficult process to get right.
The recipe notes recommend making the salted caramel ahead of time (it can be kept in the refrigerator for two weeks), then microwaving it in 15-second intervals. This will save you some time when it comes to building the cake!
It also helps you make sure that you've made the caramel correctly before the day you actually make the cake.
This bundt cake is full of cider and spices – the perfect combination for an October bake! Although it doesn't specify which type of sugar to use, brown sugar would definitely add some caramel undertones.
If you aren't happy with an apple cider glaze, the baker recommends a cinnamon or caramel sauce drizzled on top. You have to make sure to simmer the glaze for quite some time if you do choose the apple cider option, which will thicken it up and drip down the sides of the cake beautifully.
Difficulty Level: Easy
This three-tiered vegan recipe looks absolutely delicious and is packed with spices and flavors. Because there is no egg, butter, or milk, plant-based milk has been used as a substitute for moistness.
There is a large amount of grated carrot in the recipe to help add structure, but this could be quite time-consuming to do, so either set some time aside for grating or whip out a food processor with a grater attachment!
The vegan cream cheese icing uses vegan butter and cream cheese, so it should be just as fluffy as any other icing – just remember to let them warm up a bit before mixing them, otherwise they may split.
This whiskey Bundt cake is the perfect recipe to warm you up on an October evening. The cake mixture is simple in itself, using two package pudding mixes to make up the bulk of the recipe.
It uses oil instead of butter to make for an extra moist cake, and there is ¾ cup of whiskey in this part of the cake, as well as ½ cup for the glaze. It will definitely make you feel cozy (and tipsy) on a cold night!
The addition of walnuts creates a varied texture, and you can mix in other dried fruit and nuts of your choosing. One reviewer even recommended using apple whiskey to add some extra spice and headiness!
Difficulty Level: 
Easy (but requires 3 days of preparation time for the glaze)