Everybody loves a marshmallow and everybody loves meringue, but what if you could combine the two?
Well, you can!
A homemade marshmallow meringue frosting is a meringue-like liquid that tastes like marshmallow. It's like melted fluffy marshmallow!
As a result, it has all kinds of uses! It can be a frosting, but also can act as a topping or a filler.
Given how delicious and varied it sounds, you might be worrying that it's not going to be an easy recipe.
That isn't true! This is a simple and perfect frosting recipe that is quick and easy.
Read on for just one of our many free recipes, easy marshmallow meringue frosting!
Marshmallow Meringue Frosting
Today we're going to be looking at how to make homemade marshmallow meringue frosting, which is also known as marshmallow creme.
The Uses Of Marshmallow Creme
Marshmallow creme comes up in a lot of recipes, where it is essential.
For example, a lot of mousses and cupcakes use it, where it adds a delicious marshmallow flavor.
Why You'll Love Marshmallow Meringue Frosting
You're bound to love marshmallow meringue frosting, or marshmallow creme, because it's like a delicious liquid version of a marshmallow – and is therefore even more adaptable.
You can put it anywhere on another dessert, whether as a frosting on the top, or a filler or topper.
Marshmallow Frosting – It's Easy!
On top of that, marshmallow meringue frosting is very easy to make.
Homemade marshmallow creme takes just four ingredients, as well as a mixer.
Easy also means quick, because you'll have the easy marshmallow creme ready in no time.
How Does Marshmallow Meringue Frosting Taste?
We've repeatedly said how delicious the homemade marshmallow frosting is, but we haven't gone into detail about how this easy recipe tastes.
Well, I'm sure you've had a marshmallow before, so you know how that part tastes. If you haven't, what are you waiting for?
However, on top of the general marshmallow taste, there's an extra level added to it because of how soft and liquid it is.
The easy marshmallow meringue frosting adds an extra creaminess to the marshmallow taste because of its form.
Piping Bag
We mentioned earlier how versatile the marshmallow frosting is, and that extends to how it can be piped.
This marshmallow meringue can be piped out with ease, giving your cakes and mousses a beautiful twirling flourish on top.
However, don't expect it to hold the shapes! The liquid can slip out of place.
Marshmallow Meringue Frosting – The Ingredients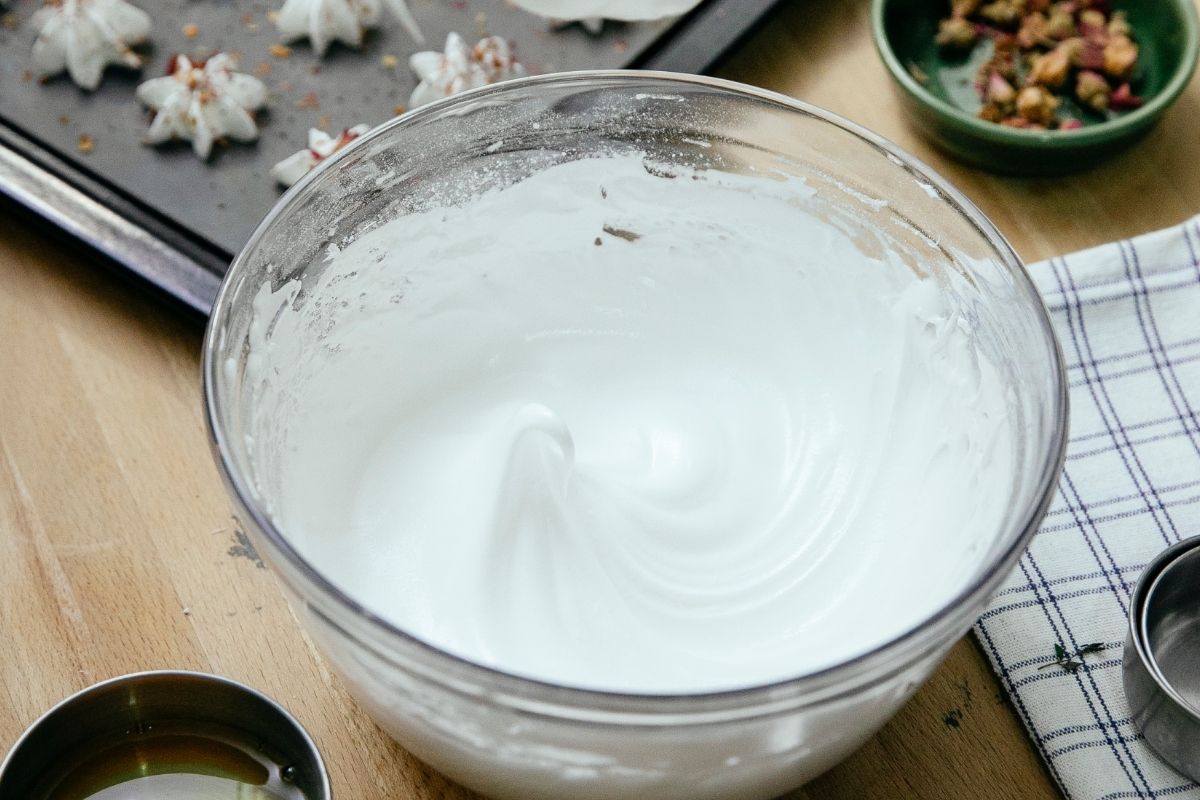 There are just four ingredients to make this form of melted fluffy marshmallow meringue. They are:
Egg Whites: Four Large
Eggs are the essential part of baking.
You should get some fresh eggs, rather than a carton, and then separate the whites.
Separating egg whites in the cold is easier than when they're warm!
Cream Of Tartar: Half A Teaspoon
Cream of tartar helps to stabilize those egg whites, keeping the mixture all firm.
This is essential to the marshmallow meringue taking shape, so use it!
Granulated Sugar: A Cup (200 Grams)
Sugar is also a large part of baking, and adds flavor too.
You should use this granulated sugar rather than confectioners' sugar, which won't work as well.
Vanilla Extract: One Teaspoon
If you want your marshmallow meringue tasting as good as it can, then a hint of vanilla will do the trick!
This adds a lovely bit of variety and depth to the flavor of the marshmallow cream.
You Do Not Need
Unlike with the meringue frosting you get in stores, this has no corn syrup in it, and is therefore better for you.
How To Make Marshmallow Meringue Frosting
Now you've got all the ingredients, we can get to the recipe!
This is the kind of recipe that would get a five star recipe rating, because it is so simple and quick!
You're not always going to get related recipes as easy as this.
Step One: Simmer
Fill a small pot with water and put it on your stove, simmering away gently.
You could also have a saucepan filled with water.
Step Two: Whisking
Then get a heatproof bowl and put the egg whites and sugar granules into it, along with the cream of tartar.
Carefully put the bowl over the simmering water. Use your whisk attachment to constantly whisk them all together.
Step Three: Stop Whisking
When the mixture you're whisking has thinned out, with the sugar granules dissolving, then you can stop whisking.
Whisk constantly until then. It should reach 140 degrees Fahrenheit – use a candy thermometer to check.
Step Four: Add Pure Vanilla Extract
Carefully take the mixing bowl away from the heat. Protect your hands! Then add the pure vanilla extract.
Step Five: Whipping
Take your mixer and whip the mixture in the mixing bowl until some stiff glossy peaks form on it.
Once you've got stiff peaks, the meringue frosting is done!
If you want a larger batch, mix more mixture at the start, or follow all the steps again!
Uses
There are all kinds of sweet treats that you can make with this delicious frosting.
You can make s'mores cupcakes or s'mores bars with them, adding sprinkled graham cracker crumbs.
You could even make a dozen cupcakes, each with a marshmallow cream topping.
This high speed treat is perfect for cakes and cupcakes. Whatever dessert cuisine you pick, it'll be delicious.
This meringue tastes like marshmallow roasted! Perfect to enjoy with a mug of hot chocolate on the side.
Can I Store Leftovers For Later?
You can store the marshmallow cream in an airtight container, leaving it for the fridge for 2 days maximum.
Final Thoughts
Marshmallow meringue frosting is a perfect treat that suits a whole range of different desserts.
Bake with care! If you're not experienced, get somebody to help.