If you're a fan of carrot cake then we guarantee you're going to love a courgette cake (or zucchini cake, depending on your preference of words). Moist, rich, and oozing with flavor, this cake is a great alternative to its carrot cousin and a perfect way of increasing your 5-a-day.
So if you've been wondering what you can do with those courgettes hiding in your fridge check out our 15 delicious cake recipes below, each guaranteed to wow both your family and friends.
This deliciously moist cake really packs a punch with its three main ingredients, each of which perfectly compliments the other. With a hint of mixed spice, there are plenty of earthy notes to this cake which is brought to life by the zesty orange flavors.
Drizzled with icing sugar and orange zest, this cake is so moreish and a lot sweeter than you may think.
This is also a great recipe if you need to make a cake ahead of time. Wait for it to cool, wrap it up, and pop it in the freezer – easy. When you need the cake just let it defrost, add that all-important icing, and voila! So simple, yet so so tasty.
If you want a cake that is bursting with flavor, this is the one for you. This light and airy sponge is nutty and zesty and makes great use of the grated courgettes. It's perfect any time of the year but we think it makes a great treat for those summer picnics.
With thick icing drizzled over the top of the cooled cake followed by a layer of lemon curd, this courgette cake truly tastes as decadent as it sounds. Sprinkle lemon zest on top for extra decoration on the finished cake.
If you're throwing a dinner party you can serve this cake with some natural yogurt for a perfect way to end the evening!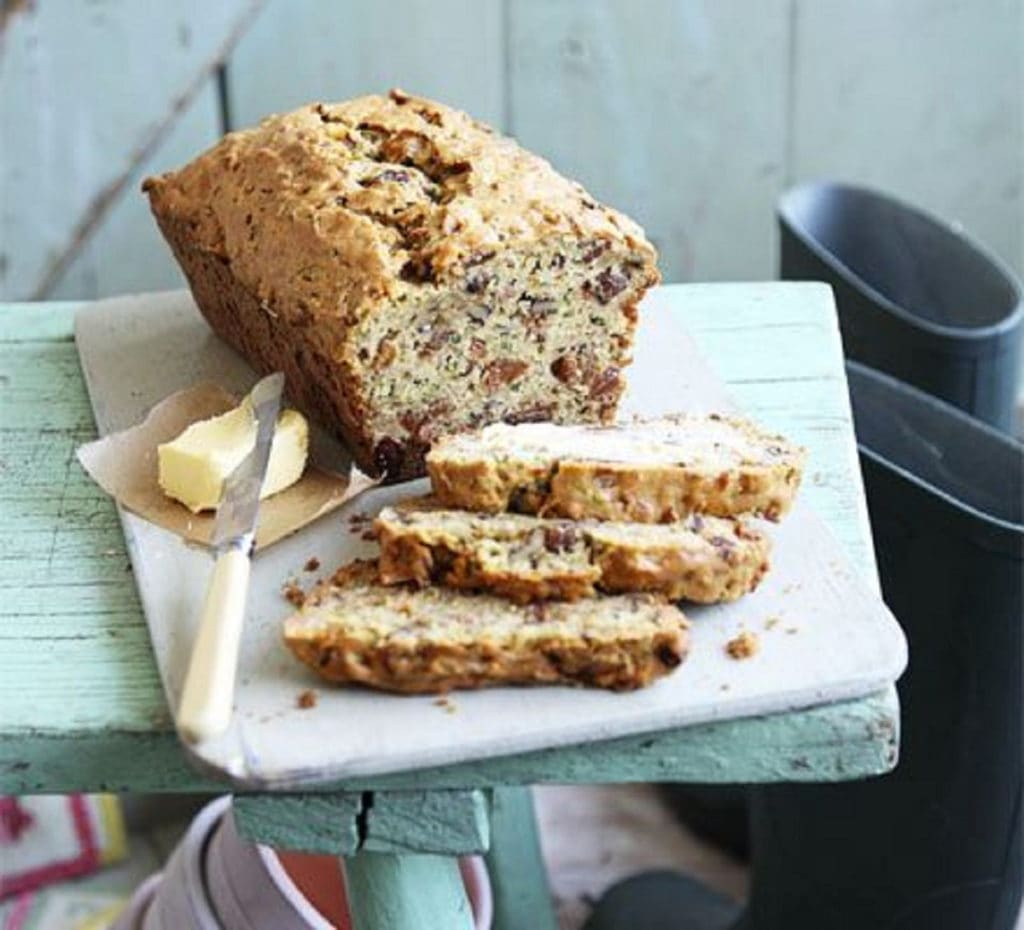 Think of this loaf cake almost like a fruit cake. Whether it's warmed and spread with butter, or eaten chilled with a cup of tea, this is the perfect courgette cake to treat yourself to.
The sweet, spiced sponge loaf is kept moist thanks to the courgettes in the recipe and will have you helping yourself to seconds, thirds, and even fighting off others for that last slice.
The walnuts included in this recipe add texture to this cake by giving it a delicious little crunch and the sultanas pack just enough of a fruity element to make this courgette cake a success. Delicious!
This cake is inspired by the allotment, and that's not hard to see from looking at the ingredients list. Courgettes, thyme and lemons make this cake a true delight to eat and are a perfect way to make the best use of your crops.
These moist, rich sponges are drizzled with lemon glaze once they're baked to lock in as much depth of flavor as possible, similar to that of a lemon drizzle cake. Covered with not one but two layers of cream frosting, the sweetness compliments the fragrance of this cake.
With plenty of ways to decorate this cake, including crystallized thyme and lemon slices, this will no doubt be the prettiest cake at the table.
This Chocolate and courgette cake is absolutely stunning and if you're still on the fence about using courgettes in cakes, this recipe will definitely change your mind.
This cake is incredibly moist thanks to the inclusion of the courgettes, and the dark chocolate icing adds just the right amount of richness to it. The roasted hazelnuts in the sponge give this cake another layer of flavor, one that will keep you going back for more.
If you're a fan of chocolate cake, we urge you to try this recipe. You're going to love it!
Similar to the courgette loaf cake, this recipe is rich in fruit and perfect with a cup of tea. With an excess of courgettes, apples, and mixed dried fruit, this cake is packed with tasty flavors ready to impress all of your guests.
The lack of icing is not missed from this cake, as the intense flavors of the fruit are all you need to enjoy it. If you're not a creative cook, then fear not. This recipe is easy to follow and even the most amateur of bakers will be wowed with their results.
Courgette and orange are a perfect pairing and this cake proves just that. The sponges used in this recipe are light, airy, and incredibly moist thanks to the courgettes and sultanas used that are used.
The cream cheese frosting adds a delicious final layer to this cake and makes it all the more moreish.
With orange finely grated zest scattered over the frosting, not only will this cake look appealing, but it will also taste fresh, citrusy, and full of fantastic flavors. Perfect for the summertime, this cake will be a hit with both friends and family members.
This undeniably moist vegan courgette and lime cake is super tasty and perfectly balanced in flavor. That's right, this is a dairy free courgette cake!
The lime juice adds a zesty punch and when topped with the lightest cream cheese frosting, each slice is pure vegan heaven. Thanks to the coarsely grated courgette, little flecks of green can be seen running through the sponge, making it not only taste great but also look very eye-catching.
Whether you're planning a dinner party dessert or deciding what treats to pack for a picnic, this courgette cake should definitely be at the top of your list!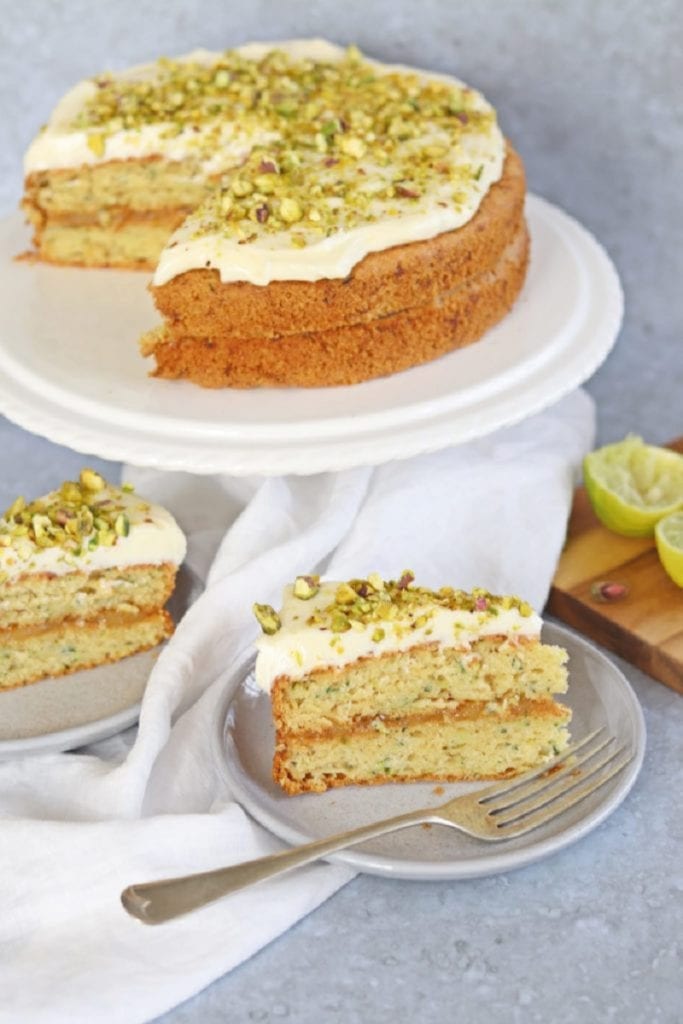 This Courgette hit all the right spots with its perfectly moist sponges, lemon curd filling, cream cheese frosting, and pistachio crumb topping.
Instead of using the cream cheese frosting as a filler between the two sponges, this recipe uses lemon curd instead. Doing so brings a zesty freshness to the cake and cuts right through the richness of the frosting.
You can stack it tall by making 3 tiers for a real showstopper or even alter this recipe to make cupcakes. Either way, the finished look of this cake is gorgeous and will definitely bring the wow factor to any event.
This recipe is a savory take on a courgette cake and is perfect for those who are gluten and dairy-free.
Flavored with generous amounts of garlic, olive oil, oregano, and fresh basil, this cake is incredibly fragrant and a perfect way to use up any leftover courgettes.
Bursting with deep, intense flavors, it is a perfect substitute for bread. Whether it's used to mop up some chunky soup in the winter, or you simply eat a slice while it's still fresh from the oven, this delicious recipe won't disappoint.
This cake recipe uses yellow courgettes which bring a refreshing sweetness. As well as adding a little structure to this cake, the courgettes also help to keep it very moist, which actually improves over time – the hard part is trying to leave it alone though!
With ground almonds and the zest and juice of an orange on the ingredients list, this cake is full of flavor and leaves you with a fresh citrus taste.
The recipe is easy to follow and the cake is perfect without any icing, so as soon as it's cooked and cooled, you're ready to cut a slice and enjoy.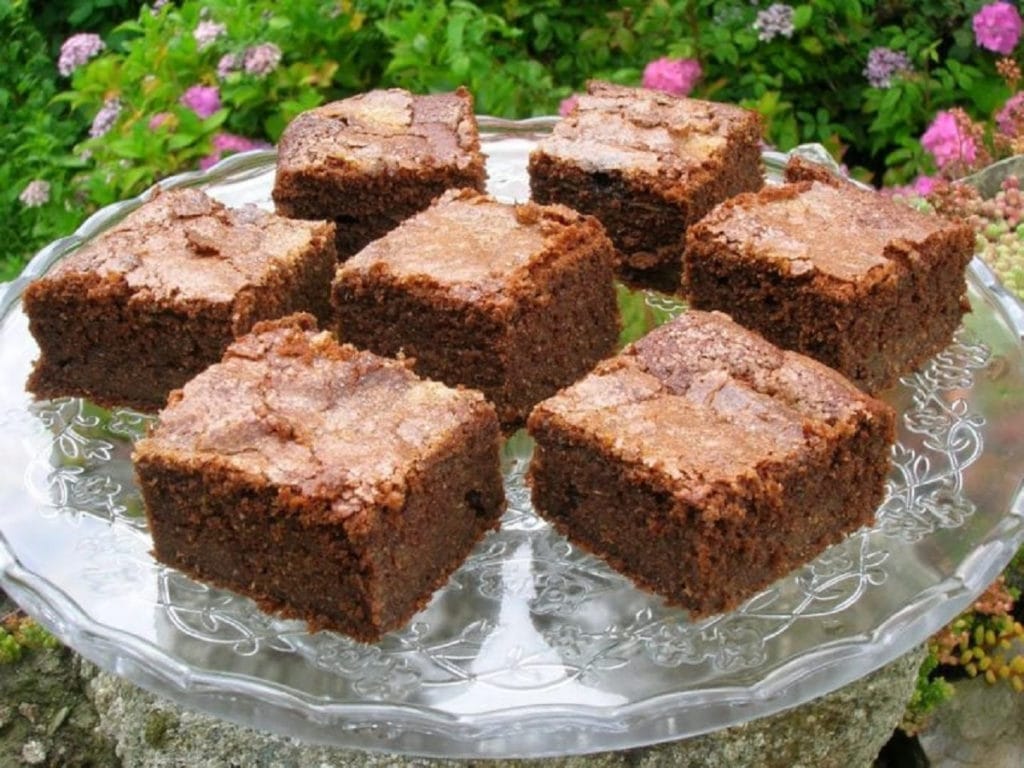 Who doesn't love a brownie? We certainly do, and that's why we've included this recipe on our list. It's the perfect way to hide some extra vegetables into a diet and by disguising them as brownies, no one will suspect a thing.
These traybake brownies are deliciously moist and not too sweet and they also have that all-important crunchy top. We promise that there's no trace of the courgettes except for the moistness, so you can relax knowing that your guests will never suspect a thing.
This carrot and courgette traybake is so easy to make and simply delicious! With flecks of orange and green running through it, not only will it taste good but it will also look very pretty in your kitchen.
The cream cheese frosting is the perfect accompaniment to this cake and adds a delicious richness to it. And the good news? This cake can serve up to 14 people and with two helpings of veg on the ingredients list, it could almost be considered healthy!
This gluten-free recipe is a perfect way to use our favorite summer vegetable to create an incredibly tasty bake.
Thanks to the spices and muscovado sugar in this cake, it has a delicious toasty flavor to it, and with two types of gluten-free flour being used in this recipe, oat and rice flour, the texture of the cake is tender and light.
For that zingy citrus taste, this cake is topped off with lemon juice mascarpone, which is perfectly rich and creamy. A perfect finish to an indulgent cake.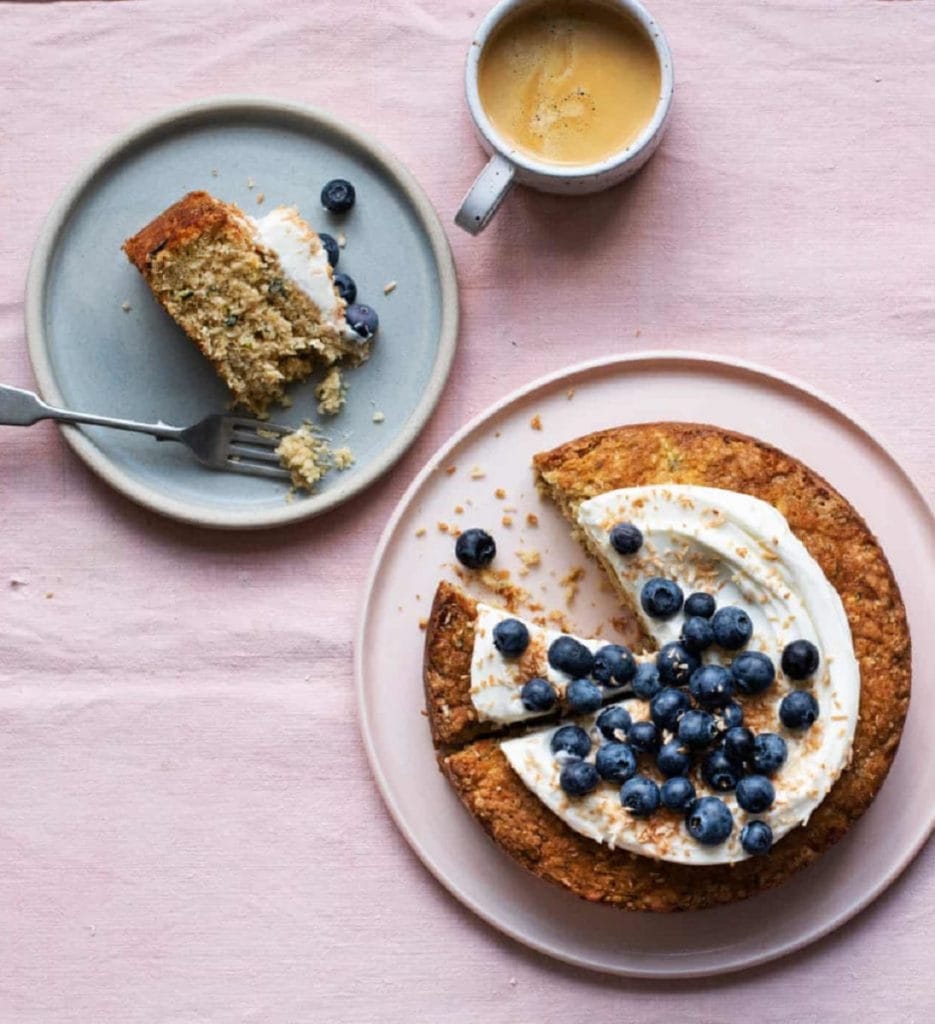 This flavorful cake is a great alternative to the classic carrot cake and will have you looking at courgettes in a whole new light.
Packed with flavor, the ingredients list includes coconut, blueberries, mascarpone, and yogurt – a perfect combination!
Although the courgettes keep the cake nice and moist, flavor-wise they don't add much, so can easily be replaced with other root vegetables. Who would have thought that parsnips in a cake would be on our radar!