Whether you're sitting down for an afternoon tea, searching for a late-night snack in the kitchen, or needing something a bit sweet after a huge Sunday dinner, the eclair is the perfect solution. The eclair can be quite difficult to make but is very rewarding when you do.
There are many different flavors you can have in an eclair, basically anything you can pipe. In this article, we've put together some of our favorite of these flavors and some of the best recipes to go along with them.
Soon your kitchen will be full of choux pastry goodness.
What is an Eclair?
An eclair is a french pastry that is usually long and cylindrical. It is made from choux pastry, which is a light and delicate pastry that is made by baking at a high temperature to steam water around the pastry, and then baking at a lower temperature to set the pastry and give it a lovely golden brown on the outside.
This choux pastry is then usually filled with a custard or pastry cream and topped with some sort of icing or syrup. 
The eclair used to be called the Petite Duchesse in France where it originated. It is unknown why the eclair is called an eclair. Eclair in french means 'lightning', so it could be due to the distinct lines the rising of the choux pastry makes down the side of the eclair.
Or it could be because once you put out a plate of eclairs, they'll be gone faster than lightning!
Chocolate Eclairs are the classic eclair, you cannot go wrong with tradition. These eclairs are a soft choux pastry filled with the classic creamy vanilla pudding and dipped in chocolate frosting.
They have the perfect finger shape that an eclair has and are a simple eclair to make. This recipe makes 24 eclairs and takes around 1 hour and 45 minutes to make.
However, a good way to make this chocolate eclair cake recipe easier and to cut down the cooking time would be to buy store-bought vanilla custard, as it is a very common custard.
If you're only looking for a snack and a full eclair is a little too much, or if you're having an afternoon tea and you've already got an array of pastries and cake on the table, then we can't blame you for wanting something a little smaller.
Thankfully we have found these delicious eclairs that are just a little on the mini side. They are filled with a berry liquor cream filling and topped with fondant icing for a sweet fruity kick.
These mini eclairs take the same time to make as the chocolate eclairs, 1 hour and 45 minutes but make around 30. Plus, you can freeze any remaining pudding mixture to make fresh eclairs later.
If you can't eat gluten then don't worry, we're not going to have all the choux-filled fun without you. This recipe is a step-by-step easy guide on how to make choux pastry and subsequently an eclair without the use of flour.
Instead, this recipe uses xanthan gum – a strong flour substitute that has the same strength as bread flour which is usually used to make choux pastry. The xanthan gum can hold its own, meaning that your choux won't flatten.
This recipe fills its eclairs with whipped cream and tops it with a layer of dark chocolate, however, using this recipe you could use any filling and topping from this list, as long as it is gluten-free of course. You can even inject gluten-free Cool Whip into the middle!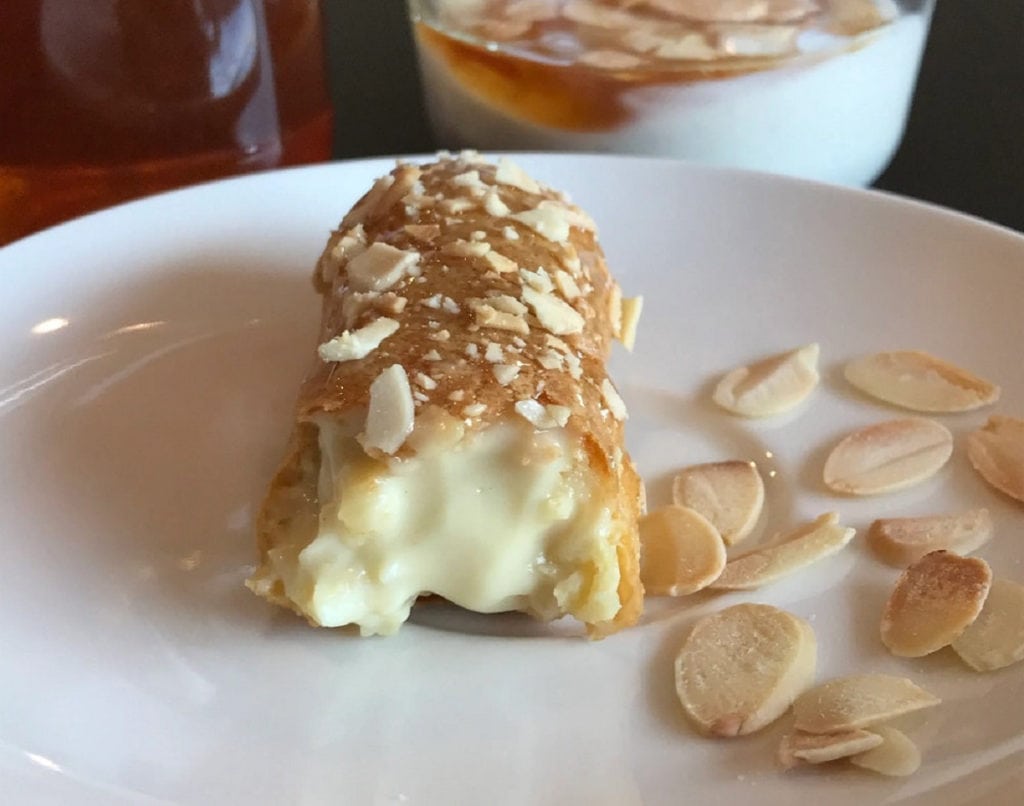 Again, life choices and dietary requirements shouldn't ever inhibit you from enjoying a good eclair, that's why we've found a useful eclair pudding mix recipe that shows you have to make a choux pastry without the use of egg, butter, and milk.
Instead, this recipe uses unsweetened soya milk, some plant-based vegan butter, and Just Egg, a brand of artificial plant-based egg. This recipe also shows you how to make a vegan yogurt filling and even shows you how to make vegan honey!
The yogurt and honey eclair are definitely delicious in themselves but you could use the choux pastry recipe to apply to any of the vegan items on this list.
If you're nuts about nuts, then this is the eclair for you. Surrounded by choux pastry is a pistachio custard made from 45g of pistachio paste that is both sweet and nutty at the same time.
This eclair isn't topped with chocolate or syrup however and is instead dusted with icing sugar, ginger, and toasted pistachios. This eclair is sure to fill your fancy as an afternoon tea snack or even a sweeter breakfast bite.
Banana is a fantastic flavor to go with an afternoon or brunch snack and is very versatile. Some find bananas a savory flavor whereas if you add enough sugar a banana treat could become sweet.
These banana eclairs fall a little on the savory side but are topped with a white chocolate layer that evens the flavoring out. If you have some old bananas that you want to use, then this eclair recipe is perfect for you.
If you prefer eclair recipes that fall more to the side of savory than sweet but don't completely take away from the dessert aspect of them, then this is a fantastic option for you.
These eclairs are made with a striking but not too bitter earl grey custard that uses two tablespoons of loose leaf earl grey tea. To complement the strong flavor of the earl grey, the eclair is topped with a vanilla glaze (rather than a chocolate frosting) that adds a little sweetness to the eclair.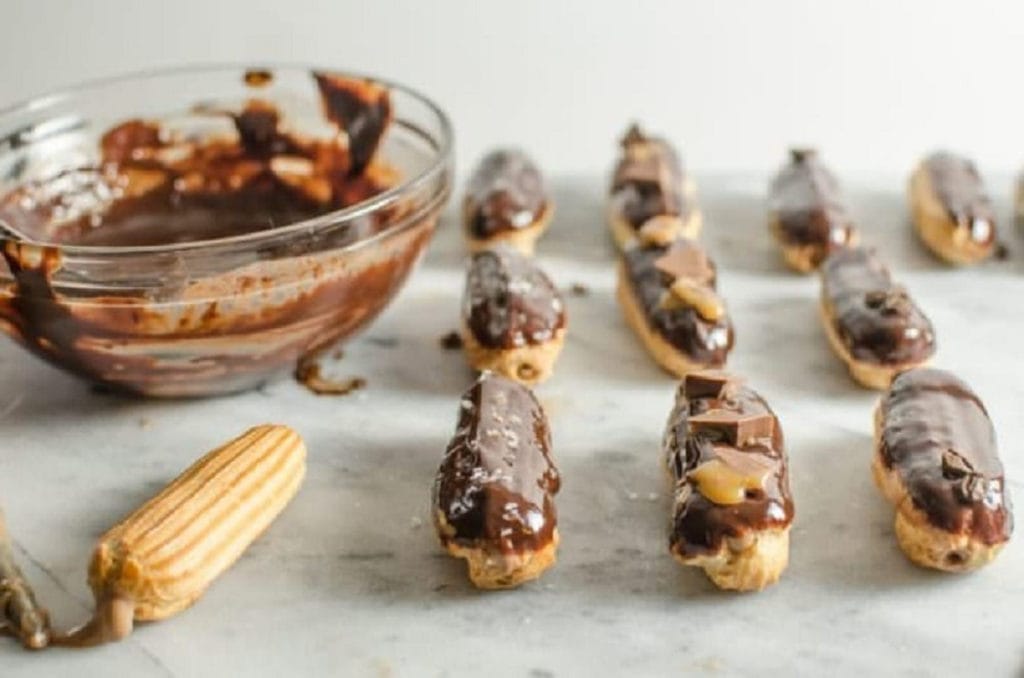 This is a fairly simple eclair recipe for coffee lovers out there, the choux pastry is filled with a coffee creamer creme patisserie that is made from liquid coffee creamer.
The creme patisserie also includes about 1 ounce of chocolate chips and a few drops of vanilla which blend together to create an explosion of flavors with every mouthful. You can even used instant vanilla pudding mix if you're tight for time. The eclair cake is topped with a chocolate glaze.
Chocolate and coffee are a brilliant combination and this eclair solidifies that fact.
Raspberry and cardamom is a fantastic combination of flavors to put into an eclair, this recipe takes 200g of fresh raspberries, 200g of your favorite raspberry jam, and 10 cardamom pods then showing you how to make the creme patisserie by hand. That's right – homemade whipped cream is actually super easy to make with fancy extras.
The eclair is then topped by freeze-dried raspberries on a fondant icing base.
These eclairs may look simple at first when you see that the top is only decorated with fondant icing, but this is because the flavors are so striking.
Lemon and Passionfruit are two very bold flavors but when put together they work well in this tropical explosion, especially as creme patisserie in an eclair, as the choux pastry contains that flavor battle very well and allows you to get them both in one bite.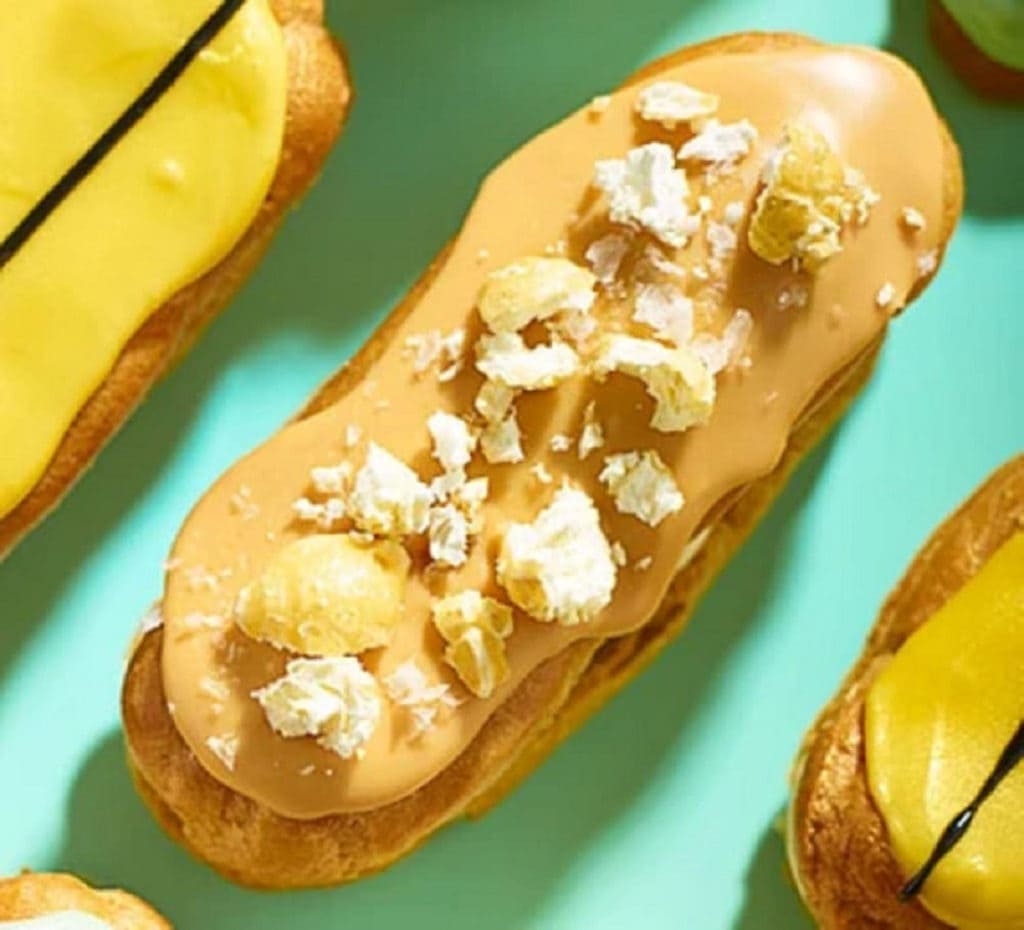 This recipe is perfect for anyone who loves caramel and toffee, although not one of the easiest recipes on this list, it is definitely worth it.
The recipe uses a whole tin of caramel and 100g of toffee popcorn, it also adds a generous amount of double cream to the mixture so the caramel isn't sticky and heavy and has that light eclair filling texture to it.
A brilliant eclair to have a sweet movie snack. You can even sprinkle graham crackers on the top for extra crunch.
This eclair uses just a hint of elderflower in its double cream filling but even a hint of elderflower is enough. Elderflower is a strong, bold taste that tends to take over a recipe but gotten just right it can melt in your mouth.
This recipe also compliments the elderflower with mini sweet meringues on top of an icing fondant for decoration.
These are a definite festive favorite if you are making eclairs around the holiday season. Not only do they have a bold minty flavor that's sure to get you in a Christmas mood, but they are also decorated with candy canes and a cream cheese topping.
Peppermint is a very bold flavor to work with so this recipe uses a small amount of peppermint oil. You can use peppermint extract but you will need a little more of it and to judge the amount by yourself.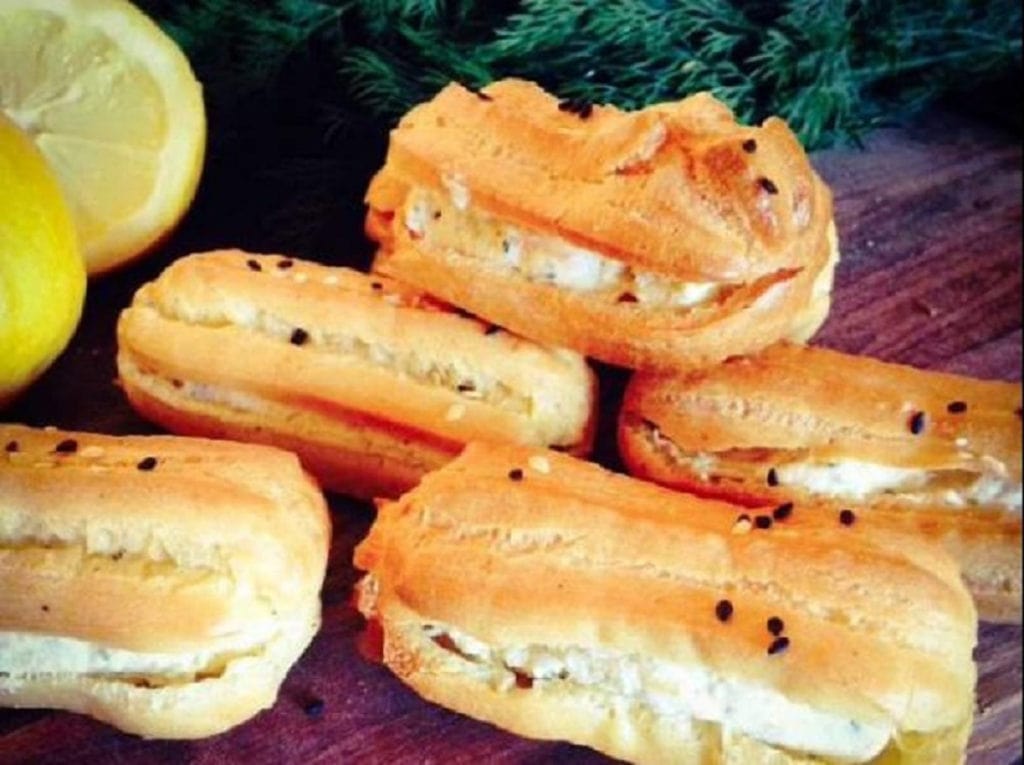 Most eclairs are made to be sweet treats. However, you can get some equally delicious savory eclairs, such as this smoked salmon eclair.
This eclair takes the usual choux pastry that an eclair has but fills it with a cacophony of savory items that blend in brilliantly. This eclair is filled with smoked salmon, ricotta cheese, horseradish, dill, and black pepper to make an excellent side to any savory dish. 
Choux pastry isn't the easiest pastry to master, and although fun to make, you may want to make something a little easier than the normal eclair, but still have the eclair taste.
This recipe is one for a traditional chocolate eclair in the form of a cake. It's very easy to make and only takes around 15 minutes to do and you'll still get that fantastic creme patisserie taste layered with chocolate and pastry.