Jello and cake is something that a lot of people would not tend to pair together. However, the combination of both textures is interesting and tasty. It is certainly reminiscent of childhood, and children's parties. 
This is why jello cakes are great fun to recreate at home, especially if you have children of your own. Jello cakes are a popular choice to consider, and they are not too difficult to recreate, even though they contain ingredients you think would not work together.
In this article, we will be chatting you through 13 easy jello cake recipes you can recreate at home. We have chosen a wide variety of different options to choose from to appeal to a wide variety of tastes.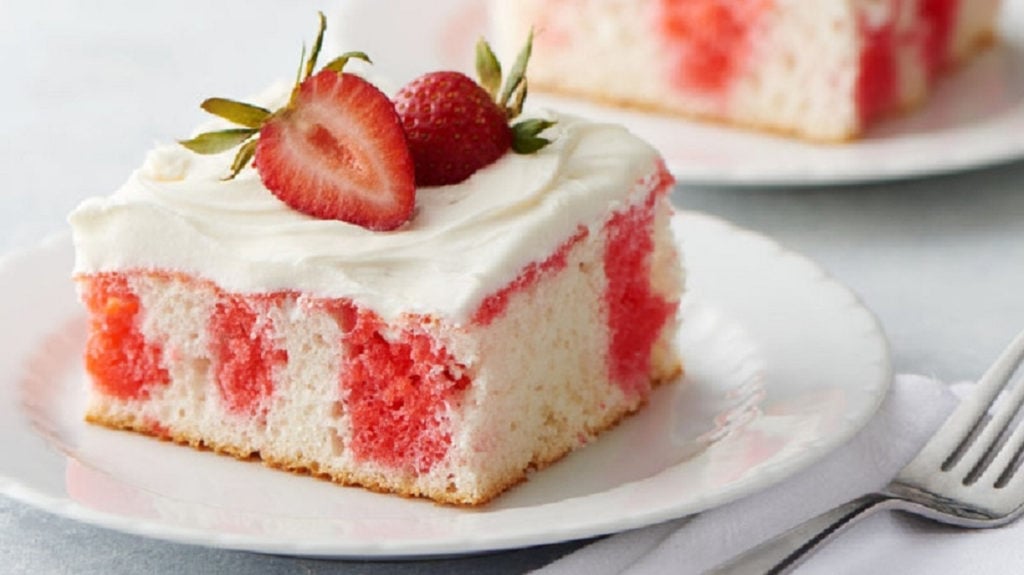 This strawberry poke cake is a classic jello cake recipe that is easy and simple to follow. The strawberry jello works well with the vanilla sponge, and it looks fantastic.
While it seems as though it may be a difficult cake to recreate, it is actually quite simple, and the preparation time is only 15 minutes. 
The cake is perfectly cooked when you follow the recipe correctly, and it is soft and crumbly. The cake is vibrant in its color thanks to the strawberry Jell-O that has been used.
The ingredients are easy to find and the whipped fluffy white frosting compliments the jello and cake well. 
If you are not as fond of the classic strawberry jello cake flavor, this raspberry jello cake recipe is a great alternative to consider. It is a great option as a holiday dessert, and the raspberry mousse works well with the flavor of the cake.
The layers within this cake are really easy to recreate, and the whipped topping is tasty. The flavors work well together, and this dessert can be cut into squares to look fancy too. 
What's useful about this recipe is that it features a video that you can follow. This is great for people who prefer visual rather than written instructions to follow. 
If you enjoy orange Jello, this is a great cake to consider. It has a strong orange taste, but it is not too overwhelming. It is a great alternative to strawberry and raspberry. 
If you are looking for a jello cake that doesn't feature too much jello, this is the best recipe to follow. The cake is light and fluffy, and the combination of the ingredients are tasty. The recipe is not too difficult to follow, which is great if you are someone that is new to baking. 
Lemon jello cake is the perfect option to consider for those who enjoy a more tart taste. This recipe is too great, and the amount of lemon it features is just right and not too overpowering. 
As it uses a yellow cake mix and Jello-Gelatin, it is not too difficult to recreate, and the recipe instructions are simple. While this is a lemon flavored jello cake, you can recreate this recipe using a variety of different jello flavor options, depending on your personal preferences.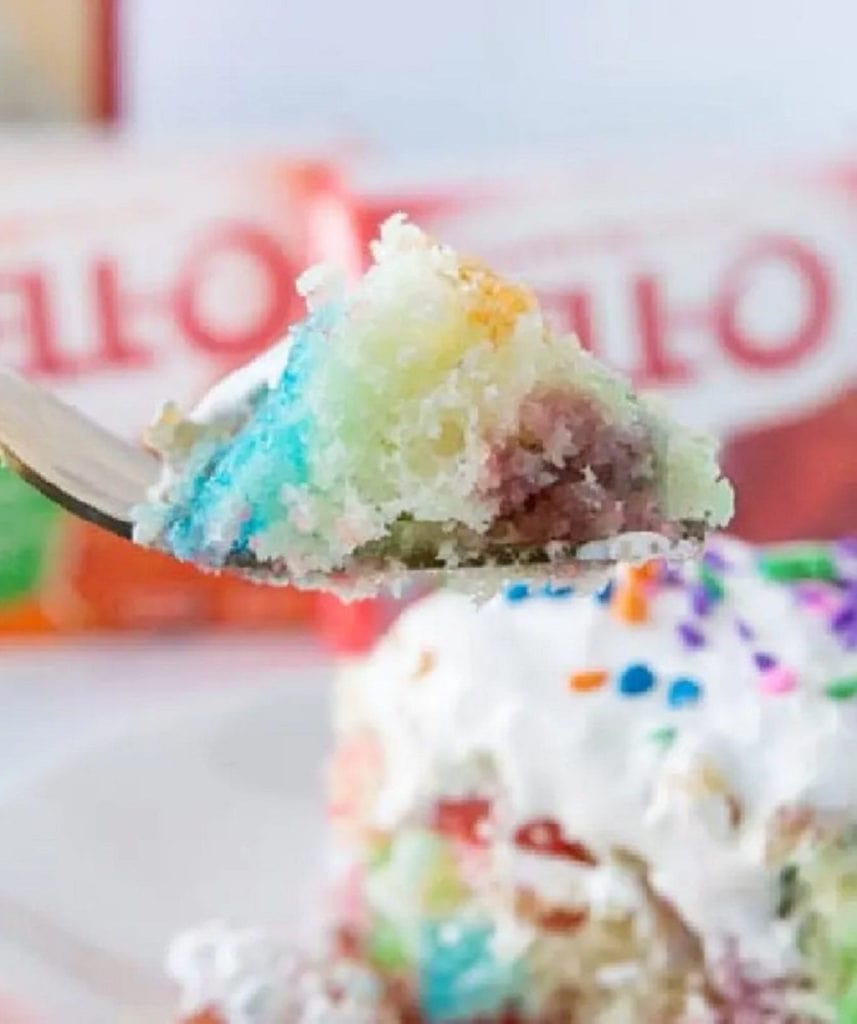 If you want a jello poke cake that is impressive to look at and is more flamboyant, this recipe is the best option for you. We love the different colors featured in this recipe, and the cool whip spread on the top of the cake compliments the flavors well.
While this jello cake looks impressive, it is not too difficult to recreate, and it is perfect to serve at a children's party or over the summer period. The instructions are simple to follow, and it is not overcomplicated in any way.
This recipe is a classic jello cake with a whipped topping. While it is a simple recipe, simple is effective, and we thoroughly enjoyed recreating this recipe. Interestingly, this cake uses lemonade to add to the flavor, which the majority of the other recipes do not.
While you may think that this is a strange option to add to a cake, it enhances the flavor, and allows it to taste more fun. Trust us when we say that it works well with the jello!
Do you want a jello cake that will impress your family and friends? This is the best option to consider. The purple coloring is both different and interesting, and the cool whip added to the top of the cake adds to the flavor well. 
Blackberry gelatin is used in this recipe, and it provides a tangy flavor for those who are not overly fond of cakes that are overly sweet. Cake mix is used, which allows this cake to be super easy to recreate. It doesn't take much effort to prepare or bake at all. 
Are you feeling patriotic? This red white blue jello poke cake is an essential desert for the 4th of July celebrations. Not only does it taste fantastic, but it looks impressive too!
This is one of our favorite options featured in this article, because it looks great, and the instructions are simple, even for those who are not overly talented in the baking department. By adding some star sparkles to the top of the cool whip, you can make it look extra fancy!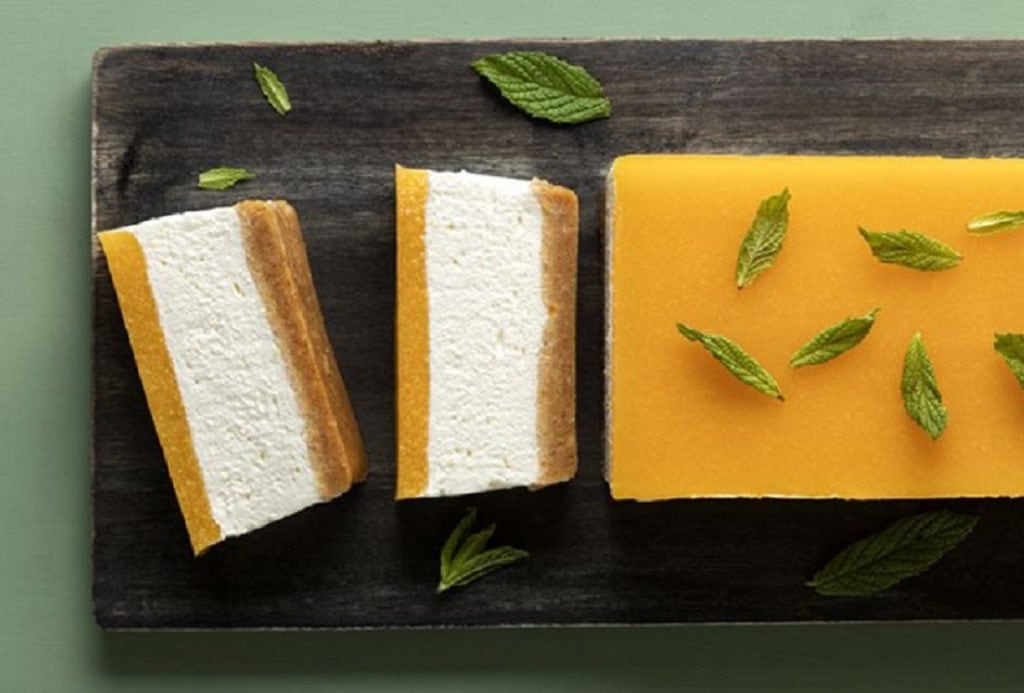 This is a more professional looking jello cake that has peach and cream flavors. These work very well together, and as the recipe explains, this is no sweat to recreate. It can serve up to 8 people, which is a reasonable amount, and it only takes 60 minutes to create. The ingredients are easy to source and the peach compote makes the recipe even more tasty.
This soda pop jello poke cake is a great option to consider if you need to serve a large group of people. This recipe makes 15 servings comfortably, and it only takes 30 minutes to cook, and 10 minutes to prepare. 
As it features box cake mix, the cake is very simple to recreate. You just need orange soda and jello, and you are good to go! This is perfect for those that love orange soda, and the sweetness of it. 
This is another delicious orange jello cake that tastes light, fluffy, and is full of flavor. It is not too complicated to recreate, and the orange and vanilla flavors work well together. It tastes exactly like a creamsicle that you would purchase as a child. 
The instructions are easy to follow, and there are some useful photographs you can use for reference too. When you add whipped cream to the top of the cake, this really takes it to the next level.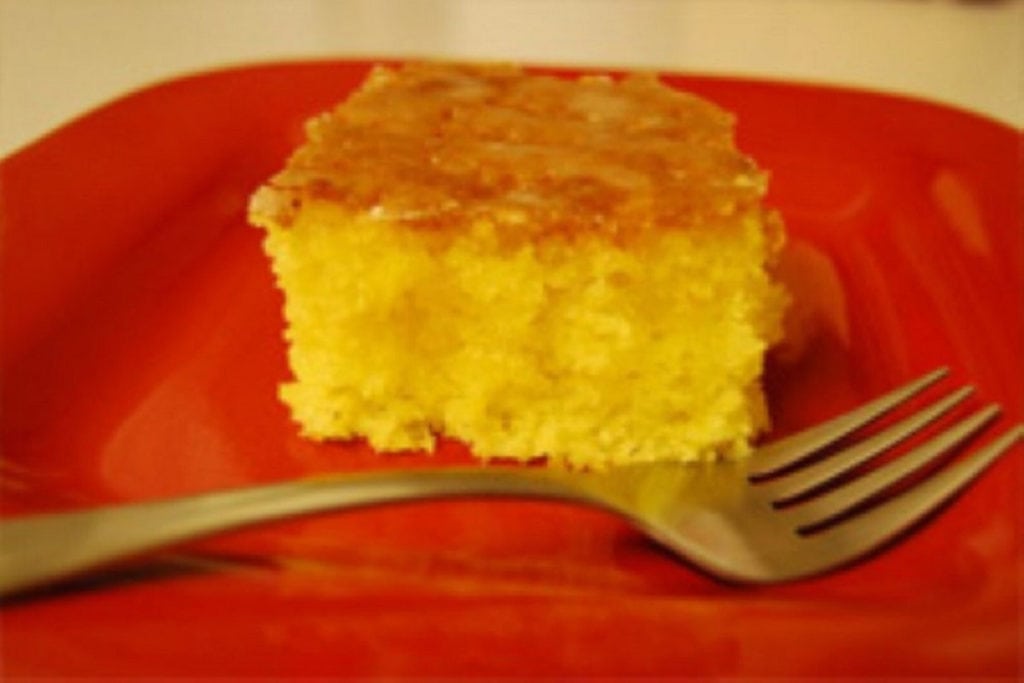 This lemon jello cake is perfect for those that love lemon cake. It is not too overpowering in its flavor, and the recipe is simple to follow. For this recipe, you will need to purchase a lemon cake mix along with lemon cake jello. The glaze features lemon juice, and sugar, which adds a level of sweetness. 
This flan jello cake is a great cake to choose if you want a classic jello cake recipe with a twist. It features three types of dessert in one, which is great if you can never choose between desert options. 
It has a good amount of sweetness, and interesting textures and flavors. While it looks impressive, it is not too difficult to recreate. The preparation time is minimal too. 
This is the most difficult recipe to recreate in this article. However, if you are up for the challenge, we would highly recommend giving it a try. The layers of jello in this cake are fantastic, and this looks impressive too. It has a good mix of fruity flavors, and this is a fun dessert to serve.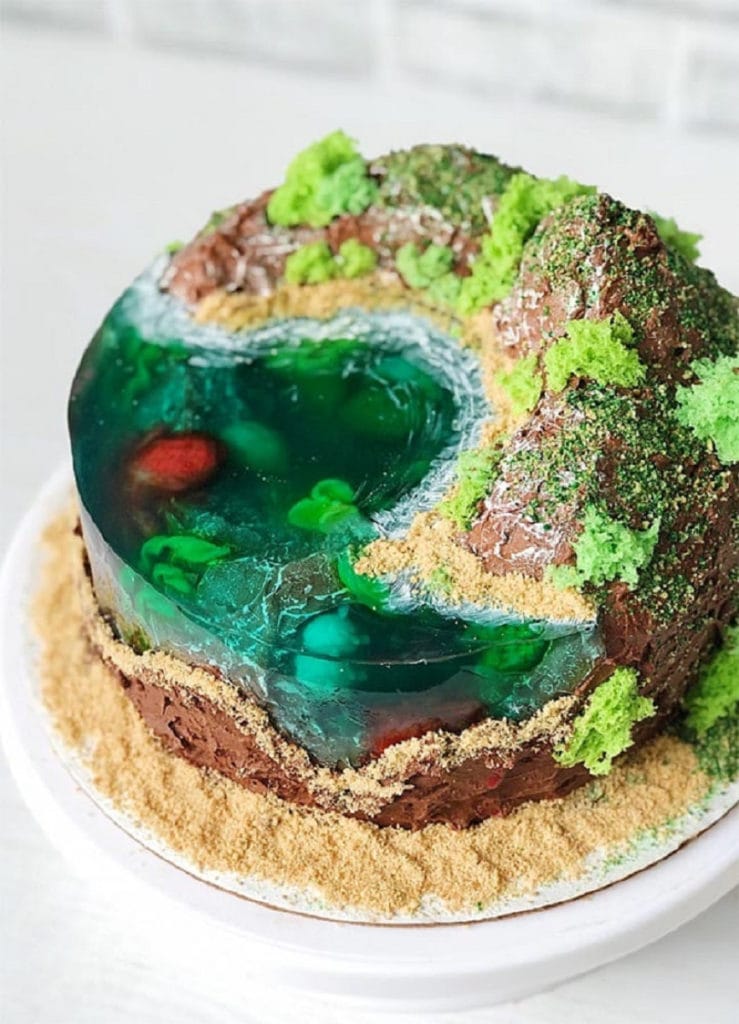 If you are up for a creative challenge, this recipe not only talks you through how to recreate a jello cake, but it creates a cool design too! This cake looks impressive, and is the perfect option to consider if you want an interesting alternative to a traditionally baked Christmas cake. 
While it does seem to be more difficult to recreate in comparison to the other options featured, it is a lot simpler than you might think. This cake does take some time to set given the jello it contains.
Last, but not least, we have this intriguing floral jello cake. It looks beautiful and is also fairly easy to make. The shape is interesting, and it also tastes fantastic. It would be a perfect option to serve at a baby or bridal shower.
Summary
We hope you found this article interesting. As you can see, there are many different jello cake recipes to try out. They are all interesting and tasty in their own way. Which one will you try first?