Who doesn't love pasta? Our family has more pasta recipes on standby than any other dish, because pasta is just so good for any occasion. Especially when it's this easy baked penne pasta!
Combining cooked pasta with a delicious marinara sauce, oodles of cheese, and a heavy handful of garlic, this penne pasta is a family favorite. And it's super simple to make!
Read this guide to discover the best (and easiest) baked penne pasta recipe.
The Easiest Baked Pasta Dish
Imagine a dish that combines a creamy cheese sauce with a rich red sauce, wrapped around chewy penne noodles.
Sounds yummy, doesn't it?
It is delicious, and it's also incredibly easy to make, combining just a handful of ingredients for maximum flavor. This recipe makes enough for a hearty family dinner, and you might even have some leftovers for the next day!
Making Your Own Pasta Sauce
This easy baked penne pasta tastes like a mixture of a creamy sauce and a tomato sauce.
Homemade tomato sauce is delicious, but it can be time consuming. Don't worry, we have a quick hack! Start by sautéing finely sliced onion in olive oil until golden, then add garlic and cook for one minute.
Add crushed tomatoes, a spoonful of tomato paste, and your seasonings. Italian seasoning is a speedy option, and a sprinkle of red pepper flakes brings heat. Don't forget salt and pepper.
Simmer until slightly thickened, and enjoy! Homemade red sauce with minimal effort. It makes a great spaghetti sauce, and can even be used as a pizza topping.
Or, pick your favorite brand of pasta sauce!
Easy Baked Penne Pasta Ingredients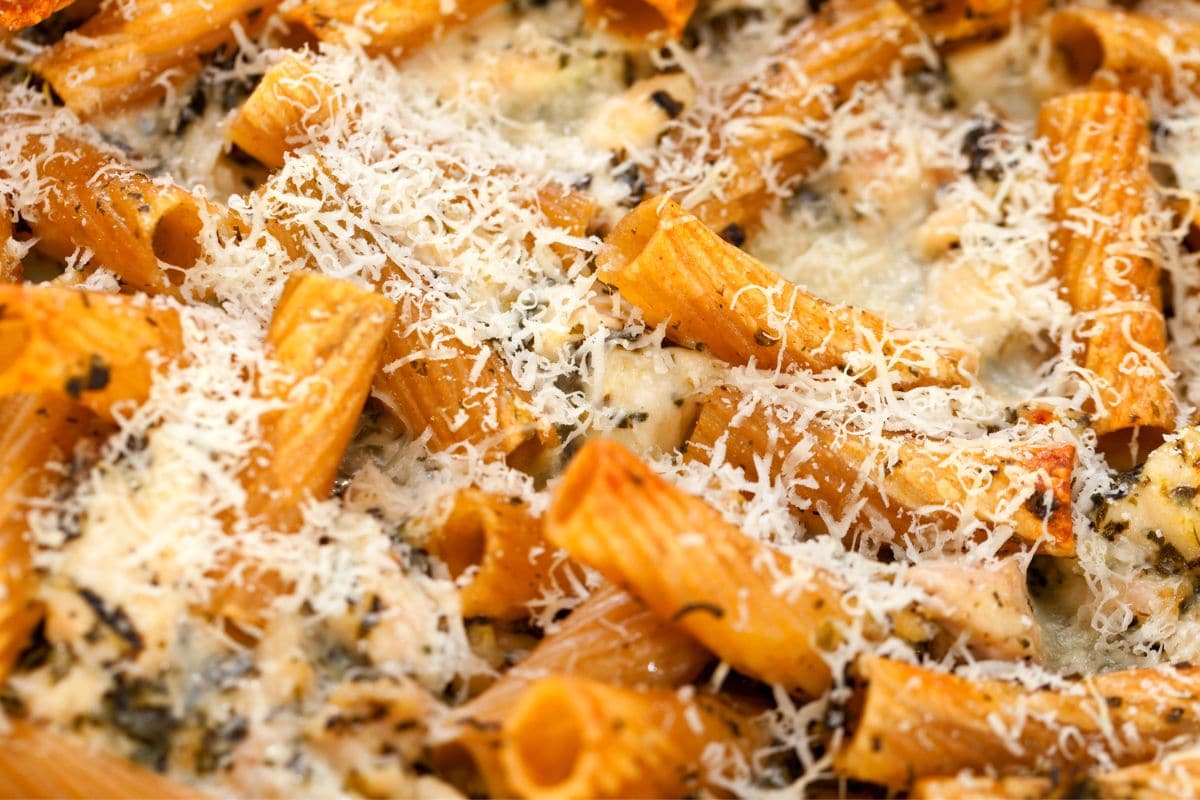 Penne Pasta
Penne pasta is a long, thin tube with ridges and a sharp angle end that perfectly captures pasta sauce. It looks similar to ziti pasta shapes, and baked penne is just as delicious as the classic baked ziti.
Cooked penne pasta should be al dente. Remember, it will keep cooking in the oven!
Marinara Sauce
You have a choice here: homemade sauce, or store bought?
You can save time by using a jar of your favorite marinara sauce. Or you can experiment with flavors and make your own.
If you plan on making your own, try cooking a big batch ahead of time. It freezes well, and you have a quick sauce ready next time you cook pasta.
Cottage Cheese
Cottage cheese adds protein and body to your penne pasta bake. It has a very light flavor, so even picky eaters won't notice the addition.
If you want something a little fancier, substitute cottage cheese for ricotta cheese. Or try a cottage cheese and ricotta mixture. You can also experiment with cream cheese, although it might affect the texture.
Sour Cream
Sour cream? To make a creamy sauce? It sounds crazy, but it's actually delicious.
If you're cooking for a special occasion, try substituting crème fraîche.
Shredded Mozzarella Cheese
The mozzarella cheese is what gives your penne pasta bake that creamy and decadent finish.
Shredded mozzarella cheese is the easiest option, but you can always use balls of mozzarella, and slice.
Garlic
Lots and lots (and lots) of garlic is used to add oomph to this penne pasta bake.
Crush five cloves of garlic for the ultimate flavor boost, or use a lighter touch for picky eaters.
Meat Or No Meat?
This easy pasta recipe is incredibly adaptable, and if you have a couple of carnivores in the family, you can throw in your favorite meat.
Ground beef is always a good choice, and gives this baked penne a lasagna-style texture. But as there's so much cheese, we recommend lean ground beef!
Alternatively, try ground turkey. Or slice in some hearty sausage. Experiment with a meat sauce for some fun family dinners.
More Cheese?
Mix things up by replacing half the mozzarella with a cheese of your choice, or a cheese blend. Finish with a sprinkle of Parmesan cheese.
Any Veggies?
It's easy to sneak some veggies into a family favorite comfort food with this pasta bake.
Sauté some bell peppers, mix through a handful of spinach, or try adding roasted squash! The flavors are super adaptable, so you can experiment with this easy baked penne.
Can You Freeze Baked Penne?
Yes, this pasta recipe freezes very well. Assemble the dish, and then you can freeze either before or after the pasta is baked in the oven. Make sure to cool completely before freezing!
Any remaining pasta can be enjoyed as leftovers. Simply throw a portion in the microwave, and cook until heated through.
How To Make Easy Baked Penne Pasta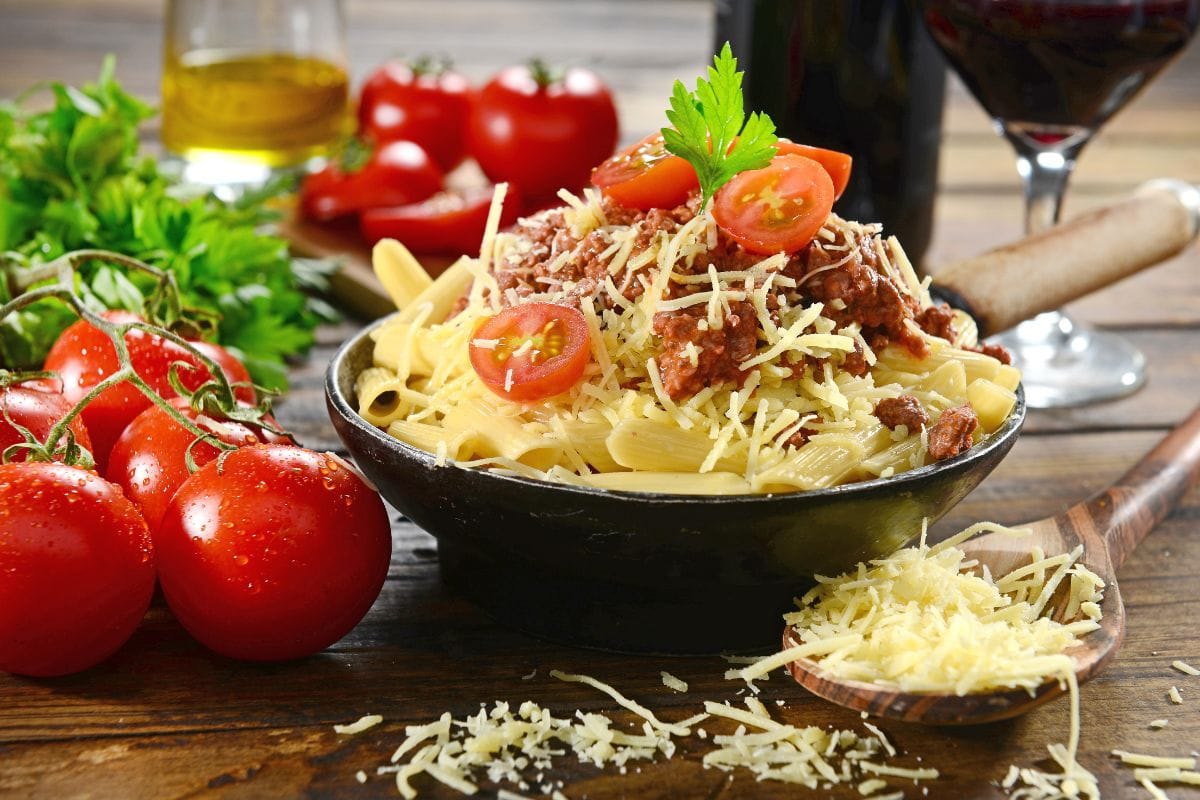 What You Need For Baked Penne Pasta
12 ounces of penne pasta
24 ounces pasta sauce (homemade sauce or store bought)
8 ounces cottage cheese
8 ounces sour cream
5 cloves crushed garlic
4 cups shredded mozzarella cheese (divided)
9 x 13 inch baking dish
Fresh basil, Parmesan cheese, bell peppers, ground beef etc.
Easy Penne Pasta Bake Instructions
Step One
Preheat the oven to 375 degrees F.
Step Two
If you're making your own homemade sauce, start this first so it has time to simmer. You can make your own sauce ahead of time, if you prefer.
Step Three
If you're using meat or adding vegetables, sauté your chosen ingredients along with your tomato sauce.
Step Four
Cook the pasta in salted water according to package directions, until al dente.
Step Five
Drain the pasta well.
Step Six
In a medium bowl, combine the sour cream, cottage cheese, and pressed garlic. Add the pasta sauce, and mix well.
Step Seven
Stir the al dente pasta into the sauce mixture, then add 2 cups of shredded mozzarella cheese, and mix.
Step Eight
Spread the pasta mixture in a 9 x 13 inch baking dish. Cover with the remaining mozzarella cheese.
Step Nine
Bake uncovered for 20 to 25 minutes, until the cheese is melted.
Step Ten
Finish with a sprinkle of fresh basil or fresh parsley, a handful of Parmesan cheese, and serve hot!
Enjoy!
This easy penne pasta bake is the ultimate comfort food, full of cheesy goodness for the whole family to enjoy!