There is something to be said about the combination of a cinnamon roll with cream cheese frosting, light brown sugar, and cinnamon sugar, to create chewy blondies.
These Cinnamon Roll Blondies are not too difficult to make and you only need a couple of bowls and you may not even need a stand mixer.
If you need a pick-me-up in the morning or just a treat, create these cinnamon rolls.
The Cinnamon Roll Mix
If you have made cinnamon rolls before you should be prepared to use melted butter. This should create a batch of chewy blondies so melt and then cool the butter before you even get out your medium sized bowl.
Preheat oven to 350°F then line a pan with parchment paper. In the medium bowl, whisk your unsalted butter with brown sugar then add eggs, a yolk, and the vanilla extract to combine.
In another bowl, mix together baking powder, cinnamon, salt, and flour. Fold together with a rubber spatula or hand mixer until combined.
Too Much Flour
Too much flour can ruin a batch of cinnamon roll blondies before you have even begun. Gradually add the flour in and stir it with a rubber spatula to introduce some air. A measuring cup can come in really handy to ensure you do not use too much flour.
If you are going to use too much of an ingredient then make it the ground cinnamon, even use it in the blondie batter.
Adding Wet Ingredients
Combine the dry and wet ingredients then pour the batter into a prepared pan. All purpose flour will do the job but you want to be careful that when it comes time to bake, the mix is still light.
The recipe calls for some mixing yet too much and it will be too chewy.
Only a few stirs with a rubber spatula or hand mixer are required.
Creating The Cinnamon Sugar Mixture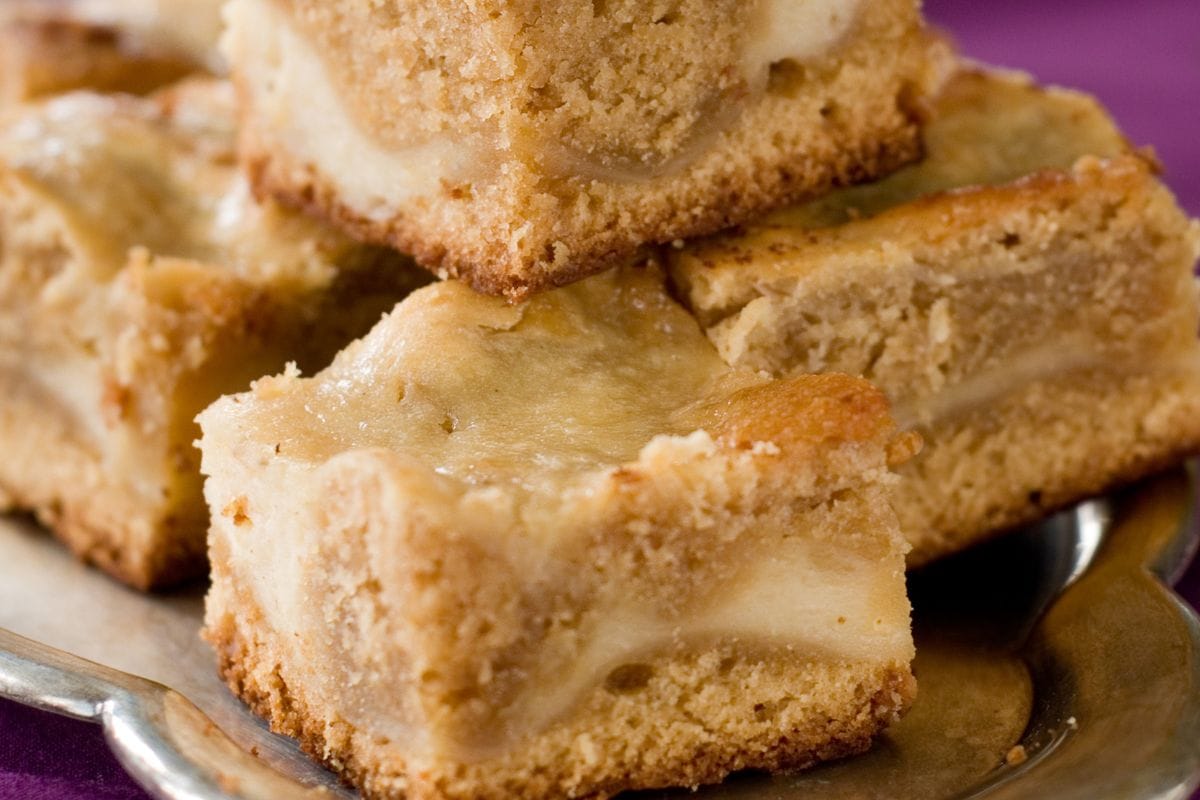 With a fair amount of spice, create the cinnamon sugar mixture. Sugar and cinnamon are a wicked combination so you may take some pleasure when dropping the cinnamon sugar over the blondie batter. You can also use a butter knife to create a cinnamon swirl.
The sugar mixture is vital as the flour can create a batch of thick chewy blondies.
With a small bowl, you can create the ideal sugar mixture by testing between light brown sugar and dark brown sugar with cinnamon. Maybe introduce some salt to create a more memorable flavor.
The Baking
Bake the Cinnamon Roll Blondies well and you should be rewarded. The combination of butter and brown sugar creates a moreish taste in this delicious recipe for dessert cuisine. The edges of the pan should be golden brown with a doughy middle.
Be prepared to let them cool completely as they will still cook. Make sure that you lightly grease the pan to help it get out before you add the cream cheese frosting.
The Cream Cheese Frosting
If you enjoy a good cinnamon roll then the key may lie in the cream cheese frosting. Though the remaining ingredients are important, to see a batch of cinnamon roll blondies topped with cream cheese frosting is a sight to behold.
Yes, the flour mixture is important yet so is the combination of dark brown sugar and cinnamon. However, the first thing that people will taste is the cream cheese icing so it may be the most important part of all.
In a pan, combine cream cheese with heavy cream, vanilla extract, powdered sugar, and salt. Use a whisk to mix it together while it melts then take off the heat to cool.
Once your homemade cinnamon rolls have been allowed to cool completely, drizzle on the cream cheese frosting. Use a butter knife with your cooled brownies to turn them into bar form.
Using Brown Sugar
You cannot truly go without using brown sugar for this cinnamon roll blondies recipe. They work well for the appearance and these cooled blondies have a sharpness that does not come with granulated sugar.
Furthermore, it would not be a cinnamon roll without the brown sugar so think again before replacing it. You may want to see if you prefer light brown sugar or dark brown sugar, maybe use it only in the blondie batter and another for the top with the cinnamon.
An Egg Replacer
Some recipes use more eggs than others but it is possible to use an egg replacer. Either use a recipe that uses apple sauce or try a flax egg to work instead of an egg.
How To Eat Cinnamon Blondies
With a cinnamon roll, you will be eating cream cheese frosting, and melted butter. That should mean that the recipe is used for creating treats as few recipes are as moreish which can be explained by the pure vanilla extract, the butter, and brown sugar.
Once the cinnamon roll blondies are in bar form, you should look to keep them in an airtight container. They will keep but bear in mind that they are topped with cream cheese so they have a limited shelf life.
While they are fresh, you can enjoy these cinnamon roll blondies with a cup of strong coffee. They may need to be warmed up though not too much as you can ruin the cream cheese frosting and cinnamon sugar.
The blondie batter will also continue to cook until the cooled brownies have been given the chance to cool completely.
Final Thoughts
The part of a recipe entitled 'nutrition calories' should come with alarm bells for these cinnamon roll blondies. The ingredients blondies use include butter, flour, pure vanilla extract, and topped with cream cheese frosting.
Though these can become cinnamon roll cookie bars, they should not become part of a regular diet. When you eat cinnamon rolls, it should be an indulgence.
Frequently Asked Questions
How Long Should These Cinnamon Roll Blondies Remain In The Oven For?
Once the roll blondies have turned golden brown they should be ready if you like a chewy blondie. Like with many a dessert method, the recipe calls for it to be slightly underdone.
That should mean a baking time of around 38 minutes yet you may want to check after half an hour.
How Close Are These Cinnamon Roll Blondies To A Cinnamon Swirl?
These cinnamon roll blondies are not too far away from a cinnamon swirl. They both use cream cheese icing, melted butter, and baking powder, and typically both use powdered sugar.
A cinnamon roll blondie will still use butter and cream cheese with egg and vanilla extract yet the recipe can be used to create a snack you can slice with a knife and keep in an airtight container. Such an easy dessert method should be used sparingly but it is a recipe worth trying.