A Chocolate Caramel Turtle Cake Roll is a cake carefully created, though it can be made from boxed cake mix. The roll cake has a tasty chocolate frosting and toasted pecans atop a chocolate cake.
Inside is a buttercream filling flavored with salted caramel sauce which is heavenly. Should you and your guests adore turtle candy then this turtle cake recipe simply has to be tried.
The construction of a cake roll may seem a little complicated yet the timing is key for this turtle cake. Get the spreading consistency right and treat it as a Swiss roll with some caramel mixture and toasted pecans thrown on top.
Adding The Cake Mix
For the cake mix, preheat oven to around 350°F and line one jelly roll pan with foil (you can use parchment paper) covered in cooking spray with flour. Beat eggs in a relatively large bowl on a high speed until thick and they appear lemon colored.
Add the cake mix (chocolate cake mix works best) with water and vegetable oil then beat on a low speed until combined. You may want to scrape the sides of your large bowl occasionally with a wire whisk.
Bake for between 11 and 14 minutes until the chocolate cake springs back when it is lightly touched. Remove from the oven and sprinkle some powdered sugar on a kitchen towel placed on a completely flat surface.
Flip it upside down in its prepared pan onto the clean kitchen towel then remove the layer of foil. Roll up the cake in your towel, beginning at the short end, then allow to cool completely when set on a big enough cooling rack as it remains rolled up for about an hour.
Make The Buttercream
Cream together butter and salted caramel sauce until the butter breaks up. Add in powdered sugar with vanilla extract and mix until fluffy and smooth.
Once the cake has completely cooled, unroll it and spread on the salted caramel buttercream with an even spreading consistency. Roll the chocolate cake up again and place on the cooling rack but place a cookie sheet underneath for the drips.
Using Chocolate Chips
The chocolate ganache frosting uses a cup milk chocolate chips, a cup toasted pecans, and a cup heavy whipping cream. All three ingredients in equal measurements which should be easy to remember. In a microwave safe bowl, melt the cup milk chocolate chips and cup heavy whipping cream.
Whisk until smooth and warm enough that the mini chocolate chips melt and you can slowly pour the mix.
Drizzle over the ganache to cover the cooled cake and then add the toasted pecans. If you want to save the Chocolate Caramel Turtle Cake Roll for a special occasion then it can stay in the refrigerator but store loosely covered with plastic wrap.
Those chopped pecans should be added last to keep their status as crunchy pecans.
Using Caramels
Instead of a chocolate ganache with a cup milk chocolate chips, you can use a cup heavy whipping cream with store-bought caramels. Add caramels into a microwave safe bowl with the heavy whipping cream (though you can use heavy cream) and once heated the caramels dissolve into the cream.
With a wire whisk, still until smooth then leave in the refrigerator until the mix has completely cooled. When lightly touched, the caramel should feel viscous enough to be poured over the finished turtle cake roll, though it would be a caramel turtle cake roll.
Why The Cooling Rack Is Important?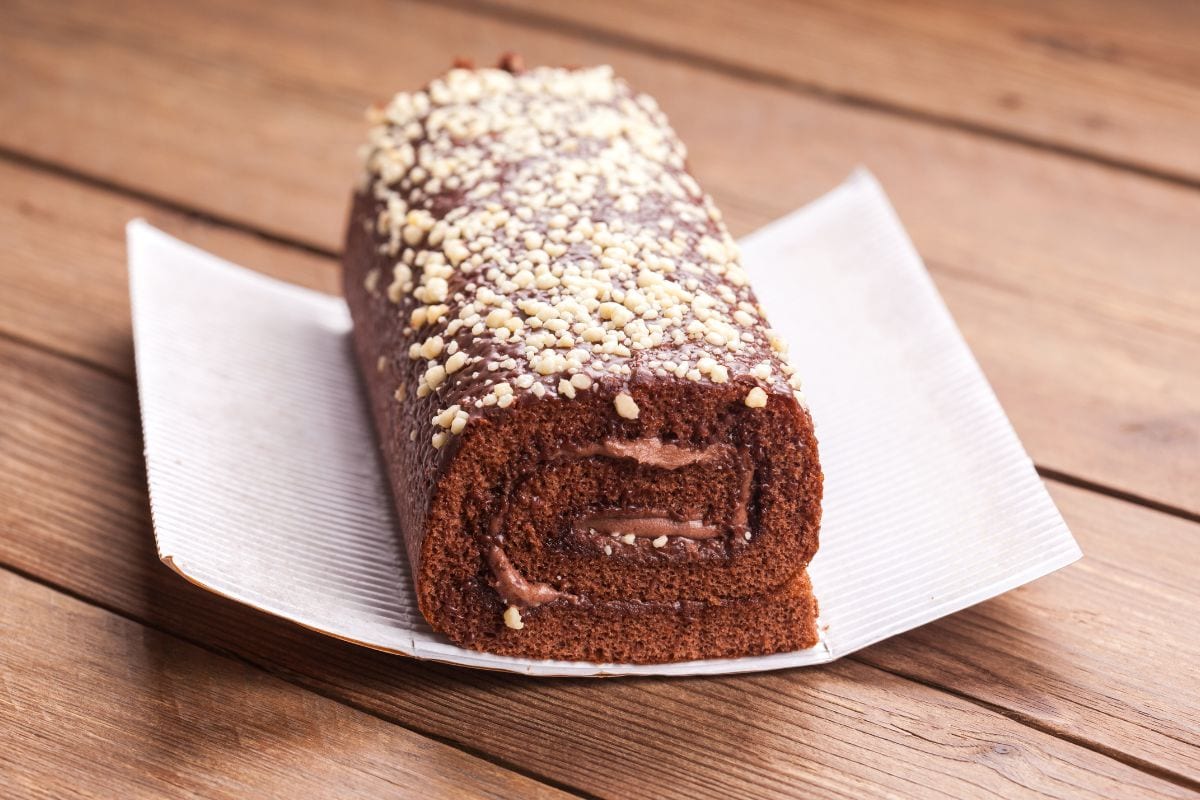 You should be able to make this cake mix ahead of time so be patient with the recipe. You can make it ahead and ensure that the cake mix is completely cooled and that means getting out a cooling rack, though you can place a cookie sheet underneath too.
Make sure that the cake underneath can firm up on a flat surface which is elevated. Most cake recipes do not need this extra step but it does help for a Chocolate Caramel Turtle Cake Roll.
Is Corn Syrup Involved In This Cake Recipe?
If corn syrup is included in this recipe, it is typically in the frosting. It is only a tablespoon so if you do not want to use corn syrup, leave it out.
Do I Need Baking Spray For This Cake Mix?
Yes, baking spray is vital as you will need to line a jelly roll pan with foil then coat that layer in baking spray with flour. This is to prevent the cake mix from sticking so it can be easily removed and rolled when warm. Cake mix like Betty Crocker Supermoist tend to insist on baking spray, especially if you are creating a turtle cake roll.
The Variations You Can Make
This Chocolate Caramel Turtle Cake Roll can be versatile. If you do not want to use mini chocolate chips then create the caramel instead to create a Caramel Turtle Cake Roll. You can replace the chopped pecans with toasted pecans, or remove them entirely and use a dusting of powdered sugar.
Thankfully, the cake mix should not be a problem, especially if you use a box of Betty Crocker Supermoist.
Final Thoughts
A turtle cake roll will always impress guests as they can be so difficult to make. Cake springs when cooked and it can crack so you need to ensure that it can cool completely.
However, if it does crack, use the spreading consistency of the buttercream to fill in those cracks. A dusting of powdered sugar may also help yet as long as it looks like a chocolate turtle cake when it is rolled, the chopped pecans and chocolate frosting are a great decoration.
Frequently Asked Questions
Which Box Of Cake Mix Should I Use For This Recipe?
The Betty Crocker Supermoist boxed cake mix works well. Make sure that you add cake mix when the eggs are lemon colored as that's the recommendation according to the directions for a turtle cake roll.
The caramel filling is still important so you may want to shop around for the right caramels. Add caramels unwrapped with heavy whipping cream to create a dense filling as the caramels dissolve into the cream.
Why Is The Cake Batter So Important To The Recipe?
With any turtle cake roll, cake carefully made is best. That means ensuring that the cake mix is smooth and following the instructions carefully. If it says 'preheat oven', do that, as you do not want to overbake it.
It should roll easily though if it cracks, use the spreading consistency of the frosting to hide it.